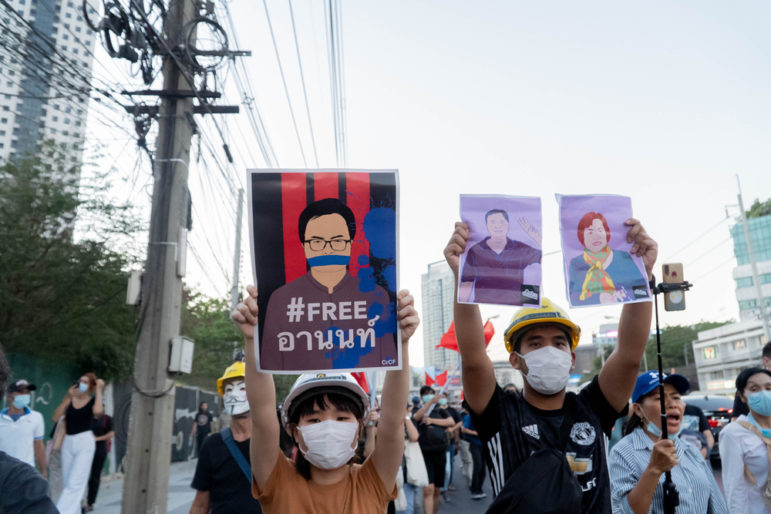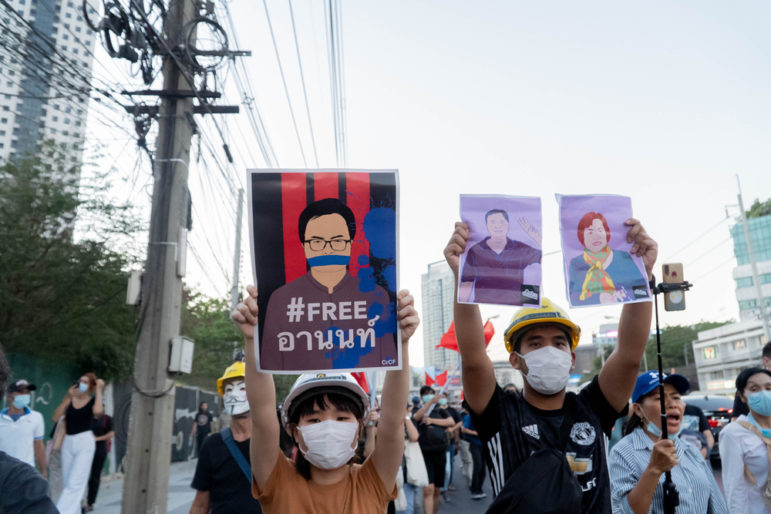 Prachatai: A Gutsy Thai News Outlet Committed to Being the 'Voice of the Voiceless'
In August 2020, the leaders of Thailand's pro-democracy movement published a list of demands after tens of thousands of reformists joined their call to take to the streets. Only one local media outlet dared to publish them: Prachatai, a bold nonprofit newsroom committed to freedom of expression and democracy. 
The list called for reform of the Thai monarchy's role in national politics and the abolition of the draconian Article 112 of the country's criminal code. Article 112 enforces one of the toughest lèse-majesté laws in the world, essentially banning critical comment of the royal family.
It wasn't the first time that Prachatai shook up the country with stories that nobody else wanted — or dared — to cover.
Reporters Without Borders (RSF) ranks Thailand 137 out of 180 in its 2021 Press Freedom Index, not much better than neighboring Myanmar (140) and Cambodia (144), countries known for their repressive media environments. "Any criticism of the government is still liable to lead to harsh reprisals facilitated by draconian legislation and a justice system that follows orders," RSF reports about Thailand, noting that the "coverage or non-coverage of the massive pro-democracy demonstrations in 2020 confirmed the scale of self-censorship within the Thai media."
But Prachatai — which means "free people" in Thai — is an outlet that "tests the ceiling of freedom of expression and speech" says editor-in-chief Tewarit Maneechai, who adds that the outlet also seeks to create a "culture of human rights and freedom." As an investigative site, it treads a cautious path, but a brave one.
Prachatai was launched in 2004 to counter the lack of independent media in the country, notes Chiranuch Premchaiporn, a founder and former director of Prachatai, who is now part of the board of directors of the Foundation for Community Educational Media, Prachatai's parent organization and a GIJN member. "We were concerned because it is very important to have independent outlets," she says. 
Since then, Prachatai's reporters have explored the country to hunt for stories on human rights violations and social issues affecting vulnerable communities, such as Indigenous people, migrant workers, or people with disabilities. "For Prachatai, investigation does not just mean digging into government corruption, even if we also do it, but to explain complex social issues to the general public," Chiranuch says. And for that, their primary source is people. "Our philosophy is to be the voice of the voiceless," she says. 
A New View on Thailand
Around the time Prachatai launched, a separatist conflict started to simmer in three predominantly Muslim areas in the south of the Buddhist-majority country. But the Thai mainstream media were mostly silent about the violence. "Prachatai started covering it because we considered it was under-reported and the people affected had no voice, [despite] it being quite clear that there were human rights violations," says Chiranuch. The deadly conflict, which involves several insurgent groups, has claimed more than 7,000 victims.
When it first started covering the violence, Prachatai hired a local journalist who could speak the regional language — Yawi — to search for witness accounts of human rights violations. One of its first investigations looked at the Tak Bai massacre, in October 2004, which resulted in the death of 85 people after a Thai military crackdown on a local Muslim protest. 
They have also documented enforced disappearances of dissidents and human rights defenders. One of the most well-known cases was the 2004 abduction of Somchai Neelapaijit, a human rights lawyer working in the southern provinces, whose case was closely followed by Prachatai. Despite its reporting, his whereabouts are still unknown. After a military coup in 2014, Prachatai also started monitoring the enforced disappearances of Thai exiles, such as Wanchalearm Satsaksit, a Thai political refugee living in Cambodia who was abducted in June 2020.
Prachatai has also run investigations that help create a more diverse view of Thai society, reporting stories on forgotten groups that never make it into the mainstream media. As part of these probes reporters looked into the situation of female inmates deprived of essential health services and sanitary products, the lives of LGBT people in the southern provinces, and the local victims of land grabbing linked to large development projects.
To document these stories, reporters usually work alone or in teams, often with a videographer. Reporting can take up to six months, explains Tewarit. Their investigations are usually met with silence from the government, which only reacts indirectly when "our stories raise awareness among the public," she adds.
For instance, in 2016, Prachatai investigated the forced sterilization of women with disabilities, interviewing a number of victims. The uproar that followed the investigation led the government to start monitoring the issue for the first time, Chiranuch notes.
Even when its reporting doesn't elicit a response, the work is still vital. "Even if they don't respond, it is very important for us to document [these cases]," adds Chiranuch, referring to the enforced disappearances. "So the government cannot pretend it didn't happen."
Insulting the Monarch
But the stories that have brought Prachatai international renown are those related to the protests and Thailand's complicated relationship among the press, state, and monarchy.
Lèse-majesté, a French term meaning "to harm the monarchy," was introduced in Thai law in the 1908 Criminal Code. However, it was rarely used until 2006. That's when a military coup deposed then Prime Minister Thaksin Shinawatra, raising questions about the role of the monarchy in supporting the military intrusion into politics. "When Prachatai covered lèse-majesté cases 10 years ago we were alone," says Chiranuch. The law punishes any insult, threat, or perceived defamation of the country's royal family or regent with up to 15 years in prison. 
The risks of running afoul of the law are well-documented, with numerous arrests on this specific charge in recent years, making any reporting that could be perceived as a breach of Article 112 a constant concern among national media outlets. Editors of news outlets can also be prosecuted for unlawful comments made by readers under the Computer Crime Law. The law was used to convict Chiranuch in 2015 of a suspended eight-month prison sentence, along with a fine of 20,000 baht (then around $625) for failing — according to the court — to delete comments criticizing the monarchy fast enough. 
Chiranuch's trial was a difficult time for the Prachatai newsroom. But now its newsroom boasts 18 full-time staffers and two part-time, with an annual budget of around $200,000.
Their funding mainly comes from private donations from organizations such as the Open Society Foundations, Heinrich Boll Stiftung, the National Endowment for Democracy, American Jewish World Services, and the Fund for Global Human Rights; some international embassies also fund specific projects. Secondary income comes from merchandising (books and T-shirts, etc.), membership, and individual donations. 
However, raising local funds is tricky, says Chiranuch. Many Thai donors want to remain anonymous or fund indirectly through the Foundation for Community Educational Media. In the near future, Prachatai wants to increase its monitoring of human rights violations in the country and expand multimedia content, as well as data investigations. For instance, for the past two years, the group monitored the monarchy's budget using the Annual Budget Law, explains Tewarit.  
Prachatai's reporting has earned several awards. Chiranuch was recognized in 2011 with the Hellman/Hammett Award from Human Rights Watch and the Courage in Journalism Award from the International Women's Media Foundation. In 2012, Newsweek named her as one of the world's "150 Fearless Women." 
One of Prachatai's reporters, Mutita Chuachang, also won the 2015 Agence France-Presse Kate Webb Prize for her reporting of royal defamation cases, while Amnesty International Thailand has also recognized the newsroom's work. 
The recent pro-democracy protests, which began last year and continued into 2021, pose new challenges for journalists in Thailand, as the role of the monarchy is, perhaps for the first time, being consistently scrutinized and questioned by demonstrators. 
"It is very difficult for everyone, including Prachatai, to talk about issues related to the monarchy," notes Yingcheep Atchanont, manager of iLaw, a Thai nonprofit organization monitoring democracy and freedom of expression.
When it comes to media freedom and expression in Thailand, Prachatai is fighting a long battle, but there are small, promising signs of change. "People are still living under an atmosphere of fear," says Yincheep. "But before we couldn't talk about things such as the monarchy's budget. Now we can."
Additional Reading
Webinar: Larger Audiences and Bigger Impact: How Journalists in Asia Can Better Market Investigative Stories
How Journalists Are Coping with a Heightened Surveillance Threat
Profiles of GIJN Members Around the World
---

Laura Villadiego is a freelance journalist based in Madrid. She was based in Southeast Asia for over a decade, and writes about labor issues, human rights, and the environment. Her work has been published by the South China Morning Post, the Guardian, Al Jazeera, and El Diario.