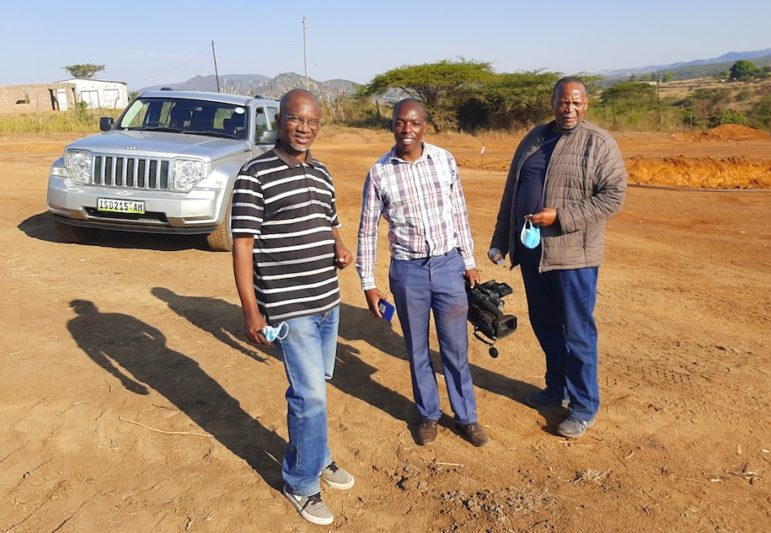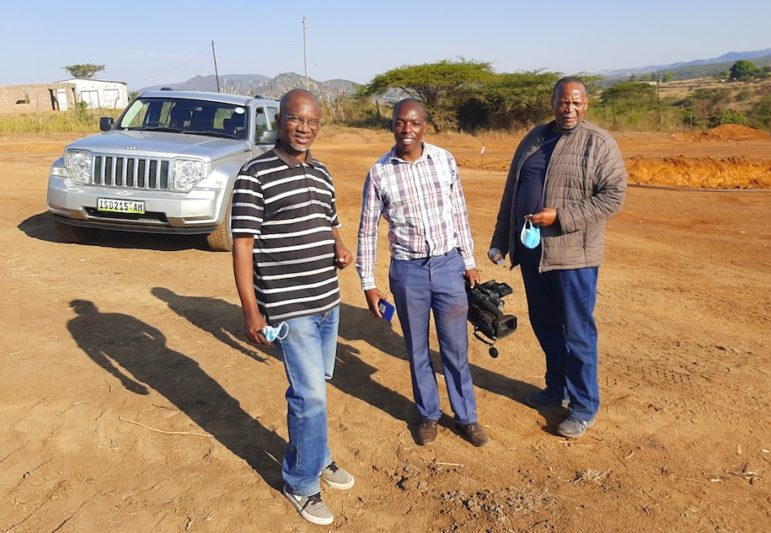 Image: Courtesy of Inhlase Centre for Investigative Journalism
Overcoming the Challenges to Investigative Journalism in Southern Africa
Read this article in
A day after his release from Chikurubi Maximum Security Prison in November 2020, Zimbabwean journalist Hopewell Chin'ono spoke out about why he was targeted, during an interview with Agence France-Presse. "The Mnangagwa regime and the government did not want corruption exposed, especially when it involved the president's family," he said, referring to the Zimbabwean president. "I will not stop exposing corruption. Once we stop exposing corruption then we have stopped journalism."
These are sentiments shared by investigative journalists around the world. But investigative reporters in the southernmost region of the African continent — especially those in Eswatini, Lesotho, Malawi, Mozambique, and Zimbabwe — now face among the toughest times of their careers because of political and authoritarian challenges. These obstacles include a fear of reprisal for reporting on people in power, harassment, torture and death threats, journalists treated as spies and terrorists, increased surveillance, lack of access to information, and a lack of financial support. Even countries in the region with healthier press freedom rankings, like South Africa, Namibia, and Botswana, have experienced new headwinds for accountability.
"The safety of journalists and media workers continues to be a huge challenge, with increasing reports of attacks such as arbitrary arrest and detention, jailing, physical assault, crippling fines, the introduction of laws that are inimical to freedom of expression, and even killings," concluded The State of Press Freedom in Southern Africa, 2019-2020, a UNESCO-backed report by the Media Institute of Southern Africa (MISA). It also found a plethora of new oppressive laws and practices put in place across the region that served to curtail the press: "The landscape and operational environment for the media in Southern Africa has been characterized by upheavals, accentuated by the COVID-19 pandemic and the advent of the digital age, which have threatened the viability and sustainability of the media."
Financial Challenges
Southern Africa is a vast region, roughly the size of India, with more than 130 million people. Home to a striking number of languages and ethnicities, it ranges from the industrial centers of South Africa to poorer, Portuguese-speaking Mozambique, to the small, landlocked kingdoms of Eswatini (formerly Swaziland) and Lesotho. Although resource rich, the region faces stubborn problems of poverty, corruption, and development.
Weak and underperforming economies have crippled funding opportunities for many newsrooms across the region, and the pandemic has only deepened the resource problem.
"COVID-19 has posed a threat to the already existing sustainability and viability issues faced by media houses," MISA concluded in its 2021 report. "The pandemic led to significantly reduced budgets due to a slump in advertising revenue, as well as increased costs of production, which has caused several layoffs of journalists and media workers."
Award-winning Zimbabwean investigative journalist Blessed Mhlanga has seen this effect first hand. "Newsrooms in Zimbabwe at the moment are very thin, and they do not have manpower to allow someone to do investigative journalism," he explains. "Investigative journalism does not take a day or two. It has to take time and the required resources. The investigative reporting you may see now is funded by nonprofits."
Funding challenges also face investigative journalists in Lesotho. "We find ourselves having to muddle through using minimal resources that are not comparable to the work done, or pay rates for colleagues in other jurisdictions," explains Sechaba Mokhethi, founding partner of the MNN Centre for Investigative Journalism. "This drives us toward sourcing alternative resources through applications for small grants for stories and starting small businesses." Being forced into non-editorial tasks, such as grant applications and business ventures, takes investigative journalists away from their core work of pursuing stories in the public interest. This effect has become increasingly common for reporters in Botswana, Zimbabwe, Malawi, Eswatini, and Namibia, who say that their time is now divided between investigative work and grant applications to ensure survival.
In Eswatini, publications that are critical of the state, such as The Nation magazine, are deprived of revenue when the national government wields its advertising power to punish those behind unflattering reports. "When it comes to the government ministries, they don't advertise in The Nation," explains Vuyisile Hlatshwayo, a veteran investigative journalist at The Nation magazine and founder of the Inhlase Centre for Investigative Journalism. "Sometimes the public companies get instructions from the parental ministries to withdraw adverts in The Nation because of its critical stance." Thanks to a "media capture" strategy by the government, independent media like The Nation are starved of funds and punished for their efforts to expose wrongdoing.
Culture of Fear and Harassment
The press freedom climate for independent media in the region has notably suffered. Increased attacks and harassment of journalists have been documented by various international organizations including Amnesty International and Reporters Without Borders (RSF). The latter reported "three times as many arrests and attacks on journalists in sub-Saharan Africa between March 15 and May 15, 2020 as it did during the same period in 2019."
Many countries in the region still possess obsolete laws and policies that hamper or threaten the work of journalists, despite constitutional guarantees for press freedom. "This has further been punctuated by physical and verbal attacks, harassment, and assault of journalists, and in some cases raiding of media houses," noted the MISA report.
Eswatini ranked 141st out of 180 countries on RSF's 2021 World Press Freedom Index. Zimbabwe was 130th, while Mozambique ranked 108th. Lesotho came in at 88th. Malawi does somewhat better, ranking 62nd, while the trio of Botswana (38th), South Africa (32nd), and Namibia (24th) ranked at or above the level of many Western nations. Compared with the RSF index of 2020, however, the press climates in Zimbabwe, Malawi, Botswana, Namibia, and South Africa have all worsened.
In places like Lesotho, journalists still face intimidation from politicians and their supporters, who sometimes threaten to kill them and their families if they expose wrongdoing. "We had a problem with former Prime Minister Pakalitha Mosisili's loyalists, who wanted to discredit our story by threatening to kill our reporter Billy Ntaote and his entire family," notes Mokhethi, referring to an MNN exposé about Mosisili's efforts to extend massive construction loans to China. "We are faced with problems of a highly volatile and politicized society, where some are always readily available to attack journalists to protect their corrupt leaders."
In Eswatini, an absolute monarchy under King Mswati III, journalists must contend with a broadly-held public belief that any criticism of the royal family is deeply disrespectful. A combination of cultural traditions and legal restrictions has created a chilling effect on investigative projects for mainstream newspapers such as the Times of Eswatini and the Eswatini Observer. According to the Eswatini Media Barometer, the country has approximately 32 laws that restrict freedom of expression and media freedom. The Sedition and Subversive Activities Act of 1968 criminalizes "seditious publications" and even the use of allegedly seditious words, which "may bring hatred and contempt or execute disaffection" against the king and his subjects.
In a 2018 interview with South Africa's Mail and Guardian newspaper, Zweli Martin Dlamini — a journalist also known as "Zwemart" — described how his arrest and physical abuse at the hands of the police forced him to flee Eswatini. "I started my own newspaper, it was known as the Swaziland Shopping," Zwemart explains. "But it was eventually closed by the government after I started to be critical of the way they were running things."
Award-winning Zimbabwean journalist Elias Mambo says threats from the subjects of investigations are a major deterrent to investigative reporting. Mambo says such threats accompanied his investigation into the looting of diamonds from Zimbabwe's Chiadzwa mine. Mambo recalls that he and his co-author, Obey Manayiti, faced "security issues where state security and political actors would threaten us in order to discourage us from doing the story."
In Malawi, police recently arrested Gregory Gondwe, managing director of the Platform for Investigative Journalism (PIJ), and seized his computers and phones in an attempt to force him to reveal a source. The authorities were reportedly trying to identify a leaker who revealed a secret legal opinion the country's attorney general, Thabo Chakaka Nyirenda, provided to the country's anti-corruption bureau. The PIJ has been running a series of articles on alleged corruption inside the Malawi police, military, and immigration departments. Gondwe was later released.
Some investigative journalists in the region have been branded terrorists or political enemies of the state. "There is the old problem of negative perspectives or negative attitudes of journalists in Africa," says Malawian investigative journalist and AfricaBrief editor-in-chief Winston Mwale. "We are looked at as spies for the opponents of the state. I have always dealt with this problem by reminding sources that they need to provide the information for a whole and objective story."
Data Vacuums and Unresponsive Officials
The long-standing problem of data vacuums created by unresponsive government sources is pronounced in southern Africa. "The problem is the absence of a centralized source of information," says Mwale. "For example, when I was doing a story on the impact of COVID-19 on the attendance of pregnant women to antenatal screening, the spokesperson of the ministry told me he had no data from the country's hospitals, and instead, I should speak to the various scattered individual hospitals."
"Access to information is very difficult in Zimbabwe," explains Blessed Mhlanga. "You may find that websites are not up to date, or, if you request certain information from public officials, you may be told that you are an activist or you want to destabilize the regime."
Navigating Around the Challenges
After the closure of Swaziland Shopping, Zwemart founded and now runs an online publication, Swaziland News, from exile. His work takes advantage of the far more liberal press freedoms enjoyed in neighboring South Africa, where he is now based, and leverages social media, leaks, and backing from international supporters.
"We are on Twitter, and we use Facebook, because most of the people we are targeting are on Facebook and WhatsApp," Zwemart explains. "We are quickly reaching 200,000 followers." With protests and demonstrations taking place in Eswatini since June 2021, Zwemart has continued to investigate the monarchy, showcasing the unlawful killing of protesting citizens, corrupt government officials, and misuse of state resources.
Despite being arrested three times since 2020 for supposedly tweeting 'falsehoods,' inciting public violence, and reporting on corruption, Hopewell Chin'ono continues to use Twitter to hold power to account. Meanwhile, Zimbabwean investigative journalists are still reporting on government corruption, land evictions, and other accountability topics through sites like The NewsHawks.
For his part, Mwale insists that he remains undaunted, and will continue to expose wrongdoing and elevate the voices of affected citizens.
The Power of Nonprofits and Collaboration
A number of nonprofit newsrooms have formed in countries like Botswana, Namibia, Malawi, and Zimbabwe to counter government media capture and the fickle nature of advertiser-funded media. "Through this model we are able to continue doing investigations and work with others in the region," says investigative journalist Ntibinyane Ntibinyane, who co-founded the Gaborone-based INK Centre for Investigative Journalism. He says the model has helped INK break stories like the shady deals between the Botswana government and a Chinese construction contractor.
Along with INK, the Inhlase Centre, and MNN, other sites like The Namibian Investigative Unit and the Platform for Investigative Journalism in Malawi are collaborating through the Investigative Journalism Hub (IJHub), a project of South Africa's AmaBhungane Centre for Investigative Journalism. This transnational cooperation enables the participants to learn from digital workshops, share stories and skills, and broaden the reach of their investigations.
Some notable examples of the collaboration include MNN's exposé on Lesotho citizens' lack of access to safe water, despite the country selling millions of gallons to neighboring South Africa; INK's revelation of a quarry mine land grab involving Vice President Slumber Tsogwane; and the Inhlase Centre uncovering the suffering of widows of ex-miners and human rights abuses in Eswatini.
"Our stories do not end up in Botswana alone but also in the region and globally," notes Ntibinyane. According to Nhlase's Vuyisile Hlatshwayo, the regional network can also help protect small newsrooms from the backlash from sensitive stories. "If we feel that the story is going to burn our fingers, we always send our stories to the Hub, and they can be published through publications such as Daily Maverick and others," he explains.
Journalists in Malawi, Zimbabwe, Eswatini, Zambia, and Namibia are also collaborating on an international level with nonprofits such as the US-based Center for Collaborative Investigative Journalism (CCIJ), where they can leverage grant funding and training. Namibian journalist Sonja Smith, a member of CCIJ, has won awards for her stories "Dying for a Drop" and "Grape Crop Brings in Millions, But Farm Workers Live a Harsh Life."
Despite all the headwinds, some investigative journalists in the region, like Sechaba Mokhethi, are optimistic about the future, thanks to growing opportunities for collaboration, the rise of nonprofit funding, and new digital tools to tell stories. "I believe that investigative journalism is on a brighter path, despite all the challenges we face everyday," he says.
Additional Resources
The GIJN Resource Center: Sustainability
Editor's Pick: 2021's Best Investigative Stories from Sub-Saharan Africa
Why South Africa's Pioneering Investigative Nonprofit is Supporting Other Regional Start-Ups
---
Carolyne M. Lunga is a journalism PhD candidate at City University of London (UK) with 10 years of experience as a journalism lecturer. She is a graduate teaching assistant for the international journalism Master's program and is currently researching collaborative investigative journalism in southern Africa.