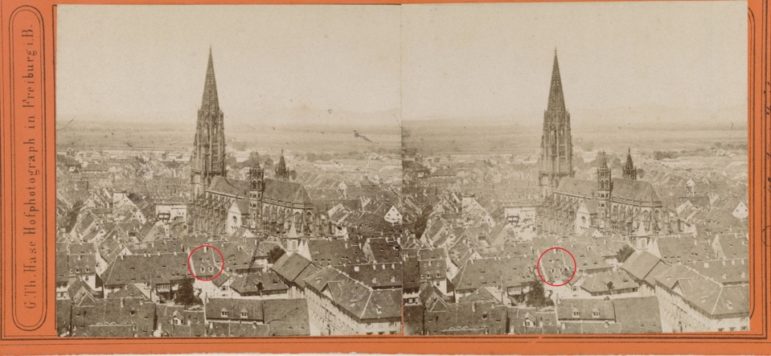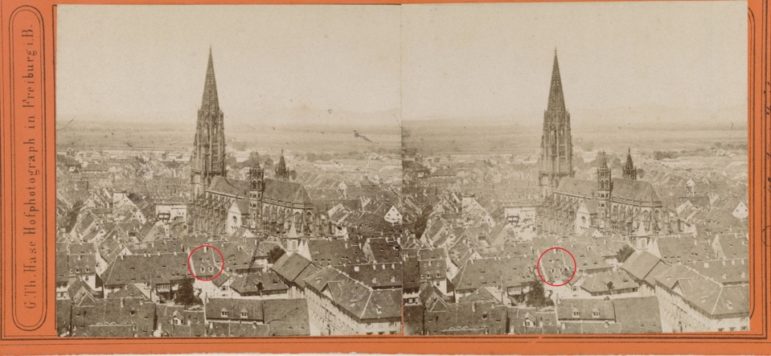 Comparing different archive photos of buildings near Freibrug cathedral in Germany. Image: Rijksmuseum archive
New Technology and Online Resources to Conduct Investigations With Old Photos
Read this article in
In 1860, roughly 30 years after photography was invented, a series of photos were taken across Europe and India. Many of these were captured by prominent photographers at well-known landmarks and sites. But in other cases, it's still unclear where, when, and by whom these photographs were taken.
This album is one of hundreds in the possession of Amsterdam's Rijksmuseum, the largest museum in the Netherlands. The Rijksmuseum has become a leader in the effort by galleries worldwide to digitize their collections. The aforementioned travel album, which can be viewed online here, contains 60 images. Most of these photographs were taken by well-known photographers such as Samuel Bourne, and the duo Shepherd & Robertson. However, the location and authors of 21 images remain unknown.
Today, open source research can provide new clues. New tools and a wealth of online data make it easier to navigate more than 150 years of evolving landscapes, cities, buildings, and street names. Reverse image searches, Google Lens, digitized newspapers, heritage and auctioneering websites, AI colorization, and tools such as Peakvisor can help add valuable information and understanding to historic art collections.
These tools and methods allowed us to pinpoint the location of several of these photographs. Here's how we did it — and how you could, too.
Determining Locations
The 21 photos all appear to be original, but in many cases a reverse image search can still be used to find similar looking images that might provide more detail about location and time.
To use a reverse image search, the photograph in question must be the only image in the frame. Cropping may be required.
A Yandex reverse image search of this cropped photo returns recent results showing pictures from the Königssee, a lake in the Bavarian Alps.
Compare this Rijksmuseum's photo to an image uploaded to Tripadvisor in May 2018.
Because both of these locations are near the Königssee, we can infer that the photo of the lake below was likely recorded there as well.
Interestingly, the three big reverse image search engines (Google Images, Yandex, and Bing) don't immediately recognize this location. However, using Google Lens (also accessible through a browser) immediately finds the right spot on the Königssee.
Peakvisor, a web and app service which recognizes landscapes, can be used to match the mountain ridges in the picture to this location.
Another photograph in the Rijksmuseum's album shows a mountain village. A reverse image search of this photo leads to a matching vista in seen in an auction website photo, which was sold in 2017. The same website names the photographer as Charles Soulier (1840 – 1875) and the location as Chamonix, France, at the foot of France's Mont Blanc.
Apart from its larger size, the auctioned photo looks remarkably similar. As can be seen below, the buildings all appear to match and the angle is only slightly different. The main difference is the level of snowfall visible on the mountain above the glacier. This glacier's name — the Glacier des Bossons — is also given in the website's description of the photograph.