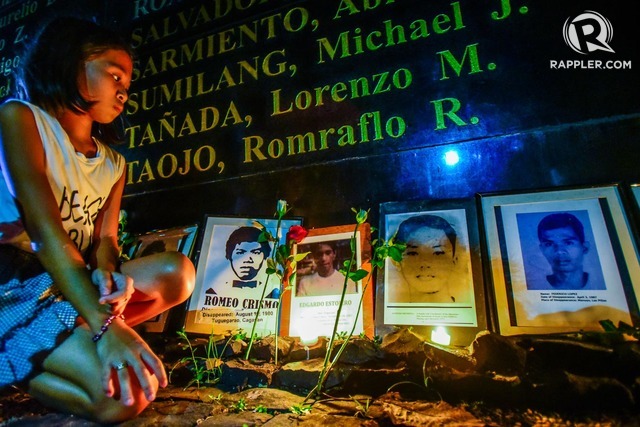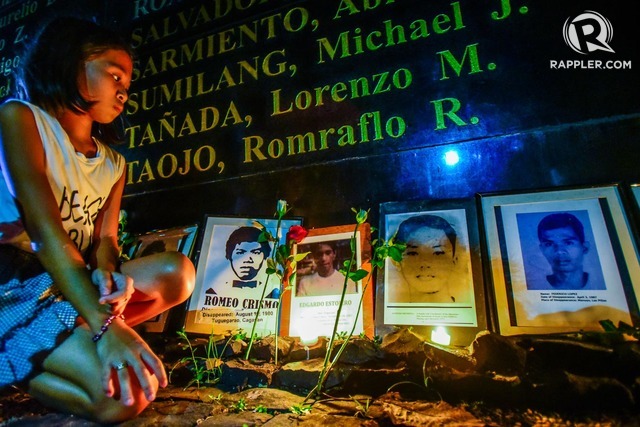 Having no tombs to visit, members and relatives of Families of Victims of Enforced Disappearance and other human rights groups hold the Daupang Palad, the groups traditional All Soul's Day commemoration at Bantayog ng mga Bayani grounds in Quezon City on November 2, 2018.Daupang Palad seek to contextualize from a human rights lens the martyrdom and heroism of the dissapeared in the current national situation. "As we celebrate the lives of our beloved desaparecidos, who fought for the rights and welfare of the poor and marginalized, we become more acutely aware of the imperative od sustaining the struggle for this cause" said Nilda L. Sevilla FIND co-chairperson and sister of disappeared labor. Photo by Maria Tan/Rappler
Millions of people disappear every year, according to the International Commission on Missing People, and organized crime is involved in many of these cases. The violence associated with drug trafficking in particular, but also wildlife smuggling, resource theft, human trafficking, and other criminal rackets, plays a key role in many of the disappearances.
At its most sophisticated, organized crime is transnational, highly organized, and often systemic. It features in everyday life, infiltrating systems and groups that are essential to society. Disappearances are often a byproduct of this criminal activity.
Reporting of organized crime and missing people is complex and nuanced. Journalists must be both careful and deliberate in their approach. GIJN's new guide rounds up case studies and examples of published investigations, relevant organizations to be aware of during the research stage, and tips for on-the-ground reporting.
The reporting guide accompanies the launch of Digging into Disappearances, a webinar series from GIJN and the Resilience Fund. The first webinar, in English will take place on September 8. A French webinar will be held on September 10, one in Spanish on September 15, with a final webinar, in all three languages, on September 17.
---

This guide was put together by Hannah Coogans, an editorial assistant at GIJN. She has an MA in investigative journalism from City University and previously worked as a researcher in Hong Kong focusing on wildlife crime and trafficking, and for various Channel 4 Dispatches programs in the UK. She is based in London.
Special thanks to Marcela Turati for contributing to this guide. Marcela is a freelance investigative journalist renowned for her investigations into missing people, enforced disappearances, massacres of migrants, mass graves and cases of violence.