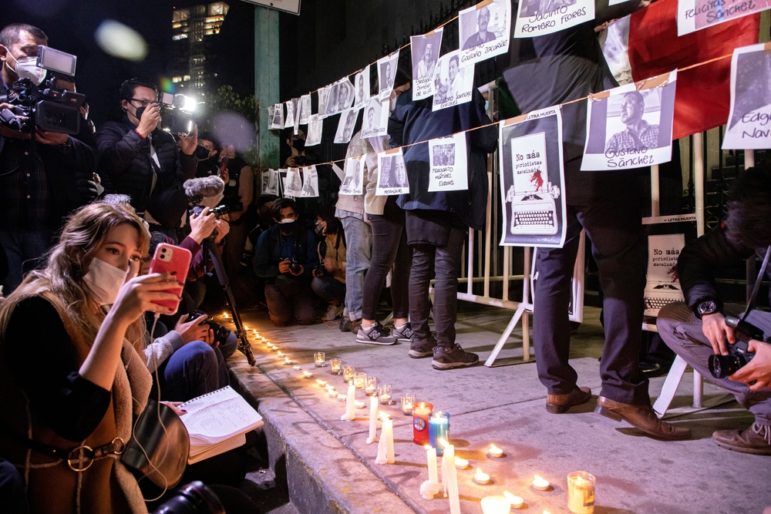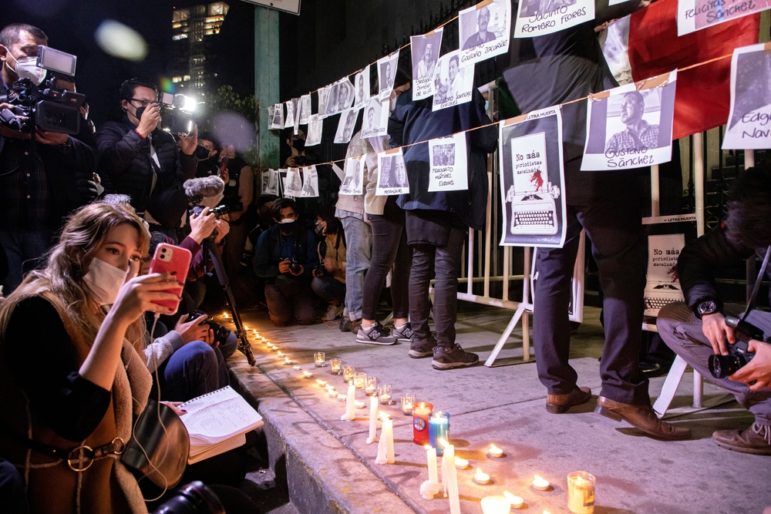 Mourners in Mexico City attend a candlelight vigil for journalists killed in Mexico. Image: Shutterstock
Lessons Learned from Journalists Facing Attacks and Persecution
Read this article in
From Mexico, currently the world's most dangerous country for journalists, to El Salvador, where reporters face intimidation and surveillance, to Peru, where an alarming precedent for judicial harassment against the media is being set, the panorama for Latin America's media corps is troubling. But since remaining quiet or being forced into silence is not an option, journalists in the region are instead using social media and solidarity among colleagues to call out attacks, while prioritizing their own security, in an effort to fight back.
"The situation in Mexico is a mess," says reporter Marcela Turati, co-founder of investigative nonprofit Quinto Elemento Lab, who was herself investigated by officers of the Mexican attorney general while she reported on the killing of 196 people found in clandestine graves in the Tamaulipas region. 
In the first few months of 2022, five journalists have been murdered in Mexico. The press freedom organization Article 19 estimates that, since 2000, around 150 journalists have been killed in the country, while dozens more have gone missing. Additionally, harassment by government officials is escalating, Turati says, pointing to the current Mexican president, Andrés Manuel López Obrador, who has publicly criticized journalists. 
Turati recently found out her cellphone had been hacked by Pegasus spyware, which is often bought by governments to spy on reporters, activists, and human rights groups. A larger-scale surveillance attack was launched on reporters in El Salvador, where El Faro is based. 
"We were already working with three organizations to analyze our devices and we ended up finding that in an organization of 36 people, 22 had been spied on by Pegasus," says José Luis Sanz, the Washington, D.C., correspondent for El Faro, El Salvador's leading independent online news site.
While the situation in Peru is not as hostile, investigative reporter Christopher Acosta says that after publishing the book "Plata Como Cancha" ("Cash By the Bucket") about the life of magnate and politician Cesar Acuña, he became the target of a legal harassment campaign, including lawsuits seeking huge damages. "I have been sentenced to pay damages of $100,000 and received a two-year prison sentence, but we are appealing," Acosta says.
These three journalists, along with moderator Silvia Viñas, participated in the Global Investigative Journalism Network's February 22 webinar, Lessons from Journalists Under Attack, where they shared their experiences dealing with legal battles, invasive surveillance, harassment, and death threats — and offered advice for their colleagues around the world. 
Spying on Reporters as a Tactic?
Marcela Turati found out that she was being spied on when the Pegasus Project leak revealed 50,000 phone numbers worldwide had been selected for surveillance by customers of the Israeli NSO Group. "Without asking for a warrant, prosecutors spied on us, and to avoid having to argue with a judge, we were linked to kidnapping and organized crime," says the journalist. Although this happened in 2016, she doesn't know if the surveillance has continued since then. She suspects she was spied on because of her investigation into the massacre in Tamaulipas.
For the team at El Faro, the trigger point for the surveillance on their phones is less clear. They are also baffled by the scale of the attack. "It is difficult for us to identify which investigations are of concern," Sanz says. "I was one of the first people to be hacked, which is logical since I was the director and that would give them access to the relationships and the way the outlet operated," he says. "But… even the marketing manager and the administrative manager were hacked." The only reason to surveil so many people, he suggests, is to damage journalism and to challenge an outlet demanding accountability from those in power.
El Faro believes that the government was behind the phone tapping, although a spokeswoman for the president has denied this. However, facing an increasingly hostile climate, Sanz says it's important to challenge the belief that criminal groups are the only actors working against journalists. 
"Our experience in terms of threats and level of risk has been linked to the government or corrupted groups within it, like state institutions and the police," Sanz explains. While reporters have received threats from gangs and organized crime groups, those threats have been relatively infrequent and related to specific stories. 
"There is a media campaign attacking journalists coming from the presidency," claims Sanz. In the last two years, he says attempts to discredit El Faro and its journalists have risen, with extraordinary financial audits or public indictments from the presidency accusing the news site of money laundering or tax avoidance. 
"The state apparatus is starting to be used against journalism, and against us specifically," Sanz adds. "Journalists are being hit, but an entire society is being intimidated in order to get them scared so that they won't collaborate with journalists and the truth."
Turati says reporters in her country are facing similar systemic threats. "It is thought that in Mexico the murderers [of journalists] are from organized crime groups, but what we have seen is that the main harassers are public officials," she says. Turati notes that reporters are most in danger when revealing corruption, police stories, high-stakes business stories, and narcotrafficking. "They get you out of their way when there's a lot of money," she says.
The Mexican president himself encourages harassment of the press, Turati says. He has branded "every journalist" as "corrupt, dishonest criminals," she notes. "This is only because of the investigations that bother him." 
Local journalists living far from the biggest cities and working outside of the big media companies are in the greatest danger. "Out of 150 journalists who have been killed, only two were from Mexico City," Turati points out. "These aggressions go to the local newspapers, journalists with less influence and with less power to answer, to get active, and to protect themselves."
And these attacks often happen as journalists go about their daily routines: walking to their cars, going to school, or leaving their jobs. This suggests that before being attacked, they were followed, Turati says. "In countries like Mexico, where people spend so much time being threatened, it is hard to know when it is real," she adds. That's why she co-founded Periodistas de a Pie, an organization that provides training, network-building, and capacity-building, because she considers it vital for journalists to work together to protect themselves and help alleviate the risks. These are her recommendations:
Do not work on investigations alone.  

Assu

me that everything being said is being heard by someone else.

Reporters should use encrypted communications like Signal, secure email, and double-check what they are uploading to the cloud. 

When communicating with a group, use keywords to warn about risks. 

Create protocols within the team. 

Have a valid passport and money on hand in case there is a need to escape.

Remove bylines from investigations that could potentially generate risks. 

Collaborate with journalists overseas who can publish without being at risk.

Be aware of the emotional and mental toll of the job, and if needed, go to therapy. 
Using the Courts to Intimidate Journalists
While the situation in Peru is less overtly hostile, investigative journalist Christopher Acosta worries about threats to press freedom from harassment lawsuits in the courts. "It is concerning the fact that judges are accepting these lawsuits," he says.
He says that those with "economic power" are the ones threatening investigative journalism in the country, and notes that colleagues have faced legal threats immediately after publishing hard-hitting stories, such as exposés on sexual assault. In some cases, reporters are struck with lawsuits that aren't even linked to their jobs, but are instead brought by strangers using a contrived excuse.
When Acosta was hit with legal intimidation tactics related to his book, the resulting support he received from national and international mass media made his book more, rather than less, successful. "He wanted [my findings] not to be known, and he achieved exactly the opposite: the book is being printed for the ninth time," Acosta says, referring to his book's subject.
These attacks are not isolated incidents, he adds. They are specifically designed to hurt journalists and undermine trust in the press as a whole. "Filing a lawsuit against a journalist feeds the idea that maybe what they are saying is not true," Acosta says. 
Instead, the panelists agreed, reporters need to look out for each other, build a united front, and collaborate.
"Nobody can be protected by themselves," Sanz says. "We are in an era where we all understand that nothing is more important than the wellbeing of our colleagues." Only by collaborating and sharing the risks, whether it's a major media company or a single freelancer, can journalists do their jobs. "We are all in this together," he says.
Additional Resources
GIJN Resource Center: Legal Defense and Emergency Aid
GIJN Resource Center: Safety & Security
Under Attack: El Faro's Gutsy Reporting in Latin America
---

María Laura Chang is a Venezuelan freelance journalist based in Buenos Aires. She specializes in social issues such as human rights, sexual and reproductive health, and migration. She is currently part of the Chicas Poderosas team and is interested in promoting transnational and collaborative investigations.