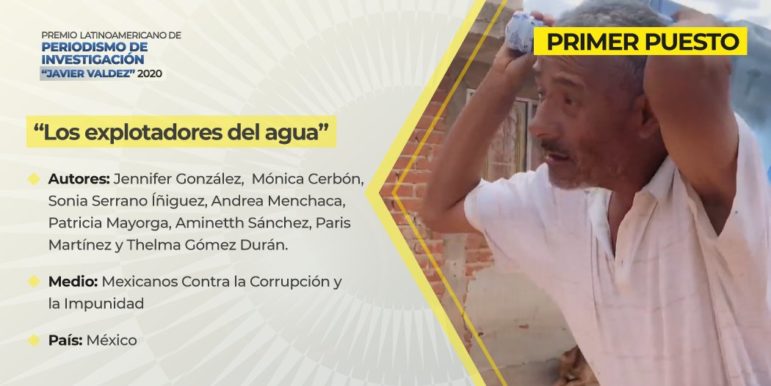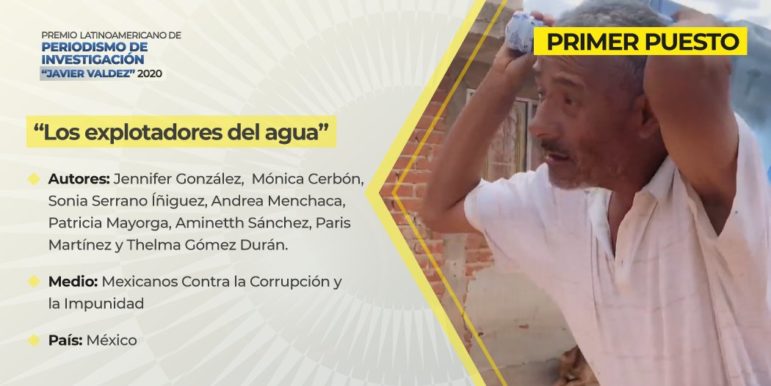 Latin America's Best Investigative Journalism Honored at COLPIN 2020
Read this article in
Investigations into water exploitation, government surveillance, and paramilitary murders were among the stories honored with awards at the annual Latin American Conference of Investigative Journalism (COLPIN), which drew hundreds of journalists from more than 20 countries for this year's online event. 
The Institute for Press and Society (IPYS, for its acronym in Spanish) organized the one-week event that highlighted a range of local, national, and transnational stories. Many of the shortlisted investigations reflected the themes of inequality, corruption, and mismanagement of public funds.
On November 16, the jury for the top award — the Latin American Prize for Investigative Journalism — revealed the winning projects from the region. The jury was made up of Lise Olsen (United States), Ewald Scharfenberg (Venezuela), Giannina Segnini (Costa Rica), Fernando Rodrigues (Brazil), and Santiago O'Donnell (Argentina), who selected four winning projects from 206 applications.
Here are the 2020 winners and the projects that received honorary mentions. 
The Winners:
First Prize
Mexico: The Water Exploiters
By Thelma Gómez and colleagues from Mexicans Against Corruption and Impunity (Mexicanos Contra La Corrupción y la Impunidad)
In Mexico, water is a monopolized resource, controlled by private entities with economic influence. In this investigation, a team from Mexicans Against Corruption and Impunity weaves a narrative that plays out across the country: from mining companies who leave communities with no access to water, to politicians that irrigate their ranches while their neighbors deal with drought, and the Mexican elite using influential contacts to use water excessively with no repercussions.
Judge Giannina Segnini praised the project's "methods used for extraction of data from public documents, the use of effective multimedia storytelling, and for signaling by name who the real water exploiters from the country are." She said the project had been successful "in showing water inequalities that are faced every day by most Mexicans." 
Second Prize

Colombia: Military Espionage
By Ricardo Calderón from Semana

Spying on government critics has happened in the past in Colombia. In this piece journalist Ricardo Calderón, who until recently worked for the Colombian weekly magazine Semana, revealed how the army ran a spying program in which most of its targets were journalists, opposition politicians, generals, members of nongovernmental organizations, and trade unionists. The list had more than 130 victims.
In reporting this project, Calderón received numerous death threats and was himself a victim of harassment.
Third Prize (tied)
Nicaragua: Executions in the Field — The Massacre of the Campesinos
By Juan Carlos Bow from Confidencial / CONNECTAS Nicaragua
"A clear, direct, and deadly shot to the heart," said Argentine journalist Santiago O'Donnell, a member of the jury, about this investigation. The piece tells the story of more than 30 campesinos — or farm workers — murdered in Nicaragua by paramilitary groups. The executions, which occurred in rural areas, have a common theme: political opposition.
The investigation is based on analysis of databases registered by national researchers and Nicaraguan human rights organizations, with cases verified with relatives and neighbors of the victims. The project highlights the problem of impunity in cases like this and the failures to investigate the executions.
Venezuela: Alex Saab Also Bought Deputies from the Opposition
By Roberto Deniz Machín from Armando.info
This story confirmed an open secret: Colombian businessman Alex Nain Saab Morán — one of the main contractors of the government of embattled Venezuelan president Nicolás Maduro — entered the National Assembly, dominated by the Venezuelan opposition, to influence politicians there.

The investigation also reports that some deputies traveled internationally — and secretly — in 2019, allegedly to defend Saab's interests. 
Bolivia
Rare Trees are Disappearing as 'Wood Pirates' Log Bolivian National Parks
By Eduardo Franco Berton for Mongabay and the Environmental Information Network (RAI)
Brazil

Mafia in the Field
By Sergio Rangel, Fred Justo, João Marcos Braga, and Yuri Bobeck for Spectacular Sports, TV Globo

Tons of Mercury Clandestinely Entered the Country to Supply Garimpo de Ouro
By James Alberti and team for TV Globo
Colombia
The Invisible Drug Trafficker: In the Footsteps of Memo Fantasma
By Jeremy McDermott for InSight Crime.
Cuba
The Infinite Concessions to ETECSA [Cuba's Telecoms Agency]
By Darcy Borrero Batista and Alberto C. Toppin for Distintas Latitudes and Espacio Público. 
Dominican Republic
By Mariela Mejía, Tania Molina, and Suhelis Tejero for Diario Libre, in alliance with CONNECTAS and ICFJ.
Ecuador
Price Gouging that Cost Lives in Ecuador
By Marjorie Ortiz, Sandra Miranda, Mónica Almeida, and Paúl Mena for El Universo
Mexico
By José Ricardo Balderas Alatorre and team, for PODER
By Colectivo 23 de Marzo (Mexico) and María Teresa Ronderos, in alliance with the Latin American Center for Journalistic Investigation (CLIP), Bellingcat, and Forbidden Stories (France)
Uruguay
Women in Latin America 'under Pressure' to Accept Cesarean Sections during the Pandemic
By Diana Cariboni and team for openDemocracy
Venezuela
By Gustavo Faleiros, Stefano Wrobleski, and team for Correo del Caroní, InfoAmazonia, and De Correspondent
Regional
Author: CLIP team and partners including Columbia Journalism Investigations from the Columbia University School of Journalism (US), Latin American Center for Journalism Investigation (CLIP), Agência Pública (Brazil), Folha de São Paulo (Brazil), La Diaria (Uruguay), El Tiempo (Colombia), Mexicans Against Corruption and Impunity (Mexico), Runrunes (Venezuela), Nómada (Guatemala), Canal 13 Noticias (Costa Rica), IDL – Reporteros (Peru), Infobae (Argentina), and OCCRP (Europe)
Additional Reading
What to Watch: DIG's Investigative Documentary Shortlist
A Global Tour of Top Investigative Podcasts: The 2020 Edition
How They Did It: Collaborating Across a Continent on Latin America's Untold Migrant Stories
---

Andrea Arzaba is a journalist and GIJN's Spanish Editor. As a reporter and media professional, Andrea has dedicated her life to documenting the stories of people in Latin America and Latinx communities in the US. She is an International Women's Media Foundation fellow and part of Transparency International's Young Journalists Program.