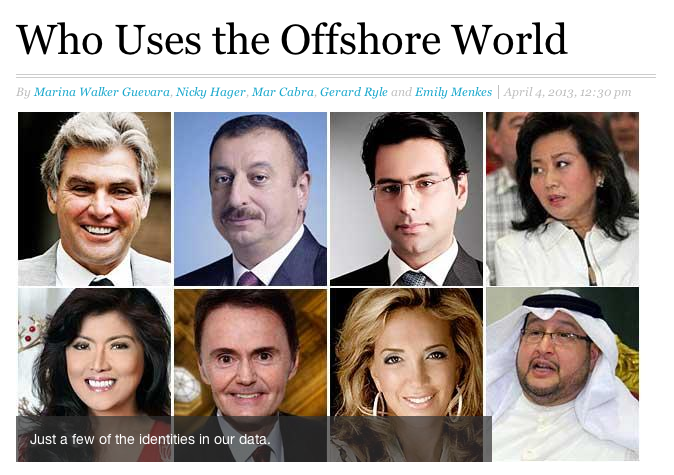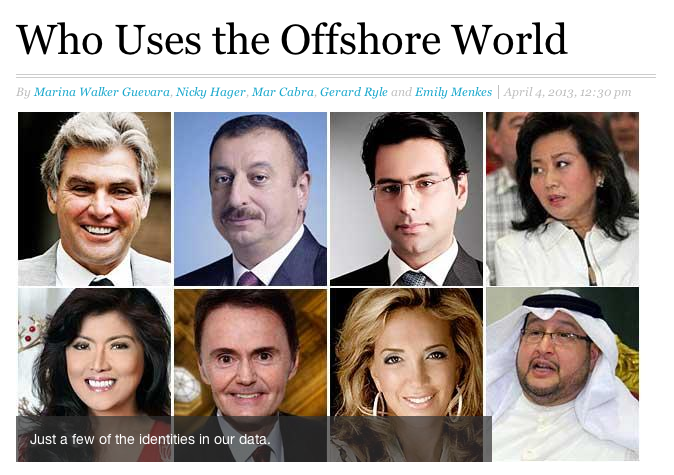 ICIJ's Offshore Exposé: Bigger than Wikileaks' 'Cablegate'
It's certainly one of the single biggest leaks of documents in the history of investigative reporting. This week, the Washington, DC-based International Consortium of Investigative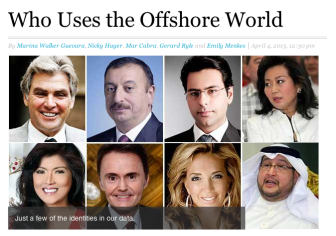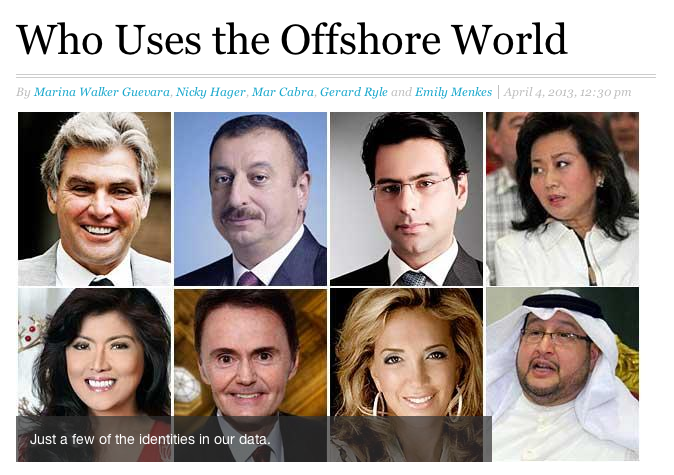 Journalists released a series of stories based on 2.5 million documents on offshore holdings that its director, Gerald Ryle, had obtained while he was still doing journalism in Australia.
In the last 15 months, 86 journalists in 46 countries have been poring over the document cache. ICIJ, housed in the Center for Public Integrity, coordinated the investigation from DC, using a secure messaging system  to communicate with a worldwide team of journalists and free- text retrieval software and programmers in three continents to mine the information from the documents (for more, read this account of how this amazing project was put together).
In recent years, there's been great work done on the offshore economy, including astounding estimates made by economists, advocacy groups, international financial institutions and academics of the trillions of dollars of global wealth that is stashed in offshore havens. What makes the ICIJ's exposé such a blockbuster, however, is that it names names, in effect puncturing huge holes in the armor of secrecy that makes offshore havens so attractive.
The ICIJ  reports this weak expose an array of individuals, including politicians (everyone from  a Kuwaiti sheikh to Imee Marcos in the Philippines to members of the Azerbaijani ruling  family), businessmen, criminals, and even a songwriter and art collector who have stashed their assets overseas. Up till now, those assets – at least those in 120,000 offshore companies and trusts now on ICIJ's database – were cloaked in secrecy, kept away from the prying eyes of journalists, government regulators and tax collectors. But no longer.
Offshore companies are not illegal. There are legitimate reasons for housing a company offshore. But because offshore havens guarantee their clients secrecy, they have become natural havens for corruption, organized crime and tax evasion.
In a tweet last night, ICIJ said it is contemplating making a public release of its data. If that happens,  more secrets are likely to emerge as journalists and others who were not originally part of the collaboration dig into the data and find their own stories. This indeed could be bigger than Wikileaks' "cablegate," not just in terms of the size of the leaked documents (Wikileaks had about 250,000  US State Department cables) but also in terms of the international journalistic collaboration. (Disclosure: I am a member of ICIJ and my former organization, the Philippine Center for Investigative Journalism, was part of the Offshore Project).
What's especially exciting for me is that the offshore series is firming up a template for ambitious investigations on a global scale, taking full advantage  not only of technology but also of a growing global network of muckrakers. Such a robust network would not have existed 20 years ago. Then again, the offshore economy was not this huge 20 years ago. It's comforting to know that in the age of globalized financial flows,  truly global investigative reporting has emerged. The work that ICIJ and a few other organizations have done in the past decade or so – creating global networks and experimenting in  investigative reporting partnerships across borders – is certainly paying off.
For sure, collaborations like these do not arise spontaneously and require coordination from a central hub like ICIJ. At the same time, individual journalists and media organizations were also given leeway to do their  own  reporting and publishing for their own audiences, not just ICIJ's.  The coordination was enhanced by the use of digital technology and secure communications. "These included a message center hosted in Europe and a U.S.-based secure online search system," wrote Duncan Campell, the data manager for the offshore project. "Team members also used a secure, private online bulletin board system to share stories and tips."
The data work, like the reporting, was outsourced to a global network. As Campbell said, "Computer programmers in Germany, the UK and Costa Rica designed sophisticated data mining and cleaning software for ICIJ to support data research. Before it was used, though, manual analysis had established much country-by-country identification of clients and thus provided an initial look at the scope and range of clients. This painstaking work was done in New Zealand and it proved crucial in early decisions on what countries ICIJ needed reporters to work in."
How times have changed – not just reporting-wise but also money laundering-wise. In the 1970s, this was how Ferdinand Marcos transferred bribe money from Manila to Switzerland:
A bagman, a retired general at the start, and  later a public works secretary… would take a plane to Hong Kong then proceed to one of two money changers to convert the money into US dollars, then deposit the newly laundered cash in the Suisse Credit branch there.
This quote is from  Jovito Salonga, who headed the government agency that investigated the Marcos wealth. It describes how the deposed dictator laundered the "commissions" he received from projects funded from World War II reparations from the Japanese government. Years later, according to Salonga, "Marcos's laundering techniques became more sophisticated. The looted funds were first parked in the Bahamas or used to purchase US government securities before depositing them in the Marcos bank accounts. Finally, … numbered Swiss accounts were opened by Lichtenstein companies beneficially owned by the Marcoses using professional nominees of Swiss banks."
We know this now because Marcos left a stash of documents when he and his family fled the presidential palace in 1986. Hopefully, the revelations from ICIJ's offshore project will mean early discovery of illegally acquired and hidden wealth. No need to wait, like FIlipinos did, for 20 years for Marcos to fall.

Sheila Coronel is director of the Stabile Center for Investigative Journalism at Columbia University, and is the former executive director of the Philippine Center for Investigative Journalism. This is reprinted from her blog, Watchdog Watcher.