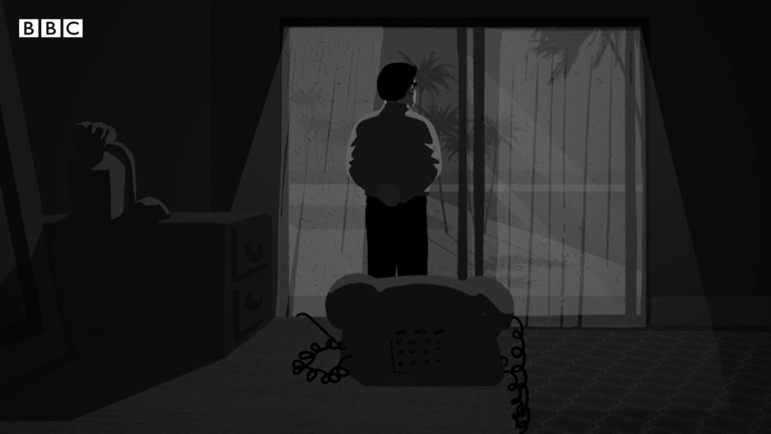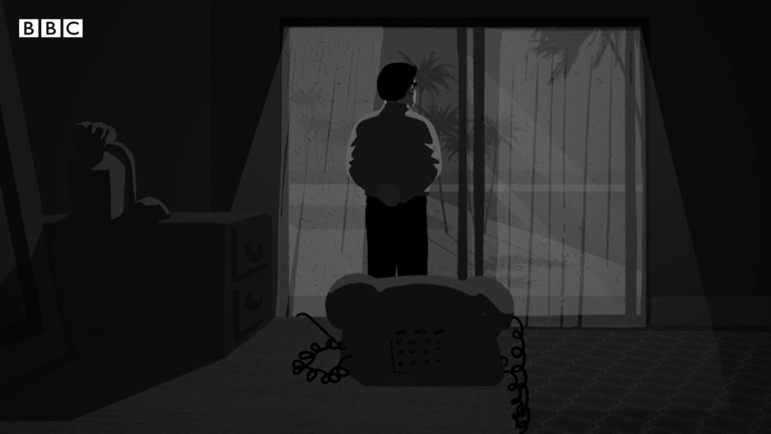 How They Did It: Revealing the Final, Frantic Calls of Tunisia's Dictator
Read this article in
Few would have predicted that the small North African country of Tunisia, with a population of just 12 million people, would have sparked the revolutionary fervor that swept across the region a decade ago in form of the Arab Spring uprisings. But the act of self-immolation in December 2010 by Tunisian street vendor Mohamed Bouazizi, who had grown incensed at constant government harassment, set off a chain reaction that within a matter of weeks overturned one of the most entrenched autocrats in region.
In conjunction with the anniversary of former Tunisian President Zine El Abidine Ben Ali's abrupt departure for Saudi Arabia in January 2011, the BBC aired an investigative film based on audio leaks of some of Ben Ali's final phone calls before his 23-year-long dictatorship crumbled.
The exposé revolved around six leaked calls, made by Ben Ali to close associates and officials of his regime. One of those calls took place before he delivered his famous speech on January 13 in which he begged for forgiveness in a last-ditch attempt to stay in power. The other five involved frantic calls to friends and associates back in Tunisia after he had fled to Saudi Arabia, and weighed making a return.
These recordings offer a rare, behind-the-scenes look at corrupted power in its last days, and mark an historical moment as they document the fall of the first Arab dictatorship in contemporary history.
Ahmad Haj Hamdo from GIJN talked to Emir Nader, the BBC News Arabic producer and director of the film, on the difficulty of obtaining the leaked audio, verifying the identities, and how the recordings can spur future investigative reports.
GIJN: How did you start working on "The Dictator's Last Calls"? Did the audio leaks lead to the story or did the story lead to the search for these recordings?
EN: We received the audio recordings from a source who we can't say much about. We immediately recognized their massive value, but realized doing a professional analysis of the material and undertaking a robust verification process was crucial before we could start thinking about what we were going to do with them.
GIJN: How did you deal with the sources that gave you the recordings? In terms of ensuring confidentiality and their protection?
EN: In general, the BBC takes the protection of its sources incredibly seriously. We owe due care to our sources who may be caused harm or distress as a result of their contribution. Only communicating via encrypted apps and making sure that the source material is handled by a very select few individuals is crucial to ensuring that it is not compromised in any way.
GIJN: You mentioned in the investigation that the film team verified these recordings in two ways. The first was through voice experts, and the second was through those close to President Ben Ali. Can you tell us about the verification process?
EN: We had to be sure that we did all we can to feel confident that the audio was not only genuine, but also that the voices we hear on the tapes are really the individuals we name. For this reason, we spent more than a year using different methods and consulting with numerous experts to analyze the recordings. We used two methods primarily, a technical analysis by audio forensic and phonetic experts, and secondly by playing the material to those close to the individuals that appear to be heard on [the calls].
We searched for audio forensics experts in the UK, Europe, and the US, many of whom used their own specially-developed software. In the end, we worked with four different groups of experts who used digital technologies to look for evidence of manipulation in the recordings, that included signs of editing or fabrication through methods such as deepfake tools that digitally recreate voices.
We also worked with one of the UK's leading audio forensic experts, who worked with a North African phonetics expert to manually identify any inconsistencies in the speech or unnatural sounds, this process is called "critical listening."
We also made sure that for each person who we name in the calls, that we played their voices to people who know them. For Ben Ali, that included three of his top security officials, leaders of his political party, and even a voice-imitator of the president. For the other individuals, we found people close to them personally or professionally.
Of course, there was a general process of judging the authenticity of the calls by undertaking deep research into all the accounts of the revolution and comparing the content of the calls to the historical record.
At every stage, we found no evidence to doubt the material.
GIJN: After getting the recordings, how was the story planned and produced?
EN: We considered a documentary film involving all of the speakers on the call, except for the late Ben Ali [who died in exile in Saudi Arabia in 2019]. However, they all declined to participate. We spent a lot of time considering and trying different formats for the film. In the end, my editor Mustafa Khalili and I decided that animating the calls and building the narrative of the last 48 hours of Ben Ali's rule using archival material would be engaging, accessible, and would resonate not only with a Tunisian audience but a global audience, too.
Our in-house motion designer and animator Jasmine Bonshor led on this mammoth task. She began storyboarding and reconstructing the sequences we wanted to use. She then enlisted the help of our colleague Ismail Moneer to begin animating these scenes.
GIJN: What is the best way to take advantage of recorded leaks to serve investigations?
EN: As a journalist, you always want to have faith in the truth of the work you are putting in front of your audience. I would say I've discovered that audio material is some of the hardest and trickiest material to work with in order to confirm its authenticity.
If you can do that, then you want to make it interesting for the widest audience possible. For us, the animations really helped engage a global audience. If we were to have just used images of the speakers, I think it would have reduced interest in the recordings to just a Tunisian, or an Arabic audience.
GIJN: In your opinion, what is the importance of this story, which reveals the confusion of Ben Ali while the whole world was watching what was happening in Tunisia?
EN: I think the investigation revealed how vulnerable the president had become in his final hours. In that sense it reveals how detached he had become from governing and detached from "the street." This is something many of us recognized in different leaders during the Arab Spring. It shows us how brittle power can be, how a 23-year-old dictatorship can crumble from the inside.
I think it also reminds us of the power of the Tunisian revolution. Yes, the recordings suggest that it was his ministers who lost faith in Ben Ali and were unsure about his return, but their actions were only taken in light of the outrage on the street.
GIJN: According to the story, the people who spoke to Ben Ali in the recordings either denied or refused to comment. Can you tell us how the confrontations between your team and his former officials took place? What are your tips for journalists to deal with similar denials?
EN: Just to be clear, there were no confrontations. The recordings reveal a sequence of events that help us to better understand how President Ben Ali appears to have received conflicting advice from his closest aides. There is no "smoking gun" in the recordings to hold any individual to account. However, there's always been so much intrigue about the characters involved in these events.
We approached all of them either in person or by telephone to give them the opportunity to take part in the film, so that we could get their version of events. We thought that the passing of 10 years would allow them to speak freely. However, in the absence of them agreeing to take part, we approached them for a response in the form of a right of reply. It seems that some of them are still facing court cases and others didn't want to take part.
It's crucial that individuals are given plenty of opportunities to have their say reflected in any story you do. As advice, I would say that it is always useful to work with people with good connections, who can use their personal networks to open doors.
GIJN: On what basis was the story used as a film? Tell us about the methods used to tell this story.
EN: We consulted many different histories of the final hours of Ben Ali's rule — those compiled by journalists, historians, and also by the testimonies given by his officials in tribunals afterwards. Using this information, we were able to place each call within the narrative of those events, hour by hour. We were lucky to be able to find good quality archive video of the dramatic key moments to build this around. We, of course, didn't include every key event that took place. What we presented was the main story, of a dictatorship sent into crisis and collapse in the face of overwhelming protest.
GIJN: What advice do you give when using the historical archive in leak-based journalism investigations?
EN: Even though we all remember the Arab Spring as being documented on social media and partly lived out online, the archiving of all that incredible material is poor and much seems lost to history. You have to consult as many different sources as you can, news agency archives, speak to people who might have their own videos and audio recordings. Search on YouTube, Facebook, and Twitter. You need to really mine as much material as possible.
GIJN: What are your top tips for independent investigative journalists or modest-resourced newsrooms when working on stories based on leaks involving influential people?
EN: Ask for a lot of favors! Doing technical analysis of material is expensive, but you might find some experts who are happy to help you for a mention in your work. Also, don't be shy to say if you have a small budget. If you can communicate the historical significance of your leaks, I think that can excite people to work with you. Influential people might have big pockets and can try to intimidate you legally. Make sure you are getting good legal advice. Again, some lawyers may be happy to help you pro bono.
On some of our other leak-based investigations, we work with partners like the ICIJ. You might want to consider teaming up with other partners who have resources you don't.
This story is the second in a series looking at investigative journalism in the Middle East and North Africa region.
Additional Resources
My Favorite Tools with Al Jazeera's Mohammed Haddad
Reporter Katie McQue's Tips for Covering Migrant Workers in Arab Gulf States
Reporting on Migration in the Gulf: A GIJN Guide
---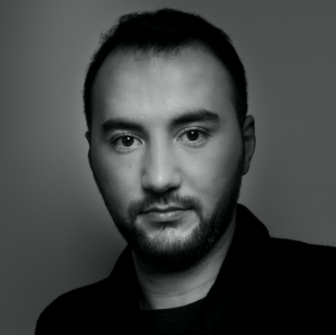 Ahmad Haj Hamdo is a Syrian journalist. A media graduate of Damascus University, he has published stories with Arab Reporters for Investigative Journalism, Daraj, The Guardian, and other media outlets. He is co-founder of Syrian Investigative Reporting for Accountability Journalism (SIRAJ), a GIJN member focused on training Syrian journalists.