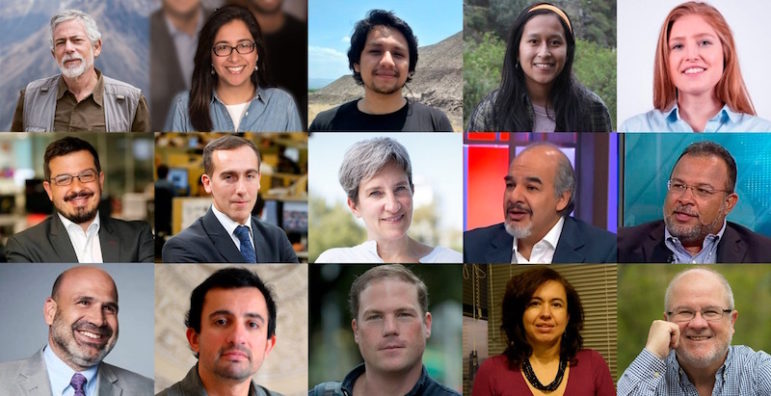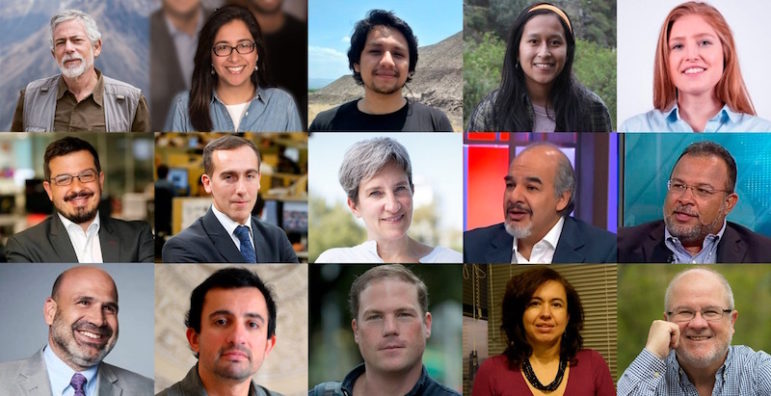 Members of the network of Latin American journalists nicknamed "the militia," who were among those to reveal the massive Lava Jato corruption scandal. Photo: Courtesy IDL-Reporteros
How Lava Jato Brought Together Latin America's Investigative Journalists
Português |  العربية | বাংলা | Español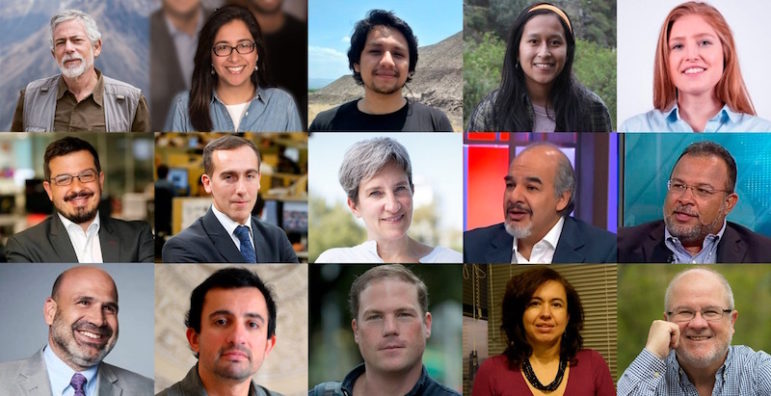 Posto da Torre is a gas station located in the heart of Brasilia's southern hotel district, close to many government buildings. With 16 fuel pumps, a laundromat, and a 24-hour café and convenience store, it's always busy with cars in need of petrol and customers hungry for a pastel. It also offers a lava jato, or car wash service, with several high pressure hoses constantly splashing water on muddy tires and bumpers, filling the air with soapy particles. Only some of its older workers, nosy journalists, and a few tourists know this is the pit spot where Operação Lava Jato, or Operation Car Wash, actually began.
It's a misnomer. There was no car wash service at the Posto da Torre gas station in early 2014, when the police started investigating what they believed was a network of doleiros, or black market money dealers, who used Posto da Torre's currency exchange and money-wiring service to launder cash for criminals. What they didn't expect to find was that these doleiros were working for a top executive of Brazil's state-owned oil company, Petrobras. That executive turned out to be only one of many employees involved in a huge corruption scheme that included overpayment of key public works contracts, bribes, and offshore payments to politicians, illegally financing their campaigns and political parties.
Lava Jato is now considered the world's largest corruption scandal, with more than $2 billion paid in bribes not only by Petrobras but also by some of its contracting companies — Camargo Corrêa, Andrade Guterrez, UTC, Queiroz Galvão, OAS, and most notably Odebrecht, which created a whole section inside the company called the Division of Structured Operations to handle bribes and offshore payments worth $780 million. These went to some of the most prominent political figures and parties across the ideological spectrum, not only in Brazil, but also in 12 other countries in Latin America, as well as Angola and Mozambique.
The scandal was mostly a Brazilian story until 2015, shaking the country's economy and its citizens, who took to the streets to demonstrate both in support of and against the judicial investigations. More than 400 people would be indicted and hundreds jailed, among them former president Luiz Inácio Lula Da Silva. But investigative reporters elsewhere started wondering if the same kind of Pandora's box could pop open in their countries. How much, how, and who had the Brazilians bribed across the continent to get contracts for all the bridges, avenues, pipelines, ports, and metro lines they were building? If they were going to sit around for the justice systems in each respective country to figure it out, they might wait for decades.
It was the Peruvians who realized this first. Gustavo Gorriti and Romina Mella from IDL-Reporteros and Milagros Salazar from Convoca (both organizations that are members of GIJN) reached out to their Brazilian counterparts, and then to journalists in other countries, who competed against each other for scoops and sources related to the case. Their investigations would end up exposing at least 10 former presidents, as well as vice presidents, governors, ministers, and other top officials who received millions of dollars in bribes. In the process, they would also transform investigative journalism in the region by experimenting, learning, and laying the groundwork for future cross-border projects.
The Militia Approach 
It was highly suspicious that Odebrecht had become the Peruvian government's main partner on the country's public construction projects, as they kept requesting more funds to finish them and piling on new contracts. IDL-Reporteros started looking into these deals and published its first story in 2011, without knowing this was just the beginning of a very long saga that would require unprecedented collaboration with colleagues from other countries.
As an experienced muckraker, Gorriti, who leads IDL-Reporteros's small team of journalists, knew the story had much larger ramifications. And when the Lava Jato scandal broke in Brazil in 2014, he knew he needed to jump on it quickly — and work with colleagues he could trust.
The first person he called for a cross-border mission to investigate Lavo Jato was Rolando Rodríguez, an investigative reporter at the newspaper La Prensa, in Panama. Rodríguez accepted immediately, and flew to Lima. Together, they started digging into the money laundering operations taking place through offshore Panama firms. They published a joint story in August 2015.
A few weeks later, Gorriti and his colleague Romina Mella reunited with Brazilian investigative reporter Guillerme Amado, a columnist at Revista Epoca and member of Abraji (the Brazilian Association of Investigative Journalism). They had met previously, at GIJN's global conference in Rio de Janeiro, and thanks to a fellowship from Peru's Instituto de Prensa y Sociedad (IPYS), Amado had then traveled to Peru to report on a narcotrafficking story. Mella had been his sherpa, helping him with contacts and guiding him through unknown territory.
Amado appreciated his colleagues' help, so when he travelled to Lima for COLPIN, Latin America's most important investigative journalism conference, instead of bringing his Peruvian friends a bottle of Brazil's finest cachaça, he brought another type of present: a flash drive with over 2,000 pages of leaked diplomatic cables, which showed how Brazil's foreign service was lobbying governments in other countries on behalf of Odebrecht and other Brazilian companies.
As more information came in from different sources, involving more and more players in different countries, IDL-Reporteros started recruiting the journalists they considered the elite corps of investigative journalism in the region: Hugo Alconada Mon from La Nación in Argentina, Joseph Poliszuk from Armando.info in Venezuela, Gerardo Reyes from Univision, Ignacio Rodríguez and Alexandra Xanic from Quinto Elemento in Mexico, and Fabian Werner and Dario Klein from Sudestada in Uruguay. Monica Almeida from El Comercio in Ecuador, Maria Jimena Duzán from Colombia's Semana magazine and the group of reporters in Cuestion Pública would also join later.
A major development came at the end of 2016, when Odebrecht's top executives made a deal with the United States, Brazil, and Switzerland. In their plea agreement, they confessed to how much they had paid in bribes across the region — almost $800 million — but they did not specify which projects were the subject of payoffs or who had received them. The identity of many top political figures, including presidents and vice presidents, were however revealed in the video and audio recordings of the Odebrecht executives who confessed to Brazilian prosecutors.
Amado got a hold of these recordings in 2017, and as soon as he recognized the political figures' names, he realized, once again, that he needed to get in touch with his colleagues in other countries. "I had no right to keep that information to myself or to reveal all those names on my own," says Amado.
"They were offering a treat [key information and knowledge of the case] that we all wanted. Who would say no?" says La Nación's Alconada about the reasons why the rest of the journalists answered Gorriti's and Mella's call, and started working together under Mella's stewardship. Several members of the team told GIJN that Mella was key to the network's success: She was the one organizing the material they gathered, making sure they were translated from Portuguese, calling everyone for Skype group meetings, coordinating interviews with sources, and sharing information with the rest of the group.
There was never any signed contract or written rules. They all agreed, verbally, on how they would work: following the highest standards of quality and ethics and sharing any findings that could help another colleague. The main objective was to understand this complex story better. They could revise each other's drafts, but it was never mandatory. Everyone was free to publish the stories they considered most important to their own context, and to write them in their own style. They could also publish each other's work, with appropriate credit.
Gorriti sees the network he created as a "militia" that comes together when it's urgently needed, working as a team to get a specific scoop, tackle a source, or process documents, but which otherwise remains dormant. And he thinks if they had operated under a more formal structure, perhaps they wouldn't have been as effective. "It has been a fascinating process, and an educational experience too," says Gorriti about reporting what he considers the most complex and challenging story of his entire journalistic career.
As for Amado, this collaborative reporting experience turned into the subject of his research project while at Stanford University for a Knight Fellowship in 2017. He was obsessed with collaboration models and thought that he could build the Facebook for investigative journalists. But as his research advanced, he realized he didn't need to create another technological tool; what he needed to do first was to help other journalists change their mindset about collaboration.
The "militia" network is still active and its members have been thinking about new forms of collaboration — not only among themselves, but with others too. Recently, a few of the journalists participated in a satirical video series aimed at explaining Lava Jato to a larger and younger audience. They also hope to turn the different stories they have published into a book to explain Lava Jato to readers across the continent in a more cohesive and comprehensive narrative. As Gorriti puts it: "That's for the post-war; we're still busy in the trenches."
The Structured Network
Milagros Salazar is a Peruvian journalist specialized in data, who Gorriti mentored at IDL-Reporteros before she went on to lead a team of young reporters for the independent site Convoca. As soon as the US Department of Justice's deposition with Odebrecht was made public, Salazar received a phone call from Mexican colleagues who wanted her advice on who to contact in Brazil for information on the bribes the firm had paid in their country. Other friends and colleagues from different countries soon followed, asking for the same advice.
Salazar had been one of the first journalists in the region to build bridges with Brazilian colleagues and sources. She had done this first with journalist Fernando Melo, from BRIO. They had met at the COLPIN conference in Mexico City in 2014 and started investigating the construction of the interoceanic highway running from Brazil to Peru, which was being built by Brazilian conglomerate Camargo Corrêa. A few months later, Salazar and Melo revealed that the company had presumably paid bribes to Peruvian businessmen close to former presidents Alejandro Toledo and Alan García, and had financed their political campaigns.
Salazar thought journalists in other countries would soon start publishing similar stories and that it would be good to have a platform where everyone investigating Lava Jato in Latin America could publish and read each other's pieces. But that idea quickly morphed into a different project after Salazar attended a two-week investigative reporting program led by Columbia University in alliance with Fundación Nuevo Periodismo-Gabo in Cartagena in 2017. There, she met Brazilian journalist Flavio Ferreira from Folha de São Paulo. They teamed up and followed the advice of ICIJ's Marina Walker, who was an instructor at the program, to work on a more long-term collaborative project that would continue probing into the Lava Jato case and that would include journalists across Latin America, but also reporters from Angola and Mozambique.
Their approach would be different to that of Gorriti's; they would build a more structured network, more focused on long-term projects than on scoops, where all its members would report and write the same story, collectively, and then publish a chapter for each country. It was a challenge, since Investiga Lava Jato, as they named this network, initially involved 20 journalists from 11 countries. It would later expand to 15 countries. They all met for a brainstorming session in Lima, and signed a written document where they committed to a set of rules, which included attending weekly virtual meetings, following security guidelines, and respecting a code of conduct and ethics.
Their first project would be a data-based investigation. They hoped to get all of the contracts Odebrecht had signed with each country's government, via FOIA requests, and compare those with official budget allocations for each of those contracts, then add all of the extra or additional payments the company would end up getting later. They would then cross-check that information with Odebrecht's bribes and secret payments in each country.
In some cases FOIAs did not work. They tried to get leaks, and in the end they also ended up asking Odebrecht for more detailed information; although the company took a while, they handed it over to Ferreira, who shared it with the rest of the network. Colleagues from Concejo de Redacción and Plaza Publica (two other GIJN member organizations), who had more experience in working with data, helped with the analysis and revision.
The result of their collective hard work was Via Sobrecosto, which included a complete mapping of Odebrecht's public works, one large collective story, and one chapter per country. It was published at the same time on every partner's media. They later published two more big stories about illegal payments that Odebrecht had made through banks in Andorra, as well as Castillo de Corrupción, which revealed secret deals made by Camargo Corrêa.
Two years after it was created, the Investiga Lava Jato network is still going strong. They are focusing on what they call the "construction cartel" in Latin America, investigating players that have so far been under the radar of prosecutors. They have also partnered with other journalism networks, like the Organized Crime and Corruption Reporting Project (OCCRP), for additional support and for help with security after members of the network in Africa faced backlash for their investigations.
"Corruption is transnational — the best way to investigate it for reporters is to build bridges and collaborate with others," says Salazar. "It's better to work with others than to try it heroically alone."
Coming Together
ICIJ did not expect to get involved in the Lava Jato case. But in January 2019, Ecuadorian journalist Andersson Boscan from news organization La Posta got his hands on a new cache of documents revealing hidden payments across the region, and he turned to ICIJ.
As soon as Emilia Díaz Struck, ICIJ's research editor and Latin American coordinator, looked at Boscan's more than 13,000 files from Odebrecht's Division of Structured Operations, she immediately knew who to turn to for help: both Gorriti's and Mella's "militia" network and Salazar and Ferreira's Investiga Lava Jato. Gorriti and Salazar are longtime members of ICIJ, and many other members in the region were already involved with one or the other of their respective networks.
The first thing Díaz Struck did was to coordinate a virtual meeting so that the two networks could assess if, in fact, the cached documents included new and important information. They did, so for four months, the networks continued investigating what was in the ledgers, comparing it with other sources, and involving a total of 50 reporters across 10 countries in the region. On June 25, Bribery Division was published in English and Spanish on ICIJ's site and on all their partner media's sites.
The stories published by Gorriti's "militia" network and by Salazar and Ferreira's Investiga Lava Jato network — as well as their collaboration on ICIJ's Bribery Division — have had tremendous impact all across the continent. In most countries, it's been journalists rather than prosecutors who have actually built the Lava Jato case. Some of the reporters have been called by prosecutors to testify, or just to explain the case to them. Only in February 2017 did the justice departments of several countries agree on an intra-regional cooperation mechanism. Since then, Brazil's Public Ministry has received a total of 118 cooperation requests from their counterparts in the region.
Many of the workers at the Posto da Torre gas station in Brasilia, who don't like to talk about the scandal and try to avoid journalists, would like to see the end of this story. But the drama keeps unfolding and twisting, influencing politics and elections all around the continent, as well as shaping the way people perceive the role of journalists. While some defend the crucial role they have played, others have made them targets of smear campaigns.
Most recently, Glen Greenwald and his colleagues at The Intercept Brazil have been threatened for revealing and questioning the way that judges and prosecutors, who many perceived to be the heroes of this story, have handled the Lava Jato case in Brazil. President Jair Bolsonaro even said Greenwald could "do jail time." Meanwhile, IDL-Reporteros has also been exposing the corruption inside Peru's courts, and three months ago, Gorriti and his staff were facing death threats from angry Peruvians, blaming them for the suicide of former president Alan García, who shot himself when the police came to question him. Remembering one of Winston Churchill's famous phrases, Gorriti told me then: "We're only getting closer to the beginning of the end."
---

Catalina Lobo-Guerrero is GIJN's Spanish Editor and a freelance journalist. She has reported on politics, armed conflict, human rights and corruption in Latin America, mostly in Colombia and in Venezuela, where she was a foreign correspondent for three years.