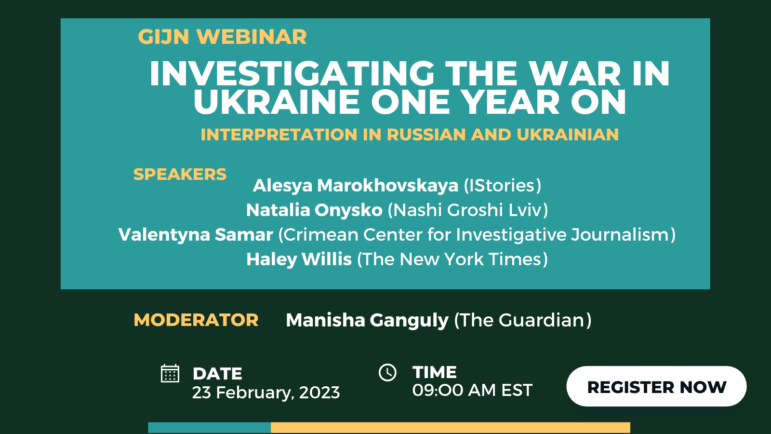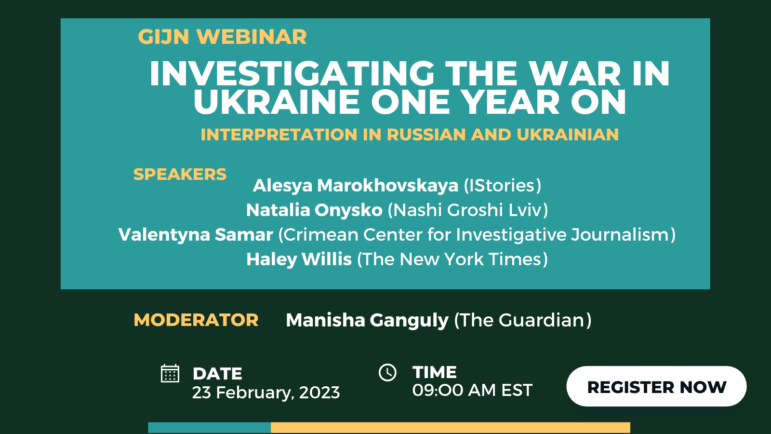 GIJN Webinar: Investigating the War in Ukraine One Year On
Read this article in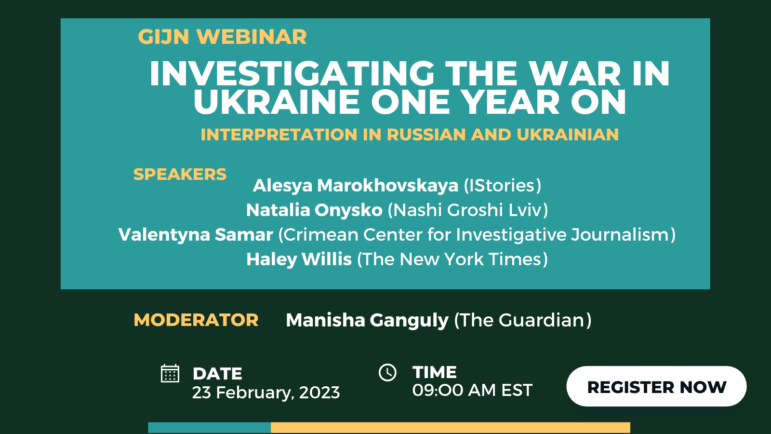 In the 12 months since Russia invaded Ukraine, journalists have faced enormous dangers carrying out their work — in both Ukraine and Russia. There is also a lack of information, a tsunami of disinformation, and widespread disruption to the region's independent media. Yet investigative journalists continue to expose wrongdoing — from war crimes and sanctions busting, to corruption by government officials and oligarchs, to Russian "filtration" camps.
Many of the strongest investigations have come from reporters on the ground, facing some of the most difficult conditions anywhere. Other great stories have relied on open source research and various innovative techniques, such as trade databases and satellite imagery, in addition to using traditional sources, such as witness interviews. 
In this GIJN webinar, we bring together four senior investigative journalists who have investigated the war in Ukraine. They will offer tips, tools, and advice on how to cover this particular conflict — but also what they have learned about integrating different investigative methods.
Alesya Marokhovskaya is a data-reporter and the editor of the data department of IStories, an independent Russian website specializing in large-scale investigations and research. Her areas of interest include corruption, abuse of power by state authorities, the judicial and law enforcement system, and social issues in Russia.
Natalia Onysko is co-editor of Ukrainian outlet Nashi Groshi Lviv, an independent, nonprofit center for investigative journalism. She specialized in investigations of public procurement in Ukraine before the February 2022 invasion, and since then has been working on open source investigations into the Russian military.
Valentyna Samar is founder and editor-in-chief of the Crimean Center for Investigative Journalism. After seizure of the Center's equipment by Russian authorities in 2014, she was forced to leave Crimea with her team. She now works in Kyiv, investigating violations of human rights and war crimes.
Haley Willis is a visual investigations reporter with the New York Times video team, where she combines traditional reporting with advanced digital forensics. Previously, she worked with the Human Rights Center at the University of California at Berkeley and with Amnesty International's Digital Verification Corps.
The moderator is Manisha Ganguly, an Investigations Correspondent at The Guardian. Previously she worked as a digital documentary producer for the BBC World Service's Investigations team. Her documentaries have won international awards and were broadcast to over 300 million worldwide.
GIJN has released a number of resources for journalists related to Russia's invasion of Ukraine. These include Investigating Russia Around the World: A GIJN Instant Toolkit and 15 Tips for Investigating War Crimes.
The webinar will have interpretation in Russian and Ukrainian.
Watch our Twitter feed @gijn and newsletter for details on future events.
Date: Thursday 23 February 2022
Time: 9:00 AM EST – What time is it in my city?