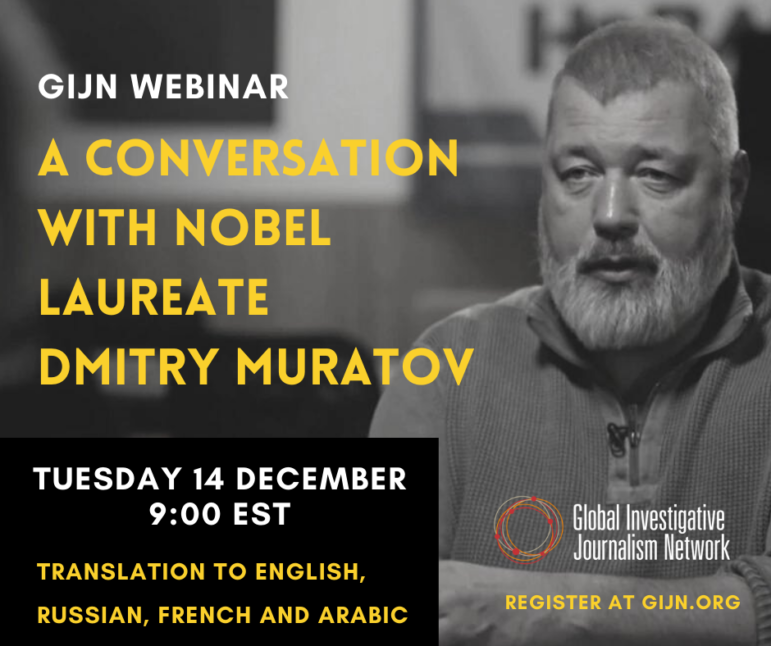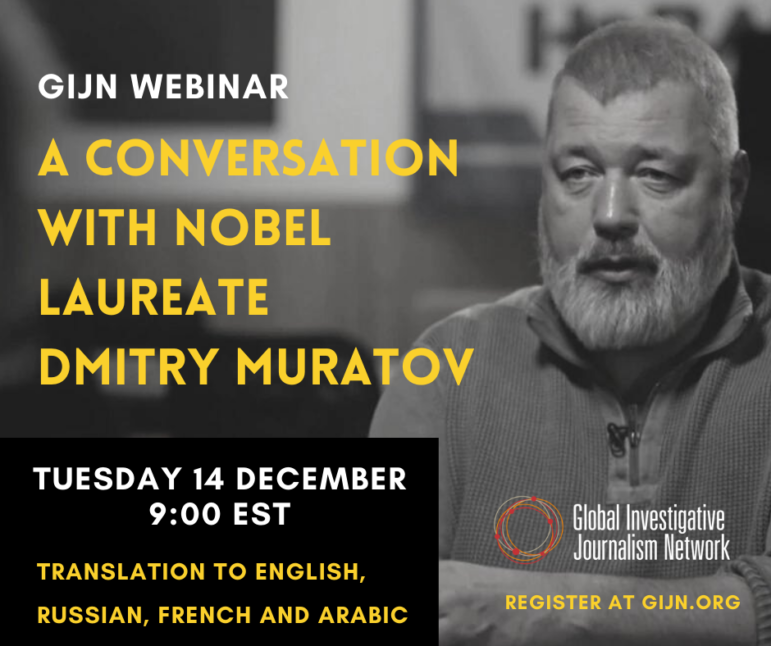 GIJN Webinar: A Conversation with Nobel Laureate Dmitry Muratov
Read this article in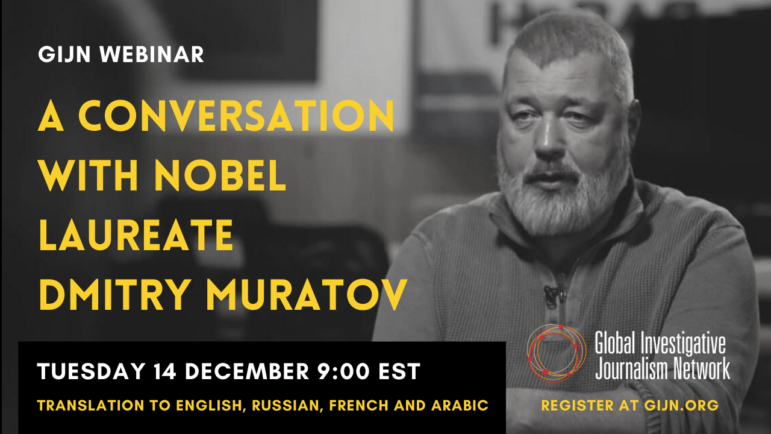 Editor's note: This webinar has now taken place. You can see the recording on GIJN's YouTube channel.
Around the world, we face an existential crisis for democracy and its essential component, an independent, watchdog press. Journalists are being sued, jailed or killed; they face digital surveillance and harassment, and the flood of misinformation undermines public trust in their work. In this environment of political backlash, what are our challenges and how do we overcome them? In Russia, in particular, leading independent media outlets have been labeled "undesirable organizations" and their journalists branded "foreign agents," with growing numbers forced into exile. Others have been jailed, and even murdered.
GIJN is pleased to announce an in-depth interview with 2021's Nobel Peace Prize laureate Dmitry Muratov. Muratov is editor in chief of Russia's Novaya Gazeta, the nation's leading independent newspaper. Novaya Gazeta is renowned for its investigations into corruption, human rights abuses, electoral fraud, police violence, and other misuses of power in a country where many news outlets have been forced to close or compromise their editorial work. Since 2000, at least five of Novaya Gazeta's journalists have been killed, with Anna Politkovskaya the most prominent among them.
Muratov shares this year's Nobel Peace Prize with Filipina journalist Maria Ressa, "for their efforts to safeguard freedom of expression, which is a precondition for democracy and lasting peace."
Muratov will sit down with GIJN's Executive Director David E. Kaplan and Deputy Director, Gabriela Manuli, and the interview will be concurrently translated into English, Russian, Arabic and French. It will be one hour long, and include time for questions from the audience.
Watch our Twitter feed @gijn and newsletter for details on future events.
Date: Tuesday 14 December 2021
Time:
9:00 AM (Washington, DC, Toronto)
14:00 (London)
15:00 (Berlin, Paris, Tunis)
16:00 (Amman, Cairo, Johannesburg)
17:00 (Istanbul, Moscow, Kampala, Nairobi)
19:00 (Islamabad)
19:30 (Delhi)
20:00 (Dhaka)
21:00 (Bangkok, Hanoi, Jakarta)
22:00 (Hong Kong, Kuala Lumpur, Manila)
23:00 (Seoul, Tokyo)
01:00 Dec 15 (Sydney)