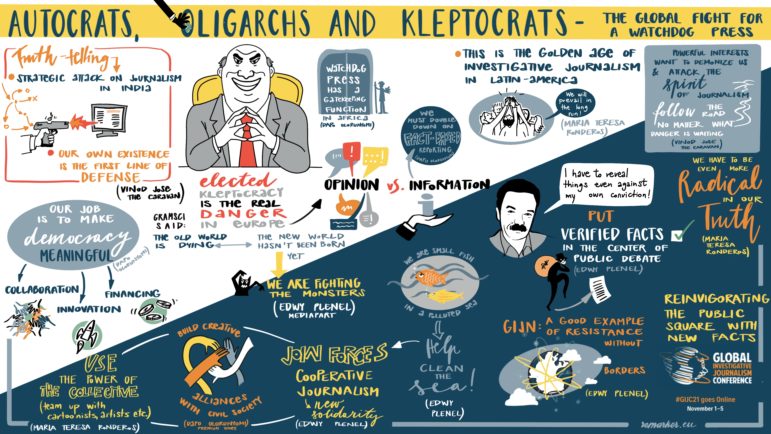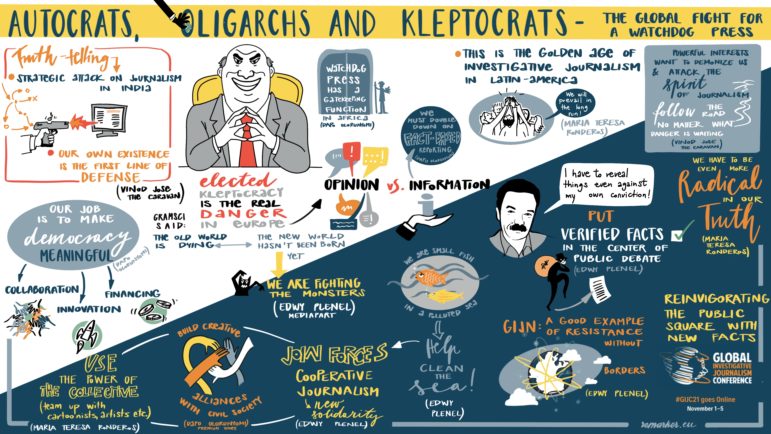 GIJC21 Launches with Call to Action for Investigative Journalists: Find Allies — and Fight
Read this article in
The recent award of the Nobel Peace Prize to two investigative editors highlights two urgent truths at the heart of the 12th Global Investigative Journalism Conference (#GIJC21): that the world is now counting on investigative journalists to help make a stand for democratic accountability, and that these same journalists are under unprecedented attack — for that same reason.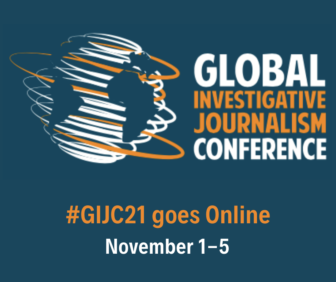 At the Nov. 1 plenary session of GIJC21 — the world's premier international summit on watchdog reporting, which has 1,800 editors, reporters, and civil society watchdogs from 148 countries registered for the online, five-day event — an all-star team of five watchdog editors defined the front lines of this battle for both democratic ideals and the survival of an independent press. More than 500 journalists from 100 countries attended the plenary.
In parallel with the galloping threats of disinformation and public disillusionment with democratic institutions, the chief point of attack these editors described was the threat to independent media posed by autocrats and "elected kleptocrats," together with their allies.
"The old world is dying, and the new world struggles to be born: now is the time of monsters," said French outlet Mediapart's Edwy Plenel, quoting Italian philosopher  Antonio Gramsci. "And we are fighting the monsters."
Session moderator Sheila Coronel, director of Columbia Journalism School's Stabile Center for Investigative Journalism, elaborated: "Around the world, democracy is facing an existential crisis. We journalists are being sued, jailed, or killed; we are facing digital surveillance and harassment; we are being drowned in a flood of lies. And on top of this, we are dealing with COVID-19, which the UN warned could become a media extinction event."
So, Coronel asked: should investigative journalists "scale down our ambitions" and focus on survival, or somehow take up the democracy banner and fight for accountability and justice for everyone? The unanimous response from the speakers: "Fight!" 
But how can investigative reporters — an under-resourced community often slandered by governments as "enemies" or "spies" — mount this defense in the face of vicious political and economic pressures, and with withering democratic institutions on its flanks?
The clear answer from the panel was that — in addition to arming themselves with new skills and tools — independent newsrooms must find allies, including collaborations with educators, civil society organizations, and even rival newsrooms.
"We must create a new alliance with society," Plenel asserted. "We awake our society by our revelations, but it's up to the society to catch the revelation; to make the change and the political reality. It's our first mission to serve the right to know."
"We need to join forces with others — use the power of the collective: of citizens, of collaboration, of civil society," said Maria Teresa Ronderos, co-founder and director of the Latin American Center for Investigative Journalism (CLIP). "We need to be even more radical in our truth — to really show what is not being shown. A lot of people connect with your facts when you do that. Yes, you make enemies, but you gain a lot of friends."
Journalists Must Resist — But as Journalists
One chilling takeaway was the casual use, by several speakers, of phrases like "elected autocrats" and "authoritarian democracy." Given the erosion of democratic institutions, the rise of polarization and populist politics, and the entrenchment of authoritarian power, Coronel posed this uncomfortable question: Are independent journalists the new resistance?
The consensus of the panel was that journalism cannot become either the political opposition or issue-driven activism — but that, yes, watchdog reporters have indeed been forced to resist anti-democratic and anti-free speech forces around the world.
"The answer to the attack on journalism is more journalism," said Vinod K. Jose, executive editor of The Caravan, India's leading investigative magazine.
Dapo Olorunyomi, chief executive of Nigeria's Premium Times, added: "We are the resistance to the extent that the moment has called upon us, but we cannot leave the DNA of our profession."
Ronderos agreed. "Don't get into a fight of becoming activists, and letting opinion conflict with our truth and fact-finding mission," she said. "The kind of resistance we need is sticking to your job, even against our own political passions."
From the ousting of a corrupt president in South Africa to the revelation of spyware hacking on civil rights defenders ordered by at least 11 governments around the world, investigative newsrooms have made a difference wildly disproportionate to their resources in recent years.
However, on the issue of impact, Coronel polled the speakers on an equally difficult question: If institutions are too weak, and audiences too confused, to effect change or justice from investigative findings, then what's the point?
"Is investigative journalism's theory of change still valid?" she asked. "Watchdog journalists believe that by exposing wrongdoing, they can bring wrongdoers to justice and bring about reforms. Is that still possible in this toxic and difficult information space?"
Coronel summed up their responses in four points:
History shows that — even without responsive institutions — the weight of investigative journalism does result in real change over time. "When journalists unearth wrongdoing, and there is no justice, well, they continue to do so, because they will prevail in the long-run," noted Ronderos.

"It expands the public square," added

Olorunyomi

.

Courageous reporting continues to see cases of real accountability take place, even in the most restrictive societies. For instance, Ronderos pointed to the successful investigation of alleged money launderer Alex Saab by four Venezuelan journalists, who were forced into exile because of their work — but have now seen their reporting lead to the arrest and recent extradition of Saab to the United States to face charges for financial crimes.
Even when present impact is impossible, evidence dug up by reporters adds to the record for historians, prosecutors, and voters in the future — a position that several investigative editors in Serbia have adopted to justify the risks they take.

The sheer act of investigative reporting raises the bar for accountability in the minds of citizens, and reporting "as if it's a true democracy" helps journalists avoid self-censorship in the investigations they choose.
The session also saw powerful notes of renewed energy and optimism for the investigative journalism community.
"I am now 69, and I am now more young for my job than I was 15 years ago, because it is time to fight!" Plenel exclaimed. "Resistance without borders — against the rise of nationalism and racism — and cooperative journalism can create new solidarity, and it's good news!"
"This is a golden age of investigative journalism in Latin America," Ronderos noted.
While polarization and media distrust present challenges, Ronderos said new digital technologies and storytelling mediums — from podcasts to how-we-did-it social media explainers — offer newsrooms the chance to access new audiences, and re-engage with older ones.
"In a polarized world, people don't believe you if you use the same old packaging," she explained.
Welcome to GIJC21
The opening session was accompanied by the release, on the GIJN website, of a comprehensive, expert guide on Investigating Organized Crime — one of four major, guides and tools to be launched during the conference. These include GIJN's Guide to Fact-Checking Investigative Stories, a resource for building video teams in small newsrooms, and the Journalist Security Assessment Tool (JSAT) — a vital self-assessment safety tool to be launched on the second day of GIJC21.
In welcoming attendees to the first-ever, online-only GIJC, David E. Kaplan, executive director of GIJN, reflected a similar optimism to some on the panel, while underscoring the historic stakes.
"Despite all of these challenges — physical attacks, growing surveillance, intimidation, legal harassment, and online trolling, especially toward our female colleagues — investigative journalism is alive and well, and we're growing," Kaplan declared. "We've got 200 speakers from 65 countries for five days of cutting-edge journalism, and the latest tools and techniques. As always, GIJN focuses on the practical, and we're interested in helping you get out there and go after abuses of power and lack of accountability." 
Echoing a broad invitation from Mark Ryan — executive director of the Judith Neilson Institute, the host-sponsor of GIJC22 in Sydney, Australia —  Kaplan added: "We will see you in Sydney next year — and we are determined to gather in person."