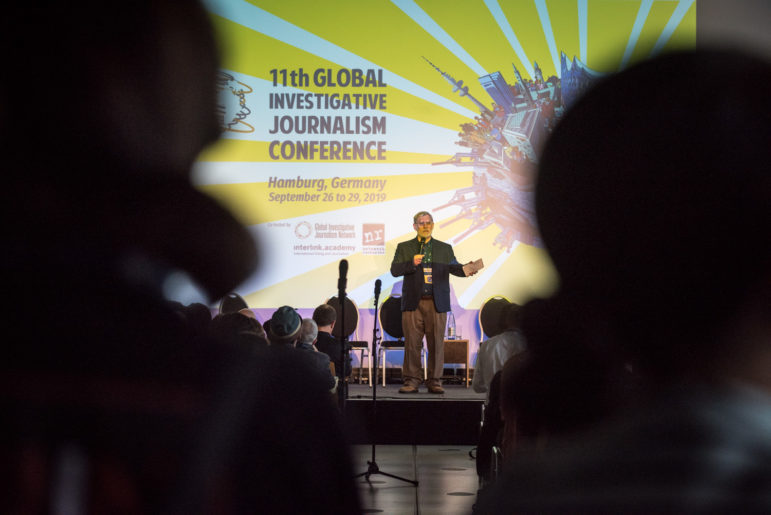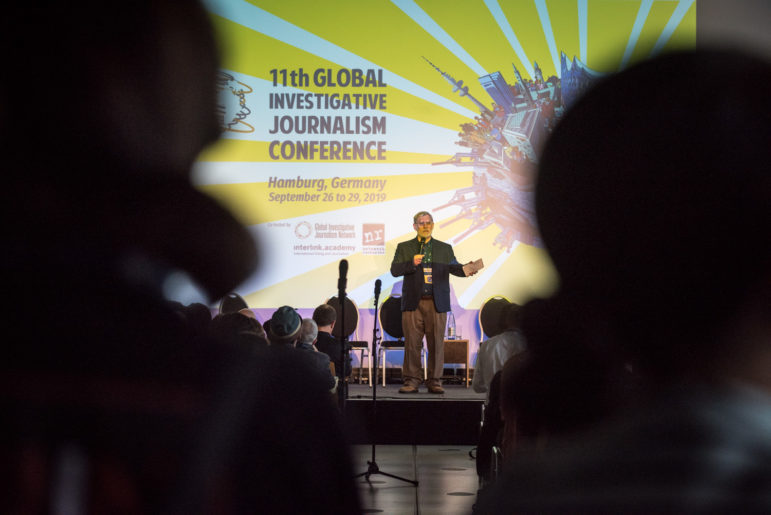 GIJN Executive Director Dave Kaplan kicks off GIJC19 in Hamburg.l Investigative Journalism Conference in Hamburg 25. - 29.09.2019 Plenary — Welcome to GIJC19! Holcim Auditorium, HafenCity Universität (HCU) Come have a seat and we'll offer a warm hello to GIJC19. Your hosts will greet you, make a few announcements, and suggest how to get the most of our four days together. Copyright: Nick Jaussi https://nickjaussi.com
The 11th Global Investigative Journalism Conference (#GIJC19) launched today in Hamburg to calls for retooled defiance, as a growing assault on human rights, democratic institutions, and the independent press rages around the world.
With more than 1,500 journalists from over 130 countries attending, the event represents the largest-ever international gathering of investigative journalists. At the plenary launch session, reporters, editors and researchers heard that, despite autocratic repression and global crackdowns, investigative journalism was growing.
"If autocrats thought we were going away, they're in for a surprise," said David Kaplan, executive director of the Global Investigative Journalism Network (GIJN).

The high stakes for an effective and sustainable investigative reporting community were echoed by a series of speakers, who outlined new challenges, including next-generation disinformation, far-right resurgences, corporate attacks on the media, and — perhaps most concerning — growing audiences who don't believe in evidence at all.
"Attacks [on journalists] are at near record levels, even in countries where we thought we were safe. In places like the U.S. and Britain, we're under assault legally; by presidents who want to be autocrats; [and] online by people who want to make us and our families miserable," Kaplan said. "It's a tough time for investigative journalists on the front lines. Despite all of this, we're growing. We've got more journalists with better tools going after tougher targets, all over the world."
#GIJC19 features more than 250 panels, workshops, and networking sessions over five days, with a list of speakers that includes 11 Pulitzer Prize winners. Hosted by GIJN, Germany's Netzwerk Recherche, and the Interlink Academy for International Dialog and Journalism, this year's event places a heavy emphasis on data journalism, with 60 sessions dedicated to related subjects and skills. Other areas of focus include academic research techniques and sustainability strategies for the growing network of nonprofit newsrooms.
Speaking at the launch, Carsten Brosda, Minister of Culture and Media for the City of Hamburg, set out the ultimate stakes for the gathered community: "You are the watchdog of democracies. If we don't have the truth, and people that go the long way to find the truth … [it will] make it almost impossible to have rational discourse. We see lots of instances where societies tend to become irrational, or autocratic leaders that [undermine] democratic institutions." Brosda also quoted the famed newspaper publisher, Joseph Pulitzer, who once wrote, "Our Republic and its press will rise and fall together."
Several speakers outlined reasons for optimism in the daunting press landscape.
Marina Walker Guevara, director of strategic initiatives at the International Consortium of Investigative Journalists, said: "For me, it's the democratization we're seeing in investigative journalism, including gender diversity." She said the power of machine learning tools offered hope: "[Artificial intelligence] is not perfect and not magic, but it can augment our capabilities so we can use our time better."
Zaffar Abbas, editor of Pakistan's English-language daily Dawn, believes reporting will become even more difficult in south Asia in the near future, but he sees new solidarity among otherwise rival editors at news organizations that are under fire as a key reason for optimism.
Drew Sullivan, co-founder and editor-in-chief of the Organized Crime and Corruption Reporting Project, said that the rapidly growing collaboration model offered reporters one of the most powerful new techniques for both newsgathering and impact. "The next three to five years will see a revolution in collaborative tools, so people in remote locations can work more effectively together," said Sullivan.
He also offered a sobering warning: "We will find nation states and companies and AI aggregators doing news; there will be so much news that who we are [as investigative journalists] gets lost. We have to cut through all the misinformation, and we need tools to do it."
Perhaps the most chilling warning came from Cordula Meyer, national desk editor of Der Spiegel, who said that significant portions of Western societies were falling beyond the reach of investigative impact.
"If evidence doesn't mean anything any more, we are really lost," she said. "About a fifth of our population in Germany don't trust journalists. Some are lost — we cannot reach them with argument anymore, but some we can still reach: the skeptics. We need to offer all forms of dialogue to get news into discussions; we need to go into schools. We already have an initiative in Southern Germany to educate students and teachers about how we work."
Many attendees arrived in Hamburg with a similar sense of grim determination.
Doug Haddix, executive director of Investigative Reporters and Editors, said: "I'm [partly] here to learn from a lot of our fellow journalists from countries that have faced some of the challenges we're now starting to face in the U.S., with allegations of fake news, deep fakes, repressive governments, and regimes that try to circumvent the media. I've had to ask colleagues from Kenya: How do you deal with strongmen, and a government that tries to sow disinformation?"
The call to retool for the anti-democratic landscape was also reflected in the pre-conference program on Wednesday, with a workshop presented by the Dart Center for Journalism and Trauma that coached reporters on how to cope with growing hostility toward the press.

But journalists also started to rearm, with a string of powerful online research tools demonstrated in a masterclass by Paul Myers, the BBC's internet research specialist.
Beyond the panels, workshops, and networking sessions, the following days of the conference will include announcements of new collaborations, platform launches, and releases of key reports.
---
Rowan Philp was chief reporter  for South Africa's Sunday Times for a decade; a period bookended by fellowships at the Washington Post and MIT. Rowan has reported from 27 countries, and his 2014 investigative report revealing Russia's secret effort to sell 8 nuclear reactors to the South African government for some $70 billion was credited for a role in the scrapping of that deal last year. He is a frequent contributor to GIJN.