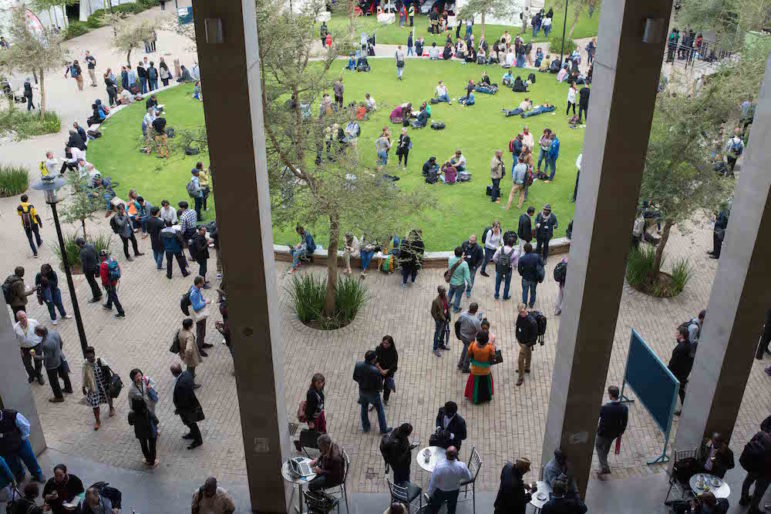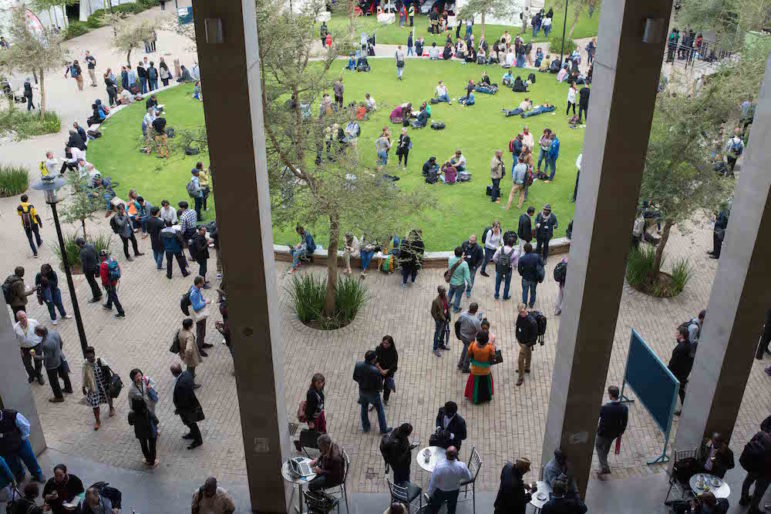 16 November 2017: Crowd shots during a coffee break at the 10th Global Investigative Journalism Conference held at the University of the Witwatersrand in Johannesburg, South Africa. Picture: Daylin Paul
Check out our #GIJN17 highlights in Chinese, German, Spanish, Arabic, Russian and French.
The 10th Global Investigative Journalism Conference was an intense five days of sharing, learning, networking and creating new journalism partnerships. The event, organized for the first time in the African continent, brought together over 1200 media practitioners from 130 countries to Johannesburg, South Africa, from Nov 15 to 19, 2017.
As Huffington Post's Ferial Haffajee, moderator of the plenary session "Investigating the New Autocrats," aptly put it: it was a huge "gathering of troublemakers and the world's worst nightmares under a single roof."
Here are some highlights from the conference.
Harrowing Stories from the Frontlines
Investigative journalists from around the world, including Philippines and Russia, shared inspiring tales of reporting under oppression and harsh conditions, all while facing physical threats and online vitriol.
"Once upon a time – which is the only good & proper way to begin a story – there was a mother & a father who lived in a cinder block house w/ their 6children in the slums." @patevangelista's harrowing story & more in #GIJC17 plenary round up @ThaliaHolmes https://t.co/eIzccFgzSs pic.twitter.com/gNWtC8BZdB

— GIJN (@gijn) November 17, 2017
Tips, Tools, Techniques
One of the biggest takeaways of the conference was the practical tips and tools the expert investigative and data journalists presented. Missed out on the conference? Check the tipsheets here.
5 questions to detect a good investigative story by @SchoofsFeed. #GIJC17 @gijn pic.twitter.com/LMbsDi7lIJ

— Bastian Kaiser (@KaiserBastian) November 16, 2017
Networking
The real action — getting together to brainstorm on new stories, share sources and collaborate — was happening at the coffee cart, in the corridors and on the lawn, during the session breaks.
Networking in full swing at #GIJC17#gijc2017 @gijn @Journ_SA pic.twitter.com/gAlquol6Yh

— Michael Salzwedel (@saltwag) November 16, 2017
Paradise Papers Data Release
The International Consortium of Journalists released its Paradise Papers data during the conference and invited journalists to dive in at the ICIJ Offshore Data Hackathon session. Try your hand at searching the data for story leads with these tips in English (below) or in French.
Here's some more info on the release for you all at #GIJC17 ! https://t.co/VYQMwSAwqh

— ICIJ (@ICIJorg) November 15, 2017
Good Reads
There were plenty of insightful reads available at the conference. From African Muckraking, a collection of 41 investigative journalism stories written by Africans about Africa and edited by Anya Schiffrin and George Lugalambi, to South African journalist Jacques Paw's The President's Keepers, which government officials are threatening to censor.
Also, check out GIJN's new Investigative Impact: A Report on Best Practices in Measuring the Impact of Investigative Journalism report and Global Reporting Centre's "Fixing" the Journalist-Fixer Relationship: A Critical Look Towards Developing Best Practices in Global Reporting report.
That good feeling after getting me some books……#GIJC17, @Mwazi @ChilesheRebecca @richieboy125 pic.twitter.com/pMz51QBT99

— Nduba (@mangalita5) November 19, 2017
Multinational, Multilingual Newsroom
Our newsroom, made up of  GIJN staff and volunteers, covered the conference in an unprecedented seven languages. Check out our news coverage, collection of tipsheets, and videos.
#GIJC17 is international and so is its newsroom. This cool crowd covers the event in English, French, Spanish, Russian, Arabic, Chinese, German. Say hi in room 103 and bring us some coffee! Check our site https://t.co/BDIH1zD4wM for tips,tools, videos #funstuff @gijn @KasMedia pic.twitter.com/xhkq17vPLY

— Astrid Csuraji (@FrauCsu) November 18, 2017
The Writing on the Wall
Our Twitter Wall screens were buzzing with the #GIJC17 hashtag which received over 140 million impressions, including our main social media feed @gijn, our African feed on @gijnAfrica, our Middle Eastern feed on @gijnArabic, our Latin American feed on @gijnEs as well as our language feeds in Chinese on @gijnCh and in Russian on @gijnRu. Not to mention our other main social media platforms on Facebook, Weibo and WeChat!
Entérate de lo que pasa en la #GIJC17 en Johannesburgo, Sudáfrica https://t.co/3rl3DlO6Nm pic.twitter.com/wZSKOHOwyQ

— GIJN en Español (@gijnEs) November 18, 2017
Global Shining Light Award
Investigative stories from Nigeria and Iraq took home the coveted Global Shining Light Award prize. The judges also awarded two citations of excellence.
Congratulations to @MayahKGB, @Musikilu, Asaad Al-Zalzali & Thaer Khalid for their joint win of the Global Shining Light Award & @birnbalkans, @OCCRP + other media partners, and @RanaAyyub for receiving a Citation of Excellence https://t.co/DGWVtksatd pic.twitter.com/uIWm2tQ2iq

— GIJN (@gijn) November 18, 2017
Party Like A Journalist
Journalists work hard, but they play hard, too. After the keynote address and awards ceremony, #GIJC17 participants were feted to a feast of African food and music.
The Great Hall at @WitsUniversity lit up as muckrakers dance the penultimate night away at #GIJC17 pic.twitter.com/CXvpA99Zms

— Tshepo Tshabalala (@TshepototheT) November 18, 2017
#GIJC19 Host Announced
We are going to Hamburg, Germany next! See you there.
What a great week in Johannesburg at #GIJC17! Thank you so much, @AntonHarber & @KaplanDave & teams @gijn & @Journ_SA. We're looking forward to host #GIJC19 in Hamburg with GIJN co-members @InterlinkAca & @correctiv_org and many partners as @hostwriter & @KASonline. pic.twitter.com/XQlpHmUJbl

— netzwerk recherche (@nrecherche) November 19, 2017
---
Eunice Au is GIJN's program coordinator. She was previously Malaysia correspondent with The Straits Times (Singapore) and journalist for the New Straits Times (Malaysia).