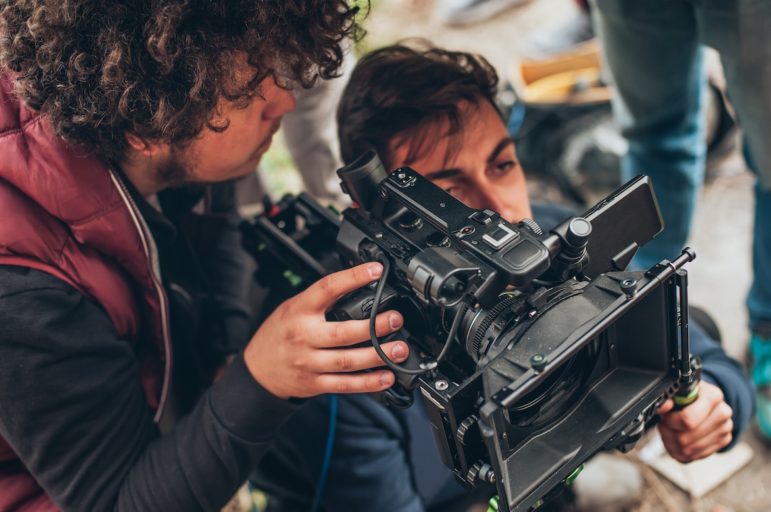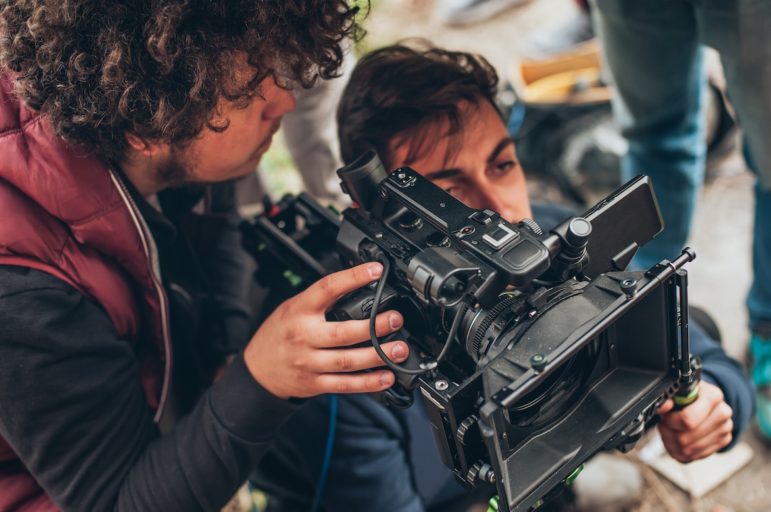 Expert Advice for Breaking Into Documentaries
Read this article in
Documentaries are increasingly seen as a significant vehicle for investigative journalism, as audiences around the world are drawn to the power of visual storytelling in holding the powerful to account. 
"Frankly, it's as good a time as any to try and break into the form of documentary filmmaking and investigative films," said Tom Giles, controller of current affairs programming at ITV in the UK, and a former longtime editor of the BBC's flagship news documentary series, Panorama.
Giles spoke at a "Breaking Into Documentaries" session at the 12th Global Investigative Journalism Conference (#GIJC21) alongside a panel of other award-winning documentary filmmakers, including John-Allan Namu, CEO and co-founder of Africa Uncensored, Marc Perkins, head of investigations at the BBC World Service, and Carrie Lozano, director of the documentary film program at the Sundance Institute. The session was moderated by Emmy award-winning producer and director Elizabeth Jones.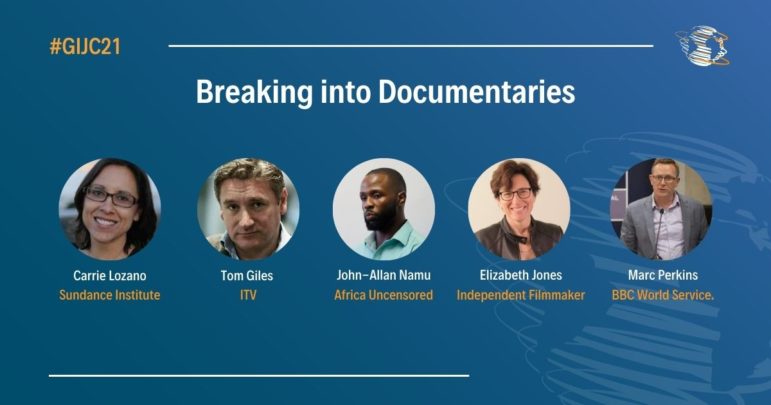 Together, they shared tips on how journalists can break into investigative documentaries. Here are seven key takeaways from the session:
1. Track Your Expenses
Budgeting and planning are crucial when producing an investigative documentary, as this helps in accurately estimating the costs of the documentary when shopping around for a broadcaster. Carefully tracking expenses also helps journalists avoid additional costs or getting themselves into debt. 
In general, any journalist who wants to start producing investigative documentaries has to do their research about the subject and find out about accessibility and the possibility to film before starting. 
Lozano listed essentials to cover before embarking on an investigative documentary: "Really understanding what you're stepping into and having a sense of scope, having a vision for what this piece will be, and why you're doing it visually, where it can live. All of those things I urge you to do before you start spending money," said Lozano.
2. Choose Your Story Wisely
A good investigative documentary should do one of three things: introduce the public to something they didn't know about before, add insight or context to a subject that is well known, or reveal new or interesting details about ongoing investigations by public agencies. 
The best way to do this is by starting with what's familiar to you, because you will already have working knowledge and contacts about the subject. Then, once you determine your subject, you will decide what goes into the documentary and how much time you'll need to tell the story. 
Even though many young documentarians strive to produce long films, Namu cautioned that not everything has to go into your documentary. "That's one of the mistakes I made earlier in my career, trying to stretch out documentaries that should have been fitted into five minutes to 20 or 30 minutes, and you quickly lose your audience," he added. "So a bit of restraint is important early on."
3. Access Can Equal Success
Access to a story, subject, or character can be a critical part of whether a documentary will be successful or not, Giles said. He noted that for young filmmakers, showing you have good access to your subject is a key way to get your foot in the door of most commissioning editors, whether it's filming something that has never been seen before or introducing a character who brings a new perspective to an existing subject. 
"It is not just the subject that you bring, it's what you can bring to the subject," Giles explained. "Access will help you tell the story because that's the best way of shortcutting any lack of experience that you have. So what's unique about what you can bring to the idea?"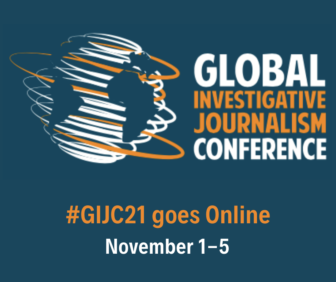 4. Plan to Manage Yourself
Producing an investigative documentary takes time. And sometimes the producer can get distracted by all the other things happening during the process, derailing the main story. Creating a hypothesis and a story planner helps the producer to stay on track and focused, explained Namu. "This helps guide you through the process of storytelling," he said, adding a recommendation to storyboard the entire documentary, if necessary, to keep on schedule.
5. Make Yourself Marketable
Investigative documentaries take time to produce and are costly, so working with a small team is a smart, cost-effective tactic, Giles said. So, too, is hiring individuals who are able to undertake several different productions tasks. For instance, being able to go on location and film, but also direct, produce, and edit. A beginner doesn't need to be an expert in everything, but should be able to carry out the basic tasks. "So the more skills you can bring to a project, the more independent the project is, and the more financially sustainable it is over a longer period," he explained. 
6. Leverage Special Skills or Knowledge
Having a specific skill set or unique knowledge base is also an advantage for beginners who want to break into investigative filmmaking, Giles noted. This could be something like the ability to go undercover — a particularly risky and ethically fraught reporting tactic — or offering perspective or insight into a particular subject that no one else can bring. It can also be a personal story that's relevant to the issue you intend to cover. 
7. Collaboration and Partnerships 
The best investigative journalism often comes as the result of collaboration, and this is true to documentaries as well. For a beginner, collaborating and partnering with other journalists can greatly enhance the final product. Partnerships also help with access to toolkits and guidance that you might not possess.
"Early-career journalists might not have the entire toolkit that they require to be able to produce a full-length investigative documentary, whether it's the skills of shooting and editing, or perhaps some of the newer skill sets that are being added to the investigative journalists' toolbox such as open source investigative techniques," said Namu. "So collaboration helps them tell the documentary in the best possible way."
Additional Resources
DIG Festival Honors Investigative Films That Exposed Scandals
Double Exposure Film Fest Showcases Documentary Tradecraft
Q&A with Carrie Lozano: Sundance's New Head of Documentary Filmmaking