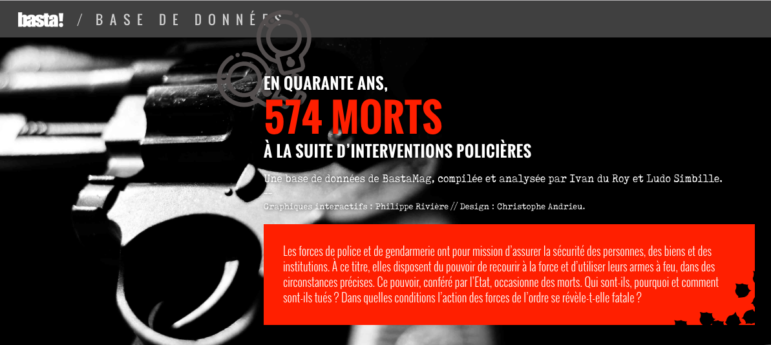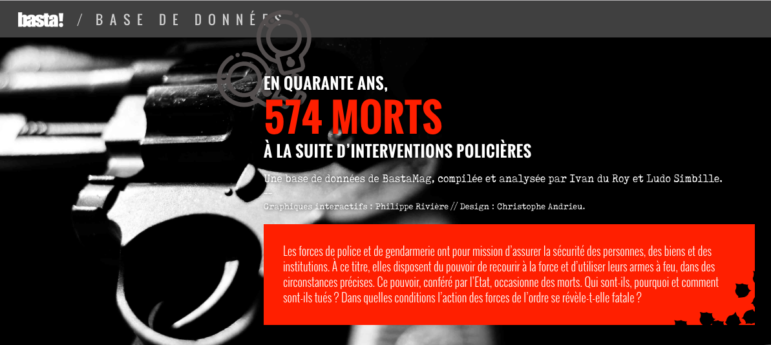 Despite bleak predictions, investigative journalism is thriving in Francophone countries. From Kinshasa to Paris, 2018 was a high point for investigative journalism, with more collaborations than ever before. Thanks in large part to collaborative networks such as Norbert Zongo Cell for Investigative Journalism in West Africa (CENOZO), this year's cross-border investigations have exposed corruption and fraud, while individual newsrooms have uncovered murder, war crimes and more. Marthe Rubio, GIJN's French editor, compiled a selection of 2018's best investigative stories from Francophone countries. 
Before this investigation was published, no official statistics existed about those killed during law enforcement operations in France. Much like The Guardian's  The Counted, journalists from nonprofit French media group Basta! decided to count the victims of police violence. After weeks of work, they published a database that showed 574 deaths occurring during law enforcement operations since 1977, giving details about the circumstances of each death. According to their report, 155 people were killed during routine identity checks and 72 while they were in custody. The journalists also published their methodology, explaining how they built the database, including their sources and the criteria they used to identify the victims. One month after the release of the story, police officials unveiled official statistics for the first time.
At least $50 billion leaves Africa each year illegally, according to conservative estimates. That's about the same amount the continent receives annually in official development aid from donor countries. West Africa Leaks is a collaboration of 13 investigative journalists from 11 West African countries, coordinated by the Burkina Faso-based CENOZO and the International Consortium of Investigative Journalists. The reporters searched through more than 27 million leaked documents to identify illicit financial flows and signs of tax evasion in the region. The stories exposed public officials with questionable offshore assets, and mismanagement of public money. In Niger, journalist Moussa Aksar revealed that millions of dollars were spent on a slaughter house that was never built. In Ivory Coast, journalist Anderson Diédri showed how the mayor of the city Le Plateau, who is also the former director of an Ivorian oil refinery, owned an offshore company in the Bahamas worth hundreds of thousands of dollars. (Director Noël Akossi Bendjo was dismissed a few months after publication of the investigation). In Mali, a presidential candidate and former UN official was also found to be the owner of an offshore company in the Seychelles.  
In the US, the impact of the #MeToo movement was far more than a social media movement, toppling Hollywood producer Harvey Weinstein and powerful CBS boss Leslie Moonves as well as dozens of others who were forced to resign after sexual harassment or assault accusations. In France, the #MeToo silence has been deafening, and even condemned by actress Catherine Deneuve, along with 100 other famous women, who in an open letter said men should be "free to hit on" women.
It was in that context that this story broke the silence around the most powerful man in the French cinema industry: director and producer Luc Besson. After an months-long investigation, journalists from French media outlet Mediapart revealed that various women who worked with the director for long periods were victims of inappropriate sexual behavior. Only one of them, Sand Van Roy, agreed to use her real name; she filed charges against Luc Besson for rape. Through this story, the journalists describe the fear that muzzled Besson's victims. The publication of the story did not provoke a chain reaction in the French cinema industry, which is why Mediapart published a follow-up story about the reasons why #MeToo has had little impact in France.
"October 2011. They raped him with the barrel of a gun. I managed to find him. But when I asked to record his rape in our case file, he told me 'No. You can write everything except that,'" said Mahmoud, an exiled Libyan and an activist, whose words were reported by the journalist Cécile Allegra. In this horrifying story, published by Tunisia's Inkyfada in February, Allegra tells how a group of exiled Libyans, assisted by an investigator from the International Criminal Court and the founder of Wwow, an NGO fighting sexual violence, tried to gather proof of rapes committed on a massive scale during Libya's Civil War, which began in 2011.
In this difficult but deeply human story, Allegra writes about her meetings with the activists in Tunis, and their trip in Libya to track down thousands of rape victims, mainly men. The task was to convince the victims — many living with shame due to the stigma — to break the code of silence in order to trace the scale of the crimes. This year-long investigation paints the tragic portrait of a Libya torn apart by violence, including rape used as a weapon of war by both sides.
"It is not only simple tax fraud but real theft, committed with state funds to the detriment of the taxpayers, by an organized crew of banks, lawyers, investment funds and brokers. The holdup of the century, in short, elaborated by white collar delinquents, and called 'CumEx.'"
Thanks to a judicial documents leak, journalists from 18 European newsrooms, including France's Le Monde, revealed how banks stole more than $60 billion from the coffers of various European countries. Exploiting a flaw in the law about dividend reimbursement, fraudsters created a cash machine that allowed them to generate billions while the European governments were strapped by the 2008 economic crisis. The journalists exposed how the complex financial scam was uncovered by a young and conscientious tax inspector, who dove into the opaque world of bursary transactions and began to question speculative fund practices. Her investigation led to the biggest tax scandals in Germany's history, where more than $10 billion was stolen between 2005 and 2012. This transnational investigation, coordinated by German investigative media outlet Correctiv, showed once again the importance of cross-border collaboration in investigating financial misdeeds. In France, a citizen group filed a complaint for tax fraud after the publication of the story, alleging the complicity of France's largest banks, BNP Paribas, Crédit Agricole and Société Générale.
In the Democratic Republic of the Congo's Kasai province, the confrontation between government forces and local militia has devastated the region. Since Summer 2016, thousands have been killed, hundreds of thousands have been displaced and many have suffered from famine.
Last year, UN investigators Michael Sharp and Zaida Catalan, who were attempting to confirm reports of mass graves in this region, were murdered. A brief UN  investigation pointed to local militias as the perpetrators, but a separate investigation later discovered that a key witness was connected to the DRC government and may even be implicated in the killings. In the Congo Files, a collaborative investigation into thousands of leaked documents, Le Monde, Radio France Internationale, Foreign Policy and Swedish public TV exposed the UN's decision to bury the independent UN Police findings in order to keep its diplomatic relationship with DRC officials.
Imagine a world where you can buy citizenship. A two-speed world where only millionaires can get access to the most powerful passports. This world does exist and is carried out in the trade of "golden visas" that allow wealthy investors to become citizens of foreign countries without necessarily living there. Radio-Canada journalists investigated a program for immigrant investors in Quebec, which allows foreigners taking out a loan to obtain permanent residency.
For their investigation, the journalists invented a fictitious character, M Chen, a Chinese millionaire who made his fortune through suspicious means, but wanted to obtain permanent residency in Canada. M Chen meets a dozen immigration consultants, including a Globe Visa employee, one of the most prominent immigration companies, in Hong Kong. The journalists filmed the meetings with a hidden camera, to show how consultants proposed to bypass Canadian law by taking a fictitious residency in Québec or creating a financial package that would allow Chen to not declare the origins of his fortune. The investigation found that 5,224 rich investors obtained permanent residency in Canada in 2017 through such loopholes. According to one of the consultants interviewed, the large majority of the foreigners who obtain permanent residency in Quebec don't live in the country.
This may be the biggest leak in journalism history: 70 million confidential documents analyzed by 80 journalists, in 13 European countries, over 8 months, coordinated by a nonprofit consortium, the European Investigative Collaboration. The behind-the-scenes look into the football business revealed fraud, racism, doping, match buying, exploitation, government corruption and spying. Through stories reported by Mediapart in France and Le Soir in Belgium, readers discovered just how much the search for profit overrides sport spirit. For example, the football club Paris Saint Germain (PSG) and AS Monaco bypassed "financial fair play" regulations imposed by the Union of European Football Associations to accept millions of euros from Qatar and Russia.
Another story exposed how the biggest European clubs created a private super-league project to pressure the Union of European Football Associations (UEFA) to change the Champions League formula, making access to important championships increasingly difficult for small teams with fewer resources. And in France, Mediapart journalists revealed that PSG recruiters discriminated against players based on their ethnicity, and excluded at least one player because he is black. A few days after the story was published, the public prosecutor's office announced it was opening a discrimination investigation. The journalists expressed regret that FIFA, the international governing body for football, issued no public reaction following the revelations.
For more on GIJN's regional Editor's Pick series for 2018, check out round-ups from Sub-Saharan Africa and Mainland China, as well as in Spanish, French, Portuguese and Russian and Ukrainian.
---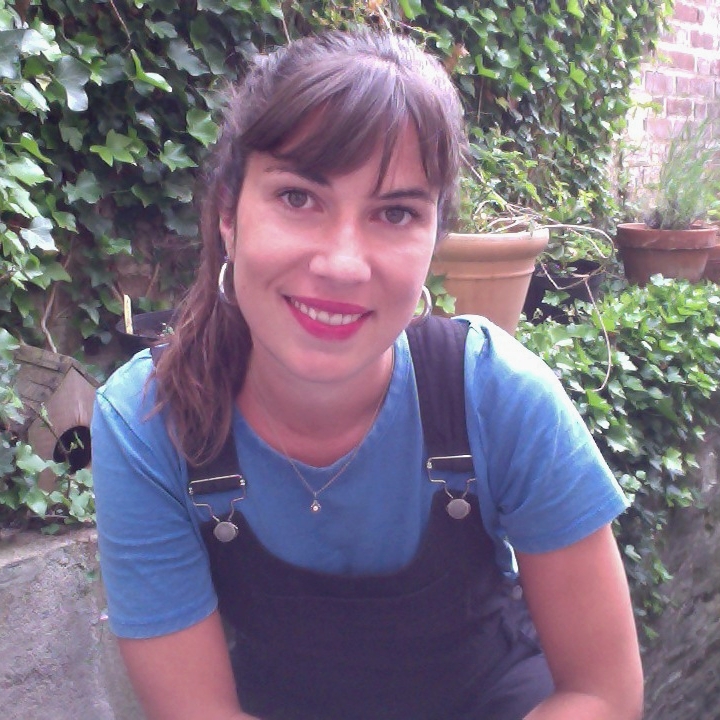 Marthe Rubió is GIJN's French editor. She worked as a data journalist at the newspaper La Nación in Argentina and as a freelancer for various media such as Slate, El Mundo, Libération, Le Figaro or Mediapart. She also works as a data journalism trainer.