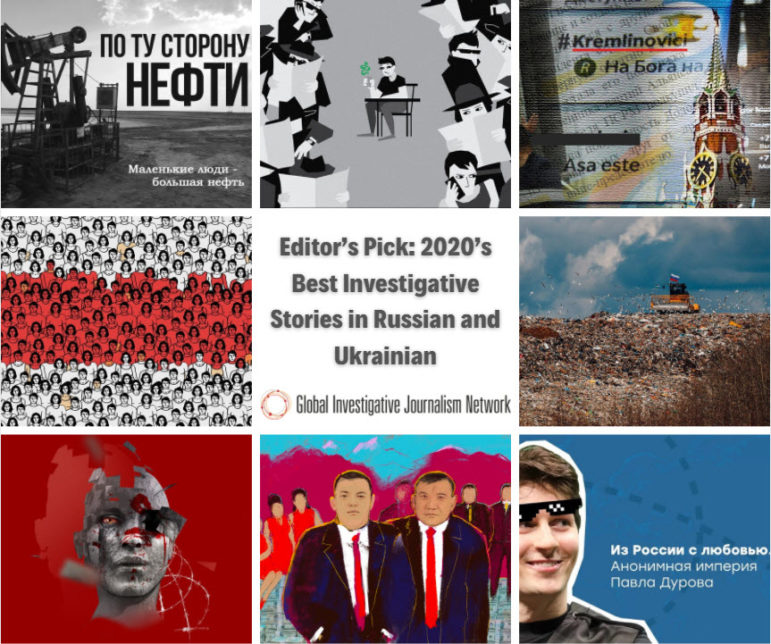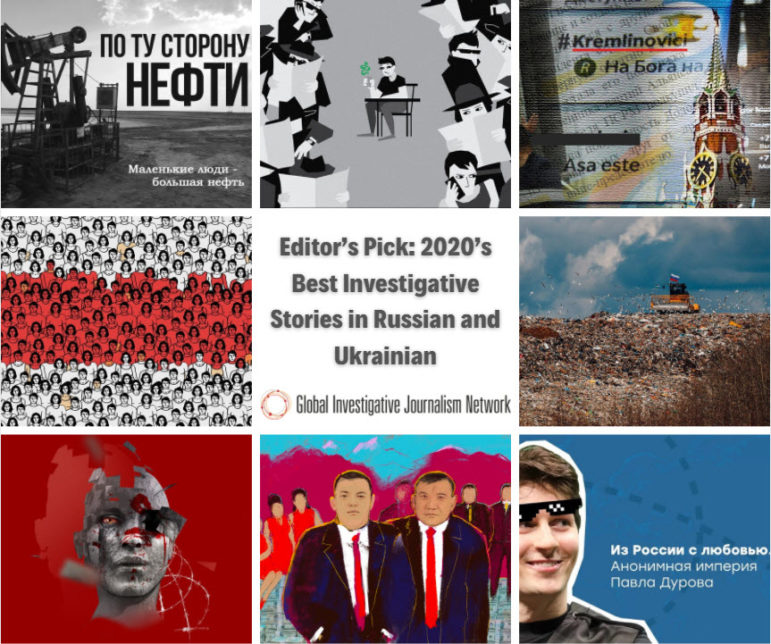 Editor's Pick: 2020's Best Investigative Stories in Russian and Ukrainian
Read this article in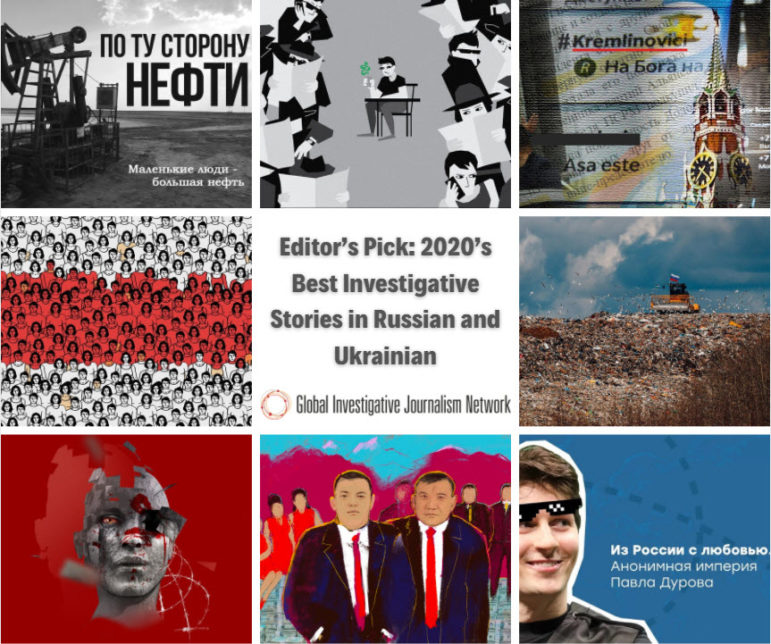 The last 12 months have been challenging for media organizations around the world, with quarantine measures depriving newsrooms of their usual sources of information. Meanwhile, the pandemic has hit advertising revenues and, under the guise of combating disinformation on the pandemic and implementing lockdowns, many governments have restricted the ability of independent news organizations to access information. 
In response, journalists in the Russian-speaking world are increasingly using public information and open data sources to explore what is happening on the ground. In Russia, journalists from two young investigative newsrooms, IStories (Important Stories), which launched in 2020, and Proekt (Project), which was founded in 2018, have become leaders in conducting data-driven investigations with in-depth reports on corruption in public contracts and mistreatment in the army and in prisons.
Choosing contenders for our annual review of the investigations of the year in Russian and Ukrainian, we've tried to select those that shed light on systemic social problems in the region, stories that can inspire journalists around the world, and those that offer good case studies in using investigative methods and tools.
Telegram is one of the largest online messenger applications in the world, with 400 million users. Created as an independent, censorship-free platform, Telegram has become a distribution channel for independent media as well as a communications tool for opposition activists in authoritarian countries. But this investigation by the journalists at online media group Liga sheds light on the dark side of anonymity, and how Telegram can be used as a communications tool by terrorists. Telegram has also become an ideal tool for spreading Russian government disinformation and propaganda, with journalists uncovering a network of Ukrainian and pseudo-Ukrainian Telegram channels which are re-posting and sharing Kremlin spin. 
To illustrate how anonymous Telegram channels work and how easy it is to share fake information through the platform, the journalists conducted an interesting experiment. The team created a fake channel dedicated to the flat earth theory, which promotes the idea that the Earth is flat and that scientific evidence to the contrary is a fabrication. The conspiracy post written by the team claimed that the theory would soon appear in Ukrainian school textbooks and that NASA had shared images related to the theory at a secret conference. Setting up the channel took just a few minutes, and after spending about $200 on promotion, the channel received 25,000 views within half an hour, reaching 20,000 subscribers within two days.
This documentary is an attempt by journalists from a small newspaper to shed light on an environmental and social issue of national importance. The film crew visited three regions of western Kazakhstan — Aktobe, Mangistau, and Atyrau — all of them rich in oil and attractive to foreign investors. Most of the oil fields in these areas are being developed by subsidiaries of petroleum companies from China and South Korea.
The film, which is subtitled in English, shows that oil production has brought neither the promised petrodollars to these regions nor new roads or other infrastructure improvements. Local people still live in shacks without basic amenities, with their homes often just hundreds of meters from the oil rigs; they complain of livestock deaths, unproductive land, polluted water, and of diseases afflicting local children and adults.
IStories investigated how control of the Russian garbage market — an industry worth millions of dollars — was divided up among those in the circle of Russia's president and regional and federal officials. As a result of the reform of the waste management system, contracts for the collection, recycling, and disposal of garbage were given to companies without experience and often at inflated prices. Instead of the promised recycling services, the reporters found garbage from Moscow was transported to regional landfills that pollute the air and reach the height of 10-story houses.
To track where the garbage was taken, the journalists came up with an interesting tactic: sewing a mobile phone into a stuffed toy and throwing it into a dumpster. In the documentary (which has English subtitles) and a series of accompanying articles, we were impressed by the investigation's unlikely heroes, like 90-year-old activist grandfather and Second World War veteran who now patrols the roads to prevent Moscow's garbage trucks from entering his region.
This television report details how a pro-Russian Ukrainian politician and his wife allegedly supplied petroleum products to the United States from a Russian plant belonging to them, despite US sanctions against the same politician in 2014. The investigation comes from Schemes, a project of Radio Free Europe's Ukrainian Service. Using data from the international customs database ImportGenius and tracing the routes of tankers with the MarineTraffic service, Schemes reported that after the oil was transferred to Russian-occupied Crimea, it was routed through the neutral waters of the Black Sea before being transported to Houston, Texas, where it was received by one of the largest US oil refineries. The journalists estimated the value of the tracked deliveries at $150 million. The contracts were said to have been facilitated by a Swiss intermediary firm allegedly tied to a Russian parliament member. 
Customs in Kyrgyzstan— Kloop, Bellingcat, OCCRP, Radio Azattyk, RFE/RL (Kyrgyzstan)
An international team of journalists has worked since 2019 on an investigation to expose the workings of a customs empire that allegedly transferred more than $700 million out of Kyrgyzstan. The source of the information was the businessman Aierken Saimaiti, who reportedly admitted being involved in the scheme but was shot dead in Turkey shortly after talking to journalists.
According to the investigation, this smuggling network was secretly managed by a family from China, with a senior customs official ensuring its smooth operation. The latest in the series reveals how two clans took control of all three customs terminals through which goods can be transported into Kyrgyzstan from China. At these terminals, cargo carriers not connected to the clan were forced to pay "unofficial payments," which could run as high as $4,000, making their businesses unprofitable. One clan allegedly used money from these schemes to influence politics in Kyrgyzstan, and was accused of bribing voters. This series of articles includes an interactive map of one clan's property.
By collecting testimonies from inmates and human rights defenders, this report from Russian investigative news site Proekt (or Project) illustrates how the problem of torture in Russia's penitentiary system remains a major concern. Digging into court cases and convictions of prison staff accused of mistreating inmates, Proekt suggests that in one-third of Federal Penitentiary System facilities where employees were convicted of beatings, "human rights defenders continue to receive reports of unjustified use of physical force against prisoners." 
Witnesses say that sometimes fatal beatings, torture, suffocation, and suicide caused by inhumane treatment have become the norm in places of detention. At the same time, the number of sentences doled out against the perpetrators of these crimes is extremely small, even in comparison with the number of officially registered complaints of torture. For example, between 2015 and 2018 the state-backed Investigative Committee received more than 6,500 complaints of torture, but only 123 employees of the Federal Penitentiary Service were tried for unjustified use of force during the period.
Mediazona is a Russian alternative media site founded by two members of punk rock band Pussy Riot. According to this Mediazona investigation, a "significant number" of people suffered violence at the hands of the police in Belarus following last year's popular protests against alleged election fraud in the capital, Minsk.
An anonymous source in the government's Investigative Committee leaked to Mediazona statistics on the number of people injured during the protests. Fact-checking then revealed that this was official data collected by state institutions, but which had not been made public. The documents show that during the protests in August and September 2020, members of the security forces injured at least 1,373 people by firing rubber bullets and flash grenades, and beating them with truncheons in the head, chest, and stomach.
More than 600 people were beaten after being detained by the police in cells and other sites, including in a pre-trial detention center near the center of the protests, according to the report. By systematizing and visualizing the data on injuries, the journalists revealed the scale of the police response and the severity of the crackdown inflicted on the protesters. 
This investigative project explores the influence of Russian President Vladimir Putin's Kremlin on former Moldovan President Igor Dodon, as well as other politicians in Moldova. The investigation is based on a leak of documents from the Moldovan department in the Kremlin, and records of Dodon's phone calls. The then-president of Moldova — who left office in December 2020 — was called "Kremlinovich," or "son of the Kremlin," in a secret chat in which he talked with politicians, officials, and security officials.
In return for Moscow's favor, the report claims, Dodon's patrons received insider information about the internal and foreign policy agendas of Moldova and confidential data related to his political opponents. As a reward, they reportedly sent political consultants, material for disinformation campaigns, and support for so-called "black PR" to manipulate public discourse. This explosive series of articles was published on the eve of the presidential elections in Moldova, which ended with Dodon's defeat and victory for pro-European candidate Maia Sandu.
For this investigation, which made international headlines, a cross-border team of journalists uncovered the names and ranks of officers in the Russian intelligence agency FSB allegedly involved in the poisoning of Russian opposition figure Alexey Navalny. After analyzing phone bills obtained on the Russian personal data black market, journalists described how a group of FSB officers had likely "accompanied" or shadowed Navalny on journeys over the previous three years. According to the investigation, the poisoning, which left Navalny fighting for his life in hospital, may not have been the first attempt to use the Novichok nerve agent on him. The story reported that his wife, Yuliya Navalnaya, may have been sickened by an earlier poisoning attempt in Kaliningrad.
In a further article, Hunting the Hunters, the Bellingcat team detailed the research methodology used for this investigation.
---

Olga Simanovych is GIJN's Russian-language editor. She has worked as a screenwriter, media trainer, managing editor, TV news reporter for Vikna-Novyny on STB, and has participated in SCOOP's international investigations. She is fluent in Ukrainian, Russian, English, and Greek.