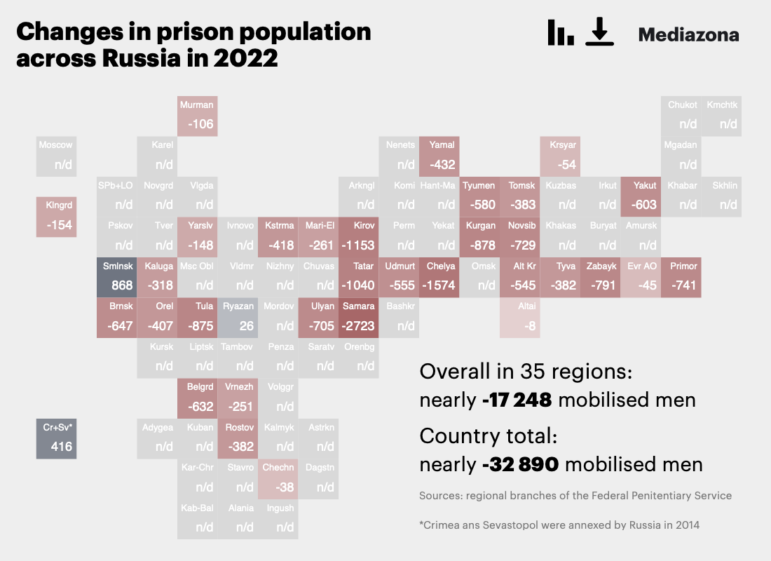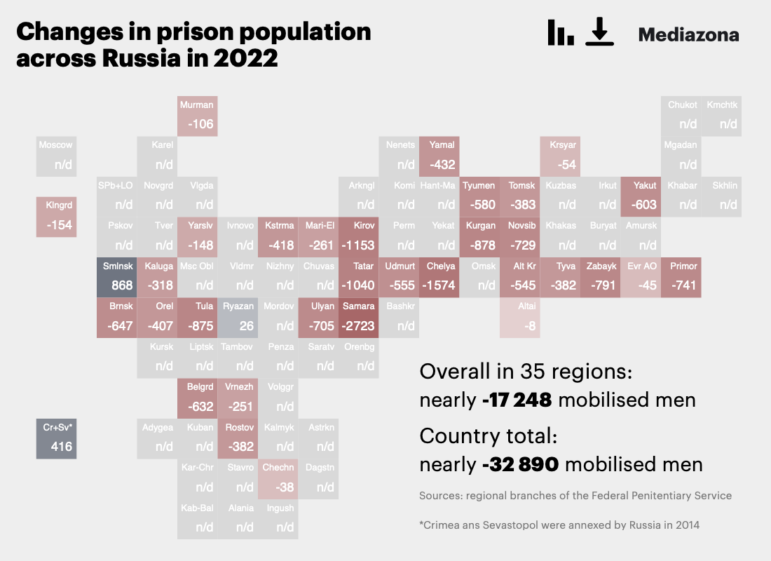 Image: Screenshot, Mediazona
Data Journalism Top 10: US Anti-Trans Bills, Russia's Convict-Conscripts, French Same-Sex Marriages, and Less Snowy Alps
Read this article in
A new wave of transphobia is sweeping across the United States as lawmakers are pursuing anti-trans laws that include restrictions on gender-affirming care. The Washington Post mapped the tsunami of these new bills introduced and enacted across the country. This week, we also highlight Le Monde's look at a decade of legalized same-sex marriages in France, Mediazona's clever accounting of how many Russian prisoners were co-opted to be mercenaries in the war against Ukraine, and the Investigative Journalism Foundation's analysis of Airbnbs listed in Canada without a valid license.
Mapping Anti-Trans Bills
Across the US, from Oregon in the northwest to South Carolina on the southeast, there has been a "tsunami" of legislative efforts to restrict the rights of transgender people. According to an analysis by The Washington Post based on data compiled by the American Civil Liberties Union (ACLU), since January state legislators have introduced more than 400 bills that the Post defines as "legislation that explicitly targets transgender rights." Some of those bills target who can play sports and put restrictions on trans girls' participation, while others seek to restrict gender-affirming care for children. As well as an interactive map detailing which bills have been introduced and enacted in different parts of the country, the Post team created a searchable table showing key measures in each bill. The tracker will be updated periodically throughout the year. For a quick, 26-second overview, see The Post's TikTok by Chris Vazquez.
French Same-Sex Marriages, One Decade On
In April 2013, France legalized same-sex marriage, becoming the 14th country in the world to do so. Since then, 70,000 same-sex couples have wed, according to this report in Le Monde. The most popular year to wed, according to data from INSEE, the national statistics institute, was 2014, when more than 10,000 couples rushed to formalize their union. In the decade since, same-sex unions made up around 3% of all civil marriages, averaging around 6,800 a year. Le Monde journalists dug into the data on same-sex marriages compared to civil partnerships (or "pacs" for le pacte civil de solidarité in French), the ages people choose to marry in same-sex and heterosexual relationships, and also examined figures on adoption. Data suggests only around 200 gay and lesbian couples have succeeded in adopting, but more than 1,200 adopted a child born to their partner, for example, following assisted reproduction, in 2018 alone.
Russia's Prison-to-Front Lines Pipeline
For the reporters at the independent Russian news outlet Mediazona, it was a simple question: How many of the Russians fighting in Ukraine are former inmates, recruited to fight from prisons to bulk up the ranks? The problem: the Federal Penitentiary Service stopped publishing reliable data on the size of the prison population soon after it was reported that the Wagner group of mercenaries was recruiting in Russian jails. So instead, reporters scoured local incarceration statistics from 35 out of 58 regions in the country to find out how the prison population had changed and which parts of Russia have seen the greatest drops. For the 35 regions for which they had data, the overall prison population fell by 17,000 in 2022. (Nationwide, reporters believe the total decline to be almost 33,000). The region that saw the biggest drop in prisoner head counts was Samara, where the number of inmates fell from 10,200 to 7,500. The Mediazona reporters conclude it is "likely" many of those who left disappeared "to fight as mercenaries in Ukraine." Find the story in English and Russian.
Unlicensed Airbnbs
After years of whirlwind success, the home listing site Airbnb is experiencing a backlash in some parts of the world, with complaints that the model is pricing out locals and contributing to a housing supply crisis. A story by the Investigative Journalism Foundation, a Canadian nonprofit newsroom focused on public interest journalism, digs into the situation in Canada, where only half of Airbnbs in the country's biggest cities appear to be operating with a license. According to its analysis, which includes figures from the open source data scraping project Inside Airbnb, there are about 16,000 listings operating without a license nationwide. In Montreal, Quebec City, and Edmonton, fewer than a quarter of Airbnbs are officially licensed, according to the analysis, but in Toronto, where listings must be posted with a license number, it's 100%.
Inside the AI Black Box
From OpenAI's ChatGPT to Google's Bard and Microsoft's Bing, there's been a boom of AI-powered chatbots in the past few months. These large language models (LLM) are capable of mimicking human speech because they've been trained on massive amounts of data, mostly scraped from the internet. The Washington Post examined one of these AI training datasets — Google's C4 dataset — in an attempt to peel back the layers on what tech companies are feeding the AI. Journalists found that the data included copyrighted work, information from websites that are ranked low on NewsGuard's trustworthiness scale, personal blogs, and troubling content ranging from white supremacy to anti-trans material. Here's a tweet thread on The Post's investigation process behind this story.
Locating Germany's New Wind Turbines
Germany's energy transition plan — a long-term strategy to move the country towards a low-carbon, nuclear-free economy by 2045 — can be achieved by installing tens of thousands of new wind turbines. Zeit Online examined the feasibility of this vision and explored different scenarios where these energy systems could be set up. According to the data analysis, journalists found more than 100,000 possible locations after ruling out unsuitable places due to factors such as wind force, settlement density, and existing natural reserves. Using the interactive tool, readers can explore the scenarios themselves and see which areas are suited for wind turbine installations in their state. Read a summary of this piece in this tweet thread by Zeit Online's senior data journalist Christian Endt.
Debunking Population Myths
In November, the global population reached 8 billion — leading to debates about "too many" people in some regions and "too few" in others. Our planet's changing demographics and the debate about birth rates are explored in this El Pais analysis which digs into the "fallacy" of the 2.1-children population replacement figure to explore why the question of a national fertility rate is more complex than many people realize, and why population control won't necessarily solve the climate crisis. Among the data visualizations in the piece: a map showing fertility policies adopted by governments worldwide, showing where politicians are trying to increase the birth rate (Russia, Japan, Italy, France) and countries where they are trying to reduce it (Mexico, Peru, India, and much of Africa). The reporters also note — and illustrate — how it is often the countries that are the smallest contributors to global warming that have the highest birth rates.
Less Snowy Alps
New research data by the Alpine Drought Observatory confirms the experience that many vacationers had this past winter season — there was very little snow in many places across the Alps. German newspaper Süddeutsche Zeitung mapped the level of snow in the mountains from December 2020 to March this year and compared it to the historical average for the previous three decades. The color-coded map revealed a stark truth: a majority of the Alpine region recorded less, much less, or very much less snow this winter. Journalists also highlighted that the retreating snow lines can be seen from space and illustrated this using satellite imagery.
Global Macaque Trade
Long-tailed macaques have been traded for decades for medical purposes but exports of the primate surged exponentially during the pandemic, resulting in concerns about whether these animals were sourced from legal farms or illegally caught from the wild. Singapore-based data storytelling outlet Kontinentalist analyzed data from CITES to discover trends in the trade of the species.
Travel the "World" Within US
The US has many towns and cities named after foreign places: there is Naples, New York, or Rome, Georgia. According to the reporters behind this fun Axios project, "there are so many of these cities that you could go on a world tour without ever leaving the US." You can "cruise" the Mediterranean by traveling from Algeria, Missouri, to Spain, New Mexico, and from Nice, California to Naples, New York. These geographic doppelgängers often originated from immigrants, who would rename their new home in honor of where they came from (sometimes disappearing pre-existing Native American names for the same area). So, the most common second-hand US place names come from England, Germany, Canada, and Italy, the reporters found. Scroll to the bottom for an interactive state-by-state travel itinerary made up of places named after locations in the old world.
Bonus: Food Franchise Fix Along US Highways
Inspired by a column from The Washington Post's Department of Data — which found that places with the most chain restaurants were more likely to vote for former US President Donald Trump — Minneapolis-based developer Emily Buzzell decided to dig into which of the most popular restaurants line US highways in each state. Her data uses the 10 longest interstate highways in the country and the 100 largest restaurant chains with locations within half a mile of the road. The result? A detailed map that tells you, for example, Interstate 95 in New York has 7.39 restaurants per mile while Interstate 94 in Montana has just 0.03 restaurants per mile.
GIJN's Data Journalism Top 10 list is curated weekly. Send your suggestions of great data stories to us for a chance to be featured.

---
Laura Dixon is an associate editor at GIJN and a freelance journalist from the UK. She has reported from Colombia, the US, and Mexico, and her work has been published by The Times, The Washington Post, and The Atlantic. She has received fellowships from the IWMF and the Pulitzer Center.
Eunice Au is GIJN's global team manager based in Budapest, Hungary. Previously, she was a Malaysia correspondent for Singapore's The Straits Times, and a journalist at Malaysia's New Straits Times. She has also written for The Sun, Malaysian Today, and Madam Chair.