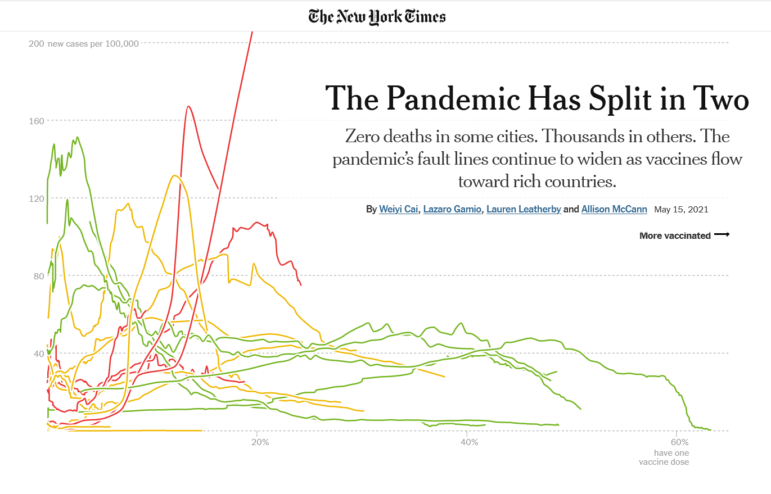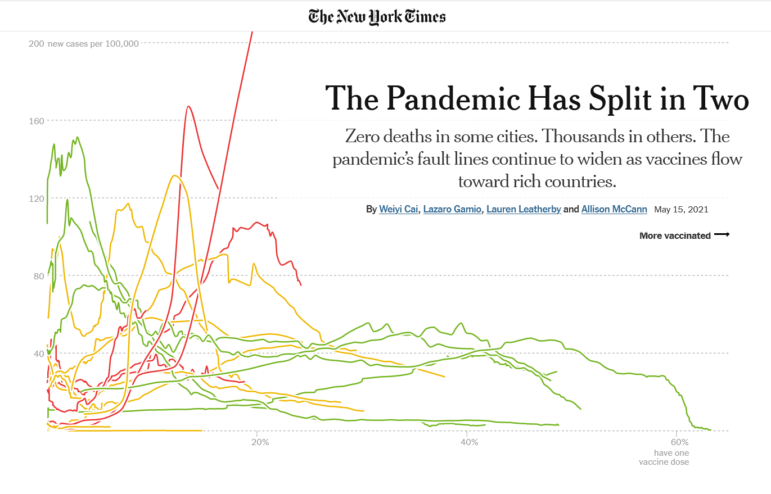 Data Journalism Top 10: Eurovision Songs, Cryptocurrencies, Australian Traffic, Palm Oil, and Two Pandemics
Read this article in
Italian metal band Måneskin was the big winner at the 65th edition of the Eurovision song contest held in the Dutch port city of Rotterdam last week. Måneskin joins a long list of famous artists to have triumphed on the Eurovision stage, including ABBA, Celine Dion, and Lordi. Our NodeXL #ddj mapping from May 17 to 23, which tracks the week's most popular data journalism stories on Twitter, found a project by Reuters Graphics looking at the history of the competition. In this edition, we also feature a Financial Times analysis of how much energy is needed to mine bitcoin, a piece on wildlife trafficking in Hong Kong by GIJN member Oxpeckers, and a story looking at how American families spend their monthly budgets.
The Songs of Eurovision
Founded in 1956, the Eurovision Song Contest is among the most-watched non-sporting events in the world. Over the decades, the competition has featured more than 1,600 songs. To celebrate this year's edition, Reuters produced this fun-filled, interactive piece that looks at the history of the contest and uses Spotify data to explain how the recipe for success has shifted over the years.
Hong Kong's Wildlife Traffickers
International crime syndicates have long profited from wildlife trafficking routes that flow through Hong Kong. Despite its small geographic size, the city is a major trading hub of endangered species with seizures equivalent to those of many large nations. Oxpeckers analyzed data on trafficking and legal penalties, to understand why local authorities are struggling to crack down on wildlife crime.
Bitcoin's Energy Problem
While Bitcoin may be an entirely digital currency, it has a serious impact on the physical environment. Large bitcoin mining operations consume an enormous amount of energy, which is causing concern among climate activists and regulators. The Financial Times looked at statistics showing that the cryptocurrency consumes half as much electricity as the UK, and more than countries like Sweden, Ukraine, and Norway.
https://twitter.com/FinancialTimes/status/1395727621137342470
Booming Cryptocurrencies
Along with bitcoin, other cryptocurrencies such as ether and dogecoin have exploded in popularity. More individual investors are buying "crypto," but the soaring prices of these assets may appear strange to those unfamiliar with the market. The Wall Street Journal explained the reasons behind the rise of digital currencies and the challenges that lie ahead.
https://twitter.com/WSJGraphics/status/1394349437007417345
Forests and Climate Change
Heat, drought, and storms caused by climate change are harming the health of large green areas and altering the landscape in Germany. This interactive piece by the newspaper Berliner Morgenpost uses data and satellite imagery to illustrate the extent of the damage in the nation's forests.
Palm Oil Bonanza
European financial institutions — including banks, insurance companies, and pension funds — have subsidized palm oil companies responsible for illegal fires in Indonesia. An investigation by VoxEurop, republished by the European Data Journalism Network, looked at the "palm oil bonanza" and how forest destruction and extra carbon emissions fuel global warming.
COVID-19 Traffic Jams
The coronavirus pandemic significantly changed traveling patterns in the world's largest cities. In Australia, this has resulted in more congestion, with fewer passengers using public transport, despite the country's relative success at keeping the virus at bay. The Guardian examined data from Facebook, Google, and other sources to take a closer look.
Monthly Budgets
Do you know what you spend your money on? Are you keeping track of each daily purchase? The New York Times Magazine asked six families to track their monthly expenses, including rent, mortgages, cellphone bills, and spending on tips, dog food, and streaming services. The magazine's long-form piece gives an insight into the cost of living in different parts of the United States.
https://twitter.com/NYTmag/status/1395027991143587840
Big Companies Getting Richer
The pandemic has damaged businesses and negatively impacted entire industries. But for the biggest companies in the world, the crisis has led to a period of healthy growth. A study by Bloomberg Economics highlights found that the top 50 firms grew by $4.5 trillion in 2020. This trend shows how these companies have come to dominate the global economy and play a crucial role at both a national and international level.
Two Sides of the Pandemic
While in some countries it seems as if the end of the coronavirus pandemic is approaching, others are getting hit hard with rising cases and shortages of supplies and  overflowing hospitals. A New York Times analysis shows that while richer countries are curbing the spread thanks to vaccination campaigns, outbreaks are devastating India and much of Latin America. This stark contrast marks another stage in the pandemic, which according to the NYT "has split in two."
Thanks again to Marc Smith and Harald Meier of Connected Action for gathering the links and graphing them. The Top Ten #ddj list is curated weekly.

---

Peter Georgiev is GIJN's social media and engagement editor. Previously, he was part of NBC News' investigative unit in New York. He also worked as a correspondent for Bulgarian National Television and his reporting has been published by the Guardian, Deutsche Welle, and other international outlets.
For a look at NodeXL's mapping on #ddj and data journalism on Twitter, check out this map.