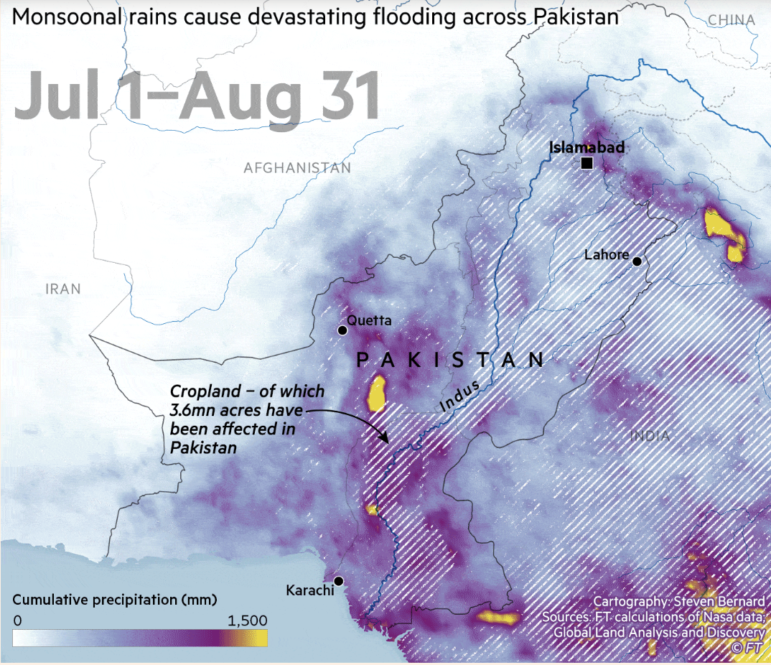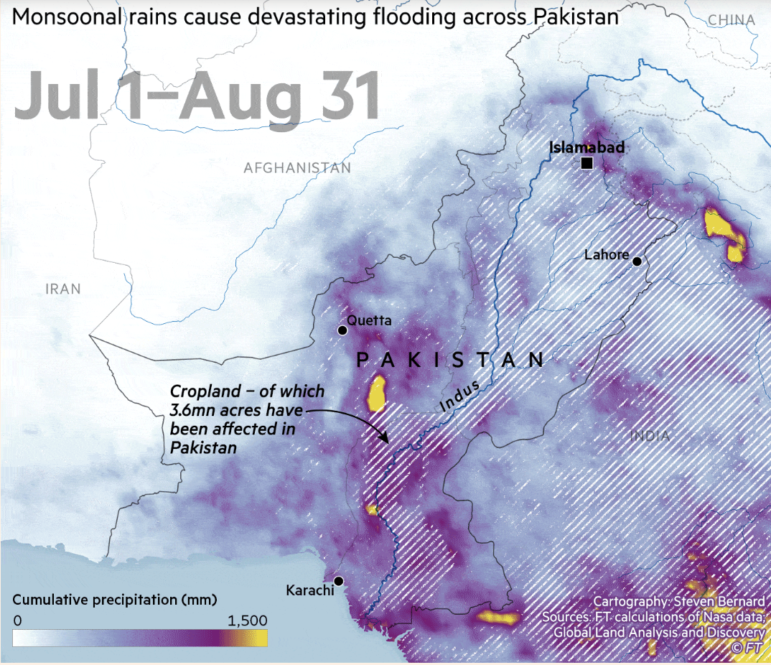 Data Journalism Top 10: Celebrity Jets, Amazon Destruction, Pakistan Floods, Meme Origins
Read this article in
Climate change and environmental destruction are hot topics in this week's Data Journalism Top 10 column. Franceinfo highlighted the carbon emissions of celebrity private jets, The Washington Post examined why no one is held accountable for the ravaging of the Amazon rainforest, the Financial Times mapped the deadly floods in Pakistan, and Malaysiakini created an interactive explainer on how climate change causes extreme weather events and consequences. Our weekly NodeXL and human curation of the most popular data journalism stories on Twitter also highlights a visualization of Russia's military machine, an analysis of Singapore home ownership, and the origins of funny memes.
Celebrity Carbon Emissions
The northern hemisphere summer brought a furor over celebrities' jet-setting ways. Each one of their private flights contributes vast amounts of carbon emissions into the atmosphere — more than thousands of non-flying individuals would generate in a year. According to earlier reports, pop star Taylor Swift led the pack, with her two jets making at least 170 trips in just the first 200 days of this year. By analyzing data from flight tracking sites and automated Twitter accounts, Franceinfo discovered that Microsoft founder and billionaire Bill Gates, along with other high-profile individuals like Jeff Bezos and Elon Musk, were worse environmental culprits than Swift. Journalists also analyzed the use of business jets owned by large French companies in 2022 and identified the most egregious polluters. Related: Franceinfo also examined the booming trend of installing private swimming pools in France — and their carbon output.
Amazon Destruction: No Accountability
Here's a huge environmental crime happening in plain sight — the plunder and razing of the Amazon rainforest. Nearly 20 percent of it has been destroyed, yet no one is being held accountable. The Washington Post dug deep into why it is so difficult to keep deforesters at bay and found a system of weak inspection agencies, lenient courts, and long, drawn-out appeals. Journalists reviewed a year's worth of cases and found that even in the rare event of a criminal conviction, prison sentences were unlikely.
Massive Pakistan Flooding
Unending weeks of torrential rains and glacial melt have left one-third of Pakistan under water. The Financial Times mapped the deadly extent of floods in the country and used two simple satellite images, one from April and another from August, to compare the land before and after being submerged. According to news reports, this unprecedented climate catastrophe has claimed more than 1,000 lives and affected some 33 million people. Also worth a look: Reuters analyzed the casualties and damages in the worst hit provinces.
Prosecuting Pregnancy Losses
A collaborative investigation by GIJN member The Marshall Project, The Frontier, and AL.com in partnership with The Washington Post found that more than 50 women who tested positive for drug use after a miscarriage or stillbirth have been prosecuted for child neglect or manslaughter since 1999. Journalists created a database of prosecutions for pregnancy loss by combing through hundreds of news articles, law review journals, court case filings, and other public records over 23 years. Many of these prosecutions led to lengthy prison sentences and life-changing consequences for these women. Here's how the team built the database and analyzed the data.
Climate Change Impact on Malaysia
Malaysia is also no stranger to devastating floods. The most recent deadly flood was in 2014 and 2015 — inundating roads and whole neighborhoods, disrupting intercity train services, and leading to the evacuation of hundreds of thousands. Kini News Lab, Malaysiakini's dedicated visual storytelling and data journalism team, created an interactive explainer to trace how rising temperatures and increasing rainfall is leading to higher risk of flash floods. It also looked at the projection of flooding due to sea level rise in the Klang islands and coasts.
Visualizing Secrets Docs Seized at Mar-a-Lago
Last month, the FBI searched former US President Donald Trump's Mar-a-Lago resort in Florida as part of an investigation into mishandled national security materials. The long list of classified items seized from Trump's property included 18 top secret documents, 54 marked as secret, and 31 that were labelled as confidential. Authorities also found more than 11,000 other government documents in their search, mixed in with individual items and documents. The New York Times illustrated every single item recovered from Trump's possession, aptly conveying the staggering quantity of high-value government documents seized and the haphazard manner in which they were stored.
Rising School Costs in Russia
Russia's invasion of Ukraine and the resulting sanctions imposed on Russia's economy have caused the costs of school across the country to jump. Russian independent media site IStories looked into the affordability of school and found that in 20 regions, school fees and associated costs now exceed the average monthly per capita income.
Singaporean Housing Dream a Reality?
Home ownership is a quintessential Singaporean dream. The country's national housing development board prides itself in providing affordable, quality homes for its citizens, and also assistance schemes to help lower-income families. Kontinentalist, a data-driven storytelling studio based in Singapore, dug into the public housing scheme in Singapore to find out if home ownership in the city-state was truly an attainable dream. It found flaws in the system and restrictive criteria that result in difficulties for those in marginalized communities and poor households to own homes.
Increasing US Polarization
The Economist took a look a how federalism, a mixed form of government that combines a federal system with regional governments into a single political system, is leading to polarization in the United States. Its interactive graphs, based on content from a book by MIT researchers, shows how the gap between state government policies in conservative states and progressive states is growing ever wider.
https://twitter.com/gelliottmorris/status/1565366120160399360
Russian War Machine
Although many Russian oligarchs have been hit with international sanctions, Ukrainian site Texty.org.ua reported that many directors of companies involved in manufacturing and producing military equipment for the invasion of Ukraine remain free of sanctions. Using information collected by the good governance NGO Trap Aggressor, Texty visualized the structure of ownership and management of these military equipment manufacturing firms.
Bonus Item: Where Do Memes Come From?
Have you ever wondered where memes originate? Knowyourmeme.com has documented where memes come from for more than a decade. It compiled the data it has collected since 2010, charted the popularity of platforms for memes, and analyzed the most prolific internet trends over the years. Most memes started on YouTube and 4chan 12 years ago, but now TikTok dominates.
Thanks again to Marc Smith and Harald Meier of Connected Action for gathering the links and graphing them. The Top Ten #ddj list is curated weekly.
---

Eunice Au is GIJN's program manager. Previously, she was a Malaysia correspondent for Singapore's The Straits Times, and a journalist at Malaysia's New Straits Times. She has also written for The Sun, Malaysian Today, and Madam Chair.
For a look at NodeXL's mapping on #ddj and data journalism on Twitter, check out this map.