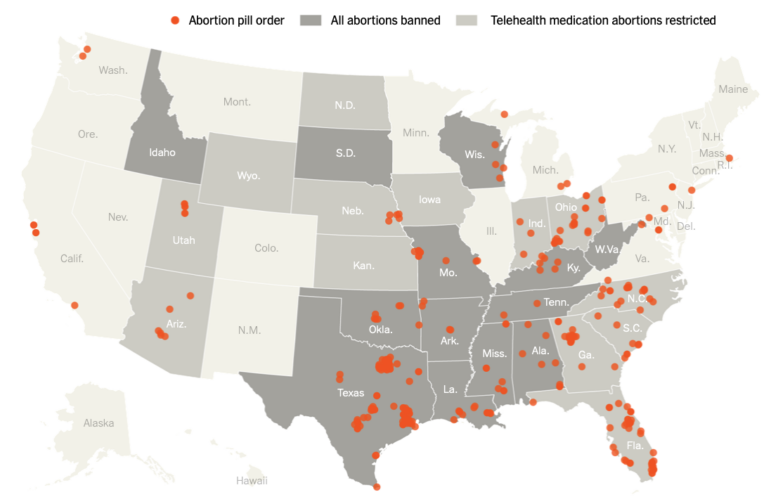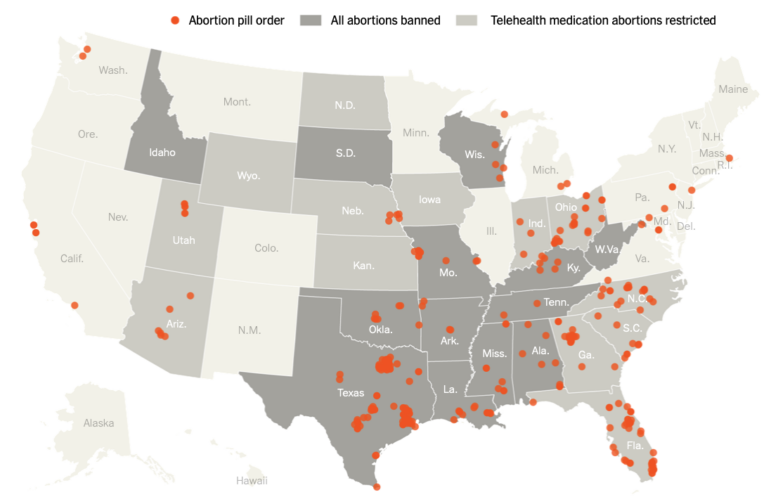 Image: Screenshot, The New York Times
Data Journalism Top 10: Abortion Pill Access, India Surpasses China, Pandemic Pets Boom
Read this article in
The demand for abortion pills sold online is growing in the United States after its Supreme Court took away the people's constitutional right to abortion. The New York Times examined the booming market and distributors for this medication. This week, our curation also highlights data stories that look into India's population overtaking China, development aid spent domestically in developed nations, the illusion of reforestation as a solution for limiting global warming, the climate cost incurred by Los Angeles' fleet of helicopters, and a boom in owning pets during the pandemic.
Ordering Abortion Pills Online
Websites selling medical abortion pills offer Americans a way around state abortion restrictions, and according to experts, the market for them is likely to grow as more bans come into effect. Also, efforts to restrict medical abortion are likely to push people into unregulated or extralegal networks. The New York Times examined the online market for abortion pills, which often involve overseas manufacturers and "ad hoc distribution networks" within the US. Since the Supreme Court's Dobbs decision overturning Roe v. Wade in June 2022, tens of thousands have gone online to search for pills — often the only option remaining to those unable to travel to clinics — and are turning increasingly to for-profit sellers. For more context: legal abortions fell by 6% in the six months after Dobbs. Also, check out The Times' earlier analysis of more than 100 scientific studies on whether abortion pills are safe — all of which conclude that they are.
Population: India Surpassing China
India's population has quadrupled since 1950, from 350 million to about 1.43 billion today, and according to UN estimates, India will overtake China — whose population is gradually declining — as the world's most populous country by mid-2023. (The US places a distant third.) A team at Al Jazeera English created a set of longform infographics to show by the numbers just how this happened, and what it means for India and the rest of the world. Among many fascinating stats: with a combined population of 2.8 billion people, every third person in the world comes from India or China.
Foreign Aid Budget?
According to data from the Organisation for Economic Co-operation and Development (OECD), some of the world's largest donor governments increased spending on official development aid in 2022 amounting to a total US$204 billion. However, a closer look at the figures by The New Humanitarian revealed that a large portion of this funding was actually spent on in-country refugee costs (while still labelling it as overseas aid) instead of helping least-developed countries. In fact, aid money to countries in sub-Saharan Africa fell last year.
Reforestation Mirage
Governments have promised to replant 633 million hectares of trees — an area equivalent to the Amazon rainforest — to help save the planet. But is this goal even plausible? This Financial Times visual investigation looked at the hard numbers and found the rosy pledges wanting. According to the UN's Intergovernmental Panel on Climate Change, protecting and restoring the world's forests is critical for limiting global temperature rise — but critics point out that we should be focusing on prevention, rather than restoration. That's because planting trees is more challenging than it sounds — and we are running out of usable land. Journalist Alexandra Heal elaborates on the idea behind this story here.
Climate Cost of LA Police Choppers
Los Angeles is a "helicopter dystopia," according to Nicholas Shapiro, UCLA assistant professor of biology and society, who has been analyzing the police department's chopper usage. For HEATED, a Substack newsletter focusing on climate change, Arielle Samuelson reported on Shapiro's back-of-the-envelope calculations, which estimate that from 2019 to 2020, law enforcement helicopters released about 11,100 metric tons of carbon dioxide — "double the emissions of number-one-emitter Thomas Siebel's private jet last year; five times more than Elon Musk's; and nearly 11 times more than Taylor Swift's." LA's law enforcement aircraft fleet — 34 helicopters and four small planes — is the largest of any municipal force in the world, and there are serious questions about their effectiveness as a policing tool in addition to concerns over costs to the taxpayer and the environment.
Pandemic Pet Boom
Over the last few years, the number of dogs in Switzerland has grown at a faster rate than the human population. Based on data from Identitas — a registry of Swiss animals — the Zurich-based newspaper Tages-Anzeiger visually depicted the country's relationship with dogs. It found 556,543 dogs registered in Switzerland — 13% more than in 2016 — and noted a pandemic boom of more than 15,000 annual pet dog registrations in 2020 and 2021, compared to the normal yearly average of around 6,000. The most popular breed is the chihuahua; the most popular names for dogs are Luna and Rocky. Download all the dog data here.
Pro-War and Anti-War Trends
Russian opponents and supporters of the invasion of Ukraine seem highly polarized. A team at a hackathon held by Novaya Gazeta Europe and public education project Teplitsa of Social Technologies analyzed more than 10,000 profiles on VKontakte — Russia's most popular social network — by searching for pro- or anti-war statements and hashtags, to find out more about demographic differences between the two camps. Some limitations: VKontakte is controlled by the government, so there are likely to be fewer anti-war posts, and the study is limited to people using the social network. Among the observations: the average war supporter tends to be older — albeit by only by three years — than the average opponent, and positions on the war do not fall neatly into conservative and liberal ideological camps. In fact, the largest group of war supporters tend to define themselves as "moderate" — often meaning those less engaged with or interested in politics generally.
First 100 Days of Lula vs. Bolsonaro
The first 100 days are often considered a decisive period for a new government, when leaders can capitalize on their post-election momentum to push their agenda. DeltaFolha — the data department of Brazilian daily Folha de S. Paulo — did a comparative analysis of the tweets of former president Jair Bolsonaro and recently elected Luiz Inácio Lula da Silva in their first 100 days. Lula tweeted often about social issues, including human rights, health, and fighting hunger, with 42% of his tweets focusing on these topics compared to Bolsonaro's 17% of tweets on these subjects. Bolsonaro, on the other hand, had tweeted more about political and party institutions, including themes of corruption, the military, and attacks on the press. Despite having tweeted less prolifically than Lula, Bolsonaro had more engagement — almost triple the number of hashtags and direct mentions by other users.
Discharged Without Trial
In a story co-published with Military Times and the Texas Tribune, ProPublica reported on the "longstanding but little-known" practice of allowing US service members to be discharged instead of facing a military trial on criminal charges. In the US Army, for instance, the practice — known as "administrative separations in lieu of court-martial" is increasingly applied in cases where soldiers are accused of crimes such as domestic violence and sexual assault. According to ProPublica's analysis of 8,000 courts martial, more than half of the 900 soldiers allowed to leave the army instead of facing trial in the last decade stood accused of violent crimes — a 30% increase from the previous decade.
Visualizing Earthquakes
This interactive, which visualizes information about the world's earthquakes over the past century, was produced by Atlo Team, the data group of the Budapest-based investigative center Átlátszó. The journalists visualized all post-1900 earthquakes that were stronger than magnitude 5.5 on a rotating globe. Readers can browse and filter the information by decade, strength, and tectonic plate.
Bonus: Visualizing Biomedical Research
An interactive visualization by Ben Schmidt, Dmitry Kobak, and Rita González Márquez displays the landscape of biomedical research — based on approximately 21 million scientific papers collected in the PubMed database, a free search engine of references and abstracts on life sciences and biomedical topics.
GIJN's Data Journalism Top 10 list is curated weekly. Send your suggestions to us.

---

Alexa van Sickle is an associate editor at GIJN. She was previously a senior editor for the foreign correspondence magazine Roads and Kingdoms. She has also been an editor at the International Institute for Strategic Studies and a publisher at an international law non-profit in London. She lives in Vienna, Austria.
Eunice Au is GIJN's global team manager based in Budapest, Hungary. Previously, she was a Malaysia correspondent for Singapore's The Straits Times, and a journalist at Malaysia's New Straits Times. She has also written for The Sun, Malaysian Today, and Madam Chair.