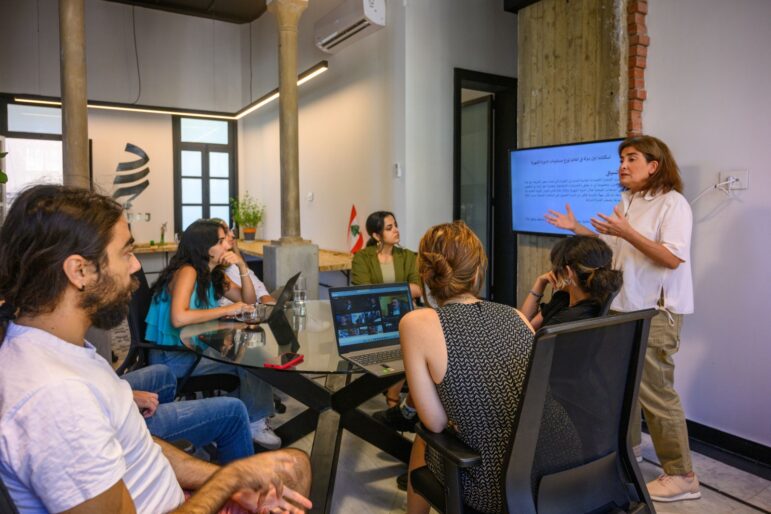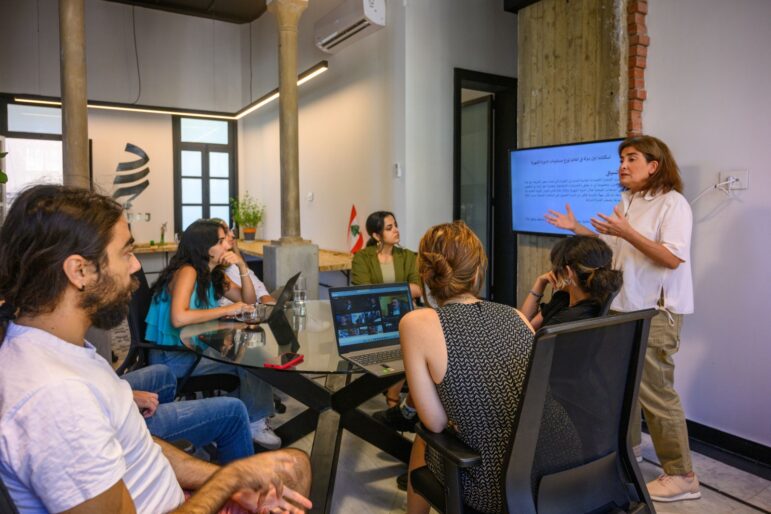 How News Site Daraj Reports on Women's Rights and Corruption across the Middle East
In 2017, veteran Lebanese journalist Diana Moukalled co-founded Daraj with two colleagues. Six years later, Daraj is an independent, pan-Arab news site producing investigations into corruption and injustice and covering underreported issues, including gender, human rights and climate change. The outlet publishes up to eight articles, videos, and social media-first stories a day with a core team of 20 based in Lebanon.
As a journalist at Future Television, a mainstream broadcaster owned by former Lebanese Prime Minister Rafik Hariri, Moukalled worked for years as a news correspondent, a war correspondent covering conflicts in Iraq, Iran, and Afghanistan, and also covered social affairs. The censorious environment of working as a journalist in the region in the 1990s forced her to avoid investigating certain topics. These limitations continued to grow in 2011 and the Arab Spring was a turning point.
"What was possible or acceptable before 2011 became more difficult and more polarized," says Moukalled, who is also Daraj's editor-in-chief.
A surge in smartphone and social media use made it "easier to have your own voice and platform," she says, but also harder to work in mainstream media without being part of the severe polarization. "After 2011 (…) polarization controlled and governed everything," Moukalled says. "We saw how politically funded media institutions had no choice but to fully support and follow what the funder says."
How It Started
Things reached a head in 2016 with the leak of the Panama Papers. Moukalled was working for Future Television: "We did not cover it, because it tackled Arab leaders, royals, and politicians. If you were working for a news outlet funded by Qatar, you could report on opponents [of the Qatari regime featured in the Panama Papers] or vice versa."
Political funding had increased its grip on the media in the region to an alarming extent, says Moukalled. In 2017, when Daraj was in its nascent stages and Moukalled was working her final days at Future TV, Saad Harir, then Lebanese Prime Minister and owner of FutureTV, was arrested in Saudi Arabia and asked to announce his resignation. "We could not cover this," she says. "Our own owner, what he was going through… We had to deny that he was kidnapped because the political funding was much more powerful than anything else," Moukalled says. "So I had to cross the road and go to Daraj to report it. It was liberating."
Daraj was launched as an alternative to mainstream media in the region. "Daraj means steps. We felt we were in a hole and needed a way out," says Moukalled. It aims to cover under-reported stories and marginalized voices not just from Lebanon, but from the Arab region as a whole.
Investigating Corruption in the MENA Region
Daraj invests heavily in investigative journalism with a particular focus on corruption in the region. It produces long-form stories as well as analysis and opinion pieces, with some translated for an English-language version of its website. It also creates video and audio journalism. Typical investigations include covering the fallout from the 2020 Beirut port explosion, the banking crisis in Lebanon, as well as abuses by Iraqi elites and militias.
The mainstream media in the region is "full of ideology," says Moukalled, and these stories and other topics, including gender, LGBTQ+, and freedom of speech issues are "twisted" by these outlets or not covered.
"Fighting corruption and injustice is in our core values. Political and social corruption are integrated into the regimes of the region," she says. "There's a huge intersection between business elites and those who are in power. This is a major cause of the problems we are suffering. In Lebanon, the elites running the country are resisting the demands of the international community and the Lebanese to have real change, transparency, and wealth management of the country."
Daraj has collaborated on international investigations. At its launch, it was part of the Paradise Papers investigation along with other 95 news organizations and the International Consortium of Investigative Journalists. "These types of collaborations help us because we're a small organization," she says. "They give us a kind of protection if something happens."
Challenges to Press Freedom
According to Reporters Without Borders' (RSF) regional report for the Middle East and North Africa, "there is still a long way to go before the Middle East becomes safe for journalists." In Lebanon alone, RSF says online attacks and death threats against journalists are rising, while many journalists have been forced into exile. Lebanon ranks 130th of 180 countries in RSF's 2022 World Press Freedom Index with Qatar 119th, Morocco 135th, Yemen 169th, and Syria 171st.
"We live in a region that's full of crises, wars, intimidation and lots of marginalized groups suffering from injustices — there are plenty of stories," Moukalled says. "We are citizens as well. This region has the potential and people here deserve a better future and better stories and information."
While many journalists in the region have been forced to relocate as a result of intimidation or threats, Daraj does not want to cover the region from outside. "It matters more to be able to work here and publish here," she says.
Daraj is registered in Lebanon, but its journalism addresses regional and international Arabic speakers, says Moukalled. It has a contributor network that stretches from Morocco to Palestine, Iran and Sudan, with a listed 121 members outside of Lebanon. Approximately 20 to 25 contributors use pen names to protect their identities.
"The safety of our contributors is a challenge," Moukalled says. The site was blocked in Egypt in November 2022, while a contributor in the country spent almost two years in prison with one of his articles for Daraj cited in the charges against him. "We have a responsibility towards the people who work with us to protect their identity whenever they are tackling a sensitive issue and to make sure their voices are heard," she says.
It's still possible to operate as independent media in Beirut, but there are many risks. The financial crisis in Lebanon, for example, has led to banks stopping basic services, forcing citizens and businesses to operate in cash. As a result of this, receiving funding and transferring money to pay contributors, especially those outside of Lebanon, has become "a nightmare," Moukalled says.
Verifying pitches and fact-checking stories from across the region is also difficult. Sources are not always accessible or can't be named, data may be unreliable and the team often deals with journalists it hasn't met.
Finding a Business Model
Funding is a major challenge for Daraj too. At launch, the newsroom was for-profit and the three co-founders approached "progressive investors" in the region. "The outcome was not encouraging," says Moukalled. "They questioned whether there was a need or a market for what we say. They were hesitant. Even the good business leaders of the region have to deal with the current authorities."
The idea of working with local investors was dropped and Daraj, which is a registered company in Lebanon, shifted to sourcing international support from institutions and grants, but not any organizations with governmental ties. It started with funding from International Media Support, while OpenSociety joined a year later. The European Endowment for Democracy completes a trio of core funders for the newsroom, which plans to "seek profit at a later stage." Daraj is also one of the 12 newsrooms selected for grant funding by the International Fund for Public Interest Media, chaired by Mark Thompson and Maria Ressa.
Today around 80% of Daraj's income comes from grants, with a remaining 20-25% coming from production work. Daraj pitches services to other companies, including video journalism production and training. Eventually, it would like to reverse this income split.
Editorial products and projects have received backing from one-off grants, such as money from the Google News Initiative fund and from French media development agency CFI to support Daraj's Noon podcast.
Daraj's newsroom is developing a subscription model, but progress has stalled owing to the banking collapse in Lebanon. An advertising alliance with other regional, independent outlets is also being discussed.
Reaching Diverse Audiences
In terms of reach, Daraj is attracting a geographically diverse audience. In 2022, its website generated 2.5 million unique users and 6 million page views. Its top countries for visitors were Egypt, Iraq, Lebanon, Jordan, and the US.
Daraj relies on social media to reach younger audiences and promote its journalism, says Moukalled, but adapting content to so many different platforms is an investment. It recently launched on TikTok.
As social platforms wrestle with issues of disinformation, misinformation, and content moderation, Moukalled believes Daraj has suffered as a result of "shadow bans" on certain topics or words. Stories reporting on ISIS or Hezbollah still need to mention these keywords in their copy and headlines or use relevant images, for example, but doing so may limit their reach on social platforms, she says.
The biggest audience development challenge is reaching younger, Gen Z audiences. Stories on gender stories and LGBTQ+ communities and rights have been successful with this segment. "We try to make snackable versions, as I believe younger audiences have the right to know [about heavier topics]," says Moukalled. "We have to introduce these priority stories in ways they want to consume and can understand them."
The newsroom will produce social versions of stories from its site and social media-only reports. This is both an editorial and a resource-led decision: the newsroom cannot cover everything and an investigation is not suited to all stories. A recent example of social-first storytelling was a report on a woman bathing on a public beach in south Lebanon who was attacked by a group of men.
"We sent our reporter, we interviewed her and we made a quick Reel for social media," says Moukalled. "This story reflects what women face, not only in Lebanon, but in the region when it comes to public spaces and their liberty when it comes to their bodies. Editorially, this is a topic we need to focus on, but we cannot write a big story on it."
Looking to the Future
Funding is the biggest priority for Daraj and a daily challenge, says Moukalled. The team wants to increase revenues from its own activities, such as media production, to lessen the dependence on grant-based and institutional funding. The sources of such funding and independent and civil society recipients are currently under attack.
From orchestrated social media campaigns to Hezbollah's Hassan Nasrallah "warning that civil society is trying to infiltrate with Lebanese society," there are "huge attacks" on this funding model in the region right now, says Moukalled. "There is a huge appetite to divert attention from who is really responsible for the crisis in Lebanon."
Editorially, Daraj plans to be "as bold as ever" and continue to cover injustices and corruption in the region. It is working on investigations and collaborating with partners including the OCCRP and ICIJ. Moukalled says she is happy that Daraj reporting was used as part of the evidence to issue an arrest warrant for Riad Salamé, governor of Lebanon's central bank, in May.
"These things give us the motivation and the will," she says. "I love what I do, but it's not about love. It's about fighting back."
This post was originally published by the Reuters Institute and is reprinted here with permission.
Additional Resources
How The New Humanitarian Used WhatsApp to Cover Lebanon's Economic Collapse
Three Investigations that Explored the Devastating Blast that Rocked Beirut
2022's Best Investigative Stories from the Arab World
---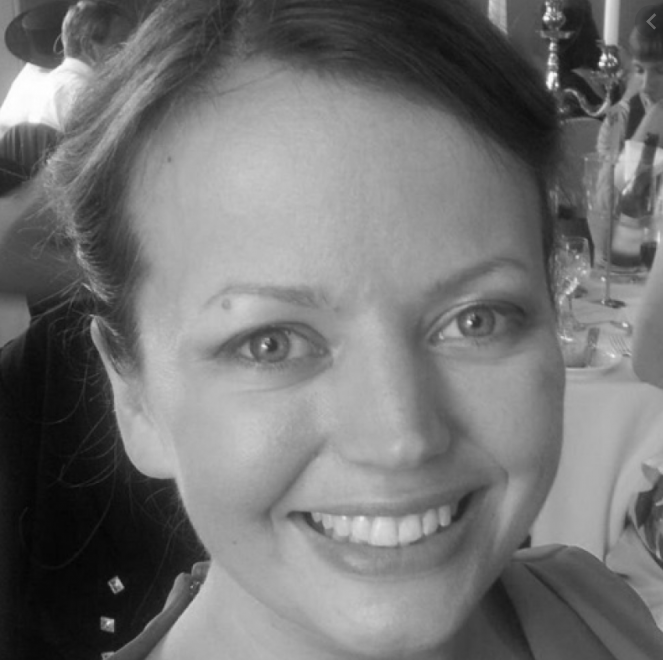 Laura Oliver is a freelance journalist based in the UK. She has written for the Guardian, BBC, Euronews, and others. She is a regular journalism trainer for the Thomson Foundation and Thomson Reuters Foundation and works as an audience strategy consultant for newsrooms. You can find her work here.