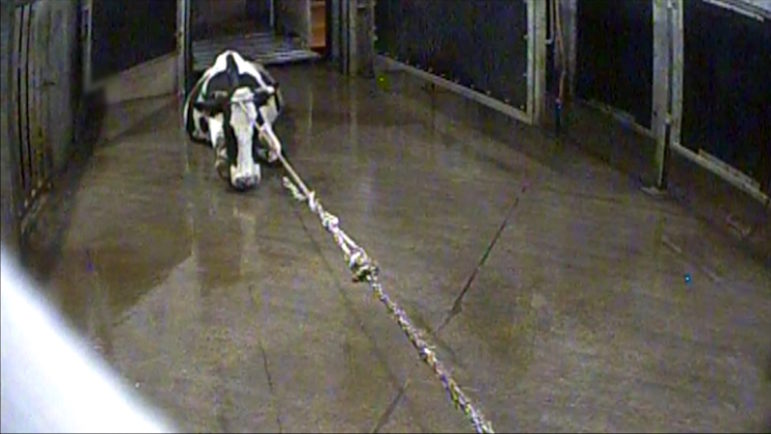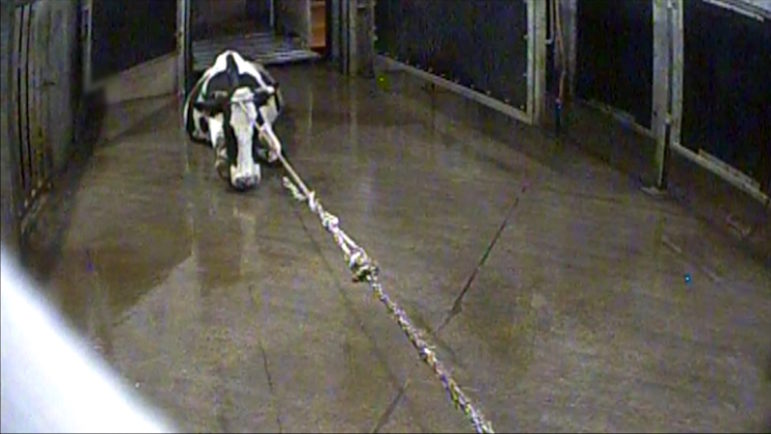 Image: Courtesy TVN Discovery Poland
In early October 2018, Tomasz Patora and I started to take a closer look into the Polish cattle industry. We had a tip-off: A slaughterhouse (or abattoir) in Poland was selling the meat of sick cattle, some of which had arrived at the facility already dead. After conducting some initial background research and sneaking around the slaughterhouse a few times in the cover of night, we knew our source was telling the truth. The only problem was how we were going to get inside to prove it. After a long discussion with our editor at the investigative program Superwizjer of TVN Discovery Poland, we decided that one of us needed to go undercover and get hired as a butcher. Happily, I got the job.
Where's the Beef?
We knew a few things before going in. We knew the slaughterhouse where I would work had been buying sick and dead cattle from farmers, and that it usually paid a farmer a maximum of $200 per sick cow; by comparison, a healthy cow costs between $800 and $1,400.
We also knew that the slaughterhouse would take in diseased, dead cows for free. We knew that sometimes the sick cows had broken legs, or that their bones wouldn't pop back in their hips after giving birth. We also knew that after those sick cows were slaughtered, the carcasses were cleaned and visible marks of diseases were cut away, and that the meat of those sick cows were regularly sold on for human consumption. And we knew that all of this was done without any oversight by the state's veterinary office.
We estimated that by killing around 20 sick cows per day, the slaughterhouse would earn around $660,000 of pure profit per year; if it killed only the healthy ones, its profits would come in at around $91,000 per year. Poland produced almost 438,000 tons of bovine meat worth $1.5 billion in 2018, and more than 80% of that was exported to European Union and beyond.
We had much of our background research in the bag. Now it was time to get inside to show how bad things looked up close. But first, I had to prepare for my role.
Becoming a Butcher
It wasn't my first undercover assignment. In the past I had been abused as a temporary worker in the Netherlands. I hired myself out as an Uber driver to show how the company was avoiding taxes as well violating labor laws. I also frequented Warsaw's strip clubs to document the robbery of foreign tourists. My experience from all of these past assignments was crucial for my preparation in becoming a butcher.
Here's what I learned about going undercover:
Setting the story. The best character is built on real events, emotions, and histories. Use memories and experiences from your own past to make your story authentic. Before going to the slaughterhouse and asking for the job, I prepared two stories and, based on how the situation inside developed, I could choose two different paths to explain how I ended up at a slaughterhouse in the countryside, far away from major cities. During the job interview, I began to sense that my initial story paths wouldn't work, so I had to come up with a third story path. So I said my girlfriend had fallen pregnant by another man, which left me distraught and far away from home. I know it sounds really cliched, but that's the one that landed me the job.
Lies. You'll be lying a lot. My advice is that it is better to say as little as possible. Memorize your story and be prepared to have it checked by anybody at any time.
Digital footprints. Delete everything you can from the internet, including all social media. Profiles need to be deleted and, if necessary, replaced with new ones. Do it carefully and well before the assignment. Learn from my mistake: I left one of my old photos that appeared under my real name on the sixth page of a Google image search. It later led to my exposure where, during one of my night shifts at around 3 a.m., I was invited to my boss's office "to sign a contract."
Change of appearance. Shaving, growing, or dying hair; cutting or growing a beard; growing or cutting a mustache — it is worth taking a closer look at your external appearance, as well as inside your wardrobe. If the clothes don't match your story, buy new ones, including socks and underwear. For example, I normally wear colorful socks. Can you imagine a butcher with socks like that? I also shaved my head, beard, and mustache. My colleagues didn't recognize me when I passed by them in the office hallways. I also recommend reading "Black Like Me." John Howard Griffin was a white journalist who chemically altered the color of his skin and headed to the racially segregated Deep South in the United States in 1959.
Change of personality. Adapt to your environment. If it is an academic environment, behave and speak like an academic. If it's a slaughterhouse, behave and speak like a butcher. If it's a criminal network, behave and speak like a criminal. I graduated from a decent university in Poland and before the assignment began, my colleagues expressed concern that those years of education might ruin my story. "You won't sound like the other butchers," they said. So I spoke very little about myself and kept to the most important facts. Pretending to be an introvert helped a lot.
Research. Learn whatever you can about your assignment. I watched plenty of documentaries about meat production, and some pretty nasty videos on LiveLeak and YouTube regarding animal cruelty. I also read a few books for beginning butchers, and went to other slaughterhouses to learn how they work. It's good to know if you're about to puke or faint during slaughtering before going undercover.
Identification card. Faking an ID is a crime in Poland, so we decided not to do it during my assignment, and there wasn't really a need for it. But if you go into an undercover situation where your personal information might lead to threats on your health or life, you might need to fake it. While this will certainly depend on where you are working and what story you are working on, most courts will likely acknowledge that this was done in a pursuit of the greater good.
Observe and document. These are basic ethical rules of undercover journalism. You're there to document systems or criminal activities, not to provoke or to stage situations. While working on night shifts — where the illegal butchering was happening — I tried to be a useful worker at every step of the slaughter, from pulling sick cows with a rope to stunning and killing them, as well as decapitating, skinning, and cleaning out their guts. I wasn't pushing anyone to give me a particular job. I knew the graphic footage filmed with hidden cameras would be newsworthy, and I had only a limited time to film certain scenes. I had to go with the flow of work and film everything whenever I could.
Worst-case scenario. Prepare safety rules and know your way out. Create a communication system, such as secret text code messages. Report back daily about any unusual behavior in your working environment — your colleagues might notice something relevant. If possible and necessary, have someone nearby to help you. I was exposed as a journalist during the night. It wasn't the most comfortable time in my life, but I knew there were people watching my back all the time. This helps.
Investigative Impact
I worked undercover for almost three weeks in November 2018 to expose the slaughterhouse. I managed to document and film the pulling, by a rope, of sick and dead cows into the slaughterhouse; the preparation and cleaning of the sick and dead cows for further sale; the slaughter of cows in advanced stages of pregnancy; the disposal of both small and large fetuses; a wide range of animal cruelty acts; the loading of rotting carcasses into trucks for further sale; stamping by workers, my boss, and myself with an official veterinary stamp that was intended to show that the meat was examined by the veterinary service when it was not; and conversations with workers and the head of the company about procedure. Altogether we had around 120 hours of undercover footage.
After our piece came out in late January, it had significant impact, including:
The slaughterhouse and its closest business partners were shut down by the government.
Every slaughterhouse in Poland — around 800 of them — was put under the strict control of state veterinary inspectors.
Unexamined meat from the slaughterhouse where I worked was found in 14 EU states, including in schools, kindergartens, military bases, restaurants, and shops.
The chief deputy of the General Veterinary Inspectorate was dismissed.
A trade war between Poland and the Czech Republic unfolded, with the Czech government urging its citizens to buy domestic products instead of buying Polish meat.
Upscale restaurants in Prague were exposed for selling meat from the slaughterhouse where I worked as Argentinian beef.
EU inspectors examined meat production in Poland, and their report confirmed our reportage.
It is estimated that the Polish beef industry will lose around $150 million in 2019 in the aftermath of our reportage.
In the latest polls, 43% of Poles stated that they have reduced meat consumption or eliminated it from their diet.
In Data We Trust
There could be another way to dig deeper into this story. My colleague Julia Dauksza is one of the few true data freaks in Poland, constantly digging up and analyzing all sorts of data. She obtained data from the Polish Ministry of Agriculture, the Agency for Restructuring and Modernization of Agriculture, and the Institute of Agricultural and Food Economics, and found that in 2017, Poland reported it had slaughtered almost two million cows, of which only 4,513 — or just 0.22% — were reported unfit for human consumption by the government's veterinary office. These numbers are just waiting for another investigation.
---

Patryk Szczepaniak is a journalist for the investigative program Superwizjer at TVN Discovery Poland. A member of GIJN member Fundacja Reporterow, he covers organized crime, human trafficking, and social injustice in Europe. From time to time, he goes undercover. You can email him at patryk_szczepaniak@tvn.pl.