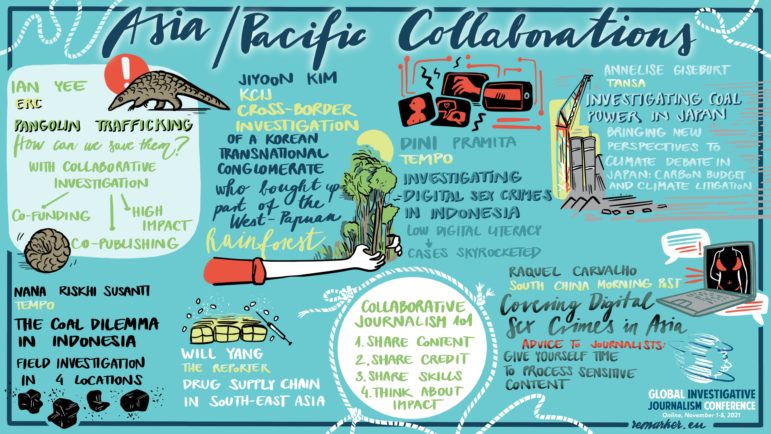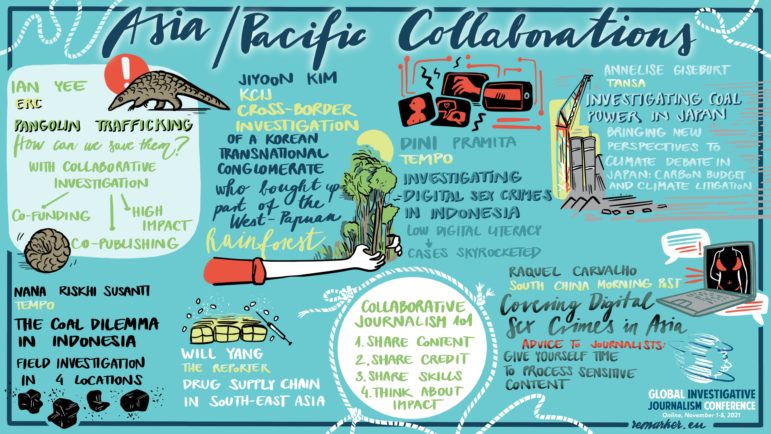 Asian Journalism Collaborations Break New Ground
Read this article in
Cross-border reporting collaborations are essential for journalists investigating transnational crimes, according to Ian Yee, executive director of Asia-focused Environmental Reporting Collective (ERC). Speaking at a session on "Asia-Pacific Collaborations" at the 12th Global Investigative Journalism Conference (#GIJC21), he said there are few news organizations that can fund thorough investigations of criminal activities that span multiple countries. But cross-border collaborations allow newsrooms to pool resources and overcome these financial hurdles.
Yee highlighted the ERC's in-depth investigation into the pangolin trade as an example: More than 40 journalists in 15 countries worked together to investigate and infiltrate the illegal wildlife market for that investigation.
Collaborations also give journalists the chance to tell international stories using their local perspectives, which resonate with local audiences, Yee added. Stories told by international reporters often had the opposite effect, he said, as local communities don't like being "taught by foreigners."
The most successful collaborations, though, are those where reporters and newsrooms have a transparent and open approach to sharing content, skills, and credit — a counterintuitive notion for many journalists, he explained.
"It's really, really hard to let go of a scoop," he said.
Yee's tips for successful collaborations include:
Make stories available: Allow content — stories, videos, images — to be republished for free under Creative Commons licenses.
Share skills: Make the most of the different skills and resources that collaborators bring to the project.
Make it local: Newsrooms should adapt their work to fit local contexts.
Share credit: Make sure contributors feel part of the success, especially when investigations win awards. Be generous with credit.
Think about impact: Don't aim to just expose problems, investigate solutions as well.
At the session, panelists noted how journalists in the Asia-Pacific region have set an impressive track record for collaborative reporting projects recently.
Raquel Carvalho, the South China Morning Post's Asia correspondent, led an investigation earlier this year into the increase in digital sex crimes across the region. To do this story, she approached journalists at The Korea Times, Indonesia's Tempo magazine, the Philippine Center for Investigative Journalism, and Manila-based ABS-CBN. They all agreed to work together to investigate the issue.
Their six-month investigation uncovered dozens of cases of digital sex crimes, gave a voice to victims who wanted justice, and shone a light on regulatory loopholes allowing the criminal practice to spread.
To execute the stories, the newsrooms shared materials, including interviews and contacts, and as a result, they were able to interview about 20 survivors in 10 countries. Reporters kept in touch through regular video calls and brainstormed approaches. They also considered the editorial decisions that they would all stick to. For example, they deliberately avoided using the term "revenge porn," which is often used in reference to image-based abuse. Instead, the journalists made a collective decision that its use would lead to sensationalist headlines and would be insensitive toward victims.
The journalists who worked on the project agreed that the international collaboration added more weight and credibility to the investigation — it wasn't just one news outlet claiming digital sex crimes were a problem, it was many.
Carvalho's tips for journalists starting collaborative projects:
Pitch your story: Carvalho pitched the investigation to the Judith Neilson Institute, which provided funding and support.
Find the right partners: The collaboration relied on partner newsrooms, but also freelancers in India and Cambodia.
Agree on a way of working that suits everyone: This requires a discussion at the beginning of the collaboration.
Set up a main platform of communications: Being able to communicate with everyone on the team seamlessly is key.
Set more than one deadline: Because investigations require pacing, set multiple deadlines for deliverables before the final deadline.
Agree on fundamentals: This includes language and editorial approaches.
This kind of transnational teamwork can make the impact of investigative reporting more than the sum of its parts. "Every partner felt that our work had more weight because it was an international effort," said Carvalho. "It wasn't just one news outlet saying this was a problem."
For more about the South China Morning Post's cross-border collaboration, see this GIJN story.