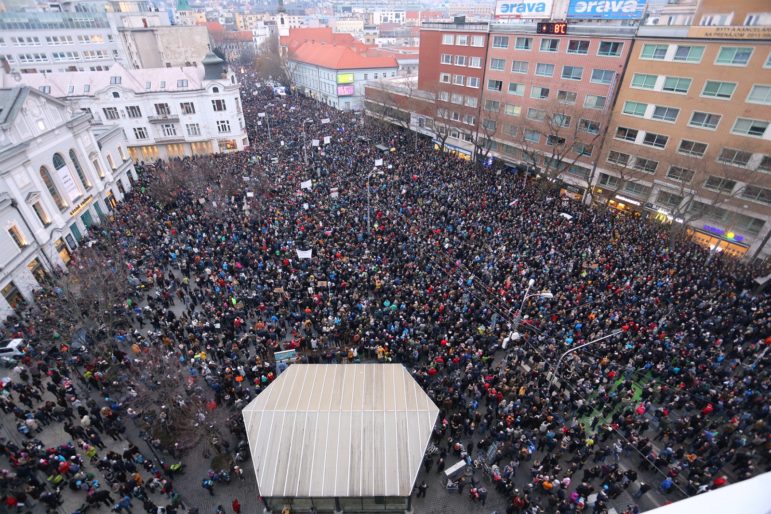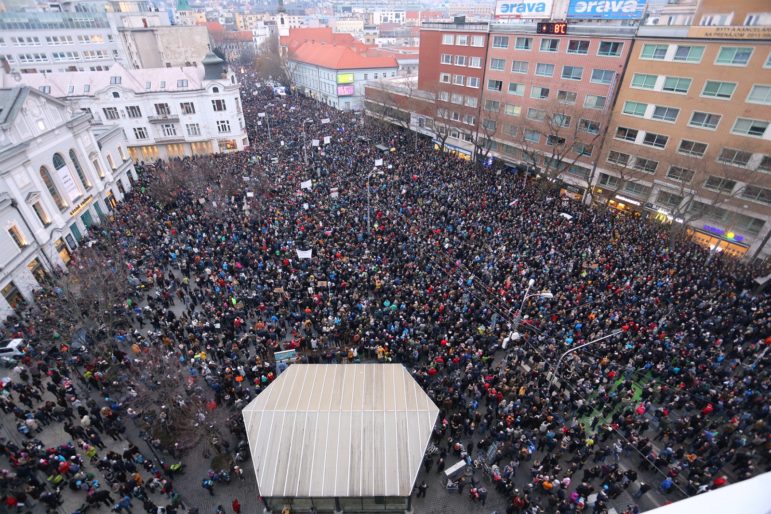 As protests grip Slovakia after the murder of an investigative journalist and the harassment of his colleague, Peter W. Klein,  Executive Director of the Global Reporting Centre, writes this open letter to the Prime Minister of Slovakia.
---
Honourable Peter Pellegrini
Prime Minister
Slovak Republic
May 29, 2018
Dear Prime Minister Pellegrini:
I write to you during a week of great upheaval in your country. Several prominent politicians, including your predecessor, have recently resigned. Tens of thousands of people have protested in the streets. And there has been a disturbing crackdown on press freedom. All because of an article that never got finished.
Reporter Ján Kuciak had been working on a story about alleged links to organized crime in Slovakia's government, and in the winter a first draft of his reporting ran in Aktuality.SK, laying out evidence of an alleged relationship between Italian criminal gangs and members of Prime Minister Robert Fico's now-defunct government. The article ends with these chilling words: Záver článku chýba, autor ho už nestihol dokončiť: The conclusion of the article is missing, since the author was unable to complete it.
That is, of course, because Kuciak, along with his fiancée Martina Kušnírová, were murdered at their home in Veľká Mača – an apparent hit as a result of his reporting.
Now, there's a disturbing new development, with a respected reporter looking into the Kuciak case being harassed by your country's National Crime Agency. Last week Pavla Holcova, who runs the Czech Centre for Investigative Reporting, was summoned by the Slovak police to discuss her investigation of the murder. She voluntarily travelled from Prague to Bratislava to meet with officers, and according to the Organized Crime and Corruption Reporting Project (OCCRP), with which she works, Holcova was interrogated for eight hours, with questions well beyond the scope of the murder case. Police asked for access to her phone, threatening her with a €1,650 fine, and then called in a mobile forensic unit to try to download data. She was released, but not before her phone was confiscated.
This is not the Slovakia I got to know at midnight on New Years Eve, 1992. I was in Czechoslovakia at the last moment of the country's existence, as the two sides split peacefully, marking an important moment in the post-Communist era. There was cheering and so much hope for both new countries — a bright future with liberty and democracy for the Czech Republic and Slovakia.
Now, we are seeing the largest protests since the Fall of Communism.
After the Kuciak murder, then-Prime Minister Fico held a news conference in Bratislava, with €1 million laid out as a reward for information leading of the capture of the killer. To many outside observers, the event felt like a publicity stunt, meant to draw attention from an embarrassing set of disclosures by Kuciak that included links between Viliam Jasan, the secretary of the state security council, and a man affiliated with the Italian crime syndicate 'Ndrangheta, as well as questions about how a former topless model ended up as the assistant to Prime Minister Fico.
Kuciak had also been looking into business dealings between the Slovak government and a private security firm owned by relatives of national police chief Tibor Gašpar. You wisely announced that Gašpar was stepping down, "to calm the tensions and free the police from media pressure."
By many accounts, the police have made a number of critical mistakes in the Kuciak murder investigation. Kuciak's family has alleged that the police did not have a qualified forensic examiner perform the post-mortem exam, and that the first search of the crime scene was "botched."
Slovak police deny these allegations, but their behavior with Holcova does not do much to redeem their reputation.
"This is another case where police investigate the journalists and not the murderers," said OCCRP editor Drew Sullivan in a statement on their website, calling on the Slovak authorities to return Holcova's phone. "They are more interested in politics than crime."
Tom Gibson, the European Union Representative for the Committee to Protect Journalists, also called for the return of Holcova's phone, and warned, "The investigation into Jan Kuciak's murder should aim to protect the confidentiality of journalists' sources."
I am encouraged by the actions of Marek Maďarič, the Culture Minister who resigned a week after Kuciak's murder, disturbed that "a journalist was killed during my tenure." His support of a vibrant media, free from harassment and murder, is what should be expected of a politician in a free society.
What I saw 25 years ago was the birth of a hopeful democratic country. I urge you to call on your police force to respect the rights of Pavla Holcova and all journalists to do their work. As you know, a vibrant press is critical to a vibrant democracy.
S pozdravom,
Peter W Klein
---
This open letter first appeared on the Global Reporting Centre website and is reproduced here with permission.

Peter W Klein is an Emmy Award-winning journalist and filmmaker. He was a reporter in Central Europe in the early 1990s, the former host of Central Europe Today, and currently serves as Executive Director of GIJN member Global Reporting Centre.