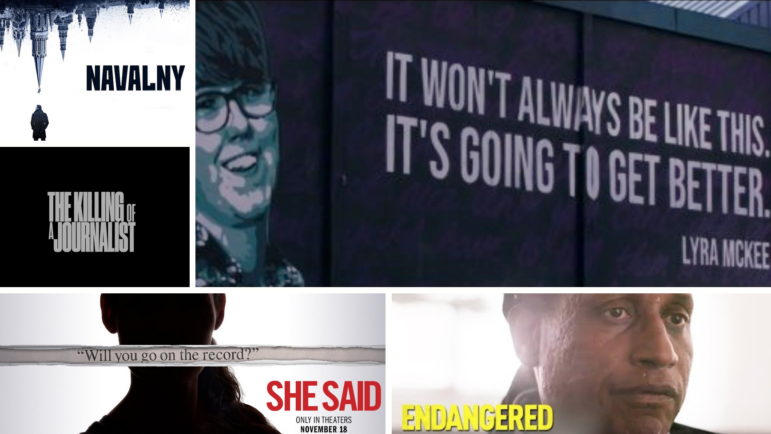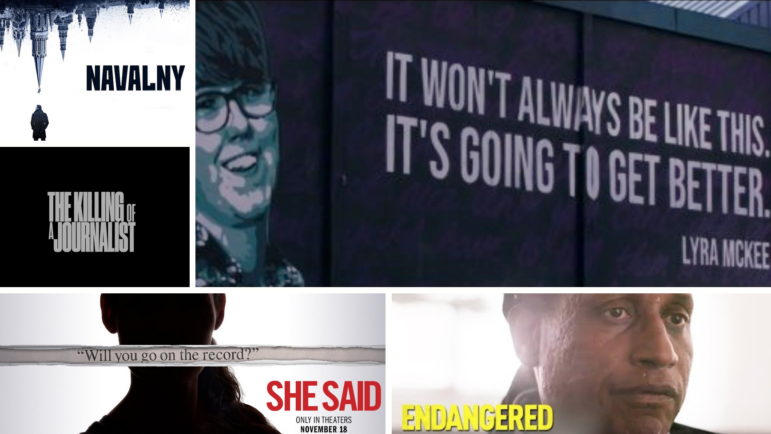 5 Must-See Films About Investigative Journalism from 2022
Read this article in
As investigative journalists around the world face growing threats on many fronts — emboldened autocratic governments and backsliding democracies, increasing hostility to the media, and eroding press freedoms to name just a few — it's all the more vital to document their work and its impact.
A range of films released in 2022, which include documentaries and feature adaptations of landmark investigations, provide insight into the diligent and often dangerous work of investigative reporters, including the stories of two journalists killed in relation to their work. These films demonstrate that investigative journalism is essential to the function of healthy democracies, and are a sober reminder of the power wielded by those who try to stop it — be they oligarchs, moguls, paramilitaries, or governments. Here are five of the best. 
Daniel Roher's documentary shadows Russian opposition figure and vocal Putin critic Alexey Navalny as he recuperates in Germany after being poisoned with a Novichok nerve agent on a trip to Siberia in August 2020. Roher films Navalny, his team at the Anti-Corruption Foundation, and journalists from Bellingcat, CNN, Der Spiegel, and The Insider as they try to find out who was behind the attack.
The film covers the months between the poisoning — and his wife Yulia Navalnaya's fight to get him evacuated from a hospital in the Russian city of Omsk to Germany — up to the moment Russian police lead Navalny away as soon as he lands back in Moscow. He will later be sentenced to two-and-a-half years in a penal colony, accused, by Moscow, of violating the terms of his probation related to charges that Navalny argues were politically motivated. 
In a jaw-dropping scene Navalny poses as a government official conducting a debrief, and makes a phone call to a Russian agent who says he was sent to "clean things up" after the poisoning in Tomsk, questioning him about what went wrong. Grozev and Maria Pevchikh, from the Anti-Corruption Foundation, react in silent horror as the man admits that his team from the FSB — Russia's security service — planted the toxin in the seams of Navalny's underwear. 
"Navalny" shows that cross-border investigative projects can reveal state secrets from even the most repressive regimes, but it also demonstrates the challenges of collaborating with a journalist-politician who runs a formidable media operation of his own. Navalny and his team spend a significant amount of time scheduling social media – coordinating TikTok posts, YouTube releases, and Tweets with the investigation's media partners.
"That's a very unusual situation and it doesn't make things easier," says Der Spiegel reporter Fidelius Schmid in an interview during the film. The tension between film-maker and its media-savvy subject is evident throughout: At one point during a break from a sit-down interview, Navalny remarks to Pevchikh that Roher is "filming it all for the movie he's going to release if I get whacked." 
"Navalny" won the Festival Favorite Award and the Audience Award for US Documentaries at the Sundance Film Festival in 2022. Soon after, Navalny was put on trial for a second time, and sentenced to a further nine years. 
"Navalny" is available on BBC iPlayer in the UK and HBO Max in the United States. 
Northern Irish investigative journalist Lyra McKee was a self-described "ceasefire baby" — part of the generation that came of age post-Good Friday Agreement, expected to help Northern Ireland turn the page on the legacy of the Troubles. "Destined," in McKee's own words, "to never witness the horrors of war but to reap the spoils of peace." But on the 21st anniversary of the agreement — which set out how Northern Ireland should be governed after decades of conflict — she was killed.
McKee was shot by a masked man — presumed to be a member of the New Irish Republican Army (New IRA) — during a riot in Derry. The shooter had been firing in the direction of police when McKee, who had been standing near a police vehicle, was killed. She was 29, but was already considered one of Europe's most promising and highly regarded young journalists. Her death sparked an outpouring of grief and shock in Northern Ireland and beyond.
McKee grew up in working-class Belfast. Instead of putting the Troubles behind her, she was determined to document the long shadow the conflict still casts over peoples' lives in Northern Ireland. From the epidemic of suicides among her peers to the unsolved disappearances of young boys, she delved into stories many would prefer to forget, and earned international praise for her work. She became a familiar name in 2014, when, at 24, she published the blog post "A Letter to My 14 Year-Old Self," in which she wrote about the struggles she faced at secondary school for being gay and the difficulties the LGBT community faced in the Belfast of her youth. She was named in Forbes' 30 Under 30 in Media list in 2016, and The Irish Times called her a "rising star in Irish writing" in 2019. At the time of her death, she had signed a two-book publishing deal with Faber and Faber.
"Lyra" director Alison Millar, a personal friend of McKee's, highlights her subject's writing by employing the visual effect of running text from her articles on the screen throughout the film. She also provides insight into McKee's interviewing skills by speaking to her sources about her work, including Janet Donnelly, whose father was killed in the 1971 Ballymurphy massacre.
"I've never really been motivated by making money," McKee says at one point in the film. "It's really about disrupting the status quo and trying to fix something that is wrong." 
"Lyra" won the Tim Hetherington Award at Sheffield DocFest in June and will be released on Channel 4 in the UK in 2023.
If "Lyra" reveals how the killing of a young writer can devastate a community, "The Killing of a Journalist," about the murders of Slovakian investigative reporter Ján Kuciak and his fiancée Martina Kušnírová, shows that it can also bring down a country's most powerful people.
Kuciak and Kušnírová, both 27, were shot dead in their home outside Bratislava in February 2018, in a contract killing Kuciak's colleagues believe was ordered by the powerful businessman Marian Kočner. At the time of his death, Kuciak had been investigating Kočner's business activities for the news website Aktuality.sk. (Kočner and his alleged accomplice Alena Zsuzsová were acquitted of the murders in 2020, but are currently being retried for the crime on the orders of the Supreme Court.)
Kuciak and Kušnírová's murders sparked the biggest protests in Slovakia since the Velvet Revolution of 1989, and were followed by a wave of resignations from government officials, including the head of the police force. And when someone leaked the files of the police investigation into the killings to Kuciak's colleagues at Aktuality.sk, the full extent of corruption in Slovakia became public knowledge. Reporters say the files show how Kočner bullied and intimidated judges, politicians, and other officials, often by using Zsuzsová to collect kompromat — compromising material — with which to blackmail them. 
"The Killing of a Journalist" is directed by Matt Sarnecki of the Organized Crime and Corruption Reporting Project (OCCRP), which has now made the Kočner files freely available to all reporters. In the words of the OCCRP: "Even if you kill a journalist, you can never kill a story."
"The Killing of a Journalist" premiered at the HotDocs festival in May. 
In "She Said" — the much-anticipated film adaptation of the reporting that exposed Harvey Weinstein — Carey Mulligan and Zoe Kazan play New York Times journalists Jodi Kantor and Megan Twohey as they work to break the story of the Hollywood mogul's history of sexual assult, intimidation tactics, and cover-ups. Breaking that story is credited with giving the #MeToo movement the momentum that sparked a global reckoning on workplace harassment and sexual assault and violence against women. 
Based on the best-selling book of the same name, the film's trailer shows Kantor and Twohey convincing women to go on the record about Weinstein's abuse, and hints at the powerful forces that tried to stop them from revealing one of Hollywood's biggest open secrets. [Weinstein was sentenced in 2020 to 23 years for rape and sexual assault.] 
"She Said" will be released in movie theaters around the world starting in November 2022. 
"Endangered," directed by Heidi Ewing and Rachel Grady, follows four journalists trying to work in a climate of growing hostility towards the press. Guardian reporter Oliver Laughland draws attacks from the far-right as he covers Trump rallies in the American South; photojournalist Carl Juste documents police brutality at Black Lives Matter protests in Miami; Patricia Campos of Brazil's Folha de Sao Paulo navigates a hostile crowd in Bolsonaro's Brazil; and Mexican photographer Sashenka Gutierrez reports on femicide in one of the most dangerous countries in the world to be a journalist. Together, their stories form a grim picture of the rising tide of illiberalism and misinformation that threatens their profession — and democracy.
"Endangered" premiered at the Tribeca Film Festival in June and is available in the US on HBO Max.
Additional Resources
Killing the Messenger Won't Kill the Message: The Investigative Center of Ján Kuciak
Q&A with Carrie Lozano: Sundance's New Head of Documentary Filmmaking
What to Watch: Oscar-Nominated Feature Documentaries
---

Megan Clement is a journalist and editor specializing in gender, human rights, international development, and social policy. She tweets on gender, politics, sports, and life in Paris, where she has lived since 2015.