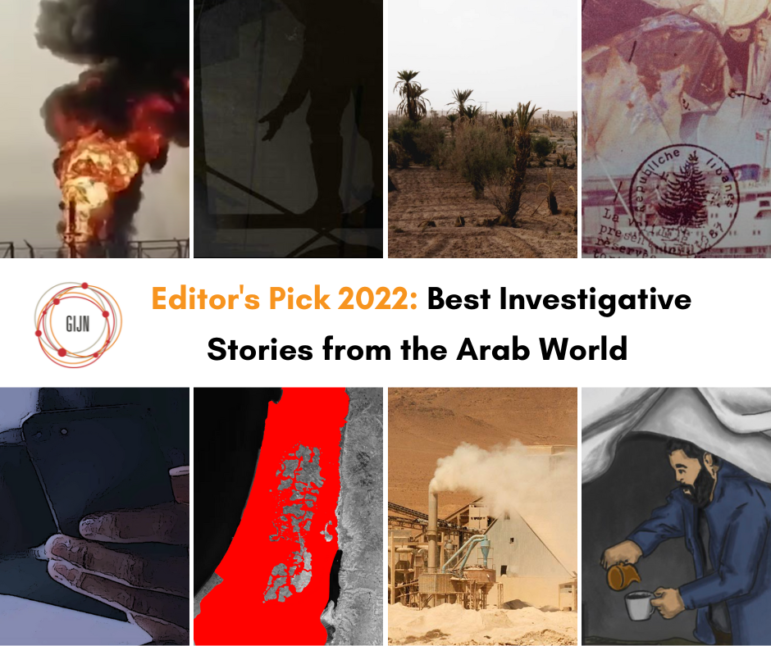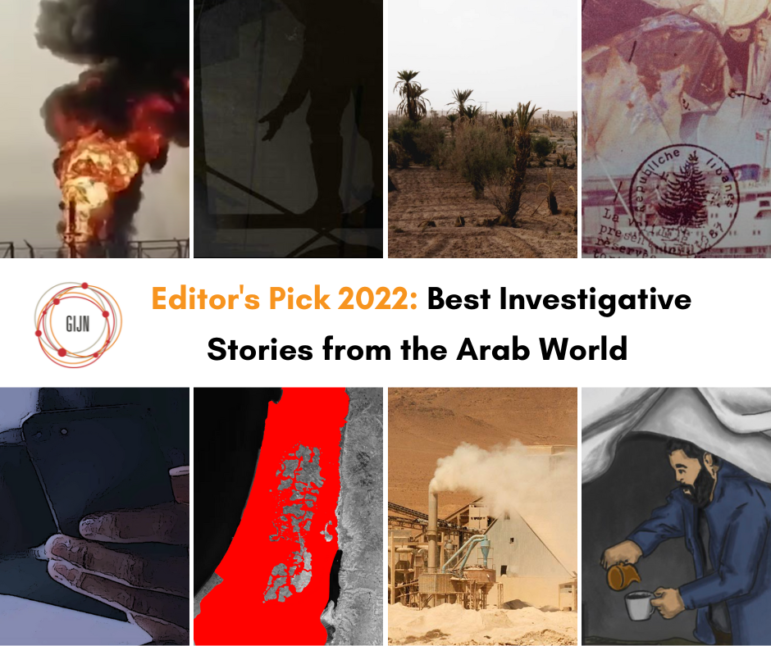 2022's Best Investigative Stories from the Arab World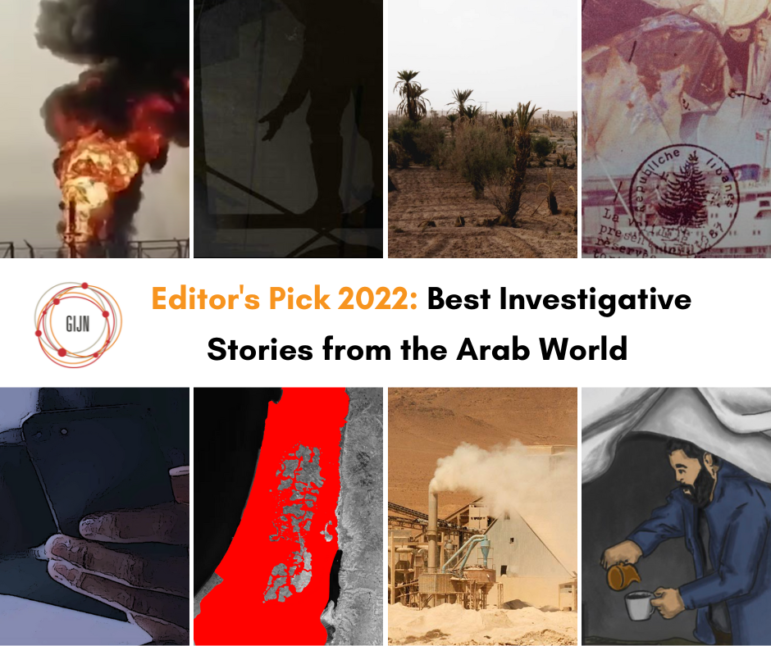 Being an investigative journalist in the Middle East and North Africa was immensely challenging in 2022, thanks to the dramatic decline in press freedom in places once considered safer for journalists such as North Africa, the lack of human and financial resources, and the inability to access data and public information in most Arab countries.
Yet, despite the many obstacles, some journalists and independent media groups, driven by passion, professionalism, and talent, have managed to produce high quality, timely, and powerful stories that spotted wrongdoing and held corrupt actors to account. This year, once again, we saw more regional and international collaborations and more reporting from countries suffering from the long consequences of war, such as Syria. Here are GIJN Arabic's selections of 2022's best investigations from the Middle East and North Africa.
BBC Arabic investigated toxic air pollution from a BP oil field in Iraq and its impact on children. Working with environmental scientists, the BBC team measured benzene in the air in communities near four different oil fields with high levels of gas flaring — the disposal, by burning, of the gas associated with oil extraction. This includes the country's largest field, Rumaila, which is developed by BP as well as the Basra Oil Company and PetroChina. The BBC reported that Rumaila has the most gas flaring in the world. In response, the company said its reporting method was standard industry practice, and that after being contacted by the BBC, it began working with its partners to address any potential issues.
This investigation by Tunisia-based online magazine Inkyfada revealed a Tunisian-British renewable energy company's plans to establish a massive solar power plant in southern Tunisia, in part to mitigate the gas crisis in Europe caused by the war in Ukraine.
The project, they found, is likely to have detrimental effects on Tunisia's own natural resources and on its population. The team obtained documents proving the company's intention to supply large quantities of solar energy directly to Europe from Tunisia, without any benefit to local communities. In addition, the project — which Inkyfada noted would be "nine times" the size of a similar one already in place in Morocco — could exacerbate droughts in the region because it would require large amounts of water to set up and maintain.
European countries have recently resumed importing phosphate, an essential ingredient in fertilizer, from Syria, which has some of the world's largest known phosphate reserves. This trade in phosphates, which is subject to international sanctions, has nonetheless continued thanks to smuggling and legal loopholes. This collaboration between the Syrian Investigative Reporting for Accountability Journalism (SIRAJ), Organized Crime and Corruption Reporting Project (OCCRP), and Lighthouse Reports investigated the boom in Syrian phosphate imports to Europe over the past several years, and explained how it enriches sanctioned individuals, war profiteers, and Syria's government. Importers include Serbia and Ukraine, as well as EU members such as Italy, Bulgaria, Spain, and Poland. The illicit trade relies on a large variety of agents and intermediaries to conceal involvement. The investigation, which used maritime tracking technologies, also found that ships importing Syrian phosphates showed a pattern of switching off tracking data.
Tunisia-based digital magazine Alqatiba investigated how a suspected con man accumulated his wealth. The team scoured hundreds of official documents and videos, as well as testimonies from dozens of people around the world who claimed that they had been extorted. The Alqatiba team also outlined a previous investigation into the man's financial empire — he has since been acquitted of any wrongdoing — and alleged that the individual may have used fake documents to escape a money laundering charge.
This investigation by independent media organization The Public Source discovered that the ammonium nitrate shipment that contributed to the explosion at Beirut's port two years ago — which had been unloaded from a Moldovan-flagged ship in 2013 — was not the only dangerous shipment to end up in Lebanon. Thirty-five years ago, another such ship arrived in Beirut, leaving more than 2,000 tons of blue plastic barrels from Italy packed full of toxic waste, explosives, and poisonous compounds banned in Italy and other parts of Europe. The investigation also noted that this toxic cargo remains in Lebanon, where it has "leached into watersheds, food sources, and people's bodies."
The Public Source retraced the journey of these "poison barrels" and the subsequent cover-up, speaking to environmentalists and people who grew up near illegal landfills. They also tracked down the last living government-appointed scientist who searched the barrels at the time. Also part of the investigation: construction reports, public and private documents, the testimony of court-appointed experts, a copy of the Italian police interrogation of one of the perpetrators, and a trove of internal government documents.
Arab Reporters for Investigative Journalism (ARIJ), in collaboration with NBC News, ICIJ, and The Washington Post, investigated violations of workers' rights — including trafficking — by private companies contracted with the Pentagon in the Middle East. Expatriate workers of this kind, often recruited from countries such as Bangladesh to work on US bases to serve food or clean barracks, are essential to the operation of the hundreds of such military bases around the world.
The reporting team interviewed more than 40 current and former employees of contractors at military bases in the Arabian Gulf. They also combed through thousands of pages of US Congressional testimony, reports from the Justice and Defense Departments, Securities and Exchange Commission filings, and other documents to reveal which private companies were accused of trafficking workers, or were determined to have trafficked them. The investigation found that there is a lack of transparency in what the Pentagon reveals to the public about the alleged taxpayer-funded abuse of workers, and what its officials share with one another and other agencies about companies with records of abusive labor practices.
This two-part investigation by Arab Reporters for Investigative Journalism (ARIJ) examined the issue of child rape in Syria's refugee camps. The first part of the investigation is based on interviewing rape victims, their families, and several social and humanitarian workers in different areas of Syria to form a comprehensive picture of the issue and to identify the social, psychological, and security causes behind the problem. There are no official or even unofficial statistics on the number of children who have been sexually assaulted or harassed, which the local authorities on both sides — opposition-controlled areas and areas held by the Syrian regime — avoid discussing. This makes addressing these attacks difficult for organizations and authorities.
The second part of the investigation highlighted the legal loopholes that help perpetrators escape justice — for instance, that the definition of rape under Syrian law refers to an act "carried out by a man to a female only," allowing scant recourse for assaults committed against male children. Moreover, there is no law to protect victims after reporting sexual abuse, even after a complaint has been filed.
Collaborating with activists and lawyers in Jerusalem, a team of researchers and architects from the Middle East produced a revealing, interactive story to explain the policies through which Palestinian families in Sheikh Jarrah are being forcibly displaced.
The team comes from Forensic Architecture — a multidisciplinary research organization at Goldsmiths College, University of London — that collaborates with scientists and civil society groups as well as journalists, employing complex forensic methods and techniques that support and complement the work of investigative journalists. (See GIJN's recent profile of their work and methodology.)
Employing sophisticated graphics and interactive maps and underpinned by open source research and 3D-modeling among other tools, the investigation was organized into individual chapters. In one of these, it examined the case of a single family, the Al-Kurds, and the house they have lived in since 1956 that has now been partially occupied by settlers. The story also widened its lens to examine forced displacements on their street, their neighborhood, the city of Jerusalem, and other areas.
Additional Resources
Editor's Pick: 2021's Best Investigative Stories from the Arab World
How Exiled Journalists Are Investigating in the Arab Gulf States
How Forensic Architecture Supports Journalists with Complex Investigative Techniques
---

Majdoleen Hasan is a three-time award winning journalist with more than 12 years experience. She has worked with local and international media organizations, including Global Integrity, 100Reporters, and the Arab Reporters for Investigative Journalism network.
Chafiq Sroor, GIJN's Associate Arabic editor, has 10 years of experience in visual storytelling and social media marketing.