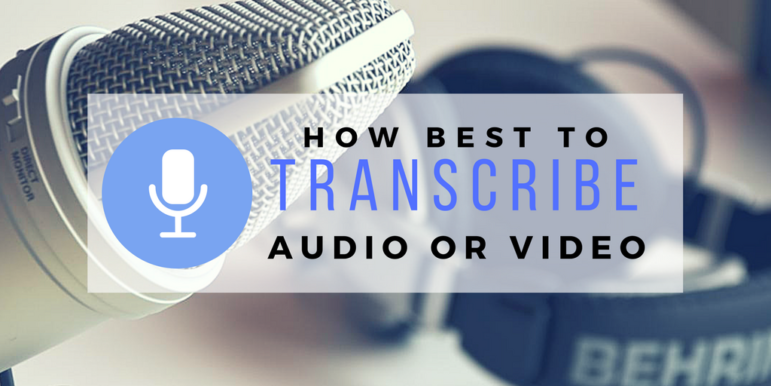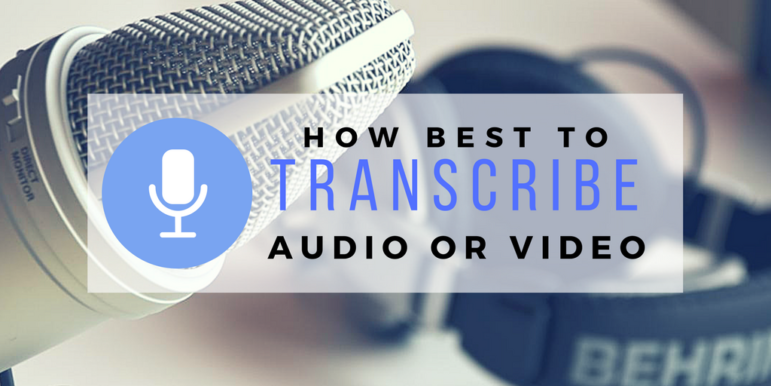 An Overview of 28 Tools for Efficiently Turning Audio Into Text

Option #1: Transcribe Audio or Video Yourself
Transcribing recordings of interviews, meetings or calls can be easy, cheap and fast. If you type quickly and understand the accents of whomever you've recorded, choose one of two browser-based tools to streamline the process.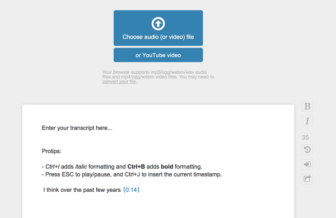 OTranscribe.com is the simplest free web transcription app. Start by uploading an audio or video file, or enter a Youtube link. Then play the audio at your preferred speed while typing. Keyboard shortcuts make it easy to pause, jump backwards or insert a timestamp. oTranscribe works in the browser, so you don't have to download software.
A similar service, called Transcribe, operates similarly in the browser, and charges $20 for an annual license after a one-week free trial.
Option #2: Use an Automated Transcription Service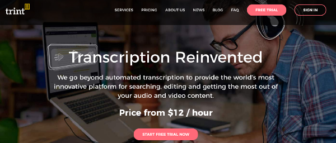 Trint.com takes your audio or video and produces a surprisingly accurate computer-generated transcript in less time than the length of your recording. Here's a Wired writeup on Trint, which works in 13 languages. I tested the service with two recordings. The first was a five-minute recording with clean audio; the second, a 30-second audio file that was difficult to hear. The result? Transcription quality was excellent in both cases, requiring only minor punctuation editing.
The user interface for editing transcribed text is intuitive and well-designed. You can export transcripts in multiple formats (for YouTube captions, for example). After 30 minutes of free transcription, the cost is $15/hour, or $40/month for three hours each month.
https://www.youtube.com/watch?v=xCzAY1Yi1pI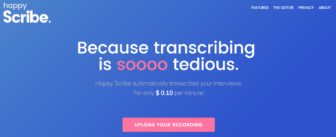 Happy Scribe, developed by two European students, is another interesting new option for automated transcriptions. The service costs just $.10 a minute (1/10 of the cost of human-powered services like Rev.com). Happy Scribe works with 80 languages and accents. The company reports that 4,000 journalists and researchers have already used the service. The automated transcription I received after uploading my five-minute test recording was excellent, requiring minimal editing.
Temi also charges $.10 a minute for automated transcription, though it's free now during its beta phase. My 3-minute test audio was transcribed within two minutes and the accuracy was quite good despite muffled sound.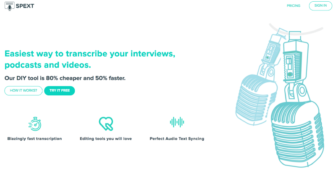 Spext.co charges a $14 subscription fee for 120 minutes of transcription per month. Minutes can be rolled over if you don't use them. According to staff posts on Product Hunt, Spext uses a customized mix of Google and Watson technology for its speech to text conversion.
Pop Up Archive is another popular option for automated transcriptions. Many professional podcasters and radio stations have relied on the service, including 99% Invisible and The Moth, as described in the impressive user stories page. Prices range from $12 to $15 an hour, depending on what subscription program you opt for.
Option #3: Use an App to Generate a Quick Transcription

Cassette is an elegant app put together with the help of designers from Stanford d.school and UCLA Cognitive Science in collaboration with David Kelley (cofounder of IDEO and d.school). It works in a variety of languages (Spanish, French, Chinese, Japanese, Portuguese). The founders note an accuracy of approximately 90% and have set the cost as low as $3 per hour. The first half hour of transcription is free.

Anchor is an increasingly popular app that now allows you to create videos out of the text in your audio recordings. It's a different kind of transcription that's especially useful for social sharing, given how rarely people tend to share spoken audio files in pure audio form.
Steno is an iOS app that you can use to record a lecture, interview, meeting or anything else. Test it out with 30 minutes of free transcription. After that, you can pay for 50 minutes of transcription for $.99 or 500 minutes at $6.99.

Cogi is another useful free app that can be used for audio recording, call recording and transcription. It has several handy features, including what I think of as a "real-world rewind" function. After you open the app during an interview or meeting you can tap a button to save the previous 15 seconds of audio. That way you can save the interesting bits (after they've happened) and avoid having to go through an exhaustive recording to find a key moments. Transcriptions, returned within 24 hours, range in cost from $1.20 to $2 per minute depending on your subscription plan.
Coming Up: Recordly.io is a new service that promises to integrate your watch into the process of recording and transcribing audio.
Option #4: Record Calls, Transcribe Afterwards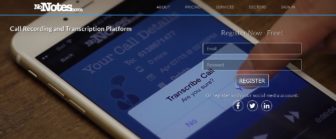 NoNotes.com is an app that for $8 a month allows you to record as many outgoing calls as you want. You can then pay $.75/minute to have a person transcribe any call within three days (or pay extra for faster service).
Google Voice transcribes voice-mail messages automatically, though it won't transcribe calls you record through the service. You can use it to record incoming calls, though, and then use other services for transcription.
TapeaCall.com offers a similar call recording functionality for $10 a year. You can use one of the other transcription services to transcribe the recordings. Here's how TapeaCall compares their features to some other similar apps: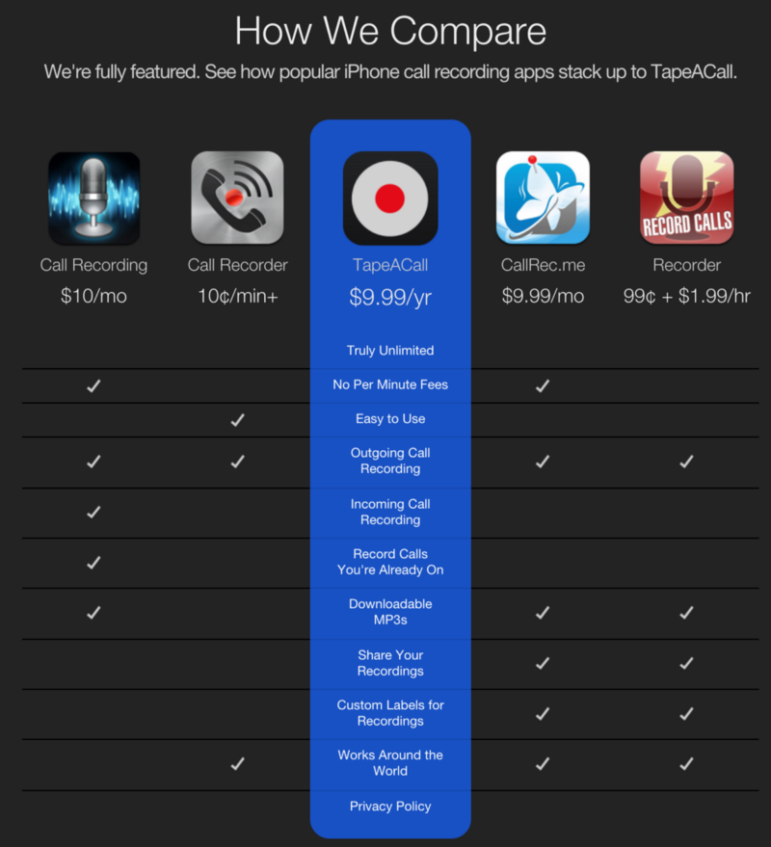 Option #5: Use Simple Dictation Tools
Google Docs does an excellent job of transcribing spoken words if you use a Chrome browser. Just go to the Tools > Voice Typing menu command on any doc. For translation you can use it in combination with the Google Docs auto-translate function on the same menu (Tools > Translate Document).
Speechnotes is free and does a good job of automatically and instantly transcribing text you speak, though the site is messy and looks amateurish. Once you've dictated text you can print it, email it or upload it to Google Docs, etc. There's also a $10 Chrome Extension as well that lets you dictate into other sites.

Speechlogger is a similar kind of web app for recognizing and/or translating spoken words.
Dragon Dictation for iOS works very well but according to the app store hasn't been updated since 2013. It allows you to record audio that is then auto-transcribed. You can then email it to yourself, copy it to your iPhone clipboard, etc. A newer $10 app, Active Voice, uses the same Nuance transcription engine and can translate transcribed text into 32 languages.
Option #6: Hire a Freelancer

Amazon's Mechanical Turk is an open platform that lets you post tasks for others to complete. You can customize an assignment including transcription, translation or whatever else would be useful to you, like having someone summarize the key points of a recording. Here are a couple of case studies from Amazon.
Fiverr's transcription section lets you select a freelancer. Most highly-rated transcribers seem to charge $5 for 10 to 20 minutes of transcription.
Upwork also has a spot for hiring freelance transcriptionists, many of whom appear to charge $15 to $30 an hour.
Other Resources
autoEdit 2 is an open-source tool that transcribes a video and lets you then perform edits by editing the text.
The Auto Transcription API by Scale is designed for organizations looking to do a massive amount of transcription.
PodcasterPro transcribes podcasts. You don't need any technical info other than your podcast's RSS URL.
IBM's Watson has an experimental free transcription demo you can test out by uploading an audio file or dictating. It can convert spoken Arabic, English, Spanish, French, Brazilian Portuguese, Japanese and Mandarin into text. It also attempts to detect multiple speakers and separate out their text. In my tests it was clunkier to use than Trint or Happy Scribe and doesn't allow for efficient editing of the transcribed text.
---

Jeremy Caplan is director of education for the Tow-Knight Center for Entrepreneurial Journalism at the CUNY Graduate School of Journalism. He was a Ford Fellow in Entrepreneurial Journalism at the Poynter Institute, a Wiegers Fellow at Columbia Business School, and a Knight-Bagehot Fellow at the Columbia Journalism School.