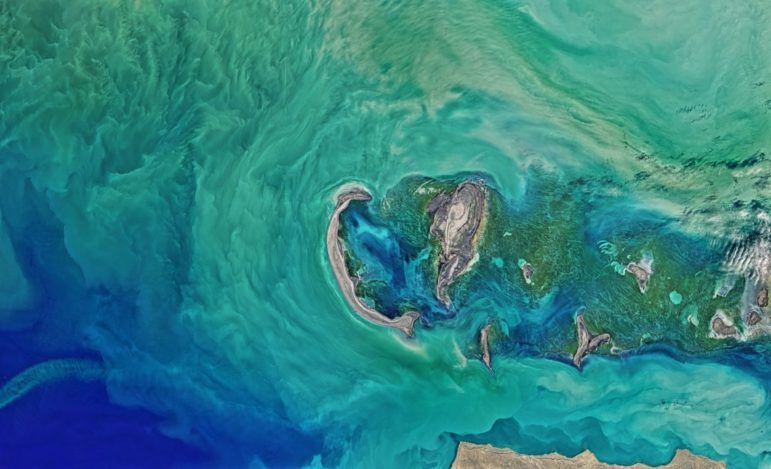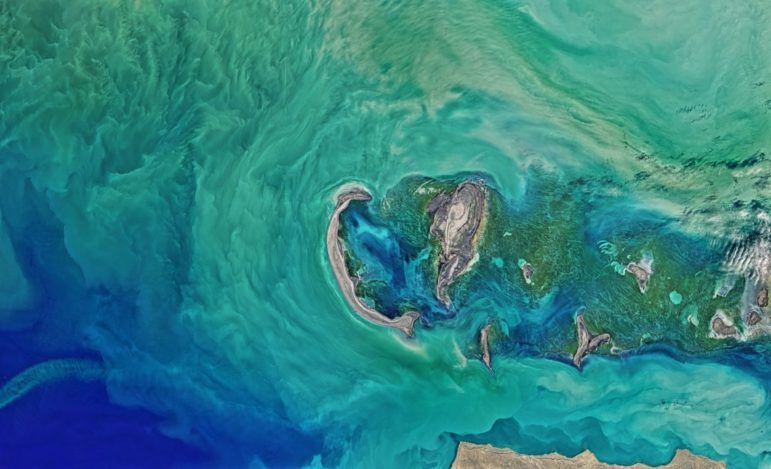 Resources for Finding and Using Satellite Images
Satellites are a powerful investigative tool. Journalists are mining satellite imagery and remote sensing data to expose a widening array of problems: tree loss and forest fires, pandemic risk and climate change, slavery, and mass incarceration.
Since the last edition of this guide, governments and private industry have launched or planned new satellites. Synthetic aperture radar (SAR), which uses a satellite-mounted antenna to bounce microwave signals off the Earth's surface and can pierce through cloud cover, is also being increasingly used by journalists.
Satellites helped reporters detect methane gas pollution, document oil spills, locate mass graves, and ground-truth war propaganda.
It's impossible to detail all the technology or uses in this short GIJN guide. But it provides a starting point to access, analyze, and present satellite imagery and data as well as where to get expert help. Here's how it's organized:
Get Inspired: Stories from Around the world
Where to Access Satellite Imagery
Software
Guides, Tutorials, and Tipsheets
1. Get Inspired: Stories from Around the World
From a Pulitzer Prize-winning series on secret internment camps in China to an exposé on human-set fires in the Amazon, here is just a sampling of recent satellite-powered stories:
2. Where to Access Aerial Imagery and Data
High-quality imagery and data are available from many sources. We'll start with some helpful compilations and commentaries for journalists, followed by our own list of providers and tipsheets for navigating them.
Compilations
Mapping Resources Archives – Journalist's Toolbox, an expansive list of map-related resources from the U.S. Society of Professional Journalists.
Bellingcat's Online Investigation Toolkit, a spreadsheet with links to more than 70 sources for mapping, satellite, location, and street-view information.
15 Free Satellite Imagery Data Sources, with comments on their strengths and weaknesses and 13 Open Source Remote Sensing Software Packages from GISGeography.
Top 10 Free Sources of Satellite Data from SkyWatch, a commercial satellite data aggregator, provides nutshell descriptions, pros and cons of the leading free satellite data providers.
Free Satellite Imagery: Data Providers & Sources For All Needs, a detailed comparison of the leading sources of imagery in a review from EOS Data Analytics, an agriculture-focused commercial satellite company. Excellent guide to which free provider best meets your skills and needs in between pitching its own fee-based services.
Leading Providers
Google, Bing, Yandex, and Others
A key place to start is with satellite imagery provided mainly through maps products by companies such as Google, Bing, Yandex, and others. They're a powerful addition to a journalist's toolbox. They are exceptional tools for familiarizing yourself with an area, especially when combined with street-level photo tools. That's why these tools are a mainstay of journalists who are geolocating photos or videos.
While the search engines use high resolution imagery from commercial providers such as Maxar or Airbus, it is often stale by several months or longer. For more recent high resolution images, you'll have to work directly with those companies (see below).
A note of caution: Sometimes companies censor imagery for a variety of reasons. It's smart to cross-reference. And, as BuzzFeed News showed, that censorship can lead to a big story.
At the top of the provider list are several offerings from Google.
Google Earth Pro on desktop is a critical resource. You can cycle through an inventory of historical, often high-resolution images. You can import new data as well to compare against the historical imagery. The ruler tool makes it easy to calculate the distance between objects. It also includes Google Street View imagery, where available.
Google Maps is a useful companion to the Google Earth Pro app because of its inventory of historical street view photography, which can be useful in open source investigations and ground verification of satellite imagery.
Google Earth Engine (GEE) has an enormous library of satellite imagery, remote sensing data, and scientific datasets that can be used to detect, measure and compare what's happening on the Earth's surface over time on a global, regional or local level. The learning curve is steeper than some of the other resources. More on this in the software section below.
Besides the offerings from Google, other important sources of satellite imagery provided as part of maps products include:
Governments
Journalists should know about Landsat and Sentinel-2, two earth observation programs run by the United States Geological Survey and European Space Agency. These satellites aren't useful for seeing small objects, but are excellent for watching larger scale transformation across a region.
A series of Landsat satellites have been circling the Earth and taking images since 1972. Landsat 8 and Landsat 9 are the latest iterations with 30m resolution.
The first of two Sentinel-2 satellites was launched in 2015, followed by a second in 2017. These satellites offer 10-meter resolution.
Paired together, Landsat and Sentinel offer a powerful set of images to understand regional changes on the earth over a long period of time.
There are a number of sites where you can review this imagery.
For example, the USGS runs LandsatLook and Sentinel imagery can be viewed on the European Union's Copernicus Data Space Ecosystem.
Another useful site is SentinelHub's EO Browser, where you can view both Landsat and Sentinel-2 imagery. EO Browser also has a ready-made set of band combinations for each image that highlight vegetation health, urban area, water, or snow. Sentinel Hub is a product of Sinergise, a private company recently acquired by Planet Labs.
EO Browser has data from a number of other satellite programs. For example, you can also view data from Sentinel-1, which uses SAR, or Sentinel-5, which measures air pollution. It's a good place to familiarize yourself with the wide array of data available from government sources.
NASA
NASA EarthData: The US National Aeronautics and Space Administration offers an extensive collection of satellite datasets and data products. NASA Worldview is an interactive tool that provides near-real time full-resolution imagery from a wide array of satellites, including geostationary satellites that focus on one section of Earth as it rotates, allowing continuous viewing as, for example, weather patterns develop or wildfires spread. Worldview also provides links to specialized mapping and visualization tools such as FIRMS for fires and EMIT for methane plumes; and access to more than a dozen NASA data centers and associated satellite data products. NASA Earth Observations is another portal with more than 50 datasets on atmosphere, land, ocean, energy, environment and more. To help navigate, the agency offers data toolkits by topic, such as disasters, wildfires, and biological diversity.
NOAA
NOAA National Environmental Satellite, Data, and Information Service: The US National Oceanic and Atmospheric Administration provides several interfaces to access the global aerial imagery and data it collects with a focus on climate, weather and environment.
USGS
USGS Earth Explorer: In addition to the LandsatLook interface mentioned above, the USGS also maintains an interface to a variety of datasets through Earth Explorer. GISGeography's guide can help navigate Earth Explorer.
Commercial Providers
While the free Landsat and Sentinel data are great for examining larger scale change, more intricate analysis requires obtaining imagery from one of the commercial providers — as the Associated Press did to track trawlers carrying slave-caught fish off Papua New Guinea in 2015, and Reuters did to verify witness descriptions of inhumane conditions at makeshift prisons holding thousands of ethnic Tigrayans in Ethiopia in 2022.
As of this writing, Maxar Technologies and Airbus maintain the satellites with the highest resolution: 30 cm. Each has portals where you can see what images exist, but they must be requested from the company's press representatives or one of a number of resellers.
Planet Labs can take advantage of its constellation of 3.7-meter resolution satellites covering nearly the entire Earth each day. The company also has several 50-centimeter resolution satellites, which must be specifically tasked.
Capella Space captures high-resolution SAR images. The resolution is less than 50 centimeters.
BlackSky can task satellites and receive data within 90 minutes.
Imagery can also be purchased from resellers, such as:
Nonprofits
Centre for Information Resilience collaborates with the news media to expose human rights violations, war crimes, disinformation, and online abuse. Its special project, Eyes on Russia Map, tracks the conflict in Ukraine.
Global Fishing Watch provides free access to satellite imagery, datasets, and code for tracking human activity on the oceans.
Global Forest Watch provides free access to satellite image data and analysis to track tree loss and deforestation and allows you to set up customized alerts for areas of interest.
Radiant Earth Foundation provides tools and tutorials for accessing satellite, drone, and aerial imagery with a focus on climate climate change and conservation.
Resource Watch provides free and downloadable datasets and visualization tools to track a wide range of resource-related issues, such as climate change, water risk, pollution, poverty, migration, and state instability. It is sponsored by the World Resources Institute and other organizations.
SkyTruth is a conservation-focused organization willing to consult on investigative projects. Email media@skytruth.org. Skytruth chronicles its projects with journalists.
3. Software
Learning to use Geographic Information System (GIS) software can expand what you can do with satellite imagery or remote sensing data. The GIS environments below allow you to compile multiple layers of data from different sources and do spatial analysis on those layers.
Esri, through a generous agreement with GIJN, provides member organizations with free licenses of ArcGIS software to work with imagery and create maps. For more information, contact GIJN here.
QGIS is widely used, open source GIS desktop software.
R and Python are programming languages with a wide array of libraries for vector and raster analysis.
Google Earth Engine (mentioned previously) has petabytes of imagery and remote sensing data ready for use. You can also upload your own imagery as well vector files. Finally, it is a full-blown GIS environment enabling analysis of huge amounts of data. But with all that power comes a steeper learning curve.
The ​​Google News Initiative has developed a journalist-friendly series of tutorials on GEE's many features — such as how to create time-lapse videos, track changes in tree cover, and monitor fishing fleets. Google has also published a series of explainers and tutorials.
Note that GEE's Code Editor requires knowledge of JavaScript. You also can interact with GEE through R and Python.
4. Guides, Tutorials, and Tipsheets
Google Earth Engine: A Quick Guide for Beginners, an overview and step-by-step tutorial by GIS Geography
Bellingcat's Online Investigation Toolkit, an impressive array of resources for doing open source reserach work, including a large number of space journalism resources.
Cloud-Based Remote Sensing with Google Earth Engine, a free online textbook designed to take you from novice to advanced user by David Saah, professor of environmental science and director of the Geospatial Analysis Lab at University of San Francisco.
What Does Real-Time Satellite Data Really Look Like?, a very basic overview on how many and what types of satellites orbit the Earth and how the information they collect is relayed and processed, from Skywatch, a commercial satellite aggregation company.
How to Analyze Satellite Imagery, an illustrated introduction to using satellite imagery to enhance the reporting process by Al Jazeera Media Institute.
Exposing the Invisible – The Kit, a guide to investigative techniques for journalists, researchers and activists by Tactical Tech. See especially: Starting satellite investigations; and Using Maps to See Beyond the Obvious and Geolocation Methods: A Step by Step Guide by architect and Pulitzer Prize-winning journalist Alison Killing.
Tips for Using Satellite Imagery in Forensic Investigations, from Amnesty International's Evidence Lab – GIJN, which is a recap of a presentation by Amnesty International at the 2022 International Journalism Festival.
Aerial – Satellite Imagery & GIS Viewers by Apollo Mapping provides reviews, download links, and imagery upload instructions for the two leading free GIS and imagery viewers, QGIS and Google Earth.
10 Tips for Using Geolocation and Open Source Data to Fuel Investigations – GIJN, gleaned from a Centre for Information Resilience presentation at the 2022 International Journalism Festival on how to analyze images.
How to Expose Lies from the Skies Using Satellites and Drones – GIJN, provides ideas and advice for using aerial imagery from the 2021 Global Investigative Journalism Conference.
A Journalist's Guide to using AI + Satellite Imagery for Storytelling offers practical steps and a workflow chart for combining artificial intelligence with satellite imagery from a project that emerged from the 2021 JournalismAI Collab Challenges.
An Introduction to Cloud-Based Geospatial Analysis with Earth Engine and Geemap provides links to a more advanced, seven-session tutorial and detailed supporting materials by Qiusheng Wu and Steve Greenberg, including instructions for using the Streamlit tool to automatically scrape satellite data for coordinates you are tracking.
My Favorite Tools: Geo-Journalist Gustavo Faleiros – GIJN by Brazilian journalist and environmental investigations editor Gustavo Faleiros walks through tools for accessing, mapping and visualizing satellite imagery and data in a 2021 interview with GIJN.
Resources by Topic
Conflict
Reporter's Guide to Investigating War Crimes: Open Source Research, GIJN
Scorched Earth: Using NASA Fire Data to Monitor War Zones, Bellingcat
Climate Change and Environment
How Environmental Journalists Can Use NASA's New Landsat 9 Satellite, GIJN
Google News Initiative: Environmental Journalism
New Sources Emerge for Tracking Methane Emissions by Satellites, GIJN
How They Did It: Uncovering a Vast Network of Illegal Mining in Venezuela, GIJN (El País and Armando.info)
Investigating Rainforest Destruction: Finding Illegal Airstrips Using Machine Learning, Pulitzer Center
Human Rights
Tips for Using Satellite Imagery in Forensic Investigations, from Amnesty International's Evidence Lab, GIJN
Satellite Imagery for Human Rights Monitoring, The Engine Room
Slavery and Forced Labor
From the Cover: Satellites can reveal global extent of forced labor in the world's fishing fleet, Proceedings of the National Academy of Sciences
Verification
Deepfake Geography: How AI Can Now Falsify Satellite Images, GIJN
Verifying Images of the War in Ukraine, The New York Times
Ghost In The Machine: From Chad, A Case Study On Why You Shouldn't Blindly Trust Tech, Bellingcat
This 2023 edition of the guide was compiled and written by Ryan McNeill, deputy data journalism editor, Reuters; Deborah Nelson, professor of investigative journalism, Philip Merrill College of Journalism, University of Maryland; and Toby McIntosh, independent journalist and former director of the GIJN Resource Center.