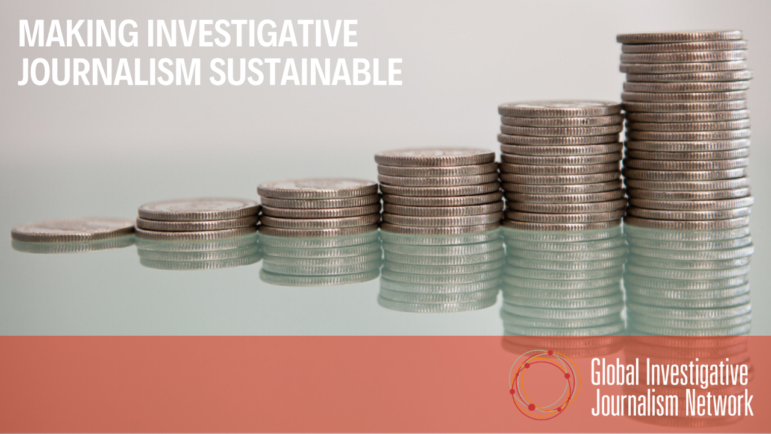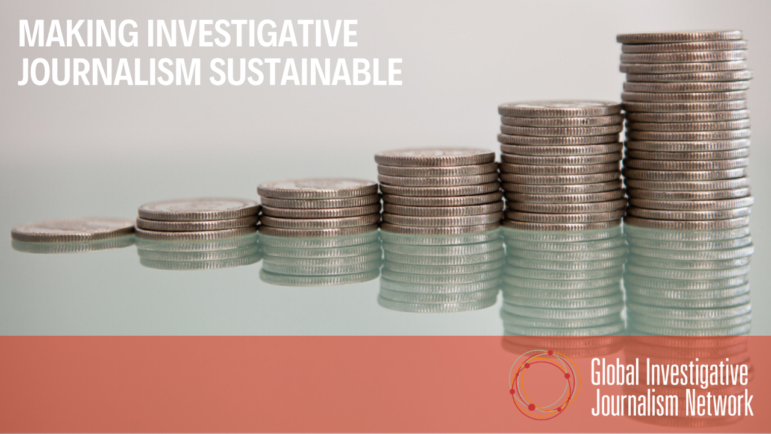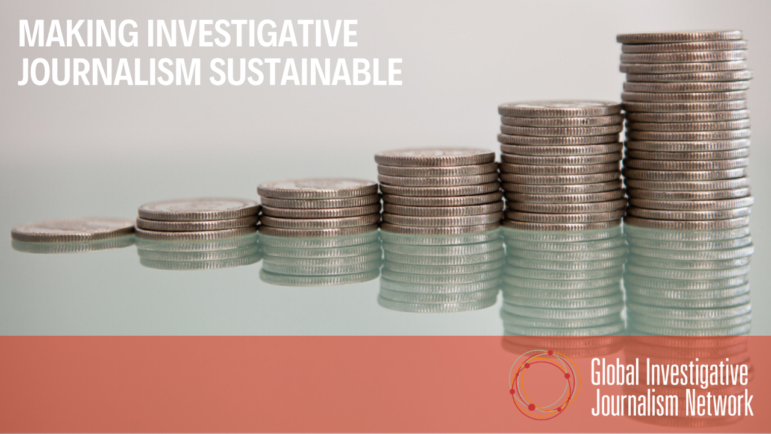 One of the greatest challenges for investigative journalism is making it pay. It's hard enough for journalism in general, harder still for public-interest journalism, but hardest of all for investigative journalism which takes time and money and can carry substantial risk. Large commercial media organizations can more easily support investigative teams. But for nonprofit investigative journalism organizations, like most GIJN members, this challenge keeps journalists and their business managers awake at night.
GIJN has been providing ideas and expertise about bringing in money and developing financially sustainable nonprofit investigative journalism. We're responding to the evident need and strong demand from both our members and the wider community of journalists. The challenges are greatest in developing and transitioning countries, but exist everywhere.
Donor funding is critical to investigative journalism organizations and will remain so for the foreseeable future. At the same time, journalists are experimenting, innovating, and learning from one another in order to diversify their sources of revenue and find ways to make money to fund their work. And while the challenges are significant, there are notable successes among investigative journalism groups — both for-profit and non-profit.
The videos and presentations on GIJN's You Tube channel, already more than 300 strong, are growing, too. We're pleased to add a new series this week, Making Investigative Journalism Sustainable: Best Business Practices. This set of key tips features 10 leading journalists and experts from around the world who are either working to build viable organizations around investigative journalism or work as experts to support these enterprises.
We know you're busy, so we've designed each video to be about five minutes long, with shorter segments of just one minute available on GIJN's social media channels. 
Despite their very different contexts, similar themes emerge from these experts — to know your audience, diversify revenue sources, find your own niche, and don't try to do too many things at once. Make sure you have a robust business plan and can run your organization effectively, don't give up on fundraising, and commit to fundraising well.
The 10 journalists and experts in this series are:
Mohamed Nanabhay, Deputy CEO, Media Development Investment Fund (South Africa)
Nanabhay talks about the four ways that journalism organizations can make money: selling to audiences through subscriptions or membership; selling advertising; offering unique services such as data, events, and training; and donor funds. "The most important thing you can do," Nanabhay says, "is to have clarity around your revenue – really knowing what you are selling and how you are going to bring that money in."
Watch his video here.

Ross Settles, Adjunct Professor of Media Innovation and Entrepreneurship, Hong Kong University
Settles recently wrote a must-read piece for GIJN on commercial revenue and the various services that investigative journalism organizations can sell, such as training and data. In this video, he reminds us that advertising is still the main source of revenue for most of the media and — if it's a revenue option for your organization — it is essential to have detailed knowledge of your audience, because that is what you are selling to advertisers. If you've chosen not to sell advertising, Settles says, "you need to know what services, what products, what technologies, what tools might have value to companies outside of your organization," and to be clear about what your market is.
Advertising is rarely an option for small investigative journalism organizations — both their size and strategic mission make it untenable. And for some years now, the dominance of the digital giants has undermined the traditional business model that relies on advertising revenue. Even larger commercial media organizations are diversifying away from advertising. They are increasingly betting on audience revenue and trying to build communities of readers and consumers.
Watch his video here.
Emily Goligoski, Senior Director of Audience Research at The Atlantic (US)  
For Goligoski, the former research director for the Membership Puzzle Project at New York University, audience engagement is fundamental. She has written extensively about the issue, including for GIJN. For her, audience engagement is about far more than cash. She's an advocate for building greater trust with audiences. "Consider how being more forthcoming about your own work can help boost transparency and trust," Goligoski explains. Engagement and trust can then translate into revenue, she says.
Watch her video here.
Steven Gan, Editor-in-Chief and Co-Founder, Malaysiakini (Malaysia)
Although Malaysian news outlet Malaysiakini relies in part on advertising, audience support is essential to the organization's revenue. Like Goligoski, Gan emphasizes the necessity of building a community of readers and viewers who should be at the heart of everything, "to make sure they feel they are a part of the mission that you have set out." He also thinks it's very important that every media organization, large or small, has at least one person to focus on business rather than the journalism in order to bring in the income necessary for the journalism.
Watch his video here.
John-Allan Namu, Investigative Journalist and Co-Founder, Africa Uncensored (Kenya)
As well as being another strong proponent of audience engagement, for Namu being sustainable as an organization means creatively repurposing your content and selling it or sharing it. Whether it's stories, research, or data, selling content increases revenue, sharing it increases distribution and audiences. "Think about your content in different ways," he emphasizes. Africa Uncensored also relies on commercial video commissions and grants to support its investigative work.
Watch his video here.
Govindraj Ethiraj, Founder, IndiaSpend and factchecker.in (India)
IndiaSpend is partly supported by the commercial activities of associated online multi-channel network Ping Broadcast. Yet the data journalism site, along with fact-checking initiative factchecker.in, have been successful at finding other revenue streams. Ethiraj's tips include the importance of finding a niche in your market, for content but also for services like training, and repurposing content and expertise. "There are many players doing many things in the digital news space," Ethiraj says, "so when you have a niche, people know what to look for and why they can develop an affinity or a relationship with you."
Watch his video here.
Dapo Olorunyomi, Publisher, Premium Times (Nigeria)
The nonprofit Premium Times Centre for Investigative Journalism is funded largely by donors but also by its parent organization, the Premium Times group. So Olorunyomi knows the commercial and nonprofit worlds of journalism well. He says there are three issues to consider: how to extend revenue from content, expand the range of products, and be smart about platforms. "Although we are creating a lot of content on a daily basis, most of this will be wasted," says Olorunyomi. And it shouldn't be. He also stresses the continued importance of philanthropy for journalism all over Africa.
Watch his video here.
Sherry Lee, Editor-in-Chief, The Reporter (Taiwan)
Lee and her small team at The Reporter, which focuses on investigative journalism, have experimented with different forms of revenue, though donors remain critical to the organization. She says it's essential to ensure you are targeting the right donors who really appreciate what you are doing and who want to contribute — and contribute regularly. In addition, she says, "Try every possible way to reach out to your readers because they are the potential donors" — and they'll gain a greater understanding of the value of quality investigative journalism. She also advises to "make your donation process easier."
Watch her video here.
Bridget Gallagher, Founder, Gallagher Group LLC (US)
Fundraising expert Bridget Gallagher has written invaluable tips for effective fundraising for GIJN.  She stresses the importance of preparation, presentation, and persistence in fundraising. She reminds us that "it's really important to listen to the donor" when you're making a presentation. Effective practice of the three "p's" is time-consuming and harder than it sounds, especially when most of those working in nonprofit investigative journalism organizations are usually doing a zillion things at once.
Watch her video here.
Lina Ejeilat, Co-Founder and Executive Editor, 7iber.com (Jordan)
Ejeilat reminds us to remember why we are trying to diversify revenue, engage with audiences, and build a robust business plan to be able to pay for important journalism, which is really difficult in the digital world. "You shouldn't get frustrated," she says, "and you should keep in mind there really is no magic formula, no easy recipe … experiment strategically and with a clear idea of what you are trying to achieve. Don't be afraid of experimenting and see what works and then you can try and take it further." Revenue generation is a means to an end, she says.
Watch her video here.
See also GIJN's Resource Center sections on sustainability and fundraising to find useful tips and tools, and case studies on all the issues and more covered here. GIJN will continue to expand its work in this area and we welcome suggestions, feedback, and support. Please contact us at hello@gijn.org.
---

Anne Koch worked at BBC News for nearly 20 years, most recently as deputy director of the English World Service. Until 2017 she was a director at Transparency International and is now program director at the Global Investigative Journalism Network.