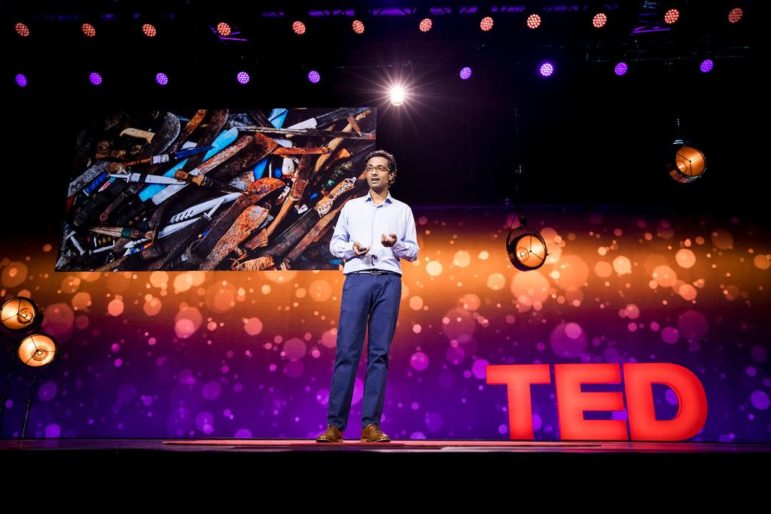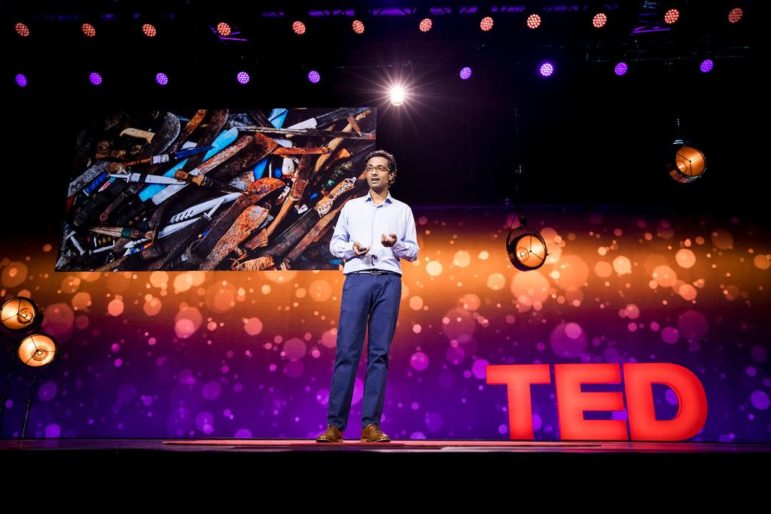 From Secret Cameras to the Dark Web: 7 of the Best TED Talks for Investigative Journalists
Read this article in
The first TED conference, way back in 1984, featured a demo of the compact disc, the e-book, and something that was then cutting-edge: 3D graphics. Prescient topics, but the event wasn't a huge success.
Fast forward a few decades and what started as a niche conference on technology, entertainment, and design in Monterey, California, has become a global phenomenon: a brand and a virtual repository of wisdom on everything from brain design to our sex lives.
Recorded TED Talks have now been viewed more than a billion times online. And in many fields the talks offer a key way for thought-leaders to share their message. For those involved in investigative journalism, or the techniques investigative journalists rely on, it offers a platform for speakers to spread the word about tools, stories, and investigations to audiences around the world.
GIJN has rounded up seven of the talks in the TED back-catalogue that we found the most interesting and relevant for investigative journalists. Not all are by journalists: some are authors or activists, but all bring up compelling points for investigative reporters. From exposing corruption to investigating secret prisons, using hidden cameras or investigating missing migrants, some cover key scandals of the past decade, while others give us the inspiration and motivation to cover hidden stories. And since most of the talks have been translated into 20+ languages, they can be viewed worldwide.
"What unites .. TED Talks, is a desire to do good, to make change, that kind of entrepreneurial spirit," says the journalist and author Anjan Sundaram, who gave a 2017 TED Talk about his work in the Central African Republic. "For me, it was an opportunity to describe what — as an ordinary citizen, as a journalist — we can do about some of the injustices in our world."
Speaker: Anjan Sundaram
Views: 1 million
In his 2017 talk about the conflict in the Central African Republic, the investigative journalist and author Anjan Sundaram explores how he ended up in one of Africa's lesser known nations as the country was descending into violence. He talks about how he saw "the methodical preparation for ethnic cleansing" between Muslim and Christian factions in the county, the cities he saw abandoned, and his interviews with those who survived massacres. "From far away, this war had felt like a footnote in world news," he says. "As a witness, the war felt like history unfolding."
He details how he reported surrounded by the thunder of bombs, and asks: "What does it mean to be a witness? Why is it important to bear witness to people's suffering, especially when those people are isolated from us? And what happens when we turn away?" In one anecdote he talks about a community he found hiding in the jungle. A woman ran out to him as he approached on motorbike. "Est-ce les gens savent?" she asked him. "Do people know?"
Speaking to GIJN, Sundaram said speaking at TED was also a chance to bring a story about social injustice and human rights abuses to a wider audience. "I have a feeling many people tend to look away from these places because what's going on there is so painful," he said. Going to report from a country like the CAR, he said, "there's no hope that our reporting will end the war… [but] at least the world needs to acknowledge these places exist, that the people in them are important."
Speaker: Jamie Bartlett
Views: 5.7 million
The most-watched of the TED Talks in this selection, this presentation by author Jamie Bartlett explores, often to comic effect, what the "Dark Net" really is, how it can be used to buy illegal narcotics, and how internet subcultures can be innovative, yet dangerous, places.
Bartlett, the author of a book called "The Dark Net," explains how Tor went from being a US Navy intelligence project to an open source browser with "fiendishly clever encryption systems" that route searches via other computers around the world. "A censorship-free world visited by anonymous users."
He details how some of the transactions on Tor can be unexpectedly mundane (a subscription for the New Yorker, anyone?) while also detailing how if you want to buy high quality, low price cocaine, delivered to a door of your choosing, this is where many people go. Even those illicit purchases, he details, feature many of the trademark symbols of online shopping: a proceed to checkout icon ("although with a Bitcoin payment scheme,") user reviews, and buy-one-get-one-free deals.
He concludes: "The dark net is one of the most interesting, exciting places anywhere on the net.  While innovation takes place of course in big businesses, takes place in world class universities, it also takes place on the fringes, because those on the fringes — the pariahs, the outcasts — they are often the most creative because they have to be."
Speaker: Carole Cadwalladr
Views: 4.1 million
After the United Kingdom voted to leave the European Union, journalist Carole Cadwalladr was sent to the small town in the Welsh valleys where she grew up. Despite the evidence of European largesse dotted around the community — with shiny EU-funded sports centers and libraries — the town had one of the highest vote leave results in the country, and she wanted to know why. People told her about "scary adverts" they had seen on Facebook, but they were adverts she was unable to track down.
Her resultant search was the start of an investigation into Facebook and targeted advertising that would take her from the Welsh valleys to ask questions of the social media companies that she calls the "handmaidens to authoritarianism that is on the rise all across the world."
She also explains the role of Cambridge Analytica and how the company had "profiled people politically in order to understand their individual fears, in order to better target them with Facebook ads." And, according to Cadwalladr, the implications of these adverts and this type of political targeting are global. "I don't have to tell you that hate and fear are being sown online all across the world. Not just in Britain and America, but in France and in Hungary and Brazil and Myanmar and New Zealand. And we know there is this dark undertow which is connecting us all globally. And it is flowing via the technology platforms. But we only see a tiny amount of what's going on on the surface," she warns.
Speaker: Anders Fjellberg
Views: 1.3 million
This is the story of an investigative project that saw Anders Fjellberg and his colleague travel from Norway to the French port of Calais and to the UK in an attempt to identify two men whose bodies had been found on beaches in northern Europe, apparently after attempting to cross the English Channel. The resulting story, The Wetsuitman, was the result of a dogged pursuit of small clues after the official trail had gone cold. As Fjellberg tells it: "This was a person that nobody seemed to be missing. It was an invisible life heading for a nameless grave."
During a three-month investigation the journalists found out how these two men had fled the war in Syria, only to arrive in a desperate camp in the north of France, surrounded by their fellow migrants: lawyers, politicians, graphic designers, farmers, soldiers. They managed to track down an uncle in the British city of Bradford, and took a DNA sample from him that allowed them to identify one of the men.
Fjellberg, who was then a writer for the Norwegian newspaper Dagbladet, said the story to track down the men's identities became a story about migration itself. And led him to ask his audience two key questions: "What is a better life? And what am I willing to do to achieve it?" The talk highlights the desperation felt by migrants willing to leave their homelands for a better life, questions the policies that lead people to make such dangerous decisions, and most importantly, reveals how their investigation answered the mystery of who these two men were, giving answers to families who had lost loved ones.
Speaker: Oren Yakobovich
Views: 1.1 million
In this talk, Oren Yakobovich, an Israeli activist and the co-founder of the video technology company Videre, explores how he went from being a self-described Israeli patriot committed to national service to an officer jailed for refusing to serve in the West Bank.
"In jail, I kept thinking that I need people to know. I need people to understand what the reality in the West Bank looks like. I need them to hear what I heard, to see what I saw, but I also understood, we need the Palestinians themselves, the people that are suffering, to be able to tell their own stories," he says in the talk.
After prison, his journey to realize that hope led him to deploy cameras to communities in the West Bank, and later to giving citizens worldwide cameras the size of a pen lid to record what is happening in their communities. This talk explores how covert recordings can be used for good in places where "if you pull your phone out, you are dead." As Yakobovich says as he closes his talk: "I used to carry a big gun. Now I'm carrying [a camera]. A much, much more powerful and much more effective weapon."
Speaker: Charmian Gooch
Views: 2.5 million
Global Witness's Charmian Gooch has been campaigning against corruption for a long time. And this TED Talk from 2013 is still as fresh and as relevant today as it was when she gave it. If anything, the timing of some of the biggest scandals related to corruption in the recent years (from the Panama Papers to the FinCEN files) show how on-the-money she was.
In the talk, Gooch says people's ideas about the fight against corruption tends to be linked to clichéd characters of despot leaders in faraway lands, like the "former Soviet megalomaniac" who built a 40-foot golden statue of himself which rotates to the sun, or the son of the African dictator who owned a mansion in Malibu and a collection of fancy sports cars with an official monthly salary of less than $7,000.
But she says while it's easy to think "corruption happens somewhere over there carried out by a bunch of greedy despots and individuals up to no good in countries that we personally may know very little about," the real story is the massive web of corruption made possible because of the actions of global facilitators: banks in Europe and the US, shell companies, hidden owners.
She highlights how citizens and journalists who are trying to expose cases of corruption or the fire sale of national assets to shady companies have been harassed or arrested, and asks her audience to get more creative when considering the impact corruption has on people's lives around the world.
"The reality is the engine of corruption exists far beyond the shores of countries like Equatorial Guinea, Nigeria, or Turkmenistan … It's driven by our international banking system, by the problem of anonymous shell companies, by the secrecy we have afforded big gas and mining operations. Mostly by the failure of our politicians to back up their rhetoric and do something meaningful," she said.
Speaker: Will Potter
Views: 4.8 million
Opening this talk about the American prison centers for so-called "second-tier" terrorists, the investigative journalist Will Potter quotes the American Jesuit priest Father Daniel Berrigan, who once said: "Writing about prisoners is a little like writing about the dead."
"I think what he meant," explains Potter, "is that we treat prisoners as ghosts. They're unseen and unheard. It's easy to simply ignore them and it's even easier when the government goes to great lengths to keep them hidden." But as a journalist, he says, "these stories of what people in power do when no one is watching are precisely the stories that we need to tell."
When he was finally given permission to enter one of the Communications Management Units (CMU), he was the first American journalist to be allowed in. His investigation found that their prisons are called "little Guantanamos" by prisoners and guards. He described the units, whose occupants are "overwhelmingly Muslim," as black holes. Potter used court documents, open records requests, and interviews with current and former prisoners to try and build a picture of these places where inmates are not allowed to even hug their families and where communications, including letters, are limited. While he said the government would not confirm who was in these units, the CMUs were described by the authorities as "self-contained general population housing units" for prisoners with "inspirational significance."
Potter's argument isn't about who is in there, nor does he necessarily question the sentences that inmates have been given, but he does object to the way these prisoners were being detained, with CMUs closed off and hidden from the wider world. His talk is an action call to find out to what is happening to some of society's most hidden actors, and what governments do behind the closed doors of the courts and the prison system. As Potter puts it: "We must bear witness to what is being done to these prisoners."
Additional Reading
What to Watch: DIG's Investigative Documentary Shortlist
A Global Tour of Top Investigative Podcasts: The 2020 Edition
A GIJN Guide to the Best Investigative Books and Films
---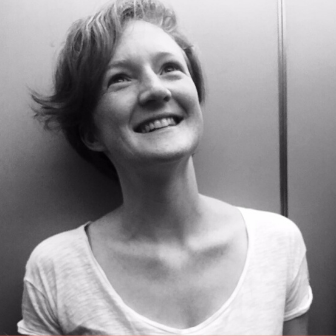 Laura Dixon is GIJN's associate editor and a freelance journalist from the UK. She has reported from Colombia, the US, and Mexico, and her work has been published by The Times, The Washington Post, and The Atlantic, among others. She has received reporting fellowships from the International Women's Media Foundation and the Pulitzer Center for Crisis Reporting.