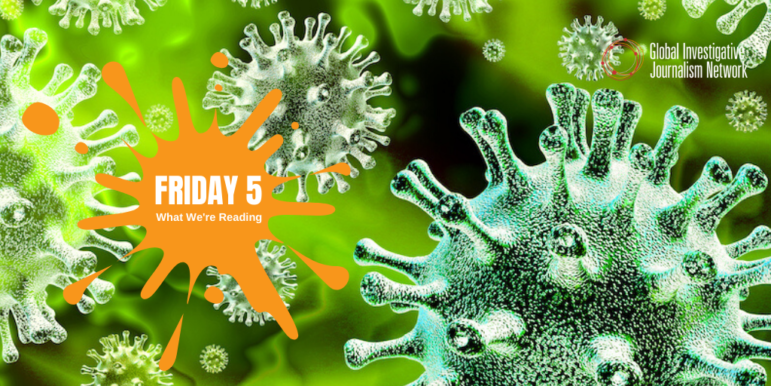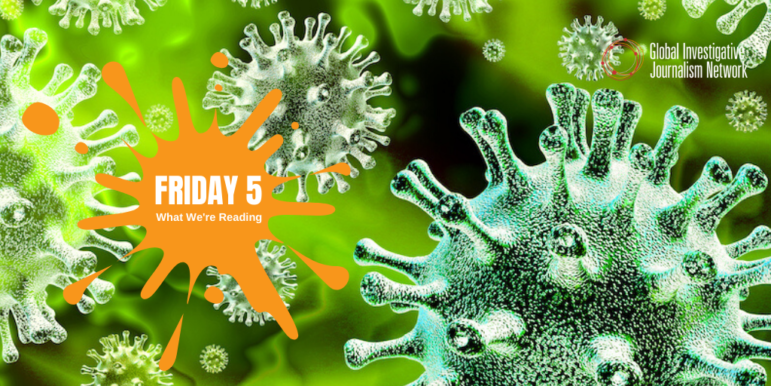 This week's Friday 5, where we round up our favorite reads from around the online world in English, includes a report on the spike in crackdowns on journalists reporting on COVID-19 , Transparency International's warnings about coronavirus and corruption, and a Citizen Lab report on how China manages social media censorship.
Corruption and the Coronavirus: How to Prevent the Abuse of Power During a Global Health Pandemic (Transparency International)
Transparency International points toward the potential risks of corruption during the pandemic, noting that even in ordinary times, corruption in the health sector causes losses of over US$500 billion every year. TI suggests attention to the procurement of medicine and supplies in health systems, including price gouging; the need to track funds going into research and development of drugs and vaccines; and bribery, as hospitals face increasing shortages in staff, beds, ventilators, and other equipment. Also worth a look: the Carnegie Endowment for International Peace examines corruption vulnerabilities in the US, while the Global Initiative Against Transnational Organized Crime looks at how criminal gangs will exploit the crisis.
How a Blockbuster Washington Post Story Made 'Social Distancing' Easy to Understand (Poynter)
If you haven't already seen Harry Steven's important "flattening the curve" visualization in The Washington Post, you're missing out. The story simplifies how social distancing works to slow the virus through a series of charts that follow the course of a hypothetical virus through a "town" of 200 people, who are represented by bouncing dots, illustrating four scenarios — free-for-all, attempted quarantine, moderate distancing, and extensive distancing. Poynter noted that it was one of the most read stories ever on the Post. (That tweet from Barack Obama about it to his 114 million followers couldn't have hurt.) It's been translated into over a dozen languages since it first went up on March 14.
The Coronavirus Is a Media Extinction Event (BuzzFeed News)
Craig Silverman wrote up this depressing piece on the state of sustainability, using the Seattle Times — a local paper situated in an epicenter of the US pandemic — as a case study in cruel irony. As online traffic surges amid essential COVID-19 coverage, local ad revenue is collapsing for the publication. Meanwhile, The New York Times pointed out in this piece that its site has doubled traffic alongside other big players, including The Atlantic, Business Insider, The Los Angeles Times and The Wall Street Journal. But, the story noted, "reliable advertisers — hotel chains and airlines among them — have cut back or canceled campaigns." Silverman's latest piece points out advertisers are not only pulling back on spending, they are "refusing to allow their ads to be placed next to stories that report on the pandemic."
Censored Contagion: How Information on the Coronavirus is Managed on Chinese Social Media (Citizen Lab)
This report came out earlier this month but it's a fascinating read about how information suppression on Chinese social media works. It presents results from a series of censorship tests on the social platforms YY and WeChat during January and February which shows that Chinese social media began censoring content related to the disease in the early stages of the epidemic and "continued to expand blocking a wide range of speech, from criticism of the government to officially sanctioned facts and information." Also on China and COVID-19 coverage: check out this Reporters Sans Frontiers piece "The Information Heroes China Silenced" and this New York Times story on China's "internet police." 
---

Tanya Pampalone, GIJN's managing editor, rounded up this week's Friday 5. Tanya is the former executive editor of South Africa's Mail & Guardian and former managing editor of Maverick (now Daily Maverick). She is a contributor to Unbias the News: Why Diversity Matters for Journalism and Southern African Muckraking: 150 Years of Investigative Journalism Which Has Shaped the Region.