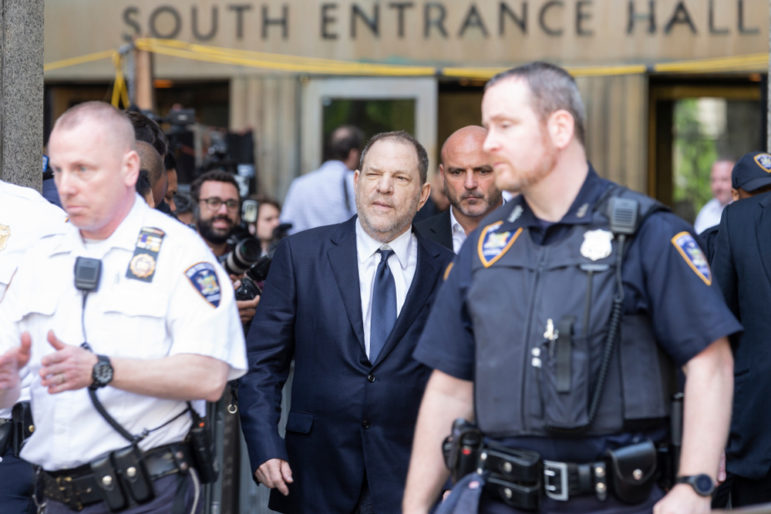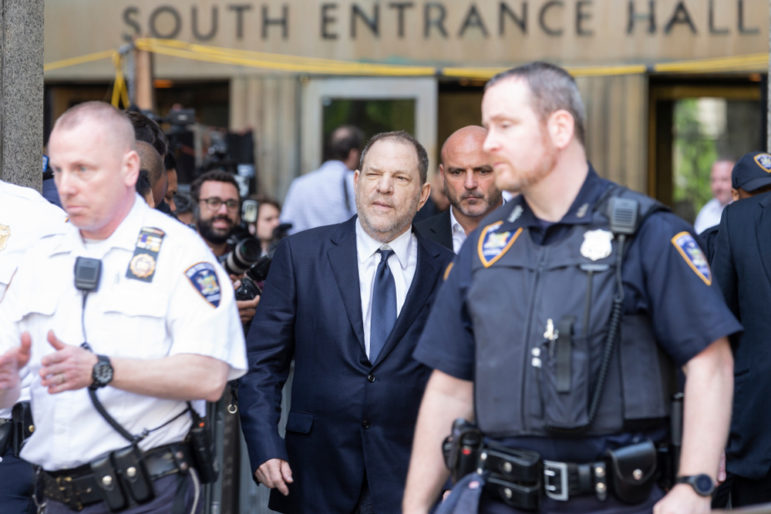 Harvey Weinstein after a court appearance in New York. He was later jailed and sentenced to 23 years in jail. Image: Shutterstock
What to Do When You — or Your Sources — Are Being Followed
In 2017, Ronan Farrow, an investigative reporter at The New Yorker, noticed strange things happening around him while he was investigating claims of sexual assault against Hollywood mogul Harvey Weinstein. On his Catch and Kill Podcast, he described seeing car patterns outside his apartment and alerts on his phone that were so suspicious that he locked his research materials in a safe deposit box.
Weeks later, a Ukrainian man, Igor Ostrovskiy, contacted Farrow to confess that he was one of several operatives who had been spying on Farrow, as well as on another journalist working the Weinstein case — Jodi Kantor of The New York Times. He told Farrow he had been hired by a private Israeli intelligence agency. Notably, Ostrovskiy explained that he was moved to turn whistleblower in this case after realizing that surveillance of investigative reporters could harm the kind of free press society he wished to live in.
Weinstein has since been jailed for a string of sexual assaults, and investigative stories that preceded the prosecution helped to trigger the global #MeToo movement against sexual harassment.
However, Ostrovskiy's revelations also highlighted the growing threat of physical surveillance that investigative reporters and their sources now face, which Farrow later described in his book "Catch and Kill."
Farrow says the practice of "hunting journalists" now includes sophisticated physical and digital surveillance, which "has huge global implications."
In March, Investigative Reporters & Editors, the US-based association of investigative journalists, invited Ostrovskiy to brief journalists on how to detect and deal with physical surveillance at its NICAR21 data journalism conference.
The veteran private investigator — who still works in the field — told attendees that surveillance is generally ordered on investigative journalists to identify sources, mitigate the impact of a coming story, discredit the reporter, kill the article, gather "litigation support" — or a combination of these. Ostrovskiy says threats or violence are rare — and that he rejects any illegal tactics in his own work — but that some intimidation methods were used by other operatives against reporters on the Weinstein case.
"Keep in mind that private investigators are bound by laws if they're looking for court-admissible evidence," Ostrovskiy notes. "There could be surveillance jobs where one goal is litigation support, but where another goal is also to stop a story. As a journalist, you have to do an analysis on who your adversary is, what their financial means are, and what they've done in the past."
One major takeaway from his presentation was that even professional private investigators are limited by red tape and budget headaches — and that journalist targets can exhaust these surveillance efforts by making them more expensive. Ostrovskiy says that a targeted reporter choosing to sleep over at a friend's home, for instance, can force a surveillance team to stay up all night on an unfamiliar street, and bill a hefty fee to their agency employer, or the subject of the reporter's investigation.
"There was a built-in 'success fee,'" explains Ostrovskiy, of cases where investigators were able to stop a story. "But my bosses were so cheap that when they sent me to a restaurant, I was questioned about my bill. This cheap approach led to the same two operatives [being] sat in the same car, near the only fire hydrant with a view of Ronan's door. We were there so many times that the superintendent of Ronan's building knew what cigarettes we were smoking."
Investigators also make basic mistakes.
"When looking for Ronan, we briefly followed his neighbor on the street, who had a striking resemblance to Ronan," Ostrovskiy chuckles. "I knew Ronan's cell number, so [I called to check] and when he picked up, I knew he was indoors, so we realized we had the wrong guy."
According to the moderator at the NICAR21 workshop, Sean Sposito — an analyst in the information security division of telecom Verizon Media — reporters have an in-built skill set to counter physical surveillance.
"Just be as curious in your private life as you are in your professional life," Sposito suggests. "Continue to be a good reporter after hours, and be vigilant to things out of place."
Ostrovskiy detailed the strategies reporters should consider to thwart the efforts of surveillance operatives like himself.
How To Make A Spy's Job Harder
Foil a spy's planning by beefing up digital hygiene. To ensure that operatives can't plan surveillance locations ahead of time, keep your schedule secret by using encrypted communications platforms like Signal and ProtonMail, and use two-factor authentication on your digital passwords. "If you're on top of your digital security, we wouldn't have information on your communications or your schedule, so we're forced to react to your physical movements," says Ostrovskiy.
Use different modes of transport — and walk against the flow of traffic on one-way streets. "Force me to change methods of transportation — take a bicycle, get on a bus, take a train, make an extra transfer," he advises. "We had a plan that if Ronan went against traffic on foot and hailed a cab, the foot operative would stage a pedestrian accident to hold the cab up, so the driver of the eyeball vehicle would have time to circle the block. I was literally prepared to jump on the hood of a car."
Run down their surveillance budget. "Staying elsewhere, like sleeping at a friend's house, forces the surveillance to stay up in their car all night," he says. "Ultimately, be expensive to follow: hurt their pocket."
Use a different exit, especially at shopping malls. "When you have an important meeting to go to, make a plan to ditch the surveillance in a way that they will not realize it was done on purpose," says Ostrovskiy. "Large buildings with multiple exits are ideal. Use a different exit at a shopping mall and use a car-share service — yes, they'll find you again at your house at the end of the day, but you have gotten a few hours of privacy."
Scrub your personal information from consumer lists and data broker websites. "If I was a journalist working these types of stories, I would dox myself," he says. "So [go to] Google and Yandex and search everything about yourself online, get rid of the stuff out there that makes it easy for me to find you, and opt out from all those sites that list your data. A good website is FamilyTreeNow – it's almost identical to the results I get for a service I pay for, but this is just free and it helps you get removed from those listings."
Be unpredictable. "Be spontaneous with your routines — not to evade me, but simply to make it expensive for us to follow you, by forcing us to use more resources."
Don't mention your plans on social media. "Ronan was good — a hard target," he says. "I would look at his social media and Instagram, and it was only past events. Nothing about his plans or where he was. He wasn't coming home a lot; he was staying in Los Angeles."
If surveillance is persistent, seed your social media and credit card applications with 'false flags.' "Save pictures from your vacation for weeks, and then post them on social media long after you're back, so maybe people think you're still in Paris," Ostrovskiy suggests. "Throw people off. Sign up for mailers listing a different address. Add a business to Yelp that pretends you're somewhere that you're not. Use a P.O. Box as your address after your next move."
How to Tell If You're Being Tailed
Notice who makes the same public transport transfers you do. "But be casual about this," adds Ostrovskiy.
Watch for people leaving the security lines that you join. These include queues ahead of metal detectors and checkpoints at courthouses and airports.
Pretend to read menus on restaurant windows while casually scanning for people who stand out — like those also reading menus. "As you walk, keep making turns — don't circle the block, but zig-zag and pay attention to those behind," he says.
Pay attention to people's shoes. "Shoes are hard to change in the field — they are a good indicator of what the person plans to do on that day; look for [inappropriate footwear]," he says. "On surveillance, I like to wear black sneakers in the summer for comfort, and black hiking boots in the winter."
Ask a friend to monitor the cars behind you — especially at intersections. "Sometimes, for reasons of cost, we operate with one car where a team of cars is appropriate, which is an opportunity for you to spot us," he says. "You or a friend can look for signs like the car behind you that drives straight when you made a turn, only to reappear behind you a block later. If that happens two times, you're being followed."
Force the surveillance team to get close to you in rush hour. "If you're in a crowded subway car, we'll need to be nearly within an arm's reach to communicate your next move to the rest of our team," he says. "You could notice us — we can't see through the crowd."
Read books on surveillance and covering your digital tracks. These include "Open Source Intelligence Techniques" by Michael Bazzell, or "Extreme Privacy: What it Takes to Disappear in America" by the same author. "There are some great tips in there," notes Ostrovskiy.
What To Do After You Spot Surveillance
Call the police if you think you're in danger of harm. "If you feel like you're in danger, you need to warn your sources and your editors," he says. "If you feel you're in immediate danger, you should go to the police. But if you do, you'll need to answer questions on descriptions — the color, make, and model of the car, or a license plate; any distinguishing characteristics; where the operatives were observed and when."
Don't approach the people following you — and don't let on that you have spotted them. "Don't make people like me mad!" says Ostrovskiy. "It's important not to let the surveillance team know that you're aware of them, because it could escalate toward threats or violence," he says. "Never wave at me or give me the finger. But you can move from place to place — make the team tired of your mind-changes, so they can't go to the bathroom or relax."
Arrange critical meetings in federal courthouses, or airport zones beyond security checkpoints. "Meet inside a federal courthouse where the team cannot carry electronic devices inside, and would be forced to go through security," he says.
If you're under surveillance by government agents, seek advice from lawyers and human rights security nonprofits. "Citizen Lab and Electronic Frontier Foundation are good places to go if you think you're being targeted by a nation state," he says. "If you're being followed by police in a foreign country, you really should be leaving, or go to the embassy, because you could face serious risks to your health."
Use encrypted communication with sources — and meet just once if you have to meet. "If you have to meet your source in person, try to have just one meeting in the beginning, where you can lay out your anti-surveillance plan," he says. "You also have to consider not to scare the source. You can look for places to meet that are hard to access for strangers."
Set up the simplest-possible code words to alert sources to spy threats. "A common technique is to arrange to call each other by a name that's similar to your real names — so instead of your first name, I might call you by your surname, and the source will know something's wrong," says Ostrovskiy. "They'll know not to discuss what you were planning to discuss." When Ostrovskiy first reached out to Farrow, he sent a cryptic, unsigned text about a "frying pan that's scratch-resistant," which was a phrase that Farrow recently used in a social media message. On his podcast, Farrow says this coded language was enough to alert him that the message was from someone who had been following him.
Be aware that operatives could pose as journalists to re-interview your sources. "Agencies have hired former journalists to pretend to be an active journalist to feel out what sources have been giving to other journalists, or even someone to pretend to interview the reporter for a job," he says. "I was asked to hire a recruiter to set up a fake interview [for a journalist]."
Interested in more from NICAR21? The full schedule can be seen here. The counter-surveillance session was not recorded, but other recorded sessions can be accessed and viewed until March 2022 via this link, although you will need to register. 
Additional Resources
The Rapid Rise of Phone Surveillance
Digital Self-Defense for Journalists: An Introduction 
GIJN Resource Center: Digital Security
---


Rowan Philp is a reporter for GIJN. He was formerly chief reporter for South Africa's Sunday Times. As a foreign correspondent, he has reported on news, politics, corruption, and conflict from more than two dozen countries around the world.