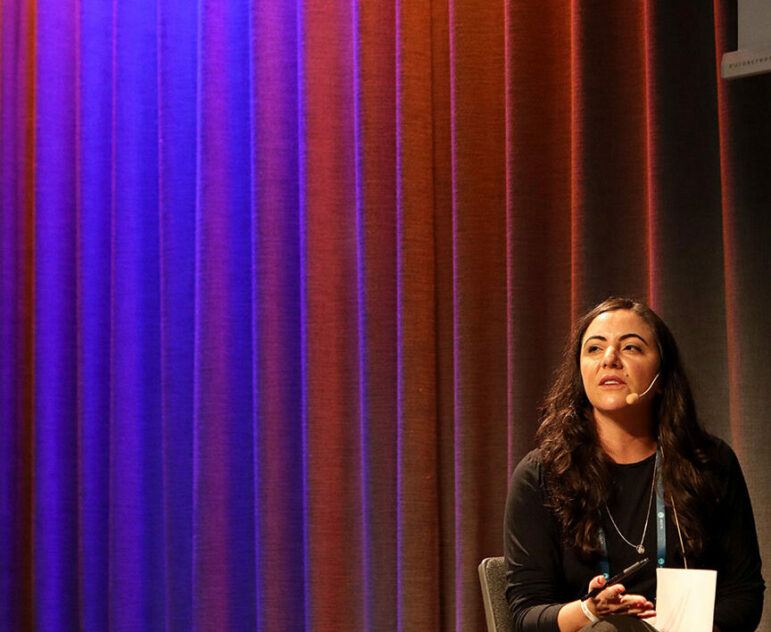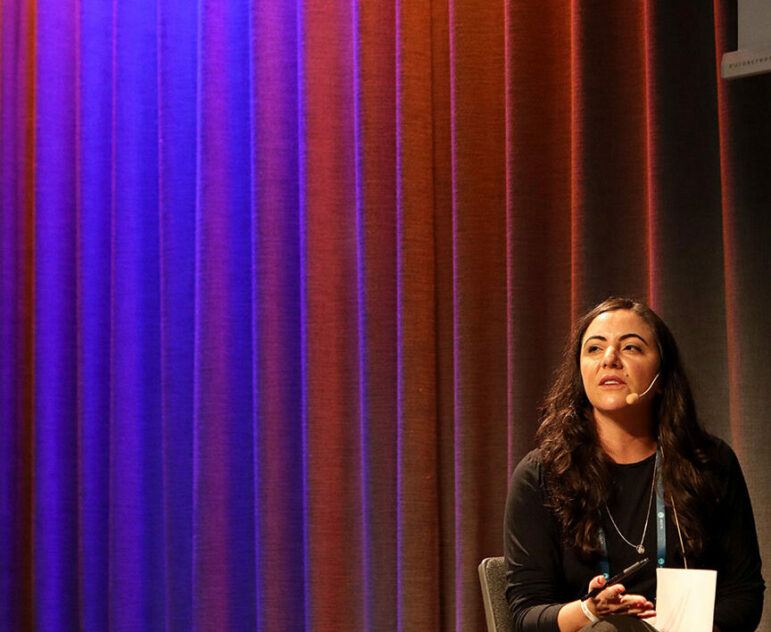 The Brazilian journalist Juliana dal Piva moderated the session on political extremism at GIJC23. Image: Wolf France for GIJN
Watchdogs Against Hate: A Reporter's Toolbox for Tracking Political Extremism
Extremists who were once on the fringes have grown increasingly influential and are finding their place next to mainstream politicians, who host them at fundraising dinners or send them not-so-veiled messages of public support.
The groups to which they belong are now highly organized, and possess the capacity to finance campaigns, conduct rallies, build international networks of misinformation and political action, and even stage coup attempts.
Three experts — Hannah Gais, senior researcher and journalist at the Southern Poverty Law Center; Michael Colborne, who leads the far-right research project Bellingcat Monitoring; and David Baas, award-winning reporter at Expressen, who has written two books on Swedish nationalism — spoke at the "Tracking Political Extremism" session at the 13th Global Investigative Journalism Conference (#GIJC23). The panel was moderated by Juliana dal Piva, Brazil investigator at the Latin American Center for Investigative Journalism (CLIP).
Colborne defined extremism as "the idea that there is an 'other' type of group, as in respect to migrants, and they [the extremists] mean to eliminate them through some sort of cleansing or violence."
The toolbox shared by the panel aims to help journalists map and track extremist groups and political violence, which today are among the greatest threats to democracies around the world.
Toolbox for Tracking Extremism
Your archive. Political extremism must be tracked in space and time. Just as some individuals and groups may spread to other countries, they also tend to have a history within extremism. A far-right political party's rising star might have been a neo-Nazi member in their youth. If you plan on covering extremism in the long term, start by making as many files of people within these groups as you can: you never know when they might show up in the future. "People that were active in the 90s, and people that joined the Nazi movement in the 90s turned up as politicians… The research that you do today will become useful in years to come. Having this historical perspective is good because it comes back to you," said Baas.
Open source tools. These can be used to follow the online clues left by extremists, and to geolocate them.
Digital Footprints. Most extremists leave a digital footprint. The best kind of information is usually revealed inadvertently. "It's data that they don't know they posted or shared, it's data that they don't even understand is data or that can be useful," noted Colborne.  
Geolocation. This is a generally underused resource because journalists may find it intimidating, but using it is easier than it seems. "Geolocation is important because if you want to establish that a certain extremist Telegram group posted something, for example in Stockholm or in Gothenburg, you can geolocate and determine if they did so, or if the location is misplaced," Colborne explained. Geolocation data can also help you find patterns in an extremist group's movement or give you clues to what other groups they might be connected to. There are numerous tools for geolocation and to uncover digital footprints.
Stay safe. Make sure to always use a VPN, which hides your IP and online activity from spying eyes, as well as dedicated email addresses and virtual identities set up just for tracking extremist social media, forums, and webpages, either on the dark web or the regular internet. Remember extremist groups are inherently violent and may respond with online and physical intimidation, threats, and harm.
Attending rallies and fundraising events: By attending extremist rallies and right-wing political fundraising events, you can identify individuals to track and uncover relations between political parties and extremist groups. Documentation is everything when reporting on these events. Take pictures, record audio, and film videos. Sometimes, you can pretend to be taking selfies to capture a prominent figure without drawing attention to yourself.
"What we ultimately see in events like this is the far-right alone, presenting a different image from what they would if they knew that journalists were in the room," said Gais, who with her colleague Michael Edison Hayden, went to a Republican black-tie fundraiser attended by radical right figures. Gais also warned that it is best not to go alone to these events, and if you need to buy tickets or register for an event, that it can make sense to use a variation on your name, or second name you don't usually use. As mentioned above, stay safe.
During the session's question and answer period, Valentina Avelluto, an audience member who is part of the investigative and editorial team of Argentina's Revista Crisis, asked how to track extremist group's finances. Colborne said he didn't have any specific tools to share and added "there's not enough work being done on the links between the far-right and organized crime."
However, Colborne mentioned extremist groups are very interested in cryptocurrencies and tend to use them to avoid being tracked, so he suggested being familiar with cryptocurrencies and how to track them.
Avelluto's question is particularly relevant for Argentine and wider Latin American audiences because of the close links between extremist groups and right-wing politicians in that region, and the support they receive from abroad. "We are interested in cross-border support coming from the Global North," Avelluto told GIJN during a later interview, while sharing an Argentina-specific tool to track far-right attacks.
"It was thought out as a collaborative mapping project for people to report cases throughout the country, because the view of what is going on is very centralized," she explained. Far-right movements may be spinning their threads around the globe, but journalists are also reaching out across borders to reveal them.