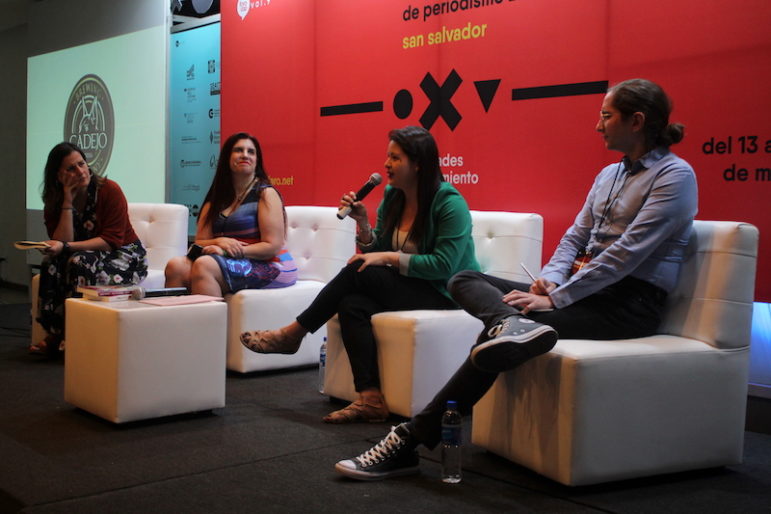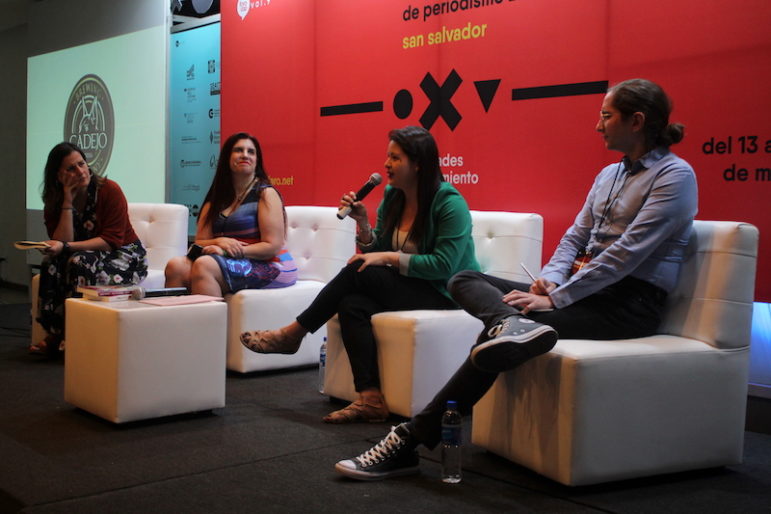 Pilar Alvarez (El Pais) Luciana Peker (Pagina 12) Maria Luz Nochez (El Faro) and Juan Carlos Rincon (El Espectador) discussing about the impact of the #MeToo movement in journalism. Courtesy: El Faro
Uncomfortable Questions, Difficult Answers and a Moving Journalism Conference in Central America
The last time I was in El Salvador, I was so shaken up by stories of violence and sexism towards women there that I ended up writing an Op-Ed for The New York Times with the following opening line: "I don't want to go back to El Salvador." On May 13 I gathered my courage and swallowed my words to return for the ForoCAP, the Central American Journalism Forum. It's where many reporters, writers and artists from the region come together — juntura, the locals call it — to discuss some of the most pressing (and depressing) issues and the role that journalism plays or could play in them.
El Salvador, Nicaragua, Guatemala and Honduras used to be one of the hottest spots for journalism in the 1980s. Everyone wanted to write about the leftist armed revolutions that were springing up and the US-backed efforts to prevent them. But after the Cold War ended and most of these countries reached peace agreements, the world's attention shifted elsewhere and Central America was left on its own, trying to figure out how to rebuild democracy without much funding,  strong institutions or great leadership.
That's when El Faro, a small, independent media outlet, launched. It was founded in 1998 by a group of tough and talented journalists, mostly men, who have made a name for themselves reporting on the MS-13 and Barrio18 gangs or maras. "Faro" means lighthouse in Spanish, and in the past two decades the group truly has turned into a sort of "in your face" beacon for the region. Its ForoCAP, which has been held every May since 2010, has been fundamental to that mission.
This year's conference revolved around one idea with multiple meanings: movement. Besides conferences and panels that approached the topic from different perspectives, the ForoCAP hosted journalism training workshops, ranging from investigating in hostile environments to gender reporting and illustration. There were also hip-hop and classical music concerts, a graffiti performance in the streets, and photo and illustration exhibits at local galleries. Between May 13-18, 60 special guests and speakers from 10 countries and more than 3,500 locals attended the events.
The Migration Mess
American journalist Julia Preston was one of those foreign correspondents who covered the war in El Salvador. She continued to write about the thousands fleeing to the US as undocumented migrants; men and women who, since Donald Trump came to power, are being called criminals by the US president. (As this recent analysis from her colleagues at the The Marshall Project demonstrated, there is no direct link or correlation between illegal immigrants and crime in the United States.)
"Planned cruelty" is how Preston described the Trump administration's decision to cancel the Temporary Protection Status program for as many as 200,000 Salvadorans who had been living in the US for over 20 years. Sitting next to her on stage was Carlos Dada, founder of El Faro. He interviewed Preston for over an hour, in front of a large crowd that filled the Fepade theatre for the ForoCAP's inaugural talk.
Preston didn't stay for the entire conference, so she missed running into US Attorney General William Barr, who happened to check into the same hotel where most of the journalists were staying, and who offered an exclusive interview to Fox News about what the Department of Justice is doing to combat the gang violence in the region that it sees as a threat to the US.
The discussion on migration and how to report on it continued with broadcast journalists like Marcela Gaviria from Frontline and Almudena Toral from Univision, who are trying to figure out how to tell this story to audiences who are more interested in Netflix series and documentaries that don't apply the same ethical rules and rigor. They were also wondering how to reach those Americans who don't seem to care at all about the subject or believe the Trump administration's rhetoric.
But migration is not just a Central American story, it's a global issue and photojournalists have seen it more closely than most. It was interesting to hear Pau Coll, Federico Rios, Fred Ramos and John Moore — another veteran who started out in Nicaragua in the 1980s — speak about the stories behind their images and what they have learned on the ground at land borders on almost every continent, on rescue ships in the Mediterranean, in detention centers in Texas, and along winding roads across mountains in Colombia or deserts in Libya.
"Sometimes my pictures leave me with many questions," said Moore. As he paused, one of his images of a detention center at the Mexico-US border appeared on the big screen; it was a close-up of a man's hand holding a woman's hand, in handcuffs. The photographers' images and words left many of us wondering where the answers to this global mess lay and what we can or should do as journalists.
The Nicaraguan Movement
Four days into the conference, on the morning of May 16, a 5.7 magnitude earthquake struck the borders between El Salvador, Honduras and Nicaragua. There was no major damage but many were frightened as the buildings shook. That afternoon, those of us at the ForoCAP were moved, once more, in a very different way: the forced exile of Nicaraguan journalists.
Among them is Carlos Fernando Chamorro, one of the most respected in the region. Many young reporters, student leaders and other exiled Nicaraguans — some carrying the blue and white flag of their country — filled the auditorium to hear him speak with Mexican writer Jorge Volpi. I was lucky enough to find a seat next to Nicaraguan investigative journalist Octavio Enríquez, one of the newest members of ICIJ, whose work has exposed how the once-leftist revolutionary leader Daniel Ortega turned into an authoritarian and corrupt bully.
Chamorro fled to Costa Rica in January after the government stormed the offices of his newsroom, Confidencial, along with other media outlets, detaining several journalists and accusing them of promoting terrorism, among other crimes. In the past year, more than 60 reporters have been forced to leave the country for covering the massive protests against the government and its repression by state security forces and paramilitary armed thugs who support the Ortega regime.
"Our newsroom is in the heart of our journalists; we have kept working despite all the pressure," said Chamorro as the audience interrupted his words with applause. He described how the journalists have continued working in the most precarious manner — sometimes from hotel rooms, friends' houses and borrowed offices. Their TV programs can now only be seen on YouTube, Facebook Live and a Costa Rican channel. Confidencial's nonprofit arm, GIJN member CINCO, was also forced into closing. "We are not alone; all Nicaraguan journalists are making great efforts," he added.
As I heard Chamorro reminisce and compare today's popular uprising and the civil unrest that was sparked with his father's murder in 1979 (Joaquín Chamorro was a prominent journalist and politician that opposed Anastasio Somosa's dictatorship), I kept thinking how history sometimes finds ways of circling back. Or perhaps it's the same story and time just lingers longer in Central America. "Ortega y Somosa, son la misma cosa" (Ortega and Somosa are the same thing) is what protesters chant in the streets of Managua, or used to, up until a few months ago. "You can't sing the national anthem or wave the flag anymore," said Chamorro.
As the talk ended and everyone stood up for a standing ovation — many around me were teary-eyed — I thought again about that absolute mantra in journalism: You should not become an activist. But what if circumstances leave no other option? Chamorro was speaking that afternoon more like a political leader than a journalist, or maybe like a journalist who understands that being political and speaking out against a ruthless government that attacks freedom of expression and violates human rights might be the only option he's been left with.
Powerful Inertia
Holding those in power accountable is one of the mandates of investigative journalism. We talked about it, very seriously, during four days at an Investigative Reporting in Adverse Conditions Workshop with award-winning Argentinian journalist Hugo Alconada Mon. We also discussed it with a group of Nicaraguan and Honduran reporters at an introductory talk I gave on the subject. Power came up again when Columbia University professor and data investigative journalism expert Giannina Segnini and Guatemalan journalist Martin Rodríguez Pellicer from Nomada talked about their research on evangelical religious groups and their increasing influence on politics all over the globe. It would surface, once more, at a discussion panel on the impact of the Odebrecht or "Lava Jato," Latin America's massive money laundering case.
Despite these great investigations, there is a general frustration and a feeling of inertia among muckraking reporters because the rule of law is broken in many countries in the region. Those who are the most corrupt and dangerous and should be held accountable seem to get away with everything. They even have the power to force men like Ivan Velasquez, the head of the International Commission Against Impunity in Guatemala, out of the country. Velasquez, who was declared "persona non grata" by Guatemala's President Jimmy Morales, was sitting in the audience, surrounded by bodyguards, at some of the conference sessions.
Power would also show up in the lyrics of some of the hip hop artists who performed, as well as the satirical sketches by Ramon Nse Esono Ebale from Equatorial Guinea and Rapé from Mexico. As I looked at a portrait of Equatorial Guinea's Teodoro Obiang with a penis-shaped nose (that very drawing was shown to Esono over and over again by officers who questioned him for days) and several excellent caricatures of Trump and Mexico's Andres Manuel Lopez Obrador by Rapé, I thought about how art has the power to touch others in a more direct, at times shocking and disturbing ways, and wondered how and why journalism, particularly investigative journalism, often fails to do so.
Over dinner or lunch, we talked about this issue for days: Have we become so obsessed with data and numbers that we forgot to tell compelling and moving stories with characters? Could we have more exploratory and creative approaches, try out different formats, like Esono's comics or a hip hop performance to reach younger audiences? Are we so afraid of getting sued over our writing that our copy is filled with so many legal terms that it is rendered unreadable? Who are we really writing for?
Perhaps we are thinking more about about our peers and our subjects — and their lawyers or hit men — and failing to reach ordinary men and women in our countries? Do those men and women who sell pupusas at the street corner for breakfast actually care who has an offshore account? Are we being relevant and of service to them? Are we really investigating the more urgent and necessary matters in our immediate contexts?
Angry Women, Fearful Men
"We owed it to you and to us" said Jose Luis Sanz, El Faro's director, before introducing one of the most controversial panels: #MeToo. The auditorium was filled with more women than men, among them local feminists and female journalists who consider El Faro — or their mock nickname for it, "El Falo" (the phallus) — as very male-oriented in its coverage.
Like other big and small media outlets around the world, in the last few years El Faro has started acknowledging and reflecting on the importance of having more inclusive content as well as the necessity of changing certain internal practices in the newsroom. The women who work there made it clear that they would no longer tolerate certain attitudes and behaviors from their male colleagues. Since then, El Faro has begun making adjustments; it has recently finished a draft of a new gender policy and hired more women for key positions. It also invited Pilar Alvarez, the new gender correspondent for El País, to hold a workshop on the matter with local journalists and, for the first time, had a public discussion on the subject.
During the debate, moderated by El Faro's María Luz Nóchez, Alvarez introduced herself as "just a journalist." Luciana Peker from Argentina's Página 12 described herself as a "feminist journalist" and an activist while wearing the green handkerchief on her left wrist that the Argentinian feminists who started the #NiUnaMenos movement against femicides (before #MeToo broke out) wear when they march on the streets of Buenos Aires. The only man at the panel was Colombian journalist Juan Carlos Rincón, from El Espectador, a self-described "macho in rehab."
As I listened to the panel debate this new wave of feminism, I looked around the room. I saw a few men leave the auditorium. One of them was a local journalist who would later comment he and others felt uncomfortable because they believe #MeToo is blurring the lines between journalism and activism.
If he had stayed to hear the entire discussion, and some of the tough testimonies from women in the audience, he would have found that despite differences in approach or style, the one thing the speakers all agreed upon was that journalism with clear rules and solid reporting on this matter was necessary, more than ever. "I would love going back to just journalism and transforming reality like that" said Peker, but current circumstances had forced her to take a stance. "That doesn't mean that women's organizations can dictate what we report or write about…. Journalism is information; it's telling stories and using concrete data, even for those of us that define ourselves as feminists."
One Last Move
Conversations were uncomfortable at the ForoCAP, but none would be as tense as the last one: a live session with The New Yorker's Jon Lee Anderson interviewing the former spokesman of the presidency, and legendary FMLN guerrilla commander, Roberto Lorenzana. I sat next to Jorge Simán, one of the founders of EL Faro, who would blow air from his mouth every time Anderson posed one of his tough questions on what the FMLN had accomplished after a decade in power and how some of the wounds from the war have never healed in this violent country where impunity reigns.
Lorenzana described the interview as "an ambush," to which Anderson replied: "I'm not the former rebel." The crowd laughed nervously. To Lorenzana's credit, he answered each and every question not only from Anderson, but also from the people in the audience, and ended by acknowledging the corruption of his party and the shortcomings of the revolution. (El Faro recently published an incredible investigative piece on former president Mauricio Fune's misuse of public funds.) "We have lacked the courage and wit to change things," he admitted.
After the interview ended, Lorenzana and his security men quickly left the forum. The rest of us headed down to an old billiard hall, now a hipster bar in the center of San Salvador, very close to the main plaza that has recently been revamped and where Nayib Bukele, the newly-elected Salvadoran president — a social media star with a hostile attitude towards journalism — was sworn in on June 1. That night, at the bar, we kept moving: dancing and toasting to uncomfortable questions and necessary conversations.
---

Catalina Lobo-Guerrero is GIJN's Spanish Editor and a freelance journalist. She has reported on politics, armed conflict, human rights and corruption in Latin America, mostly in Colombia and in Venezuela, where she was a foreign correspondent for three years.