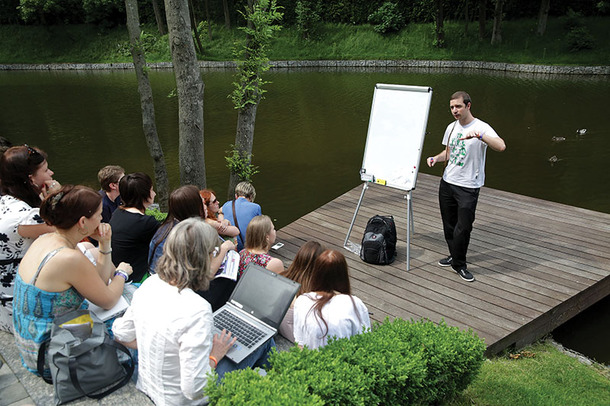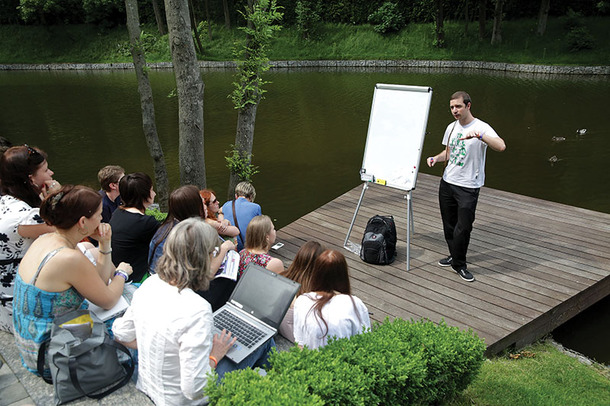 For the second time, organizers of Mezhyhirya Fest are going to bring together more than 300 journalists and public activists on June 6-7, establishing a tradition of celebrating Journalist's Day in the former billion-dollar estate of runaway President Viktor Yanukovych, who continues to hide out from murder and corruption charges in Russia.
This year the festival's main theme will be security, with the majority of panels and workshops will be devoted to its three aspects: security of journalists, security of information and economic security of the country.
War Crimes and Military Mistakes
Additionally, for the first time since the beginning of Russia's war in the Donbas the conference will give special attention to the subject of investigating war crimes and mistakes of the military command that led to severe casualties.
Until now, it has been an uncomfortable subject for both the Ukrainian journalists and the country's leadership. Journalists have preferred to gloss over when it came to looking into alleged crimes committed by Ukrainian army and volunteer battalions.
To talk about the issue and teach the participants the skills and methods used for such investigations the festival will bring together the representatives of International Criminal Tribunal for former Yugoslavia, the International Center of Transitional Justice, as well as the journalists involved in investigating the Balkan War crimes.
Advanced Security Training
Our main goal is to raise awareness of the fact that many Ukrainian journalists are working in extremely dangerous conditions without proper training and equipment, with the managers of news organizations being rather reckless about their staff. We expect that with the two days of intensive training on working in war conditions, participants will improve their safety skills, which will raise the quality of Ukraine's military reporting to a new level.
Additionally, the participants will receive information regarding the organizations that can provide further information on security issues and specifics of working in the military zones, as well as assist media organizations in getting more advanced security training and obtaining security gear for journalists.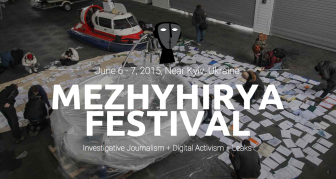 Meeting with Law Enforcement
In 2014, during the first Mezhyhirya Fest, we experimented merging representatives of Ukrainian law enforcement agencies and FBI with Ukrainian journalists to have joint panels and off-the-record meetings, which in some cases has led to prolonged cooperation efforts and information exchange. It's worth pointing out that the recent decision of Interpol to issue an international search warrant for Yanukovych and a number of his government members was based solely on economic crimes, such as "misappropriation, embezzlement or conversion of property" illegally. These crimes had been investigated in depth by journalists who took part in these panels and meetings.
Therefore, this year we plan to continue the practice by organizing joint panels of journalists and representative of military agencies and courts with journalists, as well as a number of informal discussions, seeking to find common ground in their work and overcome the difficulties they face interacting with each other.
We are also making an effort to bring together head of two investigative units, Ukraine's National Anti-Corruption Bureau and the European Anti-Fraud Office to explore potential inter-agency and international cooperation, which is becoming increasingly more important as financial crimes become more complex and require special knowledge and skills.
Ukraine's Pulitzer
In addition, the festival has become the venue for an award ceremony for investigative journalism. The award was established last year, and this year our effort has been merged with that of Ukrainska Pravda, the nation's top news website, to establish the National Award for the Best Investigation, which we deemed as Ukraine's equivalent of the Pulitzer Prize.
The awards to be given on June 6 are:
National Award for the Best Investigation, that will include a bronze statue and 1,000 Euros;
A series of awards for the best young investigative journalists with a trip to the U.S. being first prize and cameras and equipment given to runners up;
Our new Georgiy Gongadze award. This year the Gongadze award will be given for the best war report (in print and video categories) and the winners will be sent to the United Kingdom for the best security traning for journalists available internationally.
Another important aspect of this conference is to create a platform for networking for investigative journalists, regional journalists and aspiring journalists, as well as donors and other parties interested in promoting the genre of investigative journalism in Ukraine.
We aim to make the award and the conference an institution, the place to be and the most prestigious award to receive if you are a journalist and aspire to do more than just everyday news. Ukraine has few such platforms for investigative journalists.
Another indirect impact of the conference stems from the place where it is set up. We think that gathering investigative journalists and whistle-blowers in the former residence of Yanukovych, who acquired the opulent estate through corruption brought to light by journalists, is a fantastic way of reminding the ruling elite that they are being watched and none of their crimes will go unreported.
Moreover, last year we exposed Ukrainian journalists and whistleblowers to a lot of international speakers who talked about advanced reporting techniques, the future of the Internet and other issues that are typically off the radar for the Ukrainian journalists. We think that ability to plug into the international community is important and can have many direct and indirect advantages for Ukrainian journalists.
---
This story originally appeared in the Kyiv Post and is reprinted by permission. 

Vlad Lavrov, a Kyiv Post staff writer, is regional editor of the Organized Crime and Corruption Reporting Project. He's served as business and world editor with Ukraine's weekly newsmagazine Korrespondent, and business editor at the weekly Novynar.

Katya Gorchinskaya has been the Kyiv Post's deputy chief editor since 2009 and is a contributor to The Wall Street Journal and other publications.  Follow her on Twitter @kgorchinskaya.