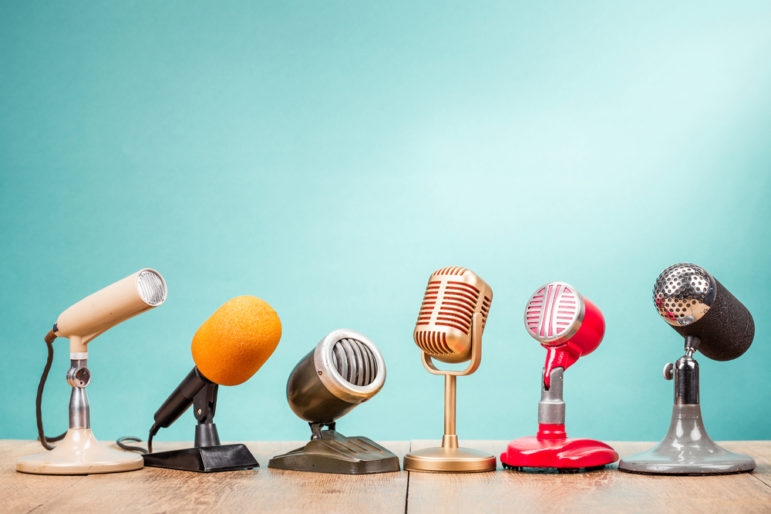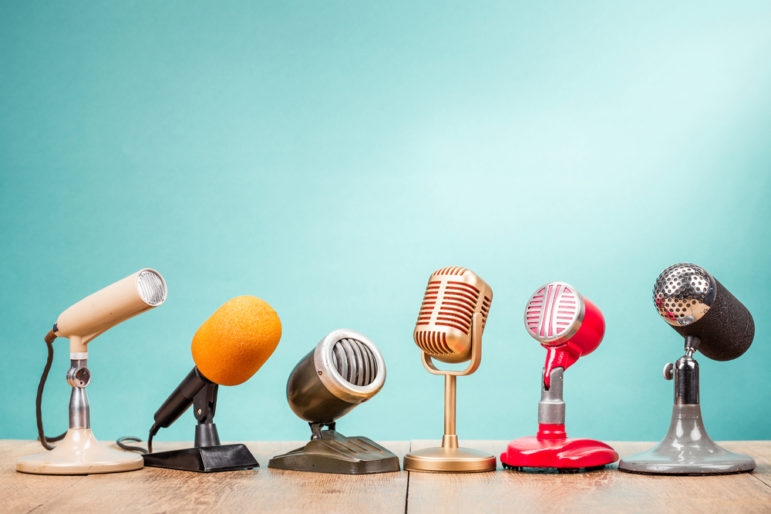 Two New Game-Changing Microphone Options for Mojos
Read this article in
Good audio is essential to quality mobile reporting and because mobile journalists — or mojos — often work unassisted, they require equipment that's easy to use and quick to set up. This is particularly important when conducting investigative journalism in conflict zones, where keeping your kit to a bare minimum and working small can be a safety issue as much as an availability issue. 
But whether you are investigating a story in Baghdad or in Oslo, buying mojo equipment can become addictive. As a result, I am always being asked about microphones: "Do I need to spend a lot?"; "Which one is best?"; "Can I plug in a mic?"; "Why shouldn't I use the phone's mic?" 
With more and more smartphone-friendly microphones on the market, here is the latest on some just-released models from Sennheiser and the fairly new kid on the block, Røde, which may be of interest to investigative mojos asking these questions.
Sennheiser: Mojo Options from a Family-Run Favorite
Sennheiser has gone all out by launching a raft of new and affordable microphones and mobile kits for smartphones and mojo work.
The German-headquartered firm was one of the first audio companies to produce "smaller" microphones like the original MKE 400, for use with smartphones, and other hybrid mojo equipment. I've had mine for about seven years – and it is still job ready and a very cool piece of kit.
Sennheiser has just released four new microphones available individually, or as part of mobile combo kits. The kits also include the mini Pixi tripod from Manfrotto, and a beautifully engineered smartphone clamp that really works.
My Tip: Cradles — which hold the whole smartphone — are arguably unnecessary since new smartphones routinely offer multiple lenses, including wide lenses, and cameras now feature much better, built-in stability functionality. What's more, clamps like Sennheiser's are much smaller and generally cheaper than cradles and already include multiple connection points as well as cold shoe mounts. 
Sennheiser's new XS Lav Mobile ($50) is a microphone you can wear on your shirt lapel, developed for smartphone work that comes with a plug that fits most smartphones, or in a USB-C configuration ($60) for devices using that connection. It also comes in a combo kit that includes a phone clamp with multiple fixing screws and a Pixi tripod, all for under $100. Game-changingly cheap!
Audio tone is crisp, and best of all, the cable is a very convenient 2 meters (6.5 feet), enabling the user to easily conceal it under clothing. If positioned properly (6-8 inches or 15-20 centimeters, roughly one hand span, from the subject's mouth) the XS Lav's omnidirectional pattern still manages to block background noise really well. 
The MKE 200 ($99) was released some months back and now there's also the new MKE 400 ($199). Like the 200, it is enclosed in a metal housing, has an onboard built-in suspension system, and an integrated mesh windshield that works well in a light breeze; you'll still need a furry "dead cat" microphone cover for recording in a strong wind. I like the fact that the suspension mount is inside the mic body, so it won't fall away like those rubber bands can on so many shotgun mics built for smart devices. 
Unlike the smaller, cheaper, MKE 200, the new MKE 400 has a number of functions that make it ideal for recording in loud, or varying sound conditions. 
My tip: Try and record within a meter of your subject. That way your subject's back will shield extraneous audio, as will your own body.
The MKE 400 is for use on digital single-lens reflex (DSLR) cameras and smartphones and it:
Runs for 100 hours on two AAA batteries.

Has built-in wind protection and a shock mount.

Includes a locking screw type 3.5mm TRS out connection to stop cable slippage.

Includes a headphone port with adjustable levels.

Includes 3.5mm TRS to TRRS (mic to smartphone) and TRS to TRS (mic to DSLR) output cables.

Has highly directional sound pickup.

Has three-stage gain control and low-cut filter. The gain control helps by enabling you to bypass the cameras' lower quality preamps and to set lower gain in noisy conditions like when recording a band.

Includes a furry windscreen for outdoor use.

Switches on automatically.
I found the MKE 400 easy to use, with excellent results in crowded areas. The directional  super cardioid polar recording pattern favors audio that's immediately in front and behind the capsule, making it excellent to use as an on-camera, directional, run-and-gun microphone. It has a much better presence, even with no gain set, than its little brother, and sounds like it's well worth the extra cost. Like the 200, the 400's cable screws in the front, which can be annoying, but this keeps it clear of the smartphone screen and the screw mount secures it properly. 
My tip: When I was traveling around the world on assignment producing investigative stories for Foreign Correspondent (the Australian documentary series), our cameras would always have a directional shotgun mic fixed and plugged into the one channel. So, even when in a hurry, we knew that we had one channel set and recording with a good mic. Sometimes, to be sure, we even gaffer taped the controls to make sure settings remained unchanged for that microphone. 
Røde: The New Kid on the Block
Not to be undone, the Australian audio brand Røde has released a new version of its affordable Wireless Go radio mic, the Wireless Go II. It comes with a dual-channel receiver, two transmitters (for two interviewee sources), and a raft of features that make it very useful. It is more expensive ($299) than its predecessor, but with the extra cost you get:
Two transmitters double as fast clip-on microphones that can be used with external lav mics (bought separately) — the fastening clip is designed to also fit into a cold shoe mount.

Extended range to 200 meters or 656 feet line of sight — in 30-years of video production I've rarely been anywhere near that distance when recording wirelessly because the subject is too small in frame beyond 50 meters and won't lip sync.

On-board recording of up to seven hours of uncompressed audio, plus excellent back-up to eliminate dropouts on what could be one of the smallest digital recorders on the market.

A 3.5mm TRS analog output, plus digital audio out via a USB-C connection.

Flexible gain control.

Ability to record two separate or one combined channel from two sources.

Use with the Røde Central app to unlock many

advanced features, such as setting up preferences, optimize and export recordings, update functions and firmware, access a safety channel that records a second track, and a control to expand the three-stage attenuation pad.

Automatic recording on internal memory with seven hours of battery life on its rechargeable, lithium-ion battery. 

2.4 GHZ digital transmission and 128-bit encryption, which adds stability in high radio frequency (RF) situations, like military or police operations.
The Wireless Go II is rugged and easy to use. I bought 40 sets of the earlier model to use with our journalism students at La Trobe University and the devices haven't missed a beat. You can see/hear our distance test on the earlier model here. Students often prefer using this model instead of a wired lapel mic, because it provides added flexibility, particularly in mobile situations.
Price points are important to mobile journalists, and there are more options in the smartphone lapel and shotgun mic market than ever. The Wireless Go II is terrific value for a wireless mic. Sennheiser has pitched the XS Lav directly at Røde's offering, and with its competitive price, longer cable, and very present tone, the XS Lav Mobile is the one I'd buy, especially if you need a kit with a clamp and tripod. 
Having a good microphone is so important because recording dynamic audio is critical to creating strong video stories. Some say that audio is even more important than pictures. I don't believe that — not completely anyway — but the truth is, being able to shoot powerful 4K pictures married with dynamic high-quality audio on a smartphone, is proving to be game-changing.
You can find more information on recording clean dynamic audio on a smartphone here.
Additional Resources
Mojo Workin': Essential Mobile Journalism Tools
GIJN Resource Center: Mobile Journalism Guide: How To Get Your Mojo Workin'
---

Ivo Burum is a journalist and award-winning television producer, based in Melbourne, Australia. He has over 30 years of experience producing prime time programming, and lectures in media at La Trobe University. He runs Burum Media, a mojo and web TV consultancy, and his latest book is "The Mojo Handbook: Theory to Praxis."