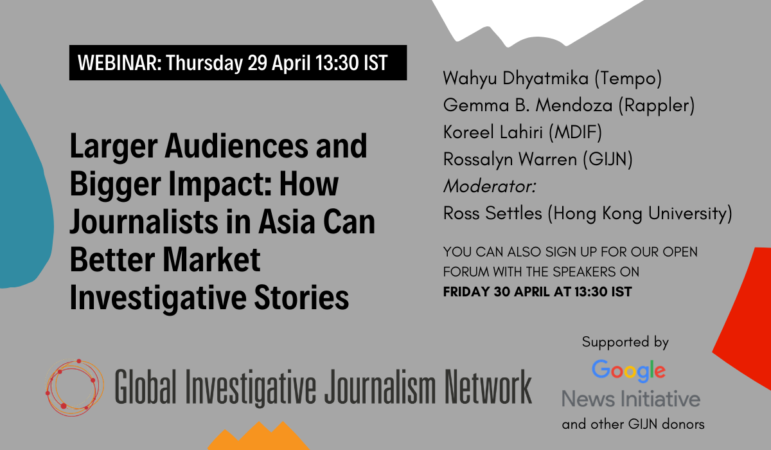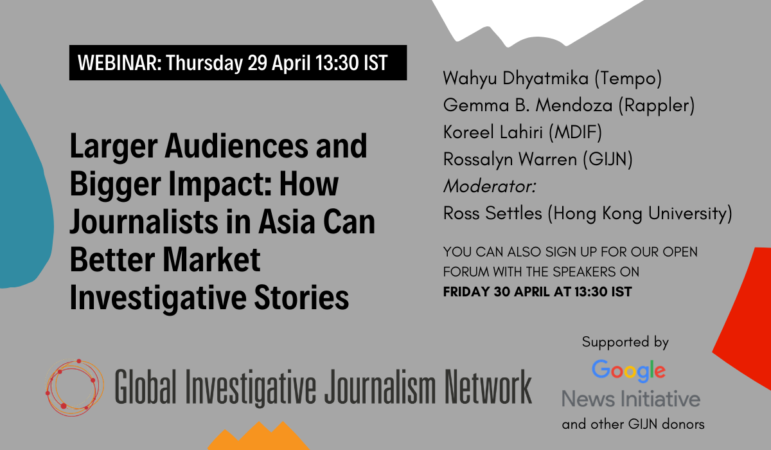 Two GIJN Webinars: How Journalists in Asia Can Better Market Investigative Stories
Read this article in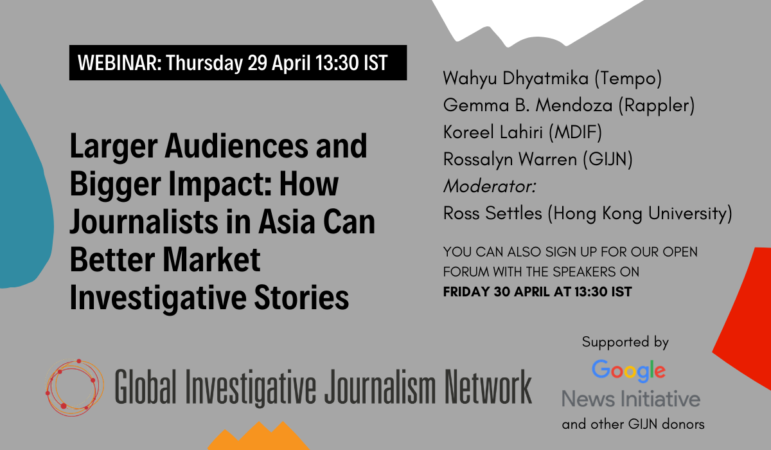 Editor's note: This webinar has now taken place. You can see the recording on GIJN's YouTube channel.
One of the great frustrations of investigative journalism today is spending weeks on an important story, and then failing to reach many people with it. Powerful, in-depth journalism has maximum impact when it's smartly distributed and reaches a broad audience. That's why it's fundamental that journalism organizations learn how to build, engage, and maximize audiences. 
This webinar will provide strategies and tips to engage and build audiences. It features a strategist with two decades of experience in media investing and growth, an expert on maximizing audiences via social media, and two digital specialists leading successful investigative outlets. It will focus on practical ways to ensure basic strategies and tools are in place to maximize engagement: multimedia strategy and prioritization; metrics analysis; website tools and tips; social media essentials; and publishing partnerships and collaboration.
In addition to the webinar on Thursday 29 April, we encourage you to take part in a second, related Open Forum in which you can ask questions about your organization's strategies, plans, and dilemmas. It takes place on Friday, 30 April at 1:30 pm IST (India Standard Time) and will be an opportunity for the audience to discuss their own challenges with our speakers. This free, open event requires separate registration. You can register here.
Wahyu Dhyatmika

is editor-in-chief for Tempo Magazine, the flagship outlet of Tempo Media Group. He helped usher Tempo's transformation into a digital newsroom. He was also in the funding teams of CekFakta.com, the first fact-checking collaboration platform in Indonesia, and IndonesiaLeaks.id, the only whistle-blower secure platform in the country.

Gemma B. Mendoza

is head of digital strategy at Rappler, where she leads the outlet's multi-pronged efforts to address disinformation in digital media, harnessing big data research, fact-checking, and community workshops. As one of Rappler's pioneers who launched its Facebook page Move.PH in 2011, Mendoza initiated strategic projects that connect journalism and data with citizen action.

Koreel Lahiri

is program director for South Asia at the Media Development Investment Fund. He has served in senior investment, strategy, and operational roles in various large Indian media organizations. Lahiri has also held editorial roles with Bloomberg TV India and CNBC-TV18, and advised several digital companies on strategy, product development, and fundraising

Rossalyn Warren

is GIJN's digital outreach director and an expert on social media. She was previously a senior news reporter for BuzzFeed News and has contributed to the Guardian, CNN, and the BBC. She spent five years reporting across Central America, Europe, and Africa. In 2017, Forbes named her among "30 Under 30" in European media.
The moderator is Ross Settles, an adjunct professor focused on digital media and entrepreneurship at the Journalism and Media Studies Centre of Hong Kong University. As both a consultant and media marketing executive, Settles has worked with revenue and product marketing teams to develop and market the best mix of advertising and content packages.
Watch our Twitter feed @gijn and newsletter for details on future events.