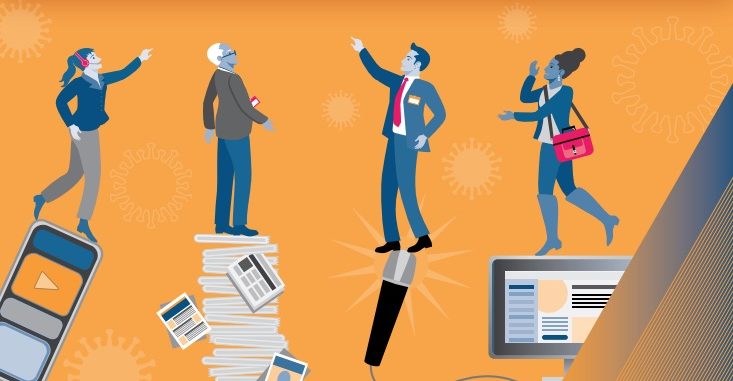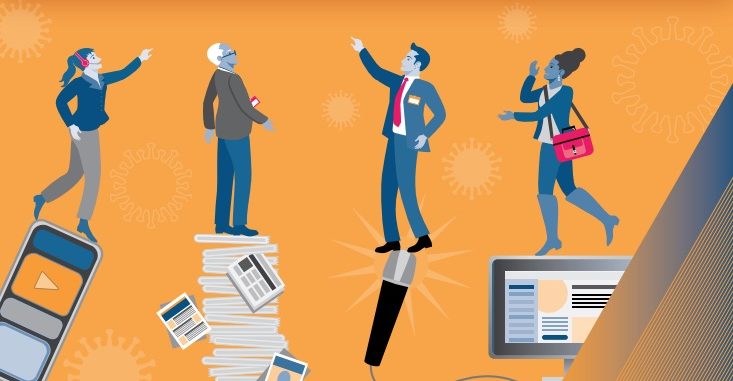 Saving Journalism, Part One: Finding the Right Funding
Read this article in
This post is the first in a three-part series of excerpts from Saving Journalism 2: Global Strategies and a Look at Investigative Journalism, a new report from a team led by Anya Schiffrin, director of the Technology, Media, and Communications program at Columbia University's School of International and Public Affairs. 
The last year has seen a mixed environment for quality journalism. Trust in media continued to rise in many parts of the world, as did audiences. Some outlets, such as the Guardian in the UK, had a stellar year. The New York Times and The Atlantic added substantial numbers of paid subscribers, too. Overall, however, print titles experienced declines in both advertising and subscription revenue, while research by academics such as Sarah Stonbely, Penny Abernathy, and Phil Napoli documents the growing problem of news deserts in the United States as local news declines.
Other research suggests that digital natives globally faced a smaller drop in advertising revenue relative to mainstream outlets last year, as they did not have substantial amounts of ad revenue pre-COVID. These digital outlets continued to depend on philanthropy, with Google and Facebook increasing their grant-making. SembraMedia surveyed 202 digital outlets in Asia, Africa, and Latin America and found that, on average, 31% of revenues came from grants in 2020. Some 21% of their revenue came from advertisements, which includes Google AdSense, affiliate ads, sponsored content, and native advertising.
The enthusiasm for big, systemic solutions that we described in our last report continues, with journalists and media development experts making the case that quality information is needed to reduce corruption and fight autocracy, and therefore needs substantial investment in order to grow. Government support could be useful and we describe later in this report which options are being tried. "We're seeing a shift in emphasis away from looking at business models and towards interest in media as a public good that is supported by governments or donors," said one donor.
Many different approaches are being pursued around the world. In the US, support has coalesced around the idea of government support for journalism. In other parts of the world, such as Argentina or Mexico, there is far more skepticism toward government involvement, while in sub-Saharan Africa there is a view that supporting quality information is of secondary importance in a region where so many basic needs are lacking. Interestingly, even where there is worry about the dangers of government support, outlets are willing to accept money from large foundations, foreign governments (in the form of development assistance), and Google and Facebook. "They [Google and Facebook] pay out just enough money to get people to not complain about them," said one grantee we interviewed.
This tech largesse creates worry about increasing dependence on Google and Facebook, whose philanthropy can be just as unpredictable as any other kind of revenue source and does not come with long-term commitments. Further, the tech giants tend to step up their giving in regions where they fear regulation (as in Europe) or are being required to pay for news (as in Australia). Their motives in funding journalism and academic research seem to be based on public relations and the desire to buy goodwill. Big Tech is lobbying governments to shape new regulations — it now spends the most on lobbying of any industry in the European Union: €97 million annually in the region. Tech lobbyists are given disproportionate access to policymakers and their message is amplified by think tanks and third parties. Thus, their donations to media outlets must be viewed as part of their larger public relations efforts.
This fear of corporate power — and of the potential for capture of media outlets leading to the silencing of criticism of Big Tech — leads many to argue that rather than take direct payments from Big Tech, it's better for these companies to pay more taxes, with some of those tax revenues earmarked for support of quality journalism. Among others, Tim Karr makes this argument; the organization he works with, Free Press, has proposed a tax on online advertising to fund free, civic-minded journalism. The last year has also seen more research and new proposed blueprints for helping journalism. Perhaps the most comprehensive is Reporters Without Borders' June 2021 report, A New Deal for Journalism. It brought together dozens of experts and is brimming with common-sense proposals.
While there are lots of good ideas, there is less research into which different regulatory options work, and as is typical in other fields, it is not always clear what will actually be effective. In particular, lack of donor coordination continues to plague the field, though there are attempts to increase collaboration.
Notable in the policy discussions is the tension between small outlets and large established houses. Each benefits from different policies and types of support, and they are often at loggerheads. So, too, donors worry about the loss of local news and the continuing spread of news deserts. Different countries and communities continue to find their own fixes, but regulation in one place can impel Google, Facebook, and Twitter to change their behavior in other regions.
Global Efforts to Support Outlets
In Africa, many traditional outlets have struggled with steep declines in advertising revenue. This pressure on business models has come at a time when governments are continuing to capture media outlets, repress freedom of expression, and pass new "fake news" laws, according to longtime journalist Peter Cunliffe-Jones, who is a senior advisor to the International Fact-Checking Network.
"Philanthropy is catching drops from a leaky bucket. In South Africa the bottom of the bucket has fallen out," said Daily Maverick co-founder Branko Brkic, who is calling for large-scale philanthropy to save African journalism. He believes that globally, $1 billion a year is needed to shore up responsible media outlets around the world. Current support falls far short of that amount. "Fixing quality media is the cheapest way to fix society," Brkic said. "You can't have democracy without accountability, and you can't have accountability without a free and fearless media. For a billion (dollars) a year you can solve the entire problem."
By comparison, in July 2020 Google's News Emergency Fund said it had allocated $40 million to 5,700 outlets in 115 countries. The Digital News Innovation Fund gave €150 million (approx. $175 million) to 662 digital news outlets in 30 countries in Europe.
Limitations to Philanthropy
Philanthropic funding, which many outlets rely upon, has its own limitations. These include restricting journalistic autonomy, creating a reliance on grants, and not enabling sustainable growth. With Google and Facebook growing in importance as donors, it is to be hoped that they will learn the lessons of other foundations about the selection of grantees, arms-length funding, and non-interference. Their funding efforts are widely used as public relations exercises aimed at buying goodwill — particularly in
markets where they are trying to forestall regulation.
Still, for small outlets, even small grants can make a difference and are now widely accepted. Indeed, even outlets that would hesitate to accept tax write-offs from their own elected governments willingly accept funding from Google and Facebook, both of them oligopolies with enormous lobbying arms. Since refusing funding is no longer an option for many outlets, it is important to raise awareness of the potential pitfalls and to hold these newer donors to the standards and norms of the field more generally.
This is an excerpt from Saving Journalism 2: Global Strategies and a Look at Investigative Journalism, published by the Konrad Adenauer Stiftung. It is republished here with permission.  
Additional Resources
Considering a Membership Model for Your Newsroom? There's a Guide for That
From Traditional Journalism to Sustainable Journalism
Bridging the Gap: Rebuilding Citizen Trust in the Media
---
Anya Schiffrin is director of the Technology, Media, and Communications specialization at Columbia University's School of International and Public Affairs. Hannah Clifford is an MPA-DP candidate at the School of International and Public Affairs. Theodora Dame Adjin-Tettey is a postdoctoral fellow at the School of Journalism and Media Studies, Rhodes University, South Africa. Ryan Lee is a Masters of International Affairs candidate at Columbia University focusing on security, technology, and media. Matthew Reysio-Cruz is a Master of International Affairs candidate at Columbia University, where he graduated with a Master of Science
in Journalism in 2021.