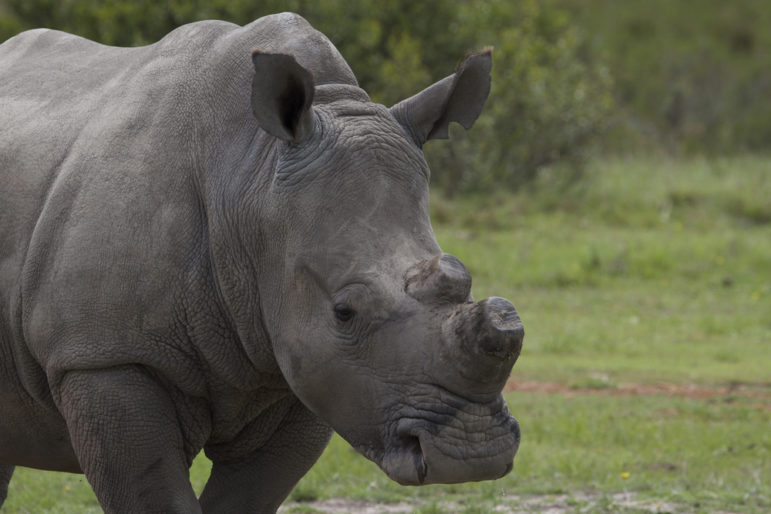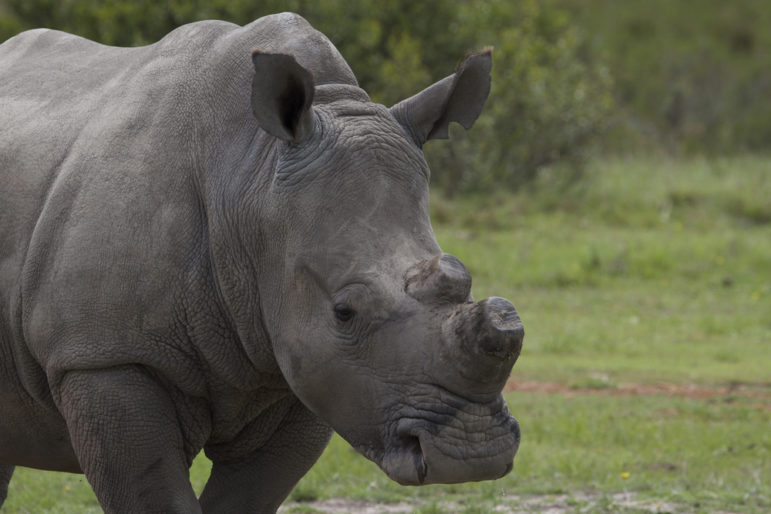 A rhino whose horn has been cut off by poachers. Image: Shutterstock
The Rise of African Environmental Investigative Journalism
In a career spanning two decades, Ugandan environmental journalist Gerald Tenywa has written hundreds of stories, won dozens of awards, and watched the evolution of conservation journalism from the closest of quarters.
Tenywa's career took off in the late 1990s under the tutelage of Ndyakira Ntamuhiira Amooti, a pioneering Ugandan environmental journalist and author whose work earned him several accolades, including the Global 500 Roll of Honour of the United Nations Environment Programme and the Goldman Environmental Prize (1996).
"Ndyakira kept on encouraging me to write consistently," said Tenywa, who saw in his mentor a gifted journalist who "had the writing skills and the power to report in a very powerful and charismatic way."
By the time Ndyakira succumbed to leukemia in 1999, Tenywa says the "vacuum" that his death created was felt for two years. Eventually, editors at The New Vision newspaper, where the two worked, persuaded Tenywa to take up a staff position and promised to offer him "all the support" he needed to fill his late mentor's shoes.
Indeed, over the years, Tenywa was able to prop up his then-nascent passion for environmental journalism with the requisite academic qualifications. Today, he holds a bachelor's degree in forestry, a post-graduate diploma in environmental journalism and communication, and another in media and land rights.
Comparing the time his own career started out and the current environmental media landscape, Tenywa says: "We are trying to walk in the footsteps [of journalists like Ndyakira], but I think we are not yet there … But what has changed [for the better] is that the number of journalists interested in environmental reporting has increased, the interest is growing, and more environmental stories are coming out."
The quantity of reporters and quality of content has grown because there are more outlets to publish environmental stories than before. In the late 1990s at The New Vision, says Tenywa, reporters like Ndyakira had a single weekly page to squeeze all their environmental reporting into. Today, environmental journalists can take their pick from more than half a dozen respected conservation journalism organizations across the continent.
Leading African environmental journalism outlets today include the Oxpeckers Centre for Investigative Environmental Journalism (southern Africa), InfoNile (River Nile Basin), InfoCongo (Central Africa), as well as Mesha Science and Talk Africa (East Africa) and Water Journalists Africa. Even the legacy media houses have expanded their coverage of environmental issues.
Among the new breed, Oxpeckers, which was founded in South Africa in late 2012 by Fiona Macleod, is credited as Africa's first investigative outlet that focused on covering environmental crime. They are also ahead of the curve in development conservation journalism reporting tools, such as #WildEye, ClimaTracker, and GreenAlert, among others. 
In a recent interview with IJNet, Macleod said that after years of working as an environmental journalist at The Mail & Guardian newspaper, she spotted a gap in her area of specialization that she sought to fill.
"I started thinking that in order for environmental journalism to move into the new era of media, we needed to become a little bit more tech-savvy," she said. "At that stage, the use of data was very limited in environmental journalism. It didn't really exist. It has become more prevalent in the past decade, but at that time it was niche and very much a nice-to-have rather than a must-have in many media houses around the world. So, I set up the Oxpecker Centre for Investigative Environmental Journalism towards the latter half of 2012 as a nonprofit company."
Macleod speaks of having received "a small grant" from the African News Innovation Challenge, supported by the International Center for Journalists (ICFJ), which set her on her way to kick-starting Oxpeckers.
With the world focusing ever more attention on the environment, support for environmental journalism has grown in leaps and bounds. As a result, media outlets and journalists keen on conservation journalism are able to support in the form of funding and training from initiatives such as Space for Giants' African Conservation Journalism Programme, the Earth Journalism Network's East Africa Wildlife Journalism Project, Climate Tracker's capacity building opportunities for African journalists, the Congo Basin Rainforest Journalism Fund and Scidev.net's Africa programme.
More recently, BBC Media Action developed a new course tailored to help African environmental journalists improve their coverage of climate change, while InfoNile developed a tool to help link journalists to scientists.
The increased prevalence of organizations providing opportunities for environmental journalists has spawned a visible ripple effect. Today, many African countries have organizations that bring together environmental journalists. They include the Kenya Environment and Science Journalists Association (KENSJA), Journalists' Environmental Association Tanzania (JET), Rwanda Network of Environmental Journalists (RNEJ), and Young Reporters for Environment Ghana.
In the IJNet interview, Macleod mentioned the importance of collaborations to their work. She said, "We collaborate. We embrace a collaborative model of working in order to remove eco parasites wherever we find them."
One such collaboration saw Oxpeckers team up with InfoNile, in a project funded by the Earth Journalism Network, to develop the East Africa edition of the former's WildEye reporting tool.
During the launch of the tool on June 22, Macleod said, "Using data adds accuracy, credibility, and transparency to wildlife crime reporting, and this kind of transnational collaboration between journalists will help to strengthen the media's role in bringing criminal activities to light."
Two journalists who have used the tool, Benjamin Jjumbe from Uganda and Sharon Atieno from Kenya, underlined how useful the tool had been for them in bridging the data gap that existed before.
"We have this challenge of wildlife crime and we really struggled with getting data or information from authorities such as the police, the judiciary, and other agencies," said Jjumbe. "But then with this tool, we got great help to understand arrests made, particularly on the species we were reporting about."
Collaborations are also bringing into the picture organizations that hitherto didn't have environmental investigative reporting as a core aspect of their work. Throughout August, the African Institute for Investigative Journalism (AIIJ) collaborated with the UK-based Centre for Investigative Journalism (CIJ) to train a group of trainers and, later, environmental journalists on how to dig into wildlife crime and climate change.
The executive director of AIIJ, Solomon Serwanjja, said in an interview that the partnership with CIJ, part of a project the London-based group is implementing around Africa, had given birth to an environmental investigative journalism training guide and an annual fellowship program.
"Part of the project has been about developing a curriculum for investigating climate change, which we have worked on with experts within Uganda, within the region and of course across the globe. For the journalists who are coming next year, we will be able to work with them based on an already established curriculum that has the tiniest details of what we are going to be teaching them, and this will be a blueprint that we will be using for future training as we go ahead," said Serwanjja, adding: "What CIJ has done is ground us in the systems and structures of ensuring this fellowship continues beyond this year."
So, there may be worries in some quarters that there are still gaps in environmental journalism in Africa, and veteran journalists like Tenywa are among the first to admit it. However, there is no denying that this reporting beat has not only made considerable strides over the last few decades but given the foundation that has been laid in various parts of the continent, it is well-primed to tell the story of conservation in Africa in a much more comprehensive yet nuanced way in the years to come.
Reporting for this story was supported by a micro-grant from Jamlab Africa. This story was originally published at Jamlab Africa and is reprinted here with permission.
Additional Resources
Illegal Wildlife Trafficking: A GIJN Guide
Investigating Environmental Crimes and Climate Change
GIJN Africa: Data Centers for African Journalists
---

Benon Herbert Oluka is GIJN's Africa Editor. He is a Ugandan multimedia journalist; a co-founder of The Watchdog, a centre for investigative journalism in his home country; and a member of the African Investigative Publishing Collective.