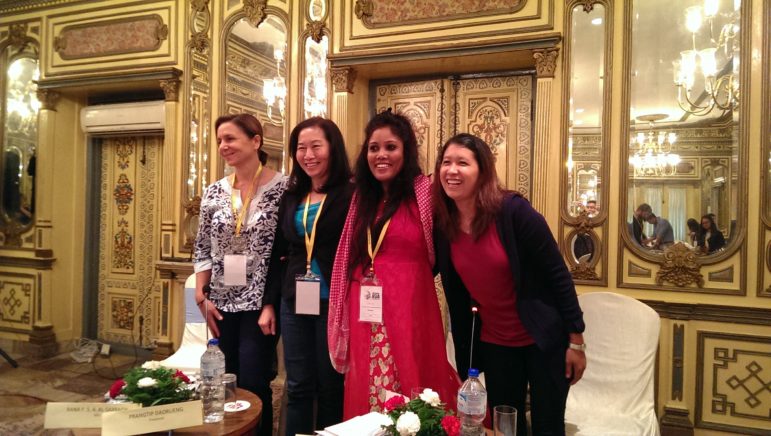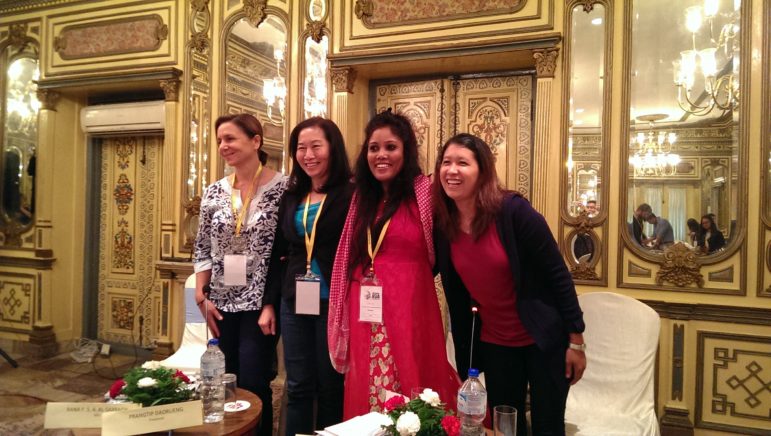 Reporting While Female: A Talk with Pulitzer Winner Esther Htusan
Esther Htusan, who was born and raised in Myanmar's Kachin State, has been a correspondent for the Associated Press (AP) since 2013. Before the 2010 by-elections, she volunteered for various civil society organizations to educate voters in ethnic areas. During that time, she helped as a fixer, translator, and producer for foreign journalists — who traveled to the ethnic areas for the first time after the then quasi-government allowed entry into Myanmar. With AP, Esther has covered a wide range of issues including ethnic conflicts (in Kachin, Shan, and Rakhine), disaster, drug trading, and extractive industries.
In April 2016, Esther won the Pulitzer Prize for Public Service Journalism with her team of four women journalists from AP — the first-ever journalist from Myanmar to win a Pulitzer. The award was for the team's groundbreaking investigation of slavery in the Southeast Asian fishing industry.
In an interview with the Southeast Asian Press Alliance (SEAPA), Esther shared her experiences working as a journalist, emphasizing the safety procedures she practices while reporting conflicts, and the struggles and roles of women journalists in Myanmar. She has advocated for gender equality in media houses — providing women and men journalists equal space and protection as they do their jobs.
SEAPA: As a woman journalist, how have you been treated in your news organization?
Esther: The organization never treats me particularly (different) as a woman. That's why I felt disappointed when I heard from my friends whose organizations discriminate them for who they are. I was thinking why editors from my friends' media houses were not like my organization. Since I started working as a permanent journalist, I am able to travel to the conflict areas for reporting. Almost all my proposals were well-accepted and allowed. They granted me (freedom to cover) every news (event and angle) I could (think of). In our organization, there was not a single time (that I was denied) to report (an event or issue) because I am a woman. That's why, our work is productive.
But, according to what some women journalists told me, generally, the local media houses have a tendency to discriminate towards women journalists. For instance, when a woman journalist is going to a (sensitive) area to cover news, the editors or seniors will reply saying: "It's your own risk because (it's your choice to) go there." It is important for editors to give the same support for women journalists (as they do for) men. They should suggest to bring safety gear. Normally, they don't want to make such arrangement at all.
SEAPA: Can you tell me the nature of your day-to-day newsroom communication in the organization?
Esther: Before, I would be suggested how to prepare story proposals including ways to select sharper story angles so that my proposals would be granted budget. Initially, I discussed my story ideas with her and she prepared the proposals. It's been a year since her departure from Yangon, I (now take) care of the proposals by myself and day to day reporting. The proposals have to include planning, cost, and safety condition — as in, how far is it safe to travel. Now, I can prepare all these only because there were people who guided me thoroughly.
SEAPA: Do you mind sharing the safety protocols in your organization?
Esther: On safety protocols, every man and woman is treated equally in my organization. The seniors from my organization always warn us not to cover news that could claim our lives. This warning is not only directed to women journalists, it is a standard mandate for both sexes — men and women. They always say that the safety of the journalist (the journalist's life) is paramount to any news. Sometimes, there were areas that we couldn't cover any news because the organization couldn't distribute safety gears in time. So, they do not allow us to go to those areas as they couldn't take responsibility for our safety should anything happen while reporting. It is not because of the issue of being women journalists.
SEAPA: When you are in the conflict areas, what is the communication with your newsroom?
Esther: When I was in the conflict areas, I made phone calls if emails are impossible, to let my newsroom know my whereabouts. Our office has satellite phones for out-of-phone signal areas. We are allowed to bring those phones if we travel to such areas. If there is any problem, we can use that phone to inform our office right away. There is always a backup plan from our office in case of emergency situations.
For instance, during my trip to Northern Sagaing, whenever there was a phone signal, I made a phone call to any available persons in my office. It is not a specific person at the office, but whoever is available at that moment. I called and told the situation on the ground to that person and requested to re-tell the situation to others. First, I have to use the phone because I cannot use the email at that moment. When our normal sim cards are out of connection, we have to use the satellite phones to inform and update our situation such as where we are, what we are doing, how far we have made progress, which areas we are not allowed to go that we knew only upon arrival. So that we can decide which are the line we should not cross when traveling. So far, I haven't experienced any emergency situation.
SEAPA: Did you receive any safety training since you first joined here?
Esther: Whenever our AP seniors visited our office, they discuss and explain safety (issues). They always remind to keep in touch with the office and report (regularly). They also suggest to tell (the office) if a reporter couldn't continue and/or if it is impossible to cover. When we (plan to) go to conflict areas, the first thing to discuss and check is whether the office has enough safety gear. Even if we have enough safety gear and equipment, we still check whether the quality is safe to use in conflict areas.
SEAPA: In your opinion, what kind of measures should media houses take up in order to provide a supportive environment in producing quality news?
Esther: When something happens, to me, media houses and editors should support and prepare safety protocols without hesitation (even) if (it is) a woman journalist (who said) she is suitable and can do this news. Sometimes, just because (a pitch comes) from a woman (journalist), they say "no" (immediately) without considering the processes including safety (issues). Instead of (giving this usual) answer, they should (take into account) the effort and capacity of that woman journalist (particularly what) skills she (had shown throughout) her career. So, (consider) the skills of the woman journalist and then do the necessary preparations without hesitation nor discrimination. It is important to treat both men and women journalists equally.
SEAPA: Is there any advantage to being a woman journalist in the front lines? Any examples?
Esther: There is. Because women have motherly-hearts, we see issues more from the human interest angles. When we see a child crying, we dig (for) the reason for the crying. While men journalists would just take photos of the crying child as their interest is more focused on the visual impact. So, we can get very good reporting if women's human interest stories can combine with men's visuals.
SEAPA: Women are always being judged as emotional so that they are not well-suited to be at the decision-making levels. What is your comment on this?
Esther: I think it depends on individual personalities. There are so many men who are full of emotion. So, it is not about being a man or a woman, but our feelings from our hearts. Emotions differ from one person to another. Some men would cry and some women would be as strong as steel. So, not every woman is emotional. When a woman makes a decision, she thinks from all possible sides. So, the decision may come out slow, but (if it is thought-through) it is more right.
SEAPA: Journalists from the ethnic areas are facing risks and threats if they cover critical news. What can you suggest for their safety and who should take responsibility for this?
Esther: I cannot make a suggestion as I am one of the many journalists in this country. And, I cannot even protect myself. I cannot do anything if something happened to me. But, it is obviously more vulnerable for journalists (living and covering) in ethnic areas. They are living in the very conflict areas. Bullets are flying over their heads (unlike the situation of us who live in the capitals). That's why, it is more important to do something for them as they are battling dangers.
But, I don't know who can give protection for them. Because, no one can protect them unless they are protected by the government.
As you see in Ko Par Gyi's case, the government didn't do much even (when a) journalist was slain. He was from Yangon and lost his life while reporting in the front line. But, the government didn't get involve or say anything. From this case, we can clearly see that there is very few organizations that try to protect journalists. Besides, some laws should be amended, too.
SEAPA: What is your encouragement towards many women journalists across the country who are working under various risks and challenges just to continue their reporting?
Esther: Wherever we are, as a journalist, we believe that we can bring (positive) changes in the society. It is important not to give up this belief. Because of the journalists in (conflict) areas, people find out what's happening behind the curtain. These journalists' voices are far more important than us (from the capitals). It is important for their voices not to fade as they bring changes in this country. They need to stand firmly, and I believe that their dreams will come true in the future.
---
This interview was conducted by the Southeast Asian Press Alliance on November  14, 2016. The story appeared on the website of IFEX and is reproduced with permission.