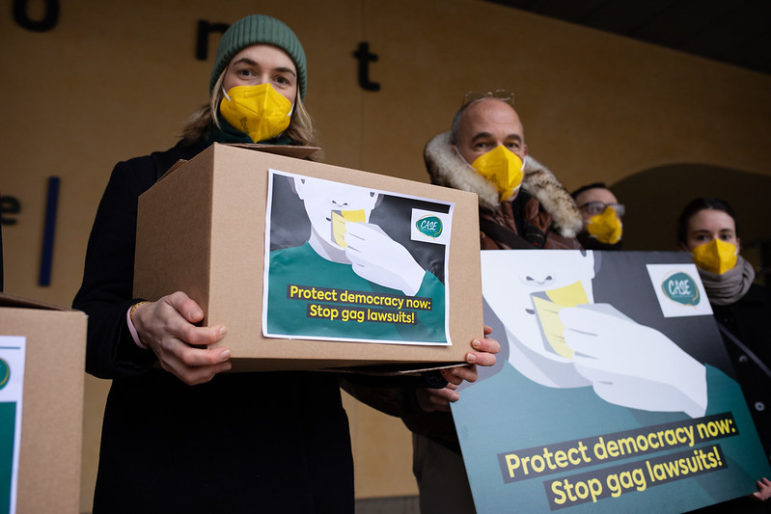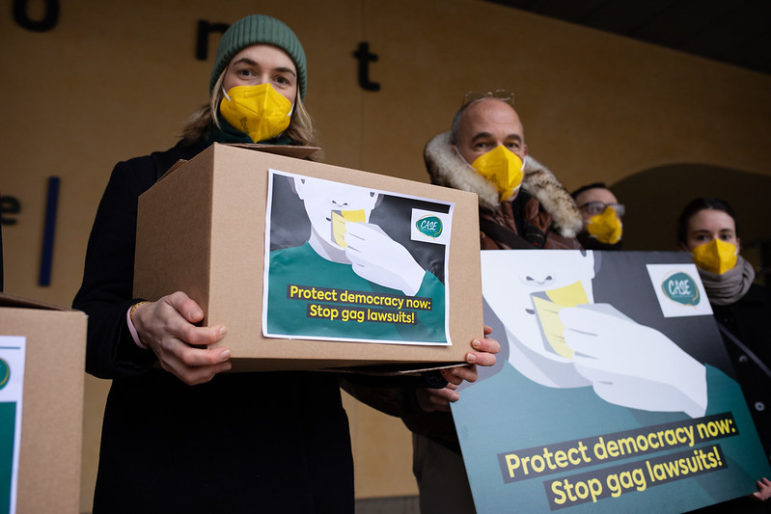 Protesters in Europe petition for action to stop SLAPP lawsuits. Image: Sum of Us / Creative Commons
Reporters Shield: New Program Launches to Help Investigative Reporters Tackle Lawsuits
Between 2015 and 2000, Poland's daily newspaper Gazeta Wyborcza received more than 55 legal threats as a result of its work, predominantly from powerful representatives of the state. At the time of her murder in 2017, Maltese investigative journalist Daphne Caruana Galizia was facing more than 40 similar cases, according to her son.
"She was paying for them from her savings," Matthew Caruana Galizia, director of the Daphne Caruana Galizia Foundation, told GIJN at the 2022 International Anti-Corruption Conference. "She had sympathetic lawyers, but they were not enough. Lawyers can litigate [but] they can't do the investigative work that's needed [to defend a case]."
Legal harassment has long been a tool used by the rich and powerful to silence investigative journalism. SLAPP suits ("strategic lawsuits against public participation"), in particular, often framed as defamation or privacy cases, aim to intimidate journalists, prevent publication, and punish independent media. The cost of defending such suits can be devastating to newsrooms. They can lead to lengthy legal fights, sometimes in multiple jurisdictions, cause stress, and take journalists away from their everyday work, threatening journalism.
Serbian nonprofit investigative newsroom and GIJN member KRIK is currently facing 11 lawsuits. "Journalists and editors need to meet with lawyers, prepare a defense, evidence, and other documents for court," explains Bojana Jovanović, KRIK's deputy editor-in-chief. "That means spending a lot of time on court cases and not journalism and investigations." 
"This is exactly what those who are suing us want — to focus on ourselves, to defend and seek justice — instead of investigating them and their corrupted deals and criminal ties," she adds.
To confront these threats, the Cyrus R. Vance Center for International Justice, which provides pro bono legal representation to social justice and media organizations worldwide, and the Organized Crime and Corruption Reporting Project (OCCRP), the nonprofit investigative newsroom and network, have launched Reporters Shield, a legal support program and defense fund for investigative journalists and newsrooms. The program has $9 million in initial funding from USAID with a further $2 million in private support secured.
The program is designed to help shield investigative journalists from defamation, libel, and other vexatious lawsuits by covering the costs of lawyers, providing training on how to handle legal complaints, and offering pre-publication review. The Vance Center has helped establish the legal structure for the program, developed legal content for the services it will provide, and helped define the criteria for participation and seeking legal defense. 
When the program is fully operational later this year, the Center will help find and retain lawyers for participants wherever they are in the world and work with that counsel to defend against the threat or claim. It will also handle payment of the retained lawyers. The program will cover print and text-based media in its first year but more media types will be added as the risks are evaluated, usually through actuarial study.
The program should be welcomed by nonprofit and smaller-sized investigative newsrooms in particular, for whom the costs of defending such suits can be ruinous. Even if they have financial support from donors, this support may not extend to completely covering the costs of lawsuits, especially those in expensive jurisdictions, such as the United Kingdom. "Nonprofit investigative reporting is the fastest growing area in investigative journalism but it's not well protected or in some cases not protected at all," says Drew Sullivan, co-founder and publisher of OCCRP.
"SLAPPs are filed to financially exhaust journalists and media. That's why financial support is very important," says KRIK's Jovanović. "Reporters Shield means journalists don't need to think if they will be able to pay lawyers, court costs, and other expenses."
As a donor-funded nonprofit operating in Serbia where SLAPPs are increasingly used by public officials or corrupt individuals to threaten independent media, financial support in legal cases is vital to reduce the pressure on media, adds Jovanović. "In some countries, SLAPPs can close investigative media — if you can't pay, you don't exist anymore," she says.
Catherine Belton, who reports on Russia for the Washington Post, had the support of HarperCollins' legal team when defamation lawsuits were brought by Russian oligarchs and the Russian state energy company Rosneft in relation to her book, "Putin's People," in 2021. Even with such backing, dealing with these kinds of legal challenges is personally and professionally stressful, she says. "To transmit all the context, where you get absolutely everything from… to the lawyers is incredibly time-consuming. You need to be completely focused on that. I wasn't able to do my normal job," she explains.
To benefit from the program, newsrooms will pay a yet-to-be-determined membership fee and must meet the criteria to join and to obtain legal defense. These criteria are still in development, but the guiding principle will be whether the newsroom is a truly independent organization, says OCCRP's Sullivan: "People who demonstrate that they care about the truth and journalism standards."
Reporters Shield aims to be operational for nonprofit and for-profit newsrooms by mid-2023 and will expand to civil society, human rights, and environmental organizations. A membership model open to the largest possible number of organizations will help sustain the fund and its operation into the future. There are currently no plans to have freelance journalists as members, but any freelancer working for an investigative organization that is part of the program would be covered if they contribute to the story.
Reporters Shield is "an excellent idea," says Matthew Caruana Galizi. "There will be a premium that journalists pay, but it's cheap and enough to keep the thing going."
"We're not trying to profit, we're just trying to expand to as many participants as possible across the world," adds Alexander Papachristou, executive director of the Vance Center. "We will need money coming in regularly to pay for costs of operation and the cost of defense of participants. The participants will be supporting each other in that sense."
While larger, mainstream media may have in-house defense funds, legal teams, and insurance, it is hoped they will participate in Reporters Shield to support media partners who are smaller and less protected. A mainstream member can rely on Reporters Shield to pay its defense costs, at least initially, and won't have to use its regular insurance — also benefiting insurers.
Reporters Shield does not offer insurance in a strictly legal sense but rather as a legal defense fund shared between members, explains Sullivan. The idea for it, he says, came five years ago during OCCRP's annual pursuit of libel and defamation insurance. A lawsuit in the previous year would translate into a large increase in rates and every year brought renewal and cancellation reminders. "When I started looking at foreign organizations, it was even worse," he says. "Some of our partners were basically uninsurable. I thought, rather than build our own self-insurance fund, maybe we could solve this problem for the whole industry at once."
The cost of insurance can be beyond the means of smaller or nonprofit organizations. Without insurance or support, the consequences are alarming, explains Sullivan: "If you get threatened, you capitulate, and take the story down or never publish in the first place. You never go after controversial figures for self-preservation, so many stories about the worst people don't get published."
The breakthrough came from working with the Vance Center and consulting lawyers from the insurance industry. Captive insurance, a type of insurance company owned and controlled by those it insures, offered a model for self-insuring a group of people in the same industry. Reporters Shield reimagines this concept as a nonprofit, membership organization rather than an insurance company. 
The team behind Reporters Shield hopes its coordinated, global response to SLAPPs could deter individuals from filing such cases in the future. If they know there will be a robust defense against nuisance lawsuits, corrupt individuals may stop using them. "They have to pay for their lawyers and when you steal money, you don't want to spend it," says Papachristou.
Sullivan and his team are currently battling 42 lawsuits against OCCRP and its member organizations, but so far, he says, OCCRP has never lost a case and takes them "one at a time." Sometimes their reporters even turns these lawsuits into further investigations. "With proper legal defense, organizations will be able to report more and investigate better," says Papachristou.
What It Doesn't Cover
The fund will cover any complaint that comes out of journalism and publishing, such as suits relating to interference and privacy issues, says Sullivan, but won't cover matters like copyright issues. Also, only defense costs will be covered, not any payouts decided in judgments. "We don't want to attract lawsuits by letting bad folks know they can sue and win because this small media organization has insurance that will pay," explains Papachristou. It's also hard to calculate its long-term solvency based on potential costs: a single $1 million judgment could threaten the whole program.
Training for members will include how to handle legal complaints, including why clarification and correction processes are crucial to your defense. A lot of reporters around the world do not realize how global their audience is, Sullivan says, and how they need to adhere to international standards when dealing with powerful figures.
Global, Specialized Support
Reporters Shield will connect members facing lawsuits with lawyers that specialize in defamation and are familiar with the jurisdiction in which the legal case has been brought. For example, an Italian newsroom sued in London could use the program to source a lawyer with knowledge of UK legislation. The program will ensure that the legal defense is both cost effective and legally effective, says Papachristou. 
It's likely that the program will mandate that stories in high-risk jurisdictions such as the UK and the US are vetted by an external lawyer pre-publication. Sullivan acknowledges that this process may slow the publishing process down in some cases, but only a little. "Most pre-pub [review] is done by outside legal counsel," he notes. "It should be done anyway in a high-risk jurisdiction with lawyers from that jurisdiction, which people are not doing. It's foolhardy to take such risks and that's why some people are having trouble."
But if a case ever does go to court, this specialized knowledge can be crucial. "You can be lucky and have a lawyer who's versed in all matters related to the super-rich," says investigative journalist Belton, "but sometimes they might not be used to their tactics or the background."
The Vance Center will expand its network of freelance lawyers into any country deemed to have a serious legal system — that means places such as Russia or China are excluded. The program will work with existing legal defense funds, benefitting from their local experience in different jurisdictions globally.
 The goal is to raise $20 million in the short-term, $40 million in the long-term, and eventually an "insurmountable amount of money" so the fund "can't be bankrupted," says Sullivan. "We want to remove SLAPPs from being a threat to journalism ever again."
Media law consultant Peter Noorlander, former CEO of Media Defence and author of the recent report "Fighting SLAPPs: What Can Media, Lawyers, and Funders Do?," says there are still challenges to implementing such a scheme. "These include but are by no means limited to working across jurisdictions, legal systems, languages, cultures, and of course setting up the infrastructure," he explains. "The logistical piece alone is massive." 
However, this work is worth it, he adds, as it will help journalists get "ahead of the curve" when it comes to legal threats. "There will be lawyers lined up to deal with threats when they get them, which makes a massive difference to having to scramble around for one, especially in countries where there are only a small number of lawyers that typically take these cases," he says. 
"If the piece that is being sued on has been read for libel, an outlet will be very well-prepared to defend it," Noorlander adds. "It also offers an opportunity to invest in the quality of legal defense: media law is not a specialty in many countries, but by having a structural approach through such a scheme that can be changed too."
Additional Resources
SLAPP Fight: How Journalists Are Pushing Back on Nuisance Lawsuits
Journalist's Guide to Avoiding Lawsuits and Other Legal Dangers
Stopping the Scourge of SLAPPs and Legal Harassment of Journalists
---
Laura Oliver is a freelance journalist based in the UK. She has written for the Guardian, BBC, Euronews, and others. She is a regular journalism trainer for the Thomson Foundation and Thomson Reuters Foundation and works as an audience strategy consultant for newsrooms. You can find her work here.