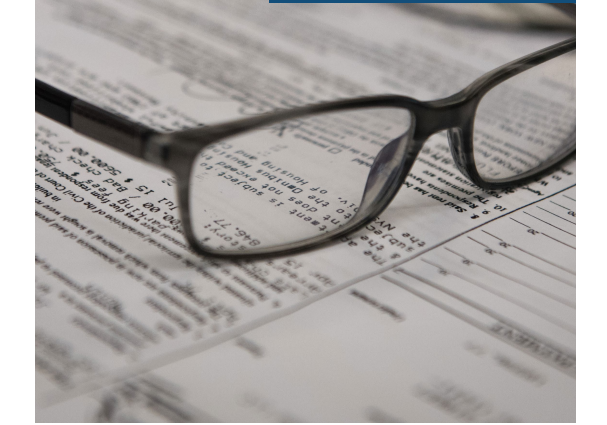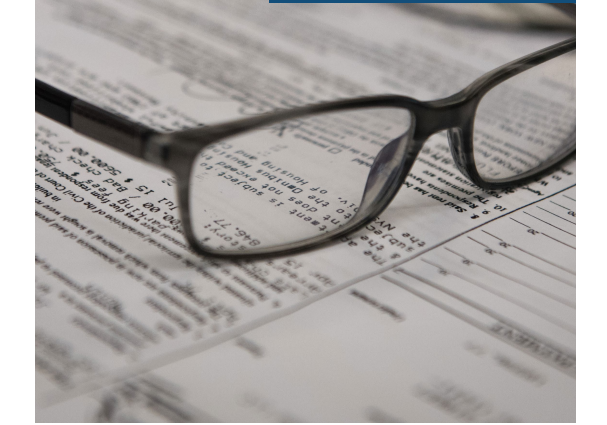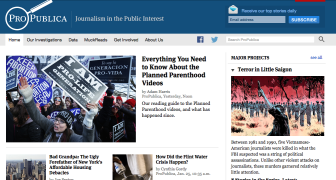 Given all the trash, half-truths and outright lies published on digital media, people are placing a higher value on media that verify information and demonstrate high ethical standards.
Paul Steiger, founder and executive chairman of ProPublica, tells of a major donor to his online publication who "absolutely hated" an investigative story that they had published about a group "near and dear to the donor's heart". Steiger told the donor that the information was verified, and the story was fair. "We will just have to agree to disagree," he told the donor.
The donor, who had given $100,000 every year, stopped giving. And that would have been the end of the story, except that a year later, with no explanation, the donor's annual check arrived again. Steiger's point was that even people who disagree with you still respect journalism with high standards of accuracy and ethics.
He made his comments to students and faculty of the University of Navarra during a series of public presentations and interviews with various media. He described some of the keys to producing effective investigative journalism even while traditional news media have been cutting back on staff and in-depth reporting. (You can see coverage of his talks, in Spanish, from ABC, Público, El Mundo, and Infolibre, along with a Storify of Tweets in English and Spanish.)
The Way Ahead
ProPublica has been blazing a trail for the future of investigative journalism. Its reporters and editors have made great use of digital tools to get laws changed, halt predatory lending practices, and expose financial fraud on a national scale in the U.S..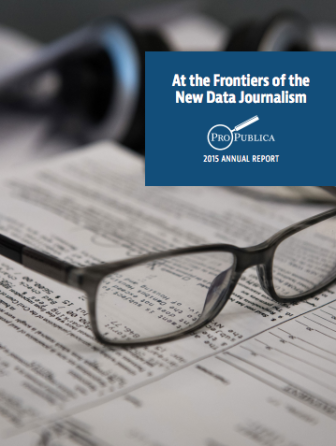 They have produced award-winning journalism with a focused team of 50 journalists and a relatively small budget of $12.4 million, which is a drop in the bucket compared to all the media spending in the U.S. The details of how they have accomplished this are in ProPublica's 17-page 2015 report, "At the Frontiers of the New Data Journalism." It offers a large-scale model for investigative reporting that could be replicated on a small scale.
Steiger tirelessly answered questions from his Spanish audiences and made several key points again and again:
A small team can multiply its impact by collaboration (see Steal Our Stories). ProPublica has shared its investigative reports under Creative Commons license with more than 100 print, television, and radio media, including the BBC, New York Times, Washington Post, National Public Radio, and the Public Broadcasting System.
Their stories are increasingly data driven. With just one data journalist they investigated how nurses with severe disciplinary problems in California were able to stay on the job. Now with nine data journalists they have produced stories and searchable databases that revealed: the rate of medical complications for 17,000 surgeons, corporate efforts to reduce benefits to injured workers, abusive debt-collection practices that disproportionately target black consumers, the highest-billing doctors who receive payments to provide services to 49 million Medicare patients, and the popular Dollars for Docs, where users look up any doctor who has received payments from drug or medical device companies for speeches, research, or consulting.
Investigative journalism is social. For their series on surgeons and surgical outcomes, reporters created a forum where patients could share their stories and exchange experiences. ProPublica has 415,000 followers on Twitter, 127,000 fans on Facebook, and 69,000 email subscribers, which is a strong indicator of loyal followers. The site has nearly 1 million monthly unique users.
Investigative journalism is expensive and time consuming. Steiger said a ProPublica investigation typically costs from $200,000 to $500,000. The investigation of surgeons took three years because of the need to make the presentation as fair, complete, and bullet-proof as possible.
Accuracy and integrity are fundamental, Steiger said. And that credibility is the publication's most important asset.
Journalism is a public service but it has to be profitable, Steiger said. You have to have a solid financial base to do this kind of work.
Journalism needs to demand accountability from the powerful in order to be that pillar of a healthy democracy, the Fourth Estate.
Steiger founded Propublica in 2008 with a donation of $10 million from the Sandler Foundation. Its stated goal was to be an independent, non-profit newsroom that produced investigative journalism in the public interest. Propublica focuses exclusively on what it sees as truly important stories, stories with "moral force." They aim, in their words, "to shine a light on exploitation of the weak by the strong and on the failures of those with power to vindicate the trust placed in them".
Steiger had known and respected Herb and Marion Sandler, the couple behind the foundation, for many years. The Sandlers had run what he thought was one of the best managed savings-and-loan institutions in the country.
The Sandlers told him wanted to make a contribution to investigative journalism, which they saw as a big need, given newsroom cutbacks around the country. They asked Steiger's advice about how to do it. At the time, Steiger was managing editor of the Wall Street Journal, whose team had won 16 Pulitzer Prices on his watch.
So he literally did a "back of the envelope" estimate on one of his wife's envelopes of what it would take to organize an investigative journalism team. The Sandlers were impressed and asked him if he would launch it. Steiger said yes, if they could wait a year for him to hit mandatory retirement age from the Wall Street Journal. And so it began.
Engaged Students
It was my privilege to introduce Steiger when he gave a master class at the University of Navarra. As I told the students, Steiger and his team at ProPublica have been showing how, despite the crisis that traditional journalism is suffering, there is another way to do high-quality journalism, which is digital, multimedia, collaborative, data driven, agile, and from a business perspective, it is sustainable financially.
The students asked great questions:
What's more important to be a good journalist, talent or hard work? "You need both," Steiger said. "But what makes a good journalist, more than anything, is hard work and perseverance."
How do you transform data into a story? "The data is the starting point. You then have to do the shoe-leather reporting to find the human story in the statistics."
Many news organizations in Spain don't pay interns, but we need experience to get a job. What can we do to change this situation?
"I always felt that the only ethical way to treat interns was to pay them. If you don't, you are creating a pernicious two-tiered system that favors students from well-to-do families who have resources to support them during an unpaid internship. Students from poor families can't accept an internship without pay and they miss out on experience that would help them get started in their careers."
---
This post originally appeared on the blog News Entrepreneurs. It is re-published with the author's permission.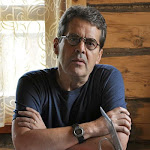 James Breiner is a consultant and visiting professor at Spain's University of Navarra. He is former director of the Global Business Journalism program at China's Tsinghua University and founding director of the University of Guadalajara's Center for Digital Journalism. He has worked as publisher, editor, and I-team leader. @jamesbreiner