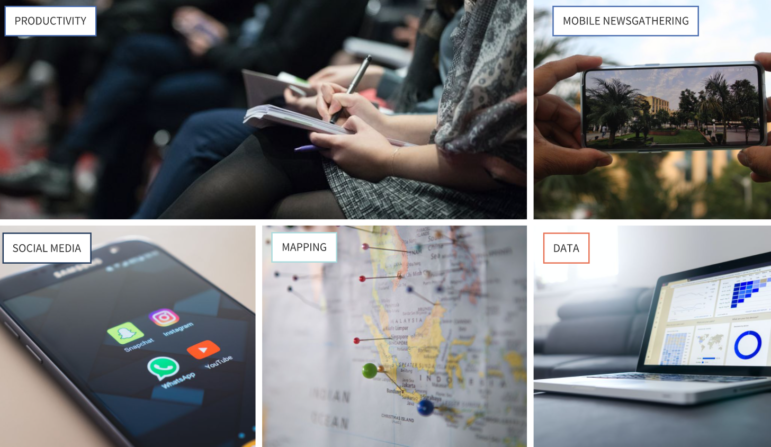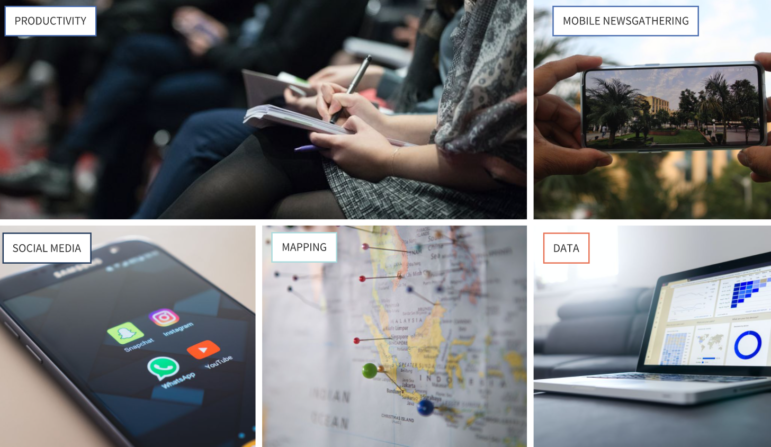 New Tools to Organize Your Workspace and Enhance Digital Reporting
Read this article in
Imagine a free tool that can not only transcribe online interviews, but can also embed video quotes for your stories and social media — without the need for a single video editing skill.
Or an open source app that can detect the tracking software attached to almost any site you visit. Or simply a tool that turns your laptop screen into a dual screen for remote working at home.
Free tools that do precisely these things were among dozens of useful solutions showcased in a session at the recent NICAR21 data journalism conference, organized by Investigative Reporters & Editors (IRE). 
NICAR stands for the National Institute for Computer-Assisted Reporting, IRE's center that began in 1989 and played a key role in introducing data journalism to the world. Today, NICAR is synonymous with the conferences it has put on since 1993. 
Presented by Victor Hernandez, until recently the executive editor at Cascade Public Media and now chief of content for Boston's NPR station WBUR, and digital journalism trainer Mike Reilley, founder of The Journalist's Toolbox, the session focused on new tools and plugins that can save time or add efficiency and insight to any investigation.
"They make for really good, relevant solutions, particularly in the current state of the world, as many of us work remotely, or from home," says Hernandez.
Some of their favorite new tools include:
Grain: A Transcription and Excerpt-Sharing Tool
"This is brand new, and is a game-changer for soundbites from interviews," says Hernandez. "There is no editing process. You plug a video recording [or stream] — Zoom, Skype, Google — into the app and it makes a transcript. You can then highlight something interesting someone said on that transcript — a key takeaway or a soundbite — and you can paste it into a document, into an SMS text message, into Slack, or wherever. And it automatically embeds an audio and video clip that is just that edited excerpt!"
Hernandez says the free features are so powerful that he has not yet needed to upgrade for additional paid features. However, he warns that signing up for Grain can elicit a regular stream of potentially unwanted marketing messages about added features.
With investigative reporters even more reliant on digital resources during the pandemic, many find their search browsers crammed with dozens of open tabs, often relating to project work, social media, admin, and family activities.
The NICAR21 audience heard that the Toby Chrome extension solves this problem by clustering tabs based on what "hat" you're wearing at different times of the day, and accessing the digital resources you need much faster than bookmarks.
"I really love this tool — I use it every day," says Reilley. "It's also really helpful if your browser happens to crash in the middle of a project, or even a presentation — you can go back to Toby, hit that button, and boom, everything's back. It saves you a ton of time, it loads fairly quickly, and it's very intuitive."
Hernandez also pointed to another tab organizing app — the tabby tab manager — which can automatically close duplicated tabs, as well as those tabs that we tend to forget, and leave open for days, causing our processing speeds to slow.
In another solution for work-from-home investigative reporters, Hernandez recommends Camo — a free app that turns your iPhone into a pro-level webcam that captures crisp images even in low light situations.
"If you spend big chunks of your day on Zoom or Google Meet, it's a huge upgrade," says Hernandez. "You download the Camo app on your phone and on your laptop, and you turn it on in both places, and you get an incredibly powerful camera. Probably the most notable upgrade is as nightfall arrives, and the webcam built into our computers normally gets really grainy."
He says that, for a small fee, the resolution on the free app can be boosted from 720 pixels to a high-definition 1080p.
Slick Inbox: For Organizing Incoming Newsletters
"This is the game-changing newsletter reader for mobile that we never realized we needed," says Hernandez. "We're inundated with newsletters; they're scattered throughout our inboxes, and if you miss them, it can be difficult to fumble back and find them. This is like the RSS reader that we've not had before with newsletters. You sign up for the free service, you create your own new email address — say, X @slickinbox.com — and they all roll up into this app. The upside is that the emails are formatted the same — they're clustered together; I can sort them and share them very easily. I can do a one-click unsubscribe."
Blacklight: For Tracking the Trackers
"Blacklight allows you to drop any website address into the app, and it takes 30 seconds to a minute, and it showcases user-tracking technologies attached to that website," says Hernandez. "Not only do you get a web report in your browser, but you also have an opportunity to get a deeper download of the data, called an inspection report — you could use this to build out something pretty powerful."
Blacklight also supplies average tracking data on similar sites for comparison, and Hernandez provided an example of a report on The New York Times website. The analysis found 11 ad trackers attached to that site — compared to an average of seven — and 10 third party cookies, compared to an average of three "on popular sites." But it was also noted that The New York Times site was free of other kinds of use-tracking technologies.
 "I think this tool it's going to lead to some stories," he adds.
Proporti.onl: To Gage Gender Balance on Twitter
With gender inequity an increasingly important topic for reporters, Hernandez says one new app that roughly but instantly gauges the perceived gender balance on Twitter accounts can be helpful.
He says that Propoti.onl provides a quick — if unscientific — barometer of the potential gender distribution of the followers of any Twitter account.
Note that this tool merely relies on stated names and declared pronouns from a sample of 3,000 followers, and — as its creators openly acknowledge — does not account for gender non-binary users, or people who use alternate names.
"It's based on cursory information, and it is not scientific at all; nor is it hugely accurate," Hernandez says. "But if you want a within-seconds loose gauge of gender breakdown, this is useful. You can run Donald Trump or Bill Gates, or corporate accounts, or your own newsroom account — and then you can dig much deeper. The results can be a great reminder about the need for greater attention on gender equity in and around newsrooms."
Dualless: The Work-from-Home Dual Screen
"Dualless has been around for a few years, but it's a great solution in this work-from-home era if you don't have two screens," says Hernandez. "It's a browser extension where you can click the bookmark link, and you get a pop out window to pick the dimensions, and then you can split it down the middle (for instance), and it instantly shrinks the image to the size and ratios of your screen. This is the same as if you customized your screen, but that takes, say, 30 seconds. This is one button."
Free apps to layer data onto images, for mobile:
TinRocket's This app, for adding arrows and labels to images.

"This is a tool that works for iPad and iPhone, and it allows you to just tap a photo and layer direction arrows and text over it," says Reilley. "For instance, you can point out changes going on at a site. It was used for example for

a picture of a meeting of some US officials with Russian President Vladimir Putin

— many of those officials denied ever meeting with Putin." But, he said, journalists were able to identify them via the app. Reilley says the

Over app

can be useful for time-pressed reporters needing to add a single data point to an image.

Ripl app for social media slideshows

. "This animates a text layer over the top of photos, so you can run a short slide show," says Reilley. "You can layer music over video as they play."

Vidometer GPS video map recorder.

"Vidometer allows you to layer text over video, and you can just pick the template," says Reilley. "It can sync up with a GoPro camera, and has a map layer to it, so you can geolocate and add the map logo."
Interested in more from NICAR21? The full schedule can be seen here, and recorded sessions can be accessed and viewed until March 2022 via this link (though you will need to register). 
Additional Reading
GIJN Resource Center: Tips and Tools
My Favorite Tools 2020: Top Investigative Journalists Tell Us What They're Using
---


Rowan Philp is a reporter for GIJN. Rowan was formerly chief reporter for South Africa's Sunday Times. As a foreign correspondent, he has reported on news, politics, corruption, and conflict from more than two dozen countries around the world.