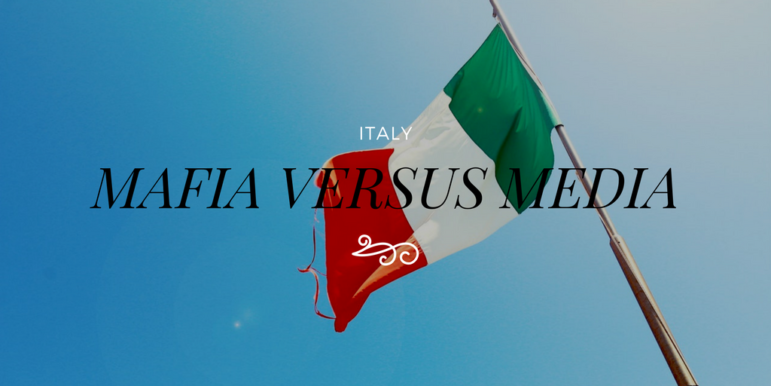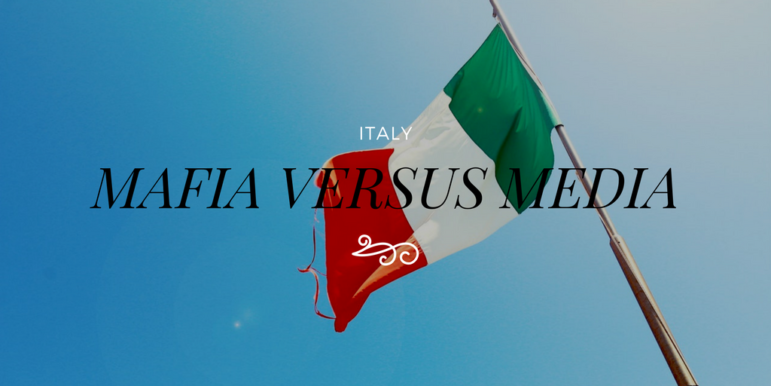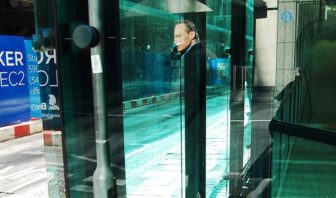 Italian journalist Paolo Borrometi was forced to move to Rome from Sicily because of threats connected with his reporting on organized crime. Borrometi's story is far from unique. He is one of the 20 journalists currently under police escort in Italy.
In May 2014, Borrometi was beaten by two hooded men near his home after he asked citizens to report any relevant information to investigators about a two-year-old murder. The assault did not deter his reporting on organized crime, nor did an arson attack in which destroyed the front door of his parent's home.
Despite being forced to relocate to Rome, Borrometi's work uncovering mafia activities continued, as did the almost constant intimidation he faced. This summer a group of unidentified people raided his home, stealing computer hard disks and documents related to his investigations.
The Italian Interior Ministry released official figures of the number of journalists under police protection for the first time in June 2017 to highlight the growing phenomenon.
Borrometi works as editor-in-chief of a local webzine, LaSpia.it, and is a freelance contributor to several other media outlets. Without a regular salary, he needs to keep publishing to earn a living. Many Italian journalists are in the same financial position. According to Nicola Marini, a board member of the Association of Journalists (Ordine dei Giornalisti), which monitors the ethical conduct of journalists, eight out of ten Italian journalists earn less than €10,000 per year.
Beppe Giulietti, president of the Italian journalists' trade union FNSI, recounted a conversation he had with Borrometi after the Interior Ministry decided to put him under escort: "He was worried this situation could interfere with his job." For freelance reporters, a mafia threat does not just affect personal safety, it is a serious obstacle in their day-to-day work. Conducting a simple interview becomes a lot harder when the reporter is followed by a group of policemen. But without them, Borrometi's life would be in danger.
"Compared to the past, the current situation for journalists shows fewer mafia killings," Giulietti told Index on Censorship. "But sometimes physical threats are not necessary."
The precarious economic situation for Italian journalists means, said Giulietti, "a defamation lawsuit could be as lethal as a bullet." Many journalists stop working on investigations because of the risk of lawsuits, and the result is self-censorship.
Many lawsuits have no legal basis. Ossigeno, an Italian watchdog group on threats to journalists, estimates that one-third of defamation claims in Italy originate from what are believed to be mafia-connected people or lobby groups.
In these civil cases, the plaintiff demands enormous amounts of money even though the alleged damage is minimal. Quite often the aim is only to intimidate.
The financial fragility of journalists has led to a phenomenon that Alberto Spampinato, president of Ossigeno, calls "the Italian paradox." Italy has a long history of journalists being murdered by mafia-affiliated killers, especially during the late 1980s and 1990s. This situation brings growing attention to the link between freedom of information and organized crime.
After an initially strong reaction from the public, things usually turn silent. Ossigeno, which was founded in 2007 after three journalists and writers — Roberto Saviano, Lirio Abbate and Rosaria Capacchione — were placed under police escort, aims to put a continuous spotlight on threats to journalists. The Italian public is aware of the problem but politicians are not reactive, according to both Spampinato and Giulietti. Freedom of information, especially related to the nexus between organized crime, politics and corruption, is constantly under siege.
Giulietti said no one is taking on the issue of lawsuits which are "only made to intimidate journalists" and stressed that politicians are more focused on amending the system so it doesn't publish news that could adversely affect them rather than fixing the legal vulnerabilities that affect media freedom.
According to the latest Ossigeno report, reporting on organized crime is harder for people who live in remote places. Local journalists often feel pressure from local officials and criminal syndicated, Spampinato explained.
For example, in Rho, a small town in the outskirts of Milan, the newsroom of the local newspaper Settegiorni was vandalized by a group of unknown people three times in three months, the latest incident occurring on September 3. The newspaper has been working on an investigation about the presence of the criminal syndicate Ndrangheta in the town, according to editor-in-chief Angelo Baiguini.
Though politicians are slow to act, some parts of the Italian parliament are monitoring the situation. The Parliamentary Anti-Mafia Commission set up a Committee on Mafia, Journalism and Media. In August 2015 the committee highlighted that there are southern Italian regions where media publishers have "opaque management" with alleged external support from mafia syndicates.
Until now, there have been no legal solutions to this problem, which leaves many reporters at risk and makes in-depth reporting about organized crime even more difficult.
---
This post first appeared on the Index on Censorship website and is reproduced here with permission.

Lorenzo Bagnoli is an investigative journalist with Investigative Reporting Project Italy, a GIJN member that has done extensive reporting on organized crime. Among IRPI's recent work are How the Camora Went Global, Tulips and Cocaine, and Cyprus Selling EU Citizenship.