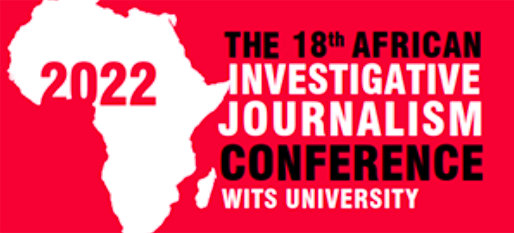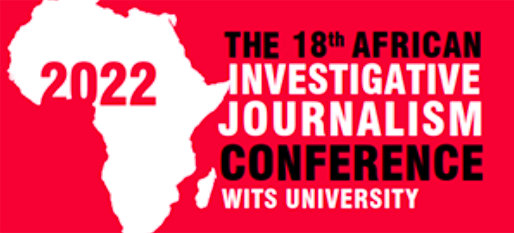 Image: Screenshot, AIJC2022
Largest-Ever African Investigative Journalism Conference Digs Into New Tools, Using AI, and World-Class Exposés
This year's African Investigative Journalism Conference (#AIJC2022) was held from October 31 to November 2 at the University of the Witwatersrand ("Wits") in Johannesburg, South Africa. In its 18th year, the conference drew 375 participants from 51 countries — the largest number of attendees and countries represented so far at Africa's premier muckraker gathering. 
"Outside of 2017, when we hosted 1,200 delegates during the Global Investigative Journalism Conference, which we combined with the African conference that year, this is the highest number of participants we have hosted," noted Anton Harber, the conference convenor, at a partners and funders' breakfast on the final day.
Harber also reflected on the humble beginnings of the African conference, which he said evolved from a local South African event for radio journalists to a regional, national, continental and, today, globalized meeting of investigative journalists.
The 2022 conference — the first in-person version since the COVID-19 pandemic — had more than 80 sessions spread over three days and featured 140 speakers, including some from Europe, the Americas, and Asia. Two workshops were held before the conference: a three-day investigative journalism masterclass co-hosted with Norwegian nonprofit Stiftelsen for en Kritisk og Undersøkende Presse (SKUP) and a day-long workshop on investigating environmental crime, co-hosted by GIJN, the Global Initiative Against Transnational Organized Crime (GI-TOC), and South Africa's Oxpeckers Centre for Environmental Investigative Journalism.
Thanks to support from GIJN and French media development agency CFI, this year brought a large contingent from Francophone Africa to the conference. The availability of English-to-French translation services for a significant number of sessions boosted participation of French-speaking journalists. 
Topics most frequently featured in conference sessions included investigating finance, essential skills, data journalism, environmental investigations, and artificial intelligence (AI). 
AI Enabling 'Third Wave of Journalism'
Among the sessions was a keynote presentation on AI in newsrooms by Charlie Beckett, a professor at the London School of Economics (LSE) and a director of its think tank Polis, where he leads a journalism and AI project. Beckett, who offered tips and insights on using AI, described artificial intelligence as a "third wave of journalism" in the digital era.
"We had that first wave which started over two decades ago when we took our journalism online," Beckett said. "Then there was a kind of second wave about 15 years ago when social media arrived, and we started using Facebook, Twitter, and WhatsApp. Then the third wave is this bundle of technologies that we use under this umbrella term of artificial intelligence." 
"AI in journalism is very diverse," Beckett added. "You can use it in so many ways, so we have to think differently about it [because] it impacts all stages of journalism. But it's always augmenting the editorial process. It's very rarely completely replacing [it]."
African media organizations such as HumAngle, from Nigeria, have already produced AI-generated content from their investigations. At a separate session, Murtala Abdullahi, a HumAngle reporter, explained how a project with the US-based Center for Collaborative Investigative Journalism (CCIJ) enabled them to use AI in their story on Nigeria's climate-change-driven farmer-herder crisis. See their innovative report published here.
Dinesh Balliah, acting director of conference host Wits Centre for Journalism, described the discussions on AI in African newsrooms as "timely." She noted that the AIJC seeks to "be ahead of the game and make sure that all the journalists [who attend the annual convention] are aware of AI, even if not yet involved in it."
"AI is much the same as data journalism was a couple of years ago, a new interesting thing, something that we have to start talking about in terms of journalism," she said. "Algorithmic work across the world has become far more prominent and, as journalists, because of the big tech companies, in particular, we're having to become more aware of how it's impacting what people receive, so it feeds into our thinking."
While most African media groups have yet to venture directly into using AI, many already use technology in innovative and impactful ways. These include developing resources and tools that aid investigations, reporting, networking, collating data, and skills development in story and production.
Sharing Tools and Resources
African investigative journalism tools and resources featured at presentations included Alibi Investigations' podcast training, InfoNile's NileWell, Africa Uncensored's Wizileaks, Oxpeckers' #PowerTracker and #WildEye, Media Hack Collective's data journalism training newsletter and tutorials on Tiktok, and Viewfinder's Police Accountability Tracker.
"You can use the tracker to draw insights, present findings and data to a lay audience, use the data to understand system failures and convert insights into narrative journalism, human stories, investigative exposés," said Viewfinder co-founder Daneel Knoetze. His organization's tool had, a week earlier, helped the site win a 2022 South African regional award for innovation in journalism.
A co-founder of Media Hack Collective from South Africa, Laura Grant, said their site's decision to distribute data journalism training resources by email newsletter and via TikTok was rooted in an understanding of the audience they sought to serve.
"We decided to do a six-part newsletter because, in our experience with training people, many often don't have time to sit down and do a big course for a whole day," she said. "So, we thought we'd do a series of six [modules] that people can receive in their email and look at it whenever they want." Grant added that her site is also translating their courses into Kiswahili and IsiZulu to improve access for native language speakers.
Showcasing Great Investigative Reporting
Good storytelling is one result of all the work put into developing appropriate tools and resources for African journalists, and equipping them with the latest skills. Reporters and editors showcased plenty of impressive investigative stories at the conference, prompting Kenyan investigative journalist John-Allan Namu, a co-founder of Africa Uncensored, to comment that the "best thing about #AIJC2022 is seeing just how much work is being done around Africa on investigative journalism."
Standout stories from the presentations included BBC Africa Eye's Baby Stealers, in Kenya, and Forced to Beg, about trafficked disabled children from Tanzania, produced by Peter Murimi and Njeri Mwangi. The two journalists made a joint keynote presentation on the first day of the conference about the behind-the-scenes preparations ahead of their investigations, the story production process, and the impact of their two films.
Other notable investigations included:
Amid the optimism generated by the quality of the stories produced and the resources developed, the sessions on safety and security offered a sobering reality check on the perils of doing hard-hitting investigative journalism in Africa. The pick of the safety-themed sessions was the 2022 edition of the Carlos Cardoso Memorial Lecture, established to honor a Mozambican journalist and Wits alumnus assassinated in 2000 while probing corruption in his home country.
Falling on November 1, the day before the International Day to End Impunity for Crimes against Journalists, the lecture featured two keynote speakers: Baba Hydara, whose father, Deyda Hydara — managing editor and co-owner of The Point newspaper — was murdered in The Gambia, allegedly on the orders of exiled dictator Yahya Jammeh; and Penny Sukhraj, whose husband, South African photojournalist Anton Hammerl, was shot and killed by troops loyal to Muammar Gaddafi while covering the Libyan civil war.
Hydara talked about the circumstances of his father's death, his decision to return to The Gambia to run the newspaper his father co-founded, and a recent court encounter with his father's alleged killers. "In The Gambia today, assaults on journalists persist," Hydara said. "The GPU [Gambia Press Union] has registered more than 13 assaults on journalists since the new government came into power in 2017. These assaults were mainly perpetrated by politicians and their supporters from both the ruling and opposition parties, and also from the security apparatus. Unfortunately, none of these perpetrators was brought to book."
In her speech, Sukhraj, an online news editor with Dow Jones, conveyed the helplessness she felt as the mother of a months-old baby and a seven-year-old, battling to keep her household together while seeking justice for her husband. "The death of Anton, who had dual South African/Austrian nationality and who lived and worked in the UK, drew a blank from all the governments that might have assisted," she said.
"Our family received no support. But why should you care? It matters because what happened to Anton could happen to any of you," she added. "Any of you could find yourselves in trouble working abroad and then being sent to cover an assignment even further afield. Your families will have scant access to help. The case of Anton is emblematic of what could happen to any journalist working and living abroad."
After the two powerful testimonies, moderator Angela Quintal, Africa coordinator for the Committee to Protect Journalists, read out a declaration calling for African governments to act to end impunity for crimes against journalists:
"Authorities should make it a top priority to act and commit the political will necessary to combat impunity, not only for killings but other attacks as well. Too often, governments claim to stand for press freedom, yet their allocation of resources to investigations of attacks on the media remains lacking. Empty words will not fill the open wounds of a journalist beaten on the job or the empty seat at the kitchen table of a reporter gunned down in reprisal for their investigations. Attacks on the press are never justified, but when they happen, there must be justice."
While closing the conference, Anton Harber said African muckraking journalism is primed to make a memorable impression at the 2023 Global Investigative Journalism Conference (#GIJC23) next September: "We must get the best of what we have here and make sure that the best of African investigative journalism shines bright at the global conference next year." 
Also at the closing ceremony, Sofia Hultqvist—regional manager for Africa at the Fojo Media Institute, a Swedish media development organization that will co-host GIJC23—joined GIJN's Francophone Africa editor Maxime Domegni to invite African journalists to the global conference.
"We are hoping for 2,000 journalists from 140 countries around the world," said Hultqvist. "I really, really hope we will have a big delegation from Africa. We hope to see many of you there."
To find out more about sessions at the African Investigative Journalism Conference, check out the AIJC YouTube channel, @AIJC_Conference, @gijnAfrica, and GIJNAfrica's Facebook page.
Additional Resources
250 Gather in Joburg for African Investigative Conference
The Rise of African Environmental Investigative Journalism
GIJN Africa: Data Centers for African Journalists
---

Benon Herbert Oluka is GIJN's Africa editor. He is a Ugandan multimedia journalist; a co-founder of The Watchdog, a center for investigative journalism in his home country; and a member of the African Investigative Publishing Collective.