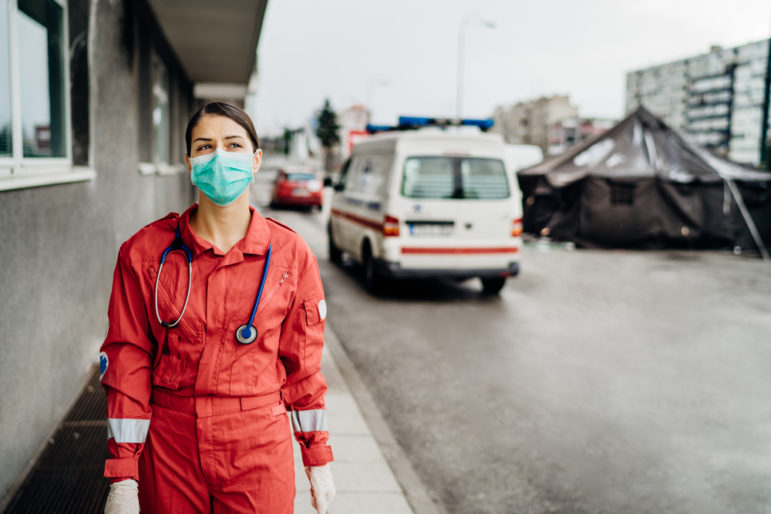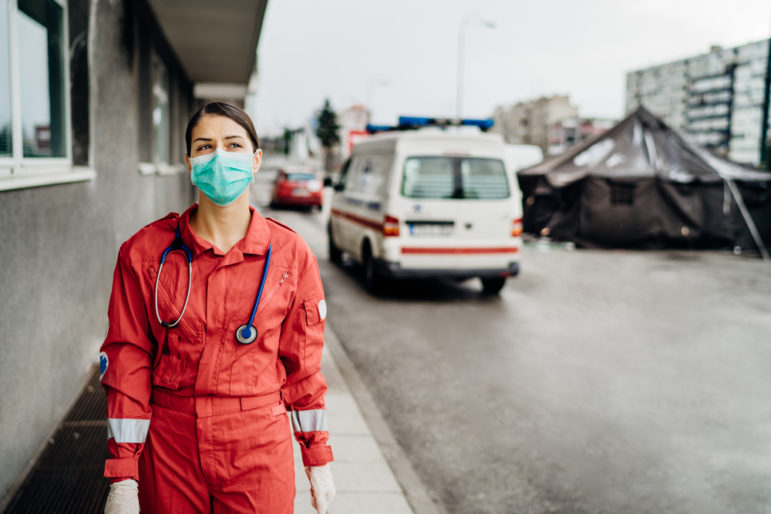 Journalists and COVID-19: Global Deaths Reach 860, Led by Latin America
"While we write hundreds of thousands of words every day, right now we lack the vocabulary to express our dismay, in the face of the death of a … defender of democracy and freedom of the press, someone with a unique charisma."
This tribute to reporter Jadson Simões, by Brazil's National Federation of Journalists in February, echoes hundreds of obituaries and remembrances for journalists around the world who have fallen to the pandemic in the past year. A video reporter, Simões was just 39 years old.
At least 861 journalists have died from COVID-19 in the last year, according to one European-based nonprofit, the Press Emblem Campaign (PEC), which has tracked cases among the media since the start of the pandemic. The PEC has now joined media advocacy groups in Brazil, Peru, and Uruguay in calling for journalists to be included on vaccine priority access lists — as happened in Zimbabwe in March, where more than 2,000 journalists are now eligible for early vaccination. 
Back in May 2020, when the COVID-19 pandemic was gaining strength and spreading worldwide, GIJN took a look at the high toll on journalists in the crisis. Like health professionals, caregivers, and other front-line workers, journalists face heightened risks as they pursue stories on the pandemic. 
By May 5, the Geneva-based PEC, a nonprofit focused on press freedom and safety, had recorded 64 deaths in 24 countries, a number it said was almost certainly an undercount. When we checked back with the group on November 15, the toll had risen to at least 462 journalists from 56 countries — a more than seven-fold increase. In that same time period, the total number of worldwide pandemic deaths has risen five-fold, according to the Johns Hopkins Coronavirus Resource Center. 
Now, 12 months into the pandemic — from March 2020 to March 2021 — Blaise Lempen, PEC secretary general, told GIJN that their team had confirmed that at least 861 journalists died from COVID-19 in 68 countries. This, he noted, amounts to more than two pandemic-related journalist fatalities every day for a full year — and the true figure, he said, is likely much higher, as the cause of death is often unspecified.
"PEC deplores this large number of victims from the coronavirus and sends its condolences to families and colleagues," Lempen said in a statement "It is essential that… journalists can have rapid access to vaccination so that they can do their work in the field without endangering their lives."
Latin American countries account for more than half the tally of journalist deaths in PEC's database, with 458 deaths. Asia follows with 151 confirmed virus-related journalist deaths, while 147 were recorded in Europe. Brazil, Lempen said, had the worst record in 2021, with 50 deaths there in just two months. Peru is the single worst-hit nation worldwide for media during the whole pandemic, with 108 deaths.
The PEC data only contains journalists who died with COVID-19 whose cases were featured in local media, referenced by journalism associations, or noted by regional PEC correspondents.
"What surprises me is that, contrary to common belief, many journalists have died relatively young," Lempen said in an interview with GIJN. "In developed countries like Italy, the United States, and Great Britain, most of the journalists who died from COVID-19 were over 70, but in developing countries like Brazil, India, or South Africa, they were younger — a majority of them in their 50s or 60s."
He added: "It is always difficult to know the origin of the infection, but many have been infected at work."
Individual profiles on the Poynter Institute's tribute page underscore both the youth of many recent journalist victims, and the remarkable impact of their careers.
"All of these are tragic," Lempen said of the human toll, pointing to the death of Bolivian TV presenter Marcos Montero on September 30 as symbolic of the loss the industry has suffered.
After his diagnosis on May 25, journalists rallied with public appeals for plasma for Montero, a treatment that, at the time, showed promise. "He died after a four-month struggle with the virus," Lempen said.
Additional Reading
Tips for Journalists Covering COVID-19
How Journalists Can Deal With Trauma While Reporting on COVID-19
9 Lessons from Chinese Journalists on Covering COVID-19
---


Rowan Philp is a reporter for GIJN. Rowan was formerly chief reporter for South Africa's Sunday Times. As a foreign correspondent, he has reported on news, politics, corruption, and conflict from more than two dozen countries around the world.