The United States has been the world's biggest market for just about everything, including illegal drugs, and that creates big problems for its neighbors.
The result is that many of these countries are ruled, de facto, by the whims of organized crime and not in the public interest. Criminal organizations have gone global, and investigative journalists need to go global as well in order to expose this corruption and serve their communities better. So much money from the drug trade flows into Mexico, South America, and the Caribbean that it corrupts governments, courts, police, armed forces, trade regulators, and other institutions that were not that strong to begin with.
Cross-border cooperation was the big takeaway from a three-day meeting of investigative journalists from 17 countries in San Juan, Puerto Rico, November 4-6. Billed as "The First Caribbean Meeting of Investigative Journalists: Tracking the Stories that Connect Us" (in Spanish), one aim was to create a counterweight to the power of organized crime by cooperating across borders, according to Carla Minet, executive director of the host organization, the Center of Investigative Journalism of Puerto Rico. Sponsors included the Ford Foundation and Open Society Foundations.
A Boom in Investigative Journalism
"There's been a growing recognition of that importance, not just by people in the media and civil society groups, but from big multilateral institutions like the World Bank and U.N. agencies like Unesco," Kaplan said. He cited a Transparency International study of 3,000 business people from 30 countries who cited investigative journalism as the best of six tools for combating corruption."There has been a global realization that independent watchdog reporting is really important; it's important to democracy, it's important to economic development, it's important for the rule of law and civil society," David E. Kaplan, executive director, of the Global Investigative Journalism Network, told me in an interview.
Kaplan's organization now includes 118 nonprofit organizations in 54 countries, and the membership has doubled in the past 3 1/2 years. "You need cops on the beat in civil society who are going to do independent verification and monitoring of corruption. In most societies you don't have good mechanisms for monitoring compliance with social norms, with ethics, with laws," he said. His arguments are supported in this video on the impact of investigative journalism.
His message to the reporters attending the conference: "You are not alone. There are no national stories any more. The food you eat, the toys your children play with, the medicine you take at night, it all comes from other countries now. To follow drugs and contraband and immigration and money you've got to have contacts in other places." His organization offers training and tools for everything from data journalism to gaining financial support.
Cross-border Cooperation
Marina Walker, deputy director of the International Consortium of Investigative Journalists, described a cross-border investigation–Swiss Leaks— that involved 175 reporters from 56 countries that resulted in 400+ articles in 65 different media. It tracked how one Swiss Bank, HSBC, knowingly protected clients engaged in illegal activities.
One key to the success of Swiss Leaks, she said, was changing the culture of investigative reporters (in Spanish). They normally operate like lone wolves and never share information and sources with other media, whom they regard as competitors. On this project, she promoted "radical sharing" of information among participants in order to get a bigger and better story.
The three-day session ended with the reporters and editors agreeing on a series of projects that they plan to cooperate on.
Trust Levels are Low
Although it is encouraging to see investigative journalism recognized as important by some of the world's leading institutions of civil society, one wonders if the public at large agrees. Readers and television viewers often regard investigative reporting as invading into the private lives of politicians and their families.
The graphic above, taken from the Trust in the News section of the Reuters Institute Digital News Report 2015, shows that in seven developed countries, more than half the people surveyed do not trust the news generally. Comments by respondents showed that the public believes the news media make up stories when it suits them or their political interests.
This type of negative attitude becomes a problem when investigative journalism organizations seek financial support. After all, grant makers and officials of nonprofits are consumers of news as well. Kaplan told me in an email,  "I think that while public frustration with the news media generally is high for various reasons, such as sensationalism and infotainment, support for investigative journalism remains strong. People want to know what's really going on in their societies, they want to know the story-behind-the-scenes."
My role at the Conference
I gave some training on best practices of digital media entrepreneurs and how to think more like a business person and less like a reporter, both at the conference and in separate sessions with professionals and university students. (A student interviewed me, Spanish).
At the end of the conference, after hearing so many of the reporters in the region describe how money from organized crime was corrupting their countries' institutions, I have to admit to feeling guilty. The U.S. has a long history of negative influence on Latin American countries. We have propped up all kinds of ruthless dictators, supported armed overthrow of democratically elected presidents, invaded countries on a whim, and so on.
All this reminded me of a quote usually attributed to Porfirio Diaz, who was president of Mexico from 1876 to 1911.
"Poor Mexico: So far from God, so close to the United States." 
It rang true there 100 years ago and in Latin America today.
---
Video interview with David Kaplan of Global Investigative Journalism Network:
---
This post originally appeared on the blog News Entrepreneurs. It is re-published with the author's permission.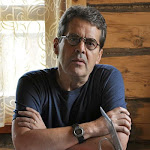 James Breiner is a consultant and visiting professor at Spain's University of Navarra. He is former director of the Global Business Journalism program at China's Tsinghua University and founding director of the University of Guadalajara's Center for Digital Journalism. He has worked as publisher, editor, and I-team leader. @jamesbreiner