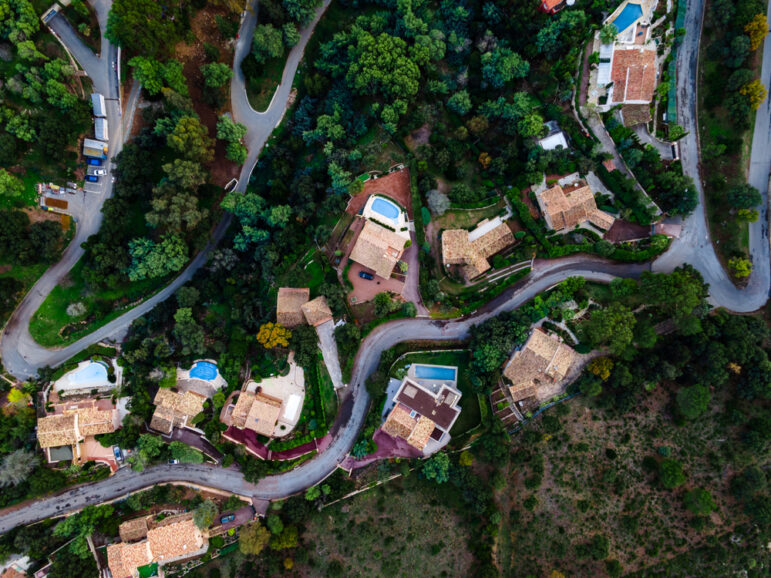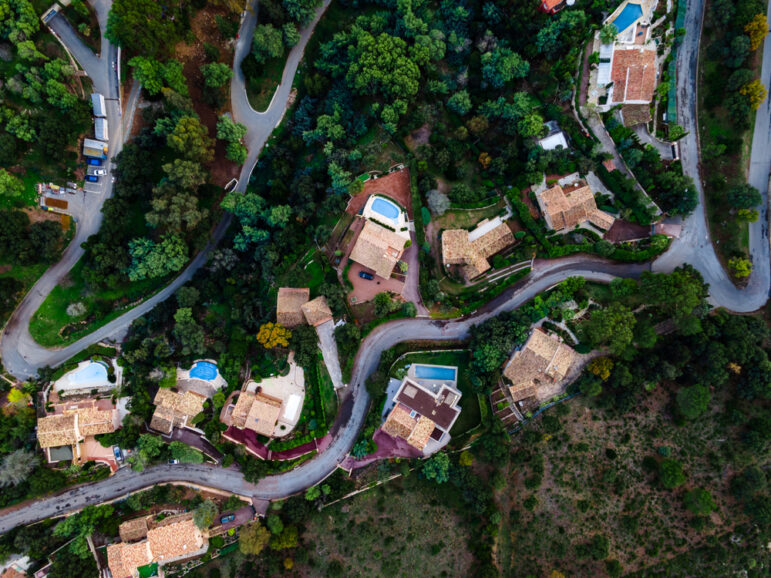 Tips for Investigating Suspicious Real Estate Deals in France — and Around the World
Read this article in
The president of Togo, the sister of the president of Azerbaijan, the wife and the son of the president of Cameroon: they are among 62 people who have recently bought, under suspicious circumstances, luxurious villas in France worth a total of €744 million (US$820 million).
And to find them, my reporting team only had to use publicly available government data and documents.
Of course, the vast majority of people who own properties in France, or who purchase them via companies, are not engaged in any misconduct or possible criminal behavior. And relatives of foreign public officials are included in that. But land deals or real estate purchases made with inexplicable funding sources can be a telltale sign of corruption, and our approach to investigating this can be used all over the world (as we also did in Montréal). So here is a step-by-step approach to following in our footsteps.
Step 1: Cross-Reference Datasets
First of all, we need to get a bit nerdy. Our investigation in France was built on two public, government datasets. One of them, published by the French Ministry of Economy and Finance, lists all real estate properties owned by companies in France. This adds up to 16.1 million records. The other, maintained by the French Institute for Intellectual Property, lists the shareholders of the 11 million French companies. Company registry data like this is also available in many countries, particularly in Europe. In some places, including France, you can even get the beneficial owners of companies, but in our case that was usually not necessary.
By combining these two datasets, it's possible to link the directors of each company to the properties owned by that company. In doing so, we were able to find 2.48 million names of people who owned properties in France through a company. From that pool of names, we can, for example, learn that the sister of the current president of Azerbaijan — who is also the daughter of the previous president — owns several companies that have real estate in France. One of these companies owns a villa near the coast in Saint-Tropez. The government data also provides us with the location of this property using cadastre coordinates, which we can look up on several websites to find its exact location. Nevertheless, to find such stories in this ocean of data we still needed to dig deeper.
Step 2: "Fuzzy Matching"
Our second step to find the needles in this haystack: search for the names of people who might be laundering money through French real estate. To do so, we used several datasets of politically exposed persons (PEP), people facing corruption allegations, or people listed on sanctions sites like OpenSanctions or Wikidata. Depending on your focus, you might find that some datasets are more useful to your project than others. For example, you could search for the names of members of parliament or ministers in your country.
In our investigation, we compared these high-profile names to our dataset of French property owners using a computer algorithm known as "fuzzy matching," a version of which can be found on CSV Match's Github page. This enables the computer to create links between words that are not exactly the same. For example, Michael Fox, and Michael J. Fox are not exactly the same, but they could be the same person. Many times, people's names have slight variations across various official documents.
Using this process, we ended up with several hundred people of interest to our investigation. We then carefully analyzed each candidate, by searching these names on Google and weeding out any false matches using additional information, such as dates of birth or nationality.
After this tedious process, we still had a list of nearly 200 fairly well-known people who had made notable investments in French real estate. So, we looked to narrow down our focus even further.
Step 3: Drill Down Into Individual Cases
Our next step was to dig deeply into each purchase. We researched the buyers, and whether they had legitimate sources of funds to make the deals in question. For example, we found that the head of state of a poor country owned an expensive flat in Paris, but he had previously occupied a high-level position in a multinational bank and his wife also had a significant income. Since they could seemingly afford the purchase with their own private finances, there was no clear public interest in revealing their property ownership, and so we removed them from our list.
We also collaborated with journalists from the countries where the money likely originated from — although most of our colleagues preferred not to be named in the article for security reasons. These partnerships improved our story. For example, colleagues from the newspaper Tempo in Indonesia found a document showing that the country's Minister of Defence had failed to declare his French property to the Indonesian anti-corruption office. Discovering this lack of transparency made our article stronger.
And we looked for details about the properties in question that would make the article more interesting to readers. For most of the villas, it was possible to use Google Maps and Google Street View to find out more about the type of building, the land around it, and other specifics, like whether it had a pool or tennis courts.
In some cases, it was also possible to use social media and web searches to reveal these details. For example, in the case of the Saint-Tropez villa owned by the Azerbaijani president's sister, we found the portfolio of the property's landscaper. It showed images of the property's luxurious pool, surrounded by a stunning sea view, and large pine trees. This ended up being in our story's opening paragraph.
Final Step: Fill In the Financial Details
Our last step involved filing administrative requests for each of the properties. These documents confirmed that the data was still up to date, and provided additional details such as the purchase price, the seller, and the lawyers or other brokers involved in the transaction.
Initially, we thought we would be able to get this for free from the property registry service of the relevant town halls. Unfortunately, it was extremely difficult to get these agencies to respond to our requests and we quickly realized that we would need to find another way. After a few phone calls to the more friendly officials, we had better luck with a government agency called the "Service de la publicité foncière" (French for "land registration service"). To request information from them, we only had to fill out 80 separate paper forms, include a bank check for €12 (US$13) per company and mail the requests in letters to the agency's relevant regional offices. How quaint! We sent letters to 19 of these offices, from Antibes to Versailles. Thankfully, in most cases, the response came by email within a few days, although some took weeks to arrive by post.
Once we had this list of transactions, we could then request the sale contract from the same government service, by sending another letter with another form and a check for €15 per document (US$17). We spent more than €1800 (US$2,000) on these documents in total. (Our project's modest budget could afford these costs thanks to an IJ4EU grant.)
The sale agreements often mentioned the profession of the buyers. For example, in the case of Azerbaijani president's sister, she was listed as "without profession" or a "music composer." We found that she had only ever put her name on two CDs that came out around a decade ago, apparently without much success, and this could hardly explain the source of the €53 million (US$60 million) she had spent on French properties. When contacted for the story, the woman did not respond to questions.
We were also interested in the brokers and lawyers involved in the sale because they have a legal duty to inform a French government agency (called Tracfin) of any suspicious transactions. This agency is then supposed to investigate possible illicit purchases. Most of the sales that we focused on were quite suspicious, with people declaring themselves "without profession" and then spending millions of dollars in a few years' time. We found several lawyers who were at the top of the governing bodies of their profession and yet had been involved in shady sales.
Our investigation was ultimately published in the French magazine L'Obs and, soon after, we got requests from NGOs and even some law enforcement agencies to explain our approach. In order to keep our independence, we organized training sessions that were open to anyone, including one for GIJN (which you can watch below, in French).
After our investigation, the Bulgarian media outlet Bird published a website with this same real estate data enabling anyone to search for the names of property owners and find all their assets in France.
There are definitely many more suspicious —and possibly illegal — real estate deals to uncover in France, and in countries around the world.
Watch GIJN's training webinar on investigating real estate, which features Freudenthal, below.
Additional Resources
Land and Property Ownership: A Story Beneath Our Feet
Investigative Journalists Unearth Property Stories
Land Ownership Records: So Useful, but Challenging to Find
---

Emmanuel Freudenthal is a freelance reporter who has been doing investigations in Africa for a decade. His stories have been published by the BBC, France 24, le Monde, Libération, The New Humanitarian, Daily Telegraph, OCCRP, Paris Match, Sydney Morning Herald, African Arguments, Journal de Montréal, Mongabay and others.