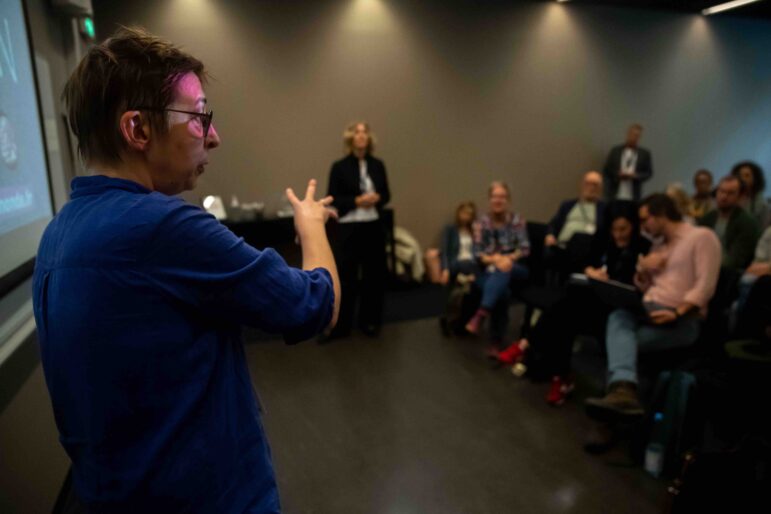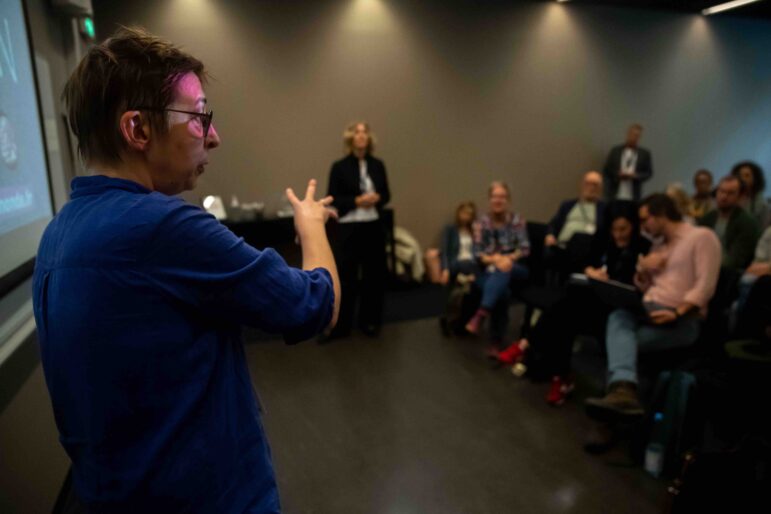 Le Monde investigative reporter Stéphane Horel discusses collaboration between scientists and journalists at GIJC23. Image: Leonardo Peralta for GIJN
How Should Investigative Journalists Collaborate with Scientists?
Collaboration between investigative journalists and scientists can bring great rewards, such as improving scientific literacy, revealing crucial public health issues, and pooling expertise to create compelling investigations. But for successful, mutually beneficial collaborations, journalists must also consider what they can offer scientists.
Le Monde investigative reporter Stéphane Horel, who covers corporate lobbying, toxic industries, and scientific disinformation, relies on close collaboration with scientists, and in a session at the 13th Global Investigative Journalism Conference (#GIJC23) she shared her insights and experiences.
Horel's projects have not only shed light on pressing public health issues; in 2018, her reporting was awarded the prestigious European Press Prize's Investigative Reporting Award, with her colleague Stephane Foucart, for exposing the tactics used by corporate giants — such as manipulating science, bending regulations, deploying public relations campaigns — to continue harmful practices.
Looming Crisis 
Another notable scientist-journalist collaboration Horel worked on is the cross-border investigation The Forever Pollution Project (2022-23), which brought together journalists from five countries, and employed methodology developed by US scientists to build the first-ever map of pollution from PFAS (per- and polyfluoroalkyl substances) in Europe.
These PFAS, also known as "forever chemicals," which don't degrade, are a sinister class of substances in a world brimming with modern menaces. Found in everything from the first atomic bomb to kitchen cupboards and non-stick cookware to firefighting foams, these compounds lurk everywhere. Even raindrops in the mountains of Tibet contain higher levels of PFAS than the EU's established safety thresholds for the chemicals.
The effects of these man–made chemicals are dire, ranging from cancer and thyroid problems to reproductive issues. The financial toll is equally staggering, with health costs exceeding €84 billion (US$90 million) annually in the EU and considerably more globally. And although they are one of the greatest threats to public health, the issue of PFAS has for a long time received relatively little attention. Horel decided to team up with scientists to help change that.
How to Collaborate with Scientists?
Horel has a "recipe" for working successfully with scientists. "Scientists are very busy and they don't need you," she said. "So you have to bring something to the table that will make a difference to their work." She stressed the importance of a mutually beneficial relationship based on trust.
Journalists must bring expertise and knowledge to the table. "If you start your relationship with scientists by asking, 'Could you explain what PFAS are to me?' that is not going to work," said Horel. "Journalists looking to establish a long-lasting collaboration with scientists must have a high level of expertise about the topic, and familiarity with the scientific ecosystem and customs."
There must be clear boundaries in the outputs. "Scientists want to know that if you do shit work, it won't reflect on them," said Horel. "It is cross-border. Everybody contributes information to the common pool, and everyone can write their own story."
Recognition. As in all work, journalists should acknowledge the contributions made in the final product. "Scientists appreciate having their names mentioned and seeing the topics they have been researching for decades making their way into the public agenda."
Win-Win. Both parties should benefit from each discipline's methodologies. A long-lasting collaboration with scientists can help journalists produce a solid "peer-reviewed" product, but journalists must also add value to the scientists' research.
How Can Journalists Help Scientists?
Scientists are good at developing sound methodologies, checking facts, conducting experiments, and finding and understanding scientific information. Journalists, however, have methodologies to access information and databases that scientists did not even know existed.
Journalists are familiar with FOI requests, and open source techniques. These methods are not used by scientists but can be vital for scientific work, as the Forever Pollution project showed. The dataset of PFAS-producing sites, created through FOI requests and open source techniques — as well as the database showcasing the tens of thousands of contaminated sites in Europe — has paved the way for new scientific research on forever chemicals in Europe.
Impact
The Forever Pollution Project collaboration has produced impressive results: The database is being used to write scientific papers and has already been employed in ten different research projects. The project has also attracted the attention of key regulatory and scientific bodies; the team was invited to present its findings and methodology to the UN Food and Agriculture Organisation (FAO) and the European Commission, among others. Their peer-reviewed approach to investigation also served as a basis for several criminal prosecutions and legal proceedings in France.
Empowering Scientists, Enlightening the Public
Journalists must tread carefully in the realm of science to avoid being misled by unscrupulous actors. "There are also scientists working for lobbying firms and manipulating the scientific discourse," said Horel. She urges journalists to thoroughly investigate the scientists they want to work with, and make sure there are no conflicts of interest.
Working with the right scientists not only provides original data for journalists and authorities, but increases scientific literacy among the general public. This newfound awareness is crucial, especially when addressing global crises — such as chemical pollution — that are often overlooked in mainstream discourse.
Horel's journey, from April 2022 to February 2023, although exhausting, underlined the importance of dedication and persistence in investigative journalism.
It did require patience on the part of her editors. But for major newsrooms, including Le Monde, this cross-border investigation was nonetheless an invaluable undertaking, and showed how determination and collaboration can lead to groundbreaking discoveries.
Horel added: "In France we have a saying: you can't have caviar for the price of sardines."